MLB.com Columnist
Mike Bauman
None more professional than tireless Kaegel
Admired baseball journalist entering retirement after half-century in game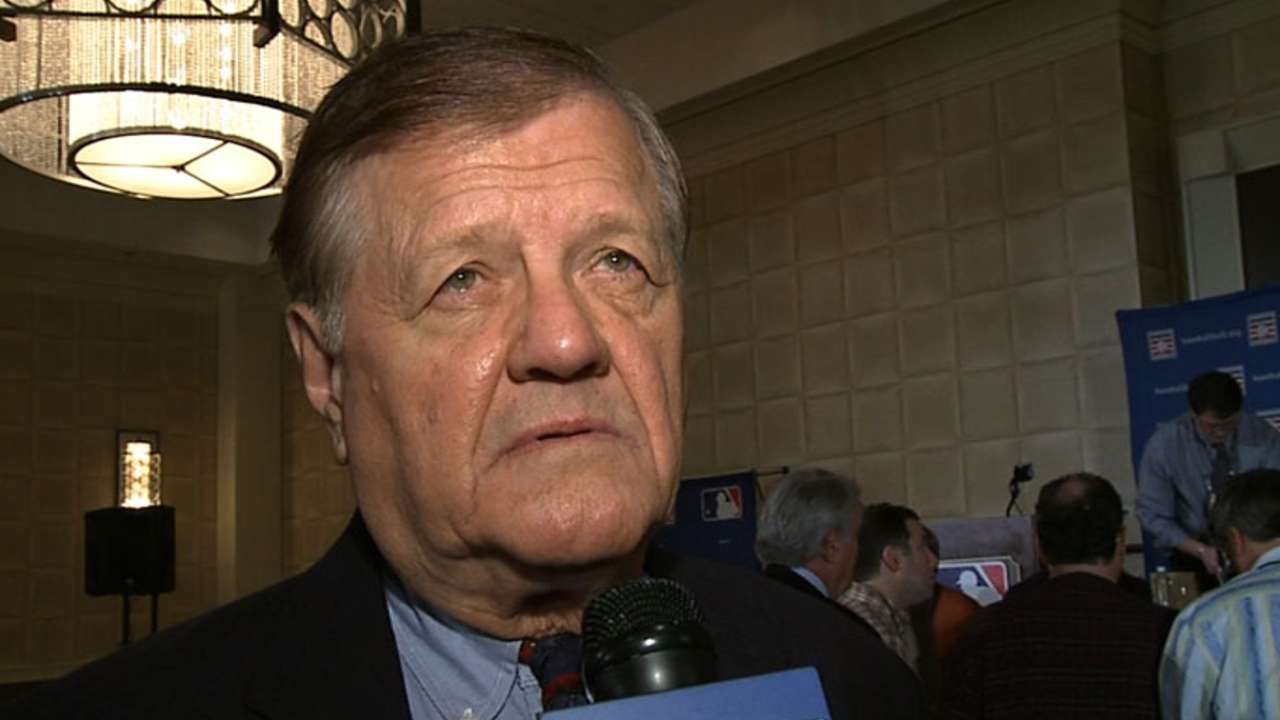 Those of us who have the pleasure of knowing Dick Kaegel also know that he is a sure thing.
You can depend on him. He will be at his post. He will deliver the goods; in this specific case, for the last 27 seasons, the news regarding the Kansas City Royals. He will be on time, he will report without fear or favor. Swiss watches -- expensive Swiss watches -- operate with less dependability than Dick Kaegel on his beat.
Upon hearing that Dick was retiring, the reflexive response was:
"Yeah, right. And tomorrow the sun will rise in the west, in January the weather will be warmer and by April 15, the federal income tax will be abolished."
"D.K.," as he is often known, has covered the Royals for the last 27 years, first for the Kansas City Star, and, since 2004, for MLB.com. And all of that can be regarded as essentially the second half of his journalistic career. He has been covering Major League Baseball over a 50-year period. He just turned 75. Of course he has earned his retirement. He has earned, in particular, the right to spend more time with his wife, Betty.
He has made an indelible impression. George Brett, a Hall of Fame player for the Royals, now the club's vice president of baseball operations, has observed and admired D.K. for a long time.
"When he first started covering the Royals [in 1987], you really got to know what kind of person he was," Brett recalls. "He was really fair. The one thing that stood out about Dick was that you could see the pain on his face when he asked you the tough question after a loss. He never shied away from asking the tough questions, but you could tell he had feelings, whereas to other guys, it was just a job and you were just a story.
"A lot of guys don't care. They just want to tell everyone how you screwed up. ... He cared about people. I'd say that was his best trait."
Dick doesn't talk much about himself, other than to tell humorous stories at his own expense. But he made a lifetime impression on everybody at this workplace, too, in the way he conducted himself on a daily basis for years.
And there was one very telling episode that informed you clearly about who this fellow was and why there should be more like him. He won a battle with liver cancer during the 2006 and '07 seasons. After a transplant, the doctors said he would not be able to return until the All-Star break, at the earliest. He was back in May.
"Betty got me through all of it," Dick says.
In 2011, to make a point, Kaegel worked all 162 games of the season.
"I want to show people that when you get through this and start to heal," he said, "you can resume your normal life and even go beyond what people expect of you and what you expect of yourself."
"He battled cancer and was out for awhile," Brett recalled. "When he came back, everybody was glad to see him. He was just one of those guys who was fair. Some guys want to bury you to bury you so they can get recognition. Dick wanted to cover the game. He wanted to give the readers a picture of what happened. He didn't have any vendettas. He didn't have grudges."
D.K. would have kept covering 162 games every year, too. The one thing Dick didn't like about this job was a day off. He was old-school in the best sense of that word. If the team he was covering was playing, he was supposed to be there.
"As a kid, everybody wants to be a Major League baseball player," Dick said. "It soon became obvious I wasn't going to be that. But I loved the game so much that I wanted to stay with baseball. Fortunately, the opportunity to do that came through journalism.
"There's nothing better than being a ball writer when you love ball, that's for sure."
Dick got an early start in this business. His built-in industrious nature and ingenuity were evident long ago. In 1956, at age 16, he went to work for his hometown paper, the Belleville (Ill.) News-Democrat. In his senior year, he worked at the paper in the morning as a one-man sports department, went to high school in the afternoon and covered games at night. Already, he was working overtime.
Then he went on to the University of Missouri's Journalism School, where he wrote for the Missourian, the school newspaper. After his graduation in 1961, Kaegel worked for the Columbia (Mo.) Daily Tribune.
Kaegel moved on to the Granite City (Ill.) Press-Record, a bi-weekly just outside St. Louis.
"When the 1964 World Series came around, guess who was playing second base for the Cardinals in place of the injured Julian Javier?" Kaegel recalls. "Why Dal Maxvill, the pride of Granite City, Ill. So I finagled a press pass and covered the games in St. Louis, shooting photos and writing about young Dal."
In his home, Kaegel has mounted a photo of Maxvill, flanked by Stan Musial and Red Schoendienst, as the Cardinals celebrated the World Series championship. Dick, of course, took the photo. And the clips he assembled from that World Series coverage helped get him a job at The Sporting News, at that time "The Bible of Baseball," as an associate editor. After three years there, Dick went to the St. Louis Post-Dispatch, where he began covering the Cardinals in the early 1970s.
Dick took a detour into management at this point, becoming associate sports editor of the Post-Dispatch and then executive sports editor in 1979. He returned to The Sporting News as editor in chief in 1980 and remained in that position until 1985.
Dick went back to newspaper work as a columnist with the St. Louis Globe-Democrat in 1985. After that publication folded, he joined the Kansas City Star in 1988 as the Royals' beat reporter. And then there was MLB.com.
It was good that D.K. got to go out on a high note, covering a pennant-winning team as the Royals returned to the World Series for the first time in 29 years.
"Those kids played hard all year," Kaegel said. "They were a fun bunch to be around, a nice bunch of kids to cover."
Here is a cross-section of comments from Dick Kaegel's colleagues:
"A friend, a mentor and a beloved teammate."
"An example of dedication and loyalty."
"The ultimate baseball writer and the ultimate friend."
"He's one of the people we all wanted to be."
"A true inspiration in the press box and in life."
"Courageous, kind, witty, unflappable and respected."
I don't know if Dick is going to go along with "beloved" or many of the other laudatory adjectives here. But he's been outvoted. He has retired, but his example will not be forgotten. He won't be on the job, but he'll still be with us. Anybody who worked with him is proud to be his colleague and prouder still to be his friend.
Mike Bauman is a columnist for MLB.com. This story was not subject to the approval of Major League Baseball or its clubs.