Inbox: Could Neshek, Scherzer sign with Cards?
Fans ask about arbitration process, closer role, Holliday at first base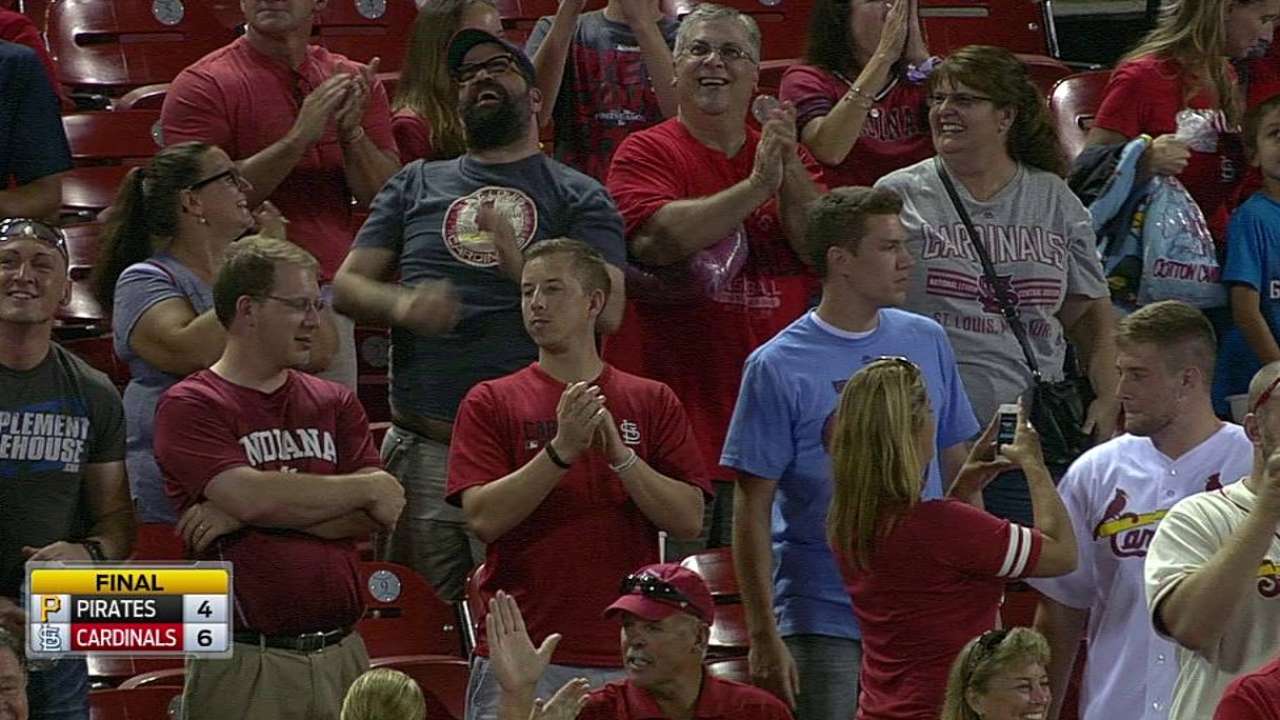 ST. LOUIS -- With the Winter Meetings on the horizon and several questions about what's left for the Cardinals to do, it's time to resurrect the Inbox feature this offseason. Remember that if you want a question to be considered for future inclusion, e-mail it to me along with your first name, last initial and hometown.
How likely are the Cardinals to re-sign Pat Neshek in the offseason?
-- Jimmy W., Warrenton, Mo.
Not very. Don't take that as an indication of non-interest, but rather as understanding of the market. The Cardinals got a steal in Neshek, signing him to a Minor League deal late last winter that paid one of the game's best setup men of 2014 just $1 million. But while Neshek was stabilizing the back end of the Cardinals' bullpen, he was also inflating his own value. This will be his first chance to enter free agency as a sought-after reliever, and Neshek, at 34 years old, will try to capitalize with the first lucrative, long-term deal of his career.
It's the same thing that Edward Mujica did last winter in parlaying his best season into a two-year, $9.5 million deal with the Red Sox. Investing heavily in relievers is a risky venture for teams and one the Cardinals don't have much interest in. This is one of the reasons why Jordan Walden was a critical piece in the team's November trade with Atlanta, and why the Cardinals went after Matt Belisle on the free-agent market.
Would the Cardinals go after Max Scherzer knowing that he would possibly take less money to pitch for us?
-- Nicholas Z., Cottleville, Mo.
Scherzer may be from St. Louis, but there is no indication that he'd be taking a hometown discount to come here. So let's quash that assertion. Now, that's not to say the Cardinals can't be a player for one of the big free-agent pitchers this winter. They have the financial flexibility. And with the departure of Shelby Miller, they have an open spot in the rotation. John Lackey and Jaime Garcia are entering the final guaranteed years of their contracts, so it could aid the Cardinals to capitalize on a strong pitching market to fill a rotation spot for the long term. But with internal candidates available to plug that rotation void, the Cardinals have shown little interest in joining those bidding wars.
If the Cardinals are to add another starting pitcher before the winter is over, look for him to come out of the middle-tier market.
The Cardinals have a few players eligible for arbitration. Could you explain what that is and what it means for both the players and the club?
-- Oliver B., Roxana, Ill.
Players are not granted the chance to become free agents until after they accrue six years of Major League service time; before that point, the team retains control. For players with 0-3 years of service time, they have their salary set annually by the team. For those with 3-6 years in the Majors, there's the option of having a panel of arbitrators set the salary if team and player cannot agree. The arbitration process allows for a player to receive a one-year deal that is commensurate to that which other players with similar production make. Most of the time, the player and team can reach an agreement independently of the arbitrators.
The Cardinals had seven players eligible for arbitration, but opted not to tender contracts to two of them (Daniel Descalso and Shane Robinson). As a result, both became free agents.
Will there be a change at the closer spot? And if so, who do you see as the frontrunners to take the mound in the ninth inning for us in 2015?
-- Caleb K., Memphis, Tenn.
Manager Mike Matheny has already come out in support of keeping Trevor Rosenthal in the closer's spot next season. Rosenthal will come into Spring Training earmarked for that role, one that he held for the first time in 2014. Certainly the Cardinals are hopeful that Rosenthal can offer fewer dramatics (i.e. cut down on the walks and reduce the number of first batters who reach). But Rosenthal's overall success rate -- he saved 45 games in 51 chances -- was better than many other closers across the league.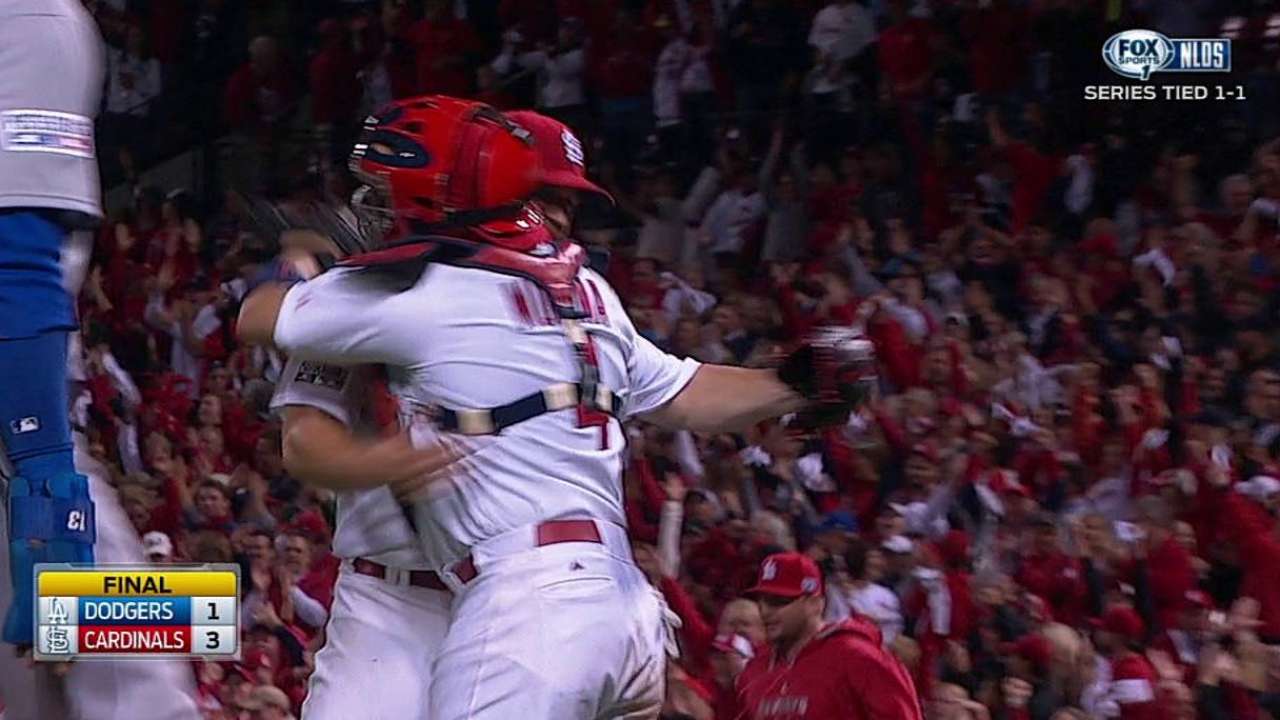 Rosenthal will enter 2015 more experienced in the role, and the Cardinals have a better understanding of how usage can affect his sharpness. Those are reasons to believe he can handle closing duties just fine.
The biggest hole left to fill this offseason is the bench, as well as making sure the starters stay healthy. Where do the Cardinals turn in this areas? Could Matt Holliday be a backup first baseman? Have the Cardinals talked about using a six-man rotation?
-- Kyle R., Starkville, Miss.
The Cardinals have not entertained having Holliday get work at first base, so that does not appear to be in consideration. Nor have they had serious conversations about a six-man rotation. You have to consider how you'd be diluting the quality of a rotation by adding a sixth individual into it. That would mean instead of getting 32-34 starts from your best pitchers, you'd be getting only 27. Instead, the Cardinals will hold on to their starting pitching depth so as to have options in case of injury.
While the team may have already made its biggest offseason splashes, I would expect additions to the bench before Spring Training. Specifically, there is still a need to add a right-handed bat, preferably one who could platoon with Matt Adams at first base if Adams again struggles to hit left-handed pitching. The Cardinals have been active in scouring this sector of the market since the season ended.
Jenifer Langosch is a reporter for MLB.com. Read her blog, By Gosh, It's Langosch, and follow her on Twitter @LangoschMLB. This story was not subject to the approval of Major League Baseball or its clubs.