V-Mart named Outstanding DH for first time
First Tiger to win award since Staub in 1978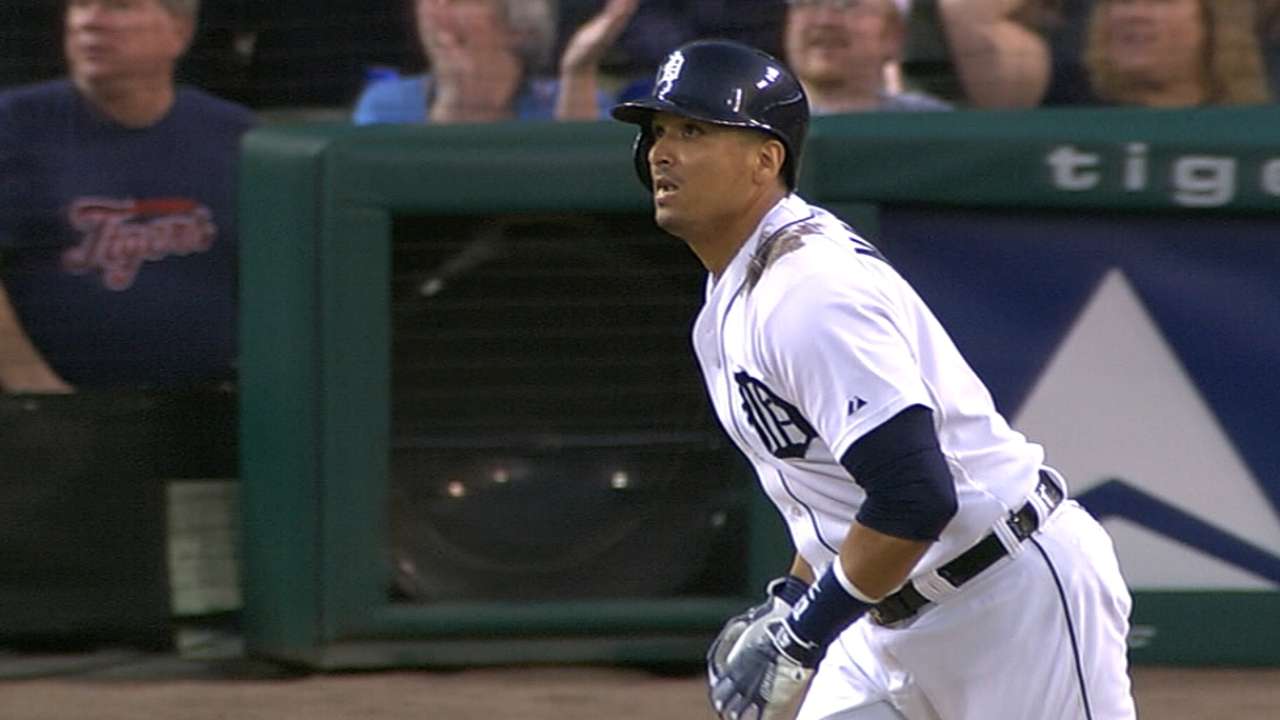 DETROIT -- The Tigers have earned a slew of awards over their last few years of success. Until now, the Edgar Martinez Outstanding Designated Hitter Award wasn't one of them. Victor Martinez just broke the drought on that one, too.
After finishing second to the Angels' Mike Trout in American League Most Valuable Player Award voting, Martinez can claim the Outstanding DH Award as a consolation. He became the first Tiger to win the award since Rusty Staub in 1978.
It's the latest honor for Martinez, who enjoyed the best season of his career. At age 35, he was essentially the toughest out in the big leagues.
Martinez led the Major Leagues with a .974 OPS, and topped the AL with a .409 on-base percentage. His .335 batting average finished second only to Houston's Jose Altuve among AL hitters. His .565 slugging percentage topped even AL home-run champion Nelson Cruz, thanks to 33 doubles along with his 32 home runs.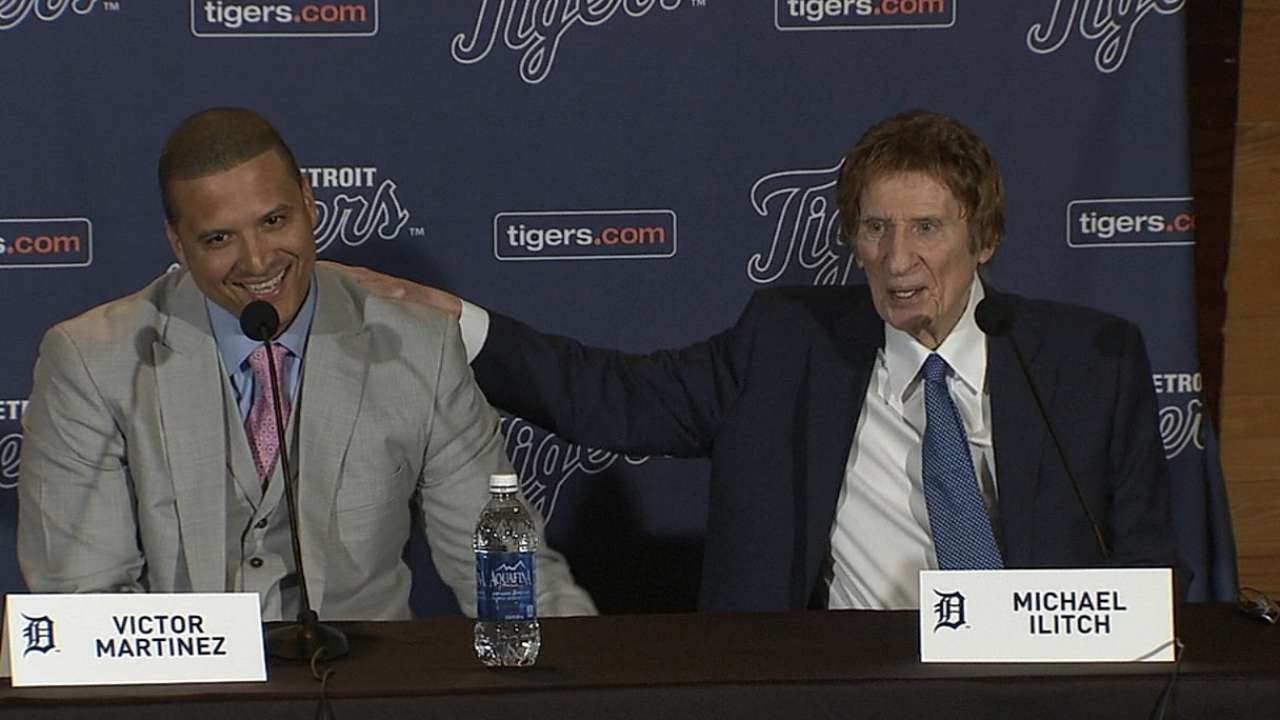 Martinez spent much of the year with his home-run and strikeout totals in a neck-and-neck battle. He couldn't keep the strikeout total lower by the end, but he became the first hitter since Barry Bonds in 2004 to hit 30 or more home runs with 42 or fewer strikeouts in the same season.
Add in the hit totals, and Martinez is the second player in the last quarter-century to do the aforementioned with 180 or more hits as well. Gary Sheffield was the last to do it in 1992.
Add in the walk totals, and Martinez is the first player in 60 years -- and the 17th player since 1901 -- with 180 or more hits, 30 or more home runs, 70 or more walks and 42 or fewer strikeouts in a season. Stan Musial was the last to do it in 1954, his fifth such season.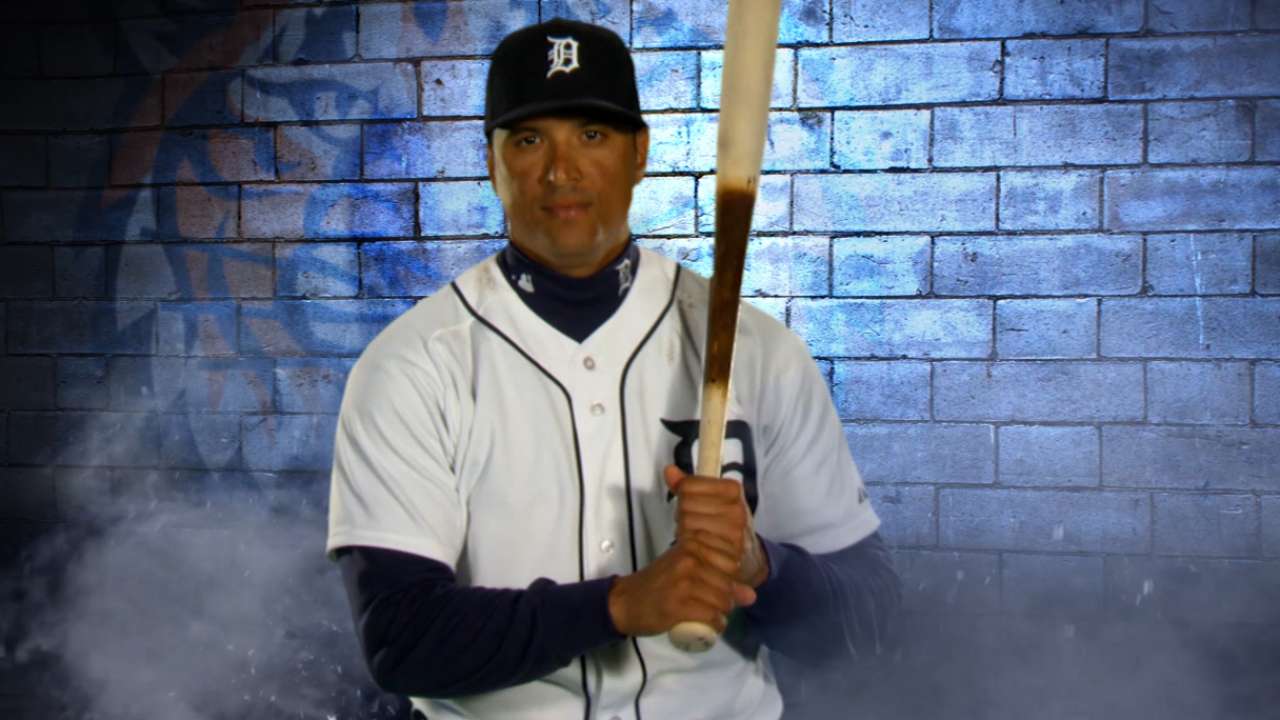 Martinez's 5.3 Wins Above Replacement, according to baseball-reference.com, was the highest by a primary designated hitter since Boston's David Ortiz in 2007. Replacing Martinez would have been impossible for the Tigers to still win a fourth consecutive AL Central title.
It was s a strong enough contract year for Martinez that the Tigers signed him to a four-year, $68 million deal to keep him around, putting him in position to spend the rest of his career in Detroit.
Considering his lofty standing regardless of position, his standing atop the DH field was clear. Among the half-dozen full-time designated hitters, Martinez led in batting average, on-base and slugging percentages, total hits, doubles and walks. He trailed Cruz and perennial DH award-winner Ortiz in home runs and RBIs.
American League beat writers, broadcasters and public relations departments have been voting on the Outstanding DH Award since the position's inception in 1973, selecting from a field that includes any player who receives at least 100 at-bats at DH in a season. Major League Baseball named the award after five-time recipient Edgar Martinez in 2004, but Ortiz -- Martinez's teammate in Boston in 2009 and 2010 -- now leads all players as a seven-time winner. Tigers great Willie Horton won the award in 1975.
Jason Beck is a reporter for MLB.com. Read Beck's Blog and follow him on Twitter @beckjason. This story was not subject to the approval of Major League Baseball or its clubs.