MLB.com Columnist
Jonathan Mayo
Rule 5 of thumb: Gems can be found in Draft
Astros' DeShields, Marlins' Garcia, Braves' Graham among prospects being mentioned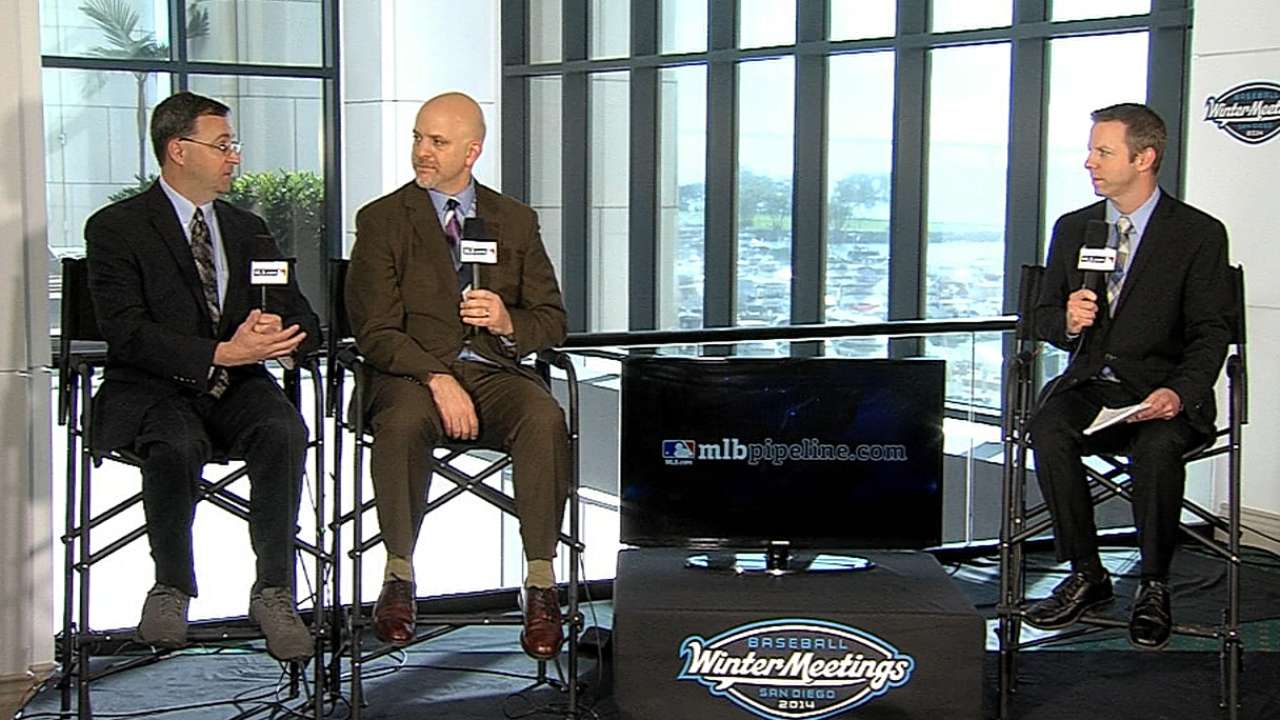 SAN DIEGO -- Most of the noise at this year's Winter Meetings has come in the form of trade news and rumors (Jeff Samardzija, Miguel Montero, Dee Gordon, etc.) and free-agent signings (Jon Lester). Underneath that roar, the Rule 5 buzz that typically comes was starting to hum.
While not the household names in the deals referenced above, the Astros' Delino DeShields Jr., Marlins left-hander Jarlin Garcia and Braves right-handed pitcher J.R. Graham were among the names getting the most Rule 5 attention.
The draft, attended by all 30 Major League organizations, takes place on Thursday (live audio coverage begins on MLB.com at noon ET). The player pool is made up entirely of players not protected on a team's 40-man roster. As a result, the Rule 5 Draft has often been equated to finding diamonds in the rough. Teams' scouting departments will scour the list of eligible players, looking for potential where others perhaps didn't see any.
"It's a lot of players to go through," Astros pro scouting director Kevin Goldstein said. "All of our scouts are invited to be a part of the process and identify possible candidates, and the debate goes from there. We've certainly whittled the 66 pages of names down to a small group of final candidates, but we're still in the process of really locking in our pref list."
The Astros pick No. 4 this year after having the top spot the previous two years. The Rule 5 Draft order is constructed the same way as the First-Year Player Draft -- reverse order of the previous season's overall standings, though extra picks aren't given as compensation like in the June Draft. The D-backs have the No. 1 pick in San Diego on Thursday, followed by the Rockies and Rangers, before Goldstein and the Astros can consider making a selection.
DeShields, Garcia and Graham weren't the only names being bandied about in the lobby. As is often the case, pitchers are the popular attraction, with 95 of the 130 players taken in the Major League phase of the Rule 5 Draft since 2006 having been hurlers. Carlos Melo of the Indians, Cody Martin, also of the Braves, the Tigers' Edgar De La Rosa and the Mets' Logan Verrett are some of the other arms being discussed. Roberto Pena, a defensive-minded catcher in the Astros organization, has been mentioned as a possible pick. Other than DeShields and Pena, Brewers first baseman Nick Ramirez, Red Sox outfielder Henry Ramos and Marlins first baseman Mark Canha are other bats who could hear their names called on Thursday.
"I know there's a lot of talk out there about some mystery person that everybody wants, so hopefully we'll know who that one is since we get the first pick," D-backs general manager Dave Stewart said. "We've been asked to trade it, but we're not going to trade it."
To make a selection in the Major League phase of the Rule 5 Draft, a team must have room on its 40-man roster for the new player. Clubs pay $50,000 to select a player in the Major League phase. If that player doesn't stay on the selecting team's 25-man roster for the full season, he must be offered back to his former team for $25,000. Last year, nine players were selected in the Major League phase. Three -- Tommy Kahnle with the Rockies, Adrian Nieto with the White Sox and Wei-Chung Wang with the Brewers -- stuck all season.
There are also Minor League phases. It costs $12,000 to take a player in the Triple-A phase of the Rule 5 and $4,000 in the Double-A portion. In these phases, there are no rules about what level the selected prospect must play to remain with his new organization. Last year's buzz came from the Triple-A phase, in which the Rangers took Seattle Seahawks quarterback and former Minor Leaguer Russell Wilson. Justin Bour also ended up making news by being taken in the Triple-A phase by the Marlins and reaching the big leagues this past season.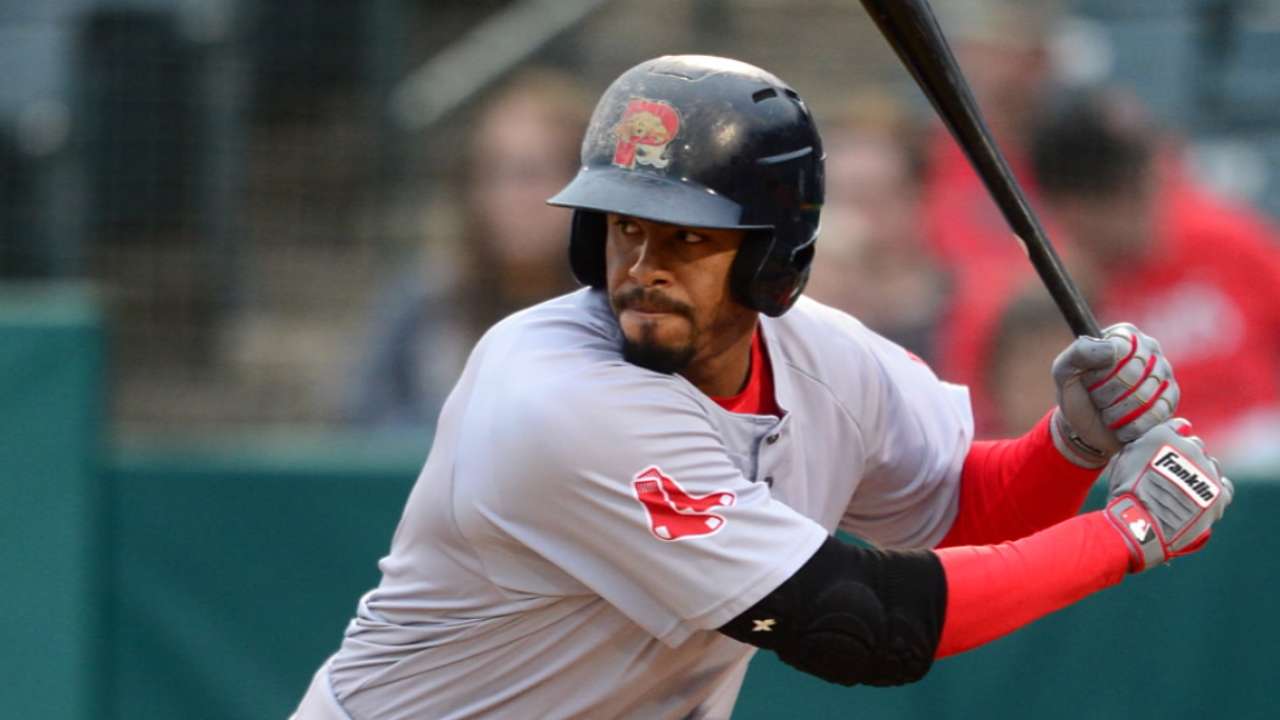 Changes to the Rule 5 Draft in 2006, giving teams an additional season to evaluate players before having to make roster decisions, have made it a little more difficult to find talent. Now, players first signed at age 18 must be added to 40-man rosters within five seasons or they become eligible to be drafted by other organizations through the Rule 5 process. Players signed at 19 years or older have to be protected within four seasons.
In other words, an international player or high school draftee signed in 2010, assuming he was 18 or younger as of June 5 of that year, must be protected. A college player taken in the 2011 First-Year Player Draft is in the same boat.
A player is usually left unprotected because a team either believes he's so far away from being a big league contributor that he won't stick, or it is willing to part ways with that player. Whatever the reason, there are some intriguing names on that massive list of eligibles.
Will any of these players turn into Josh Hamilton, Joakim Soria, Dan Uggla or Johan Santana? It might seem unlikely, but only time will answer that question. And more players taken in the Rule 5 Draft, even since the rules changed in 2006, have stuck in the big leagues than one might expect.
Including the nine players taken in 2013, there have been 130 players selected in the Major League phases of the past eight Rule 5 Drafts. A total of 41 players stuck in the big leagues the next season, though not always with the team that took them. That's a success rate of 31.5 percent. Considering the needle-in-the-haystack feel of the Draft, that's a higher rate of success than many would predict.
"I'm surprised," Goldstein said. "It's still a needle in the haystack, but maybe it's a knitting needle. It's a tough exercise. You're balancing the players who can stick and players who could use the time to develop more [in the Minors]."
The Rule 5 Draft order and the status of each team's 40-man roster as of Wednesday night. Teams can only select a player if it has space on its 40-man roster.
1. Arizona Diamondbacks, 39
2. Colorado Rockies, 39
3. Texas Rangers, 38
4. Houston Astros, 38
5. Minnesota Twins, 39
6. Boston Red Sox, 39
7. Chicago White Sox, 38
8. Chicago Cubs, 38
9. Philadelphia Phillies, 38
10. Cincinnati Reds, 38
11. Miami Marlins, 39
12. San Diego Padres, 39
13. Tampa Bay Rays, 40
14. New York Mets, 39
15. Atlanta Braves, 38
16. Milwaukee Brewers, 39
17. Toronto Blue Jays, 37
18. New York Yankees, 37
19. Cleveland Indians, 40
20. Seattle Mariners, 39
21. San Francisco Giants, 40
22. Pittsburgh Pirates, 39
23. Oakland Athletics, 40
24. Kansas City Royals, 39
25. Detroit Tigers, 40
26. St. Louis Cardinals, 37
27. Los Angeles Dodgers, 40
28. Baltimore Orioles, 37
29. Washington Nationals, 40
30. Los Angeles Angels, 39
Jonathan Mayo is a reporter for MLB.com and writes a blog, B3. Follow @JonathanMayoB3 on Twitter. This story was not subject to the approval of Major League Baseball or its clubs.