Reds hope Meetings create market movement
Cincinnati looking to fill holes in left field, bullpen
CINCINNATI -- The Reds know they have work to do in order to bounce back from a disappointing 2014 season. They also know that even if last season's injury-riddled roster returns at full strength and stays healthy in 2015, there are still some improvements needed.
For four days next week in San Diego, there will be no better place to work toward making upgrades. The annual Winter Meetings begin Monday.
Reds general manager Walt Jocketty made one trade this week by sending reserve outfielder Chris Heisey to the Dodgers for Minor League starting pitcher Matt Magill. But that transaction did not address the primary offseason goals.
"We're still looking to improve the bullpen and offense, preferably left field. That's where the hole is right now," Jocketty said. "We're still talking to a lot of clubs. Hopefully, we'll get to some resolution next week. There are still a lot of clubs just not making decisions right now. There are a lot of free agents out there holding it up. Maybe things will break next week."
Although the Reds have not made a trade or major signing during the Winter Meetings for five years, the club will be watched closely for what it might do. The roster is filled with multiple players viewed as tradeable, either because of reasonably priced contracts or because they are a year from becoming free agents.
However, for those speculating that the Reds would dismantle their core by moving key players to rebuild for 2016, they would be mistaken.
"We are trying to win in 2015," Jocketty said.
Here is a quick look at the Reds' situation heading into the Winter Meetings:
Club needs
Left field: The Reds simply need offense after a season in which they finished 29th out of 30 clubs in hitting and on-base percentage. Currently, the only opening in the lineup is for a regular left fielder -- especially now that Ryan Ludwick and Heisey have moved on. Jocketty has stated his preference for finding a high on-base-percentage hitter. He also doesn't have much payroll flexibility, which eliminates any high-priced free agents. Nori Aoki fits the bill of having a good OBP and wouldn't be overly expensive. Jocketty said there has been no movement on signing Aoki or another target, Michael Morse.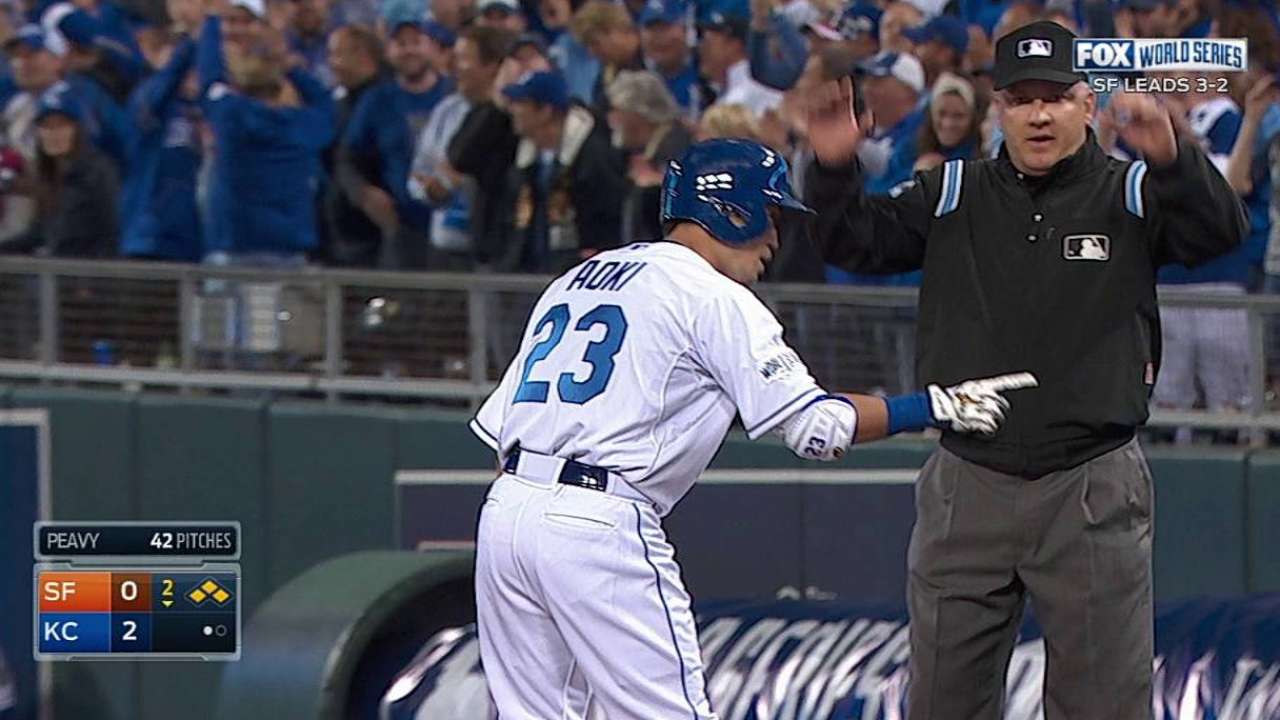 Bullpen: While Aroldis Chapman is expected back as closer after the best season of his career, the rest of the bullpen took a step back in 2014. It posted a 4.11 ERA that was 14th out of 15 National League bullpens and the bottom really dropped in the second half when the group had a 1-17 record. Even after trading Jonathan Broxton's pricey contract in August, the payroll doesn't provide much room for a big expenditure here. Expect Cincinnati to scour low-priced, low-risk options for veterans who can potentially provide a bigger reward.
Who they can trade, if necessary
Mat Latos: A younger power arm, Latos can be a free agent after the 2015 season. He pitched over 200 innings in 2012-13 but was bogged down by multiple injuries last season.
Mike Leake: Also a year from free agency, Leake has shown consistency, especially the last two seasons. He crossed 200 innings for the first time in 2014 and would be a good middle- to back-of-the-rotation starter for any club. Although he will get a raise through the arbitration process after earning $5.9 million last season, he would still be a bargain for some teams.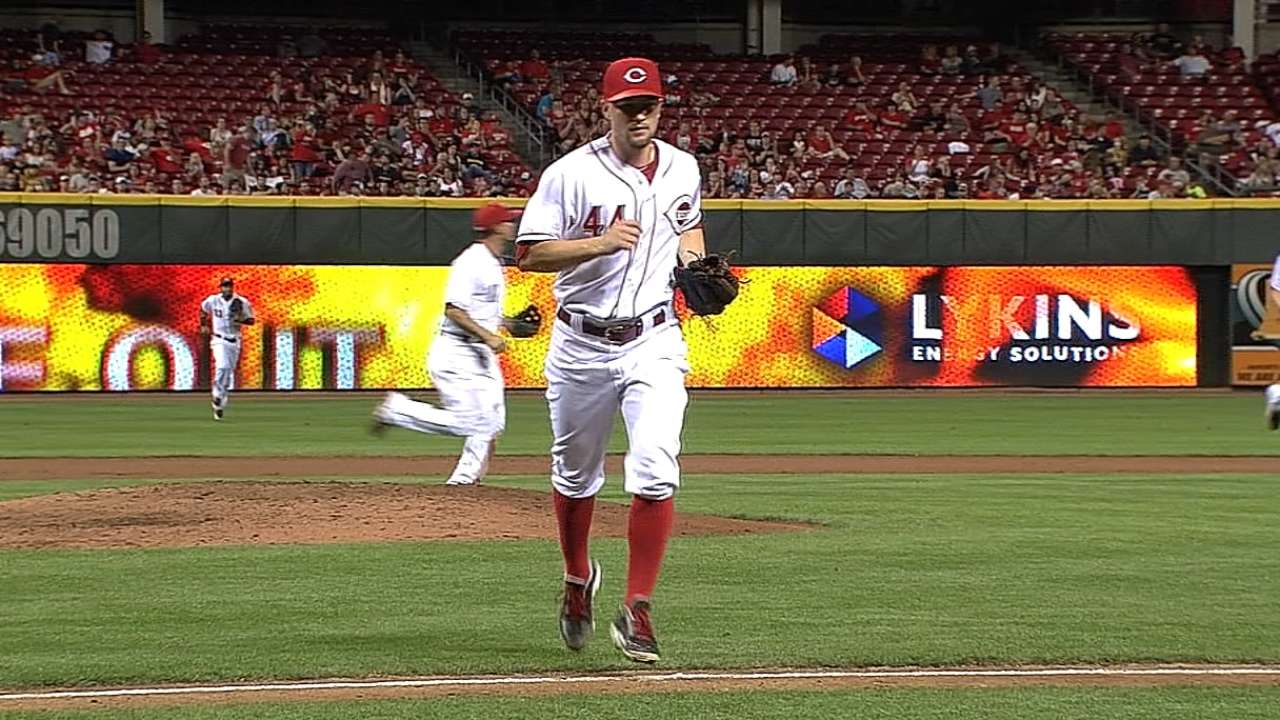 Alfredo Simon: A year from free agency, too (sense a trend?), Simon went from being a middle reliever to the rotation and won 15 games, pitched 196 1/3 innings and made the All-Star team. A second-half slump might have hurt his value some and he could get a sizeable raise in arbitration from the $1.5 million he earned in 2014.
Johnny Cueto: The least likely of the four starting pitchers to get dealt, especially if the Reds hope to contend in 2015, Cueto will earn $10 million in the option year of his contract. That makes the ace a colossal bargain, and it would take a huge return to get the Reds to even contemplate trading him.
Jay Bruce: After a down year offensively, in part because of a knee injury, Bruce's name has popped up in rumors recently. For his track record of offense and age (27), his $24.5 million owed over the remaining two years of his contract are reasonable. But the Reds would be selling low here and it makes little sense for a team needing offense to trade someone who provided a chunk of it over his career.
Chapman: Another unlikely departure, especially if the Reds are interested in vying for the NL Central crown. But Chapman is second-year arbitration eligible and there are a few teams in need of a closer this winter.
Top prospects
The Reds' top 10 prospects per MLB.com are: starting pitcher Robert Stephenson, outfielder Jesse Winker, outfielder Phillip Ervin, starting pitcher Michael Lorenzen, starting pitcher Nick Howard, starting pitcher Ben Lively, shortstop Alex Blandino, starting pitcher Nicholas Travieso, left-handed pitcher Ismael Guillon and left-handed pitcher David Holmberg.
Dealing prospects a few years ago depleted the upper portions of the system and affected the big league club's depth last season. Many of the top prospects are approaching Double-A or Triple-A, which could pay dividends if the Reds lose some players to free agency after 2015.
Big contracts
Joey Votto has nine more seasons and $206 million remaining on the contract extension he signed in April 2012, plus a $20 million club option for the 2024 season. It also comes with a no-trade clause, and after an injury-shortened year, it's unlikely that he would be moved. Brandon Phillips, the subject of trade rumors at the Meetings last year, now has 10-and-5 rights that require his approval for any trade. Phillips also has three years and $39 million left on his contract.
Rule 5 Draft
The Reds' 40-man roster currently stands at 38 players, which leaves two spots open if they would want to add a player in Thursday's Rule 5 Draft. Cincinnati has avoided making selections in its recent history.
Payroll summary
The Reds currently owe about $81 million with 10 players under contract for 2015 and have seven players eligible for arbitration. That could put the payroll in the range of $110 million-$115 million, giving the small-market club little wiggle room to make additions.
"I'd like to be able to get this stuff put to bed," Jocketty said. "We're spending a lot of time trying to come up with solutions here."
Mark Sheldon is a reporter for MLB.com. Read his blog, Mark My Word, and follow him on Twitter @m_sheldon. This story was not subject to the approval of Major League Baseball or its clubs.