Rangers' offseason focus remains starting pitching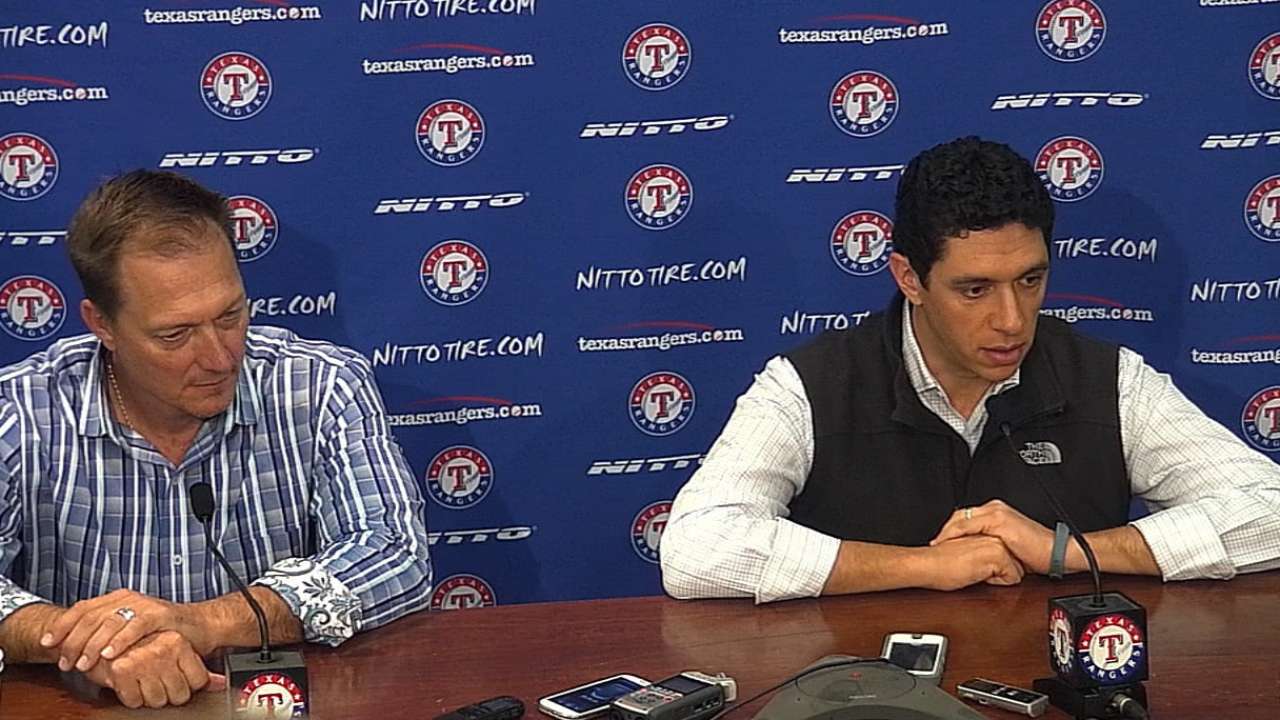 ARLINGTON -- The Rangers made a serious effort to sign free-agent outfielder Torii Hunter this week, but general manager Jon Daniels said the club's top priority this winter is still starting pitching.
"Our interest in Torii was unique to him," Daniels said. "He was a player who fit on our club with right-handed power, but a lot of it had to do with his makeup and what he could do in the clubhouse. Our focus still has been more on pitching as a priority. We'd like to add a catcher, too. There are scenarios where we might add a bat, but it was a unique situation with Torii."
Daniels said the Rangers have been looking for starting pitching in both trade talks and the free-agent market. Daniels reiterated the Rangers are not going to be bidding on the top free-agent starters, most notably Jon Lester, Max Scherzer and James Shields.
"Right now, the market has moved quicker on bats," Daniels said. "Most of the big-name guys moved have been offensive players. That's the nature of the market. There are not many offensive players out there."
Daniels and manager Jeff Banister met with the media in advance of the Winter Meetings that start on Monday in San Diego.
Among the items that came out of the session:
• The Rangers are still planning to go slow with infielder Jurickson Profar after he missed all of last season with a torn muscle in his right shoulder. Profar is expected to start a throwing program in January, but the Rangers don't expect him to be at full strength going into Spring Training.
• The Rangers have told Robbie Ross Jr. that he will be back in the bullpen in 2015. He was a reliever in '12-13 before moving to the rotation last season. But Ross was 1-6 with a 5.70 ERA in 12 starts, and the Rangers told him at the end of the season that he would be a reliever this coming season.
• Matt Harrison, who has missed most of the past two seasons because of severe back injuries, is not expected to be at full strength at Spring Training. The Rangers want to take it slow with Harrison and are not considering him as a candidate for the rotation coming out of Spring Training.
• Banister said that Shin-Soo Choo will "most likely" move to right field next season. Choo played mostly left field for the Rangers last season but was a right fielder for the Indians from '09-12.
• The Rangers are open to a return by catcher Geovany Soto, who is a free agent. Soto was sold to the Athletics in August, but one of his assets is a strong relationship with pitcher Yu Darvish.
• The Rangers named their top three Minor League managers. Jason Wood will manage Triple-A Round Rock; Joe Mikulik will manage Double-A Frisco; and Spike Owen will be at Class A High Desert. Wood moves up from Frisco to replace Steve Buechele, who is on the Major League coaching staff.
• Banister met with Darvish for the first time on Thursday. Said Banister: "Impressive man. He's a lot bigger when you stand next to him than when you see him from the dugout. Very impressive guy. Got to watch him work out. Got to see some athleticism in a man that got after it pretty good this morning as I watched him work out. Gave him some questions to kind of chew on and think about, and hopefully he'll get back to me [with what is] on his wish list."
• Daniels said Corey Knebel, one of the two pitchers acquired from the Tigers in the Joakim Soria trade, is healthy again. Knebel was shut down at the end of this past season because of a sprained right elbow.
T.R. Sullivan is a reporter for MLB.com. Read his blog, Postcards from Elysian Fields, and follow him on Twitter @Sullivan_Ranger. This story was not subject to the approval of Major League Baseball or its clubs.