Angels looking to be opportunistic at Winter Meetings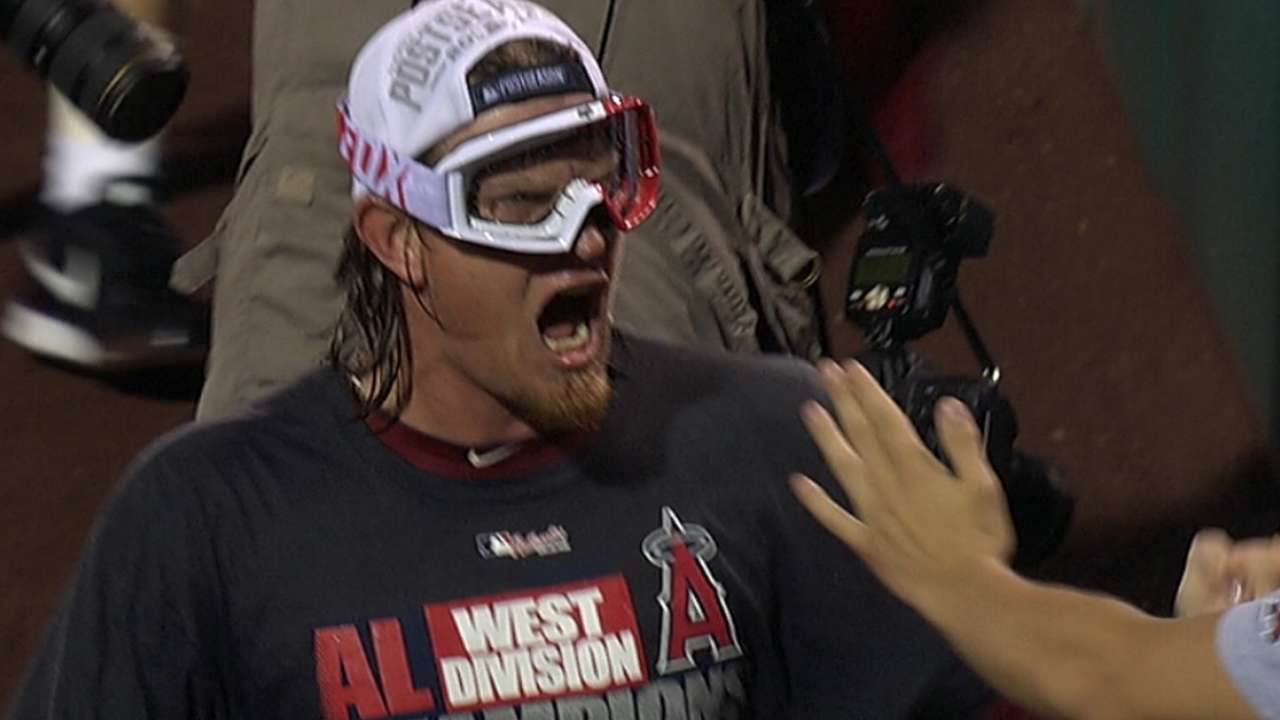 ANAHEIM -- The Angels may not project as one of the busier teams at the upcoming Winter Meetings, but their general manager, Jerry Dipoto, said they're "keeping an eye toward opportunity" nonetheless.
And no venue breeds opportunity like the hotel baseball executives, player agents and media members will gather at in San Diego this year. Angels representatives will arrive Sunday with most of their 98-win team intact and a payroll that's nearly maxed out -- but also an open mind as the Meetings officially get underway Monday.
"Part of the appeal of building flexibility and depth is that it does give you the ability to capitalize on opportunity," Dipoto said. "We'll be open to that."
Below is a categorical breakdown of how that opportunity could arise.
Club needs
Frontline starter: Dipoto said that for his rotation to improve, "We're going to have to find a way to improve at the top." Then he added: "That's really hard to do." They can't sign the likes of Jon Lester, Max Scherzer or James Shields without blowing past the luxury-tax threshold (there haven't been any indications of that happening). And it's almost impossible to get a front-of-the-rotation arm in the trade market without a strong package of prospects (they don't really have that). Dipoto's comments were mainly intended to point out that the Angels already have a strong rotation that wouldn't benefit from a mediocre veteran, not as an indication that they're in the market for another ace.
Cost-controlled starting pitching: The Angels addressed that need by acquiring 24-year-old right-hander Nick Tropeano, who can be a safety net to a five-man staff that includes Jered Weaver, Garrett Richards, C.J. Wilson, Matt Shoemaker and Hector Santiago. But you can always have more. And the Angels, perpetually seeking cost-controlled starters, will keep their ears open for other ways to acquire those arms in a trade or on Minor League deals.
Utility infielder: This is the Angels' greatest need right now -- and perhaps the area they'll allocate the most dollars to on the free-agent market. With Gordon Beckham non-tendered, the only player in the organization ready to play shortstop at the Major League level behind Erick Aybar is longtime Minor Leaguer Shawn O'Malley. The Angels will spend a good chunk of the Winter Meetings looking for middle-infield depth. They'd be interested in bringing back Beckham, but Ramon Santiago, Jed Lowrie and Daniel Descalso are among the options in free agency.
Left-handed bat: The Angels' bench right now is pretty bare, aside from multi-skilled fourth outfielder Collin Cowgill. And they could benefit from a left-handed power bat who can either serve as a fifth outfielder, platoon with C.J. Cron at designated hitter, spell third baseman David Freese against a tough right-hander or -- if they're really lucky -- all of the above. But it doesn't sound like they see that as a focal point just yet. The likes of Andy Dirks, Nate Schierholtz and Juan Francisco are nonetheless out there.
Left-handed bullpen depth: The Angels have built a ton of right-handed bullpen depth over the last 14 months, but they're short on lefties. Veteran southpaw Cesar Ramos was acquired from the Rays for pitching prospect Mark Sappington in early November, but he may be used more as a multi-inning reliever and the Angels would like more left-handed option. Joe Beimel, Wesley Wright and Craig Breslow are among the available, affordable options in free agency.
Backup catcher: The Angels have high hopes for Carlos Perez, who was acquired alongside Tropeano in the deal that sent Hank Conger to the Astros. But they'd like to add a little more catching depth -- likely on a Minor League deal -- to vie for the backup job behind Chris Iannetta or serve as depth in Triple-A. Someone like Wil Nieves, John Baker or John Buck could eventually fit that need.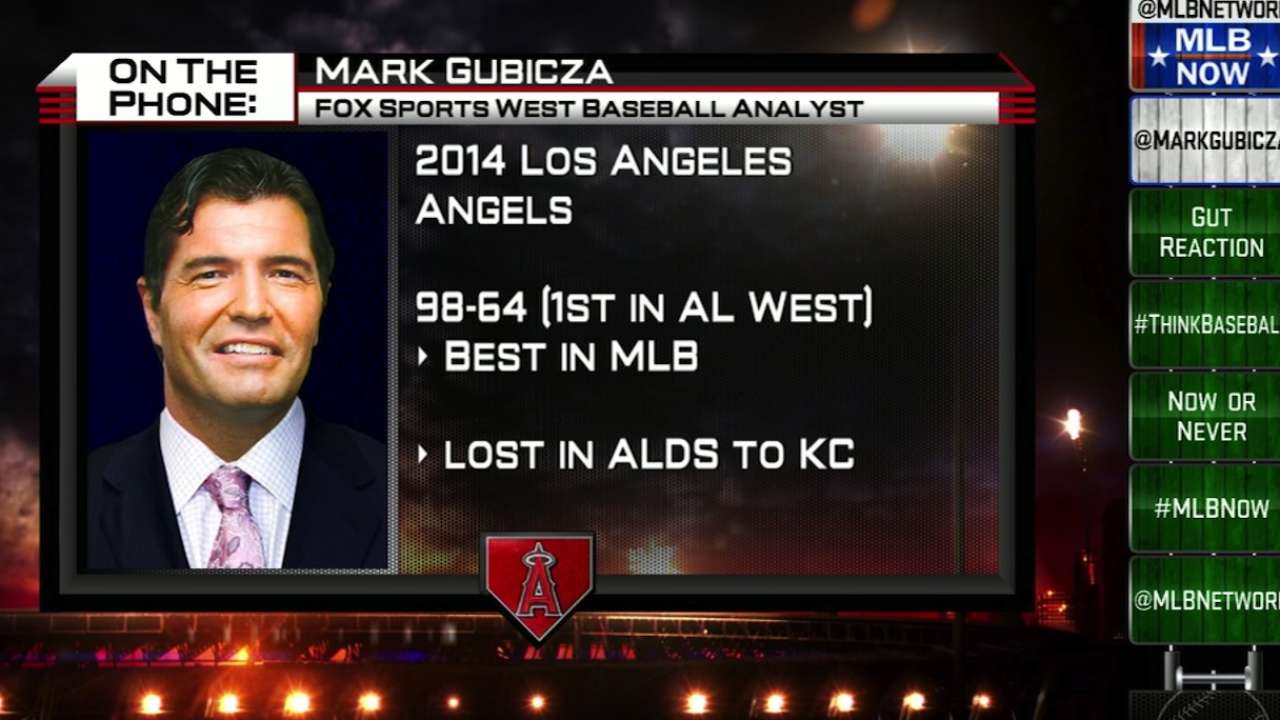 Who they can trade if necessary
Second baseman Howie Kendrick: Trading Kendrick was no longer a necessity when Tropeano was acquired on Nov. 5. "We don't need to do anything uncomfortable," Dipoto said. A Kendrick trade would be uncomfortable, considering his steady production offensively and defensively the last few years. But he is entering his final year before free agency, second base is the Angels' deepest position, organizationally, and several teams -- the Nationals, most notably -- could use a guy like Kendrick. If the Angels can use Kendrick to get a top-tier starter, they'll jump on it. The chances of that happening, given their farm system, are slim.
Freese: The Angels tendered Freese a contract, even though he'll probably make more than $6 million in his final year before free agency, because they don't think they can replace his production in-house or in free agency. Other teams could see it that way, too. Perhaps the Giants, who lost Pablo Sandoval to the Red Sox. Maybe the Astros, given their hole at third and general manager Jeff Luhnow's affection for Freese when they were in St. Louis together. Again, the Angels would seek pitching.
Cron: The 24-year-old has a lot of pop from the right side of the plate, and as the contracts for Nelson Cruz, Billy Butler, Michael Cuddyer and Hanley Ramirez indicated, right-handed power is one of the most valued commodities in today's game. Cron hasn't drawn much outside interest in the past, but maybe it changes now that he showed some flashes in the big leagues this past season.
Reliever Kevin Jepsen: If there's one department the Angels can afford to trade from, it's right-handed relief. And one guy they may be able to sell high on is Jepsen, who's coming off a fabulous season (2.63 ERA, 1.05 WHIP, 10.4 strikeouts per nine innings) and is in his third of four arbitration years. On the Angels, he pitches the seventh inning. On a team in need of bullpen help, he could pitch the ninth.
Top prospects
Seven of the Angels' top eight prospects are pitchers, per MLB.com's rankings. And each of the top four were acquired over the last six months. It's a sign of the front office's determination to add high-ceiling pitching prospects, but also of how dry their system became. Sean Newcomb, Joe Gatto, Chris Ellis and Tropeano make up those first four spots, with third baseman Kaleb Cowart, reliever Cam Bedrosian, lefty starters Hunter Green and Ricardo Sanchez, second baseman Alex Yarbrough and catcher Carlos Perez rounding out the top 10, respectively.
Rule 5 Draft
The Angels went 11 years without acquiring a player in the Major League phase of the Rule 5 Draft until they got lefty reliever Brian Moran in a pre-arranged deal with the Blue Jays last December. Moran spent the entire season recovering from Tommy John surgery, and 1999 selection Derrick Turnbow remains the last Rule 5 pick to crack the Angels' roster. They currently have three open spots on the 40-man roster, so there's at least room to add a Rule 5 hopeful.
Big contracts they might unload
Josh Hamilton will be the Angels' highest-paid player next season, set to make $25.4 million in the third of a five-year, $125 million contract. He's basically untradeable right now, because of his full no-trade clause and the .255/.316/.426 slash line he's posted the last two years. The Angels just have to hope Hamilton will finally be both healthy and productive in 2015, a year that will mark his age-34 season.
Payroll summary
Any discussion about the Angels' budget begins and ends with the Competitive Balance Tax payroll, which is the average annual value of all 40-man-roster contracts plus benefits and bonuses. This is the payroll Major League Baseball uses to determine which teams to tax for going over the luxury-tax threshold, and this is basically the Angels' spending limit. The threshold will be at $189 million this offseason and next offseason, leading up to a new Collective Bargaining Agreement. The Angels are approximately just less than $10 million below it now and already less than $40 million below it for next offseason.
Alden Gonzalez is a reporter for MLB.com. Read his blog, Gonzo and "The Show", and follow him on Twitter @Alden_Gonzalez. This story was not subject to the approval of Major League Baseball or its clubs.