Marlins out to fortify newfound stability at Meetings
With the luxury of building around a superstar, club looking for complementary pieces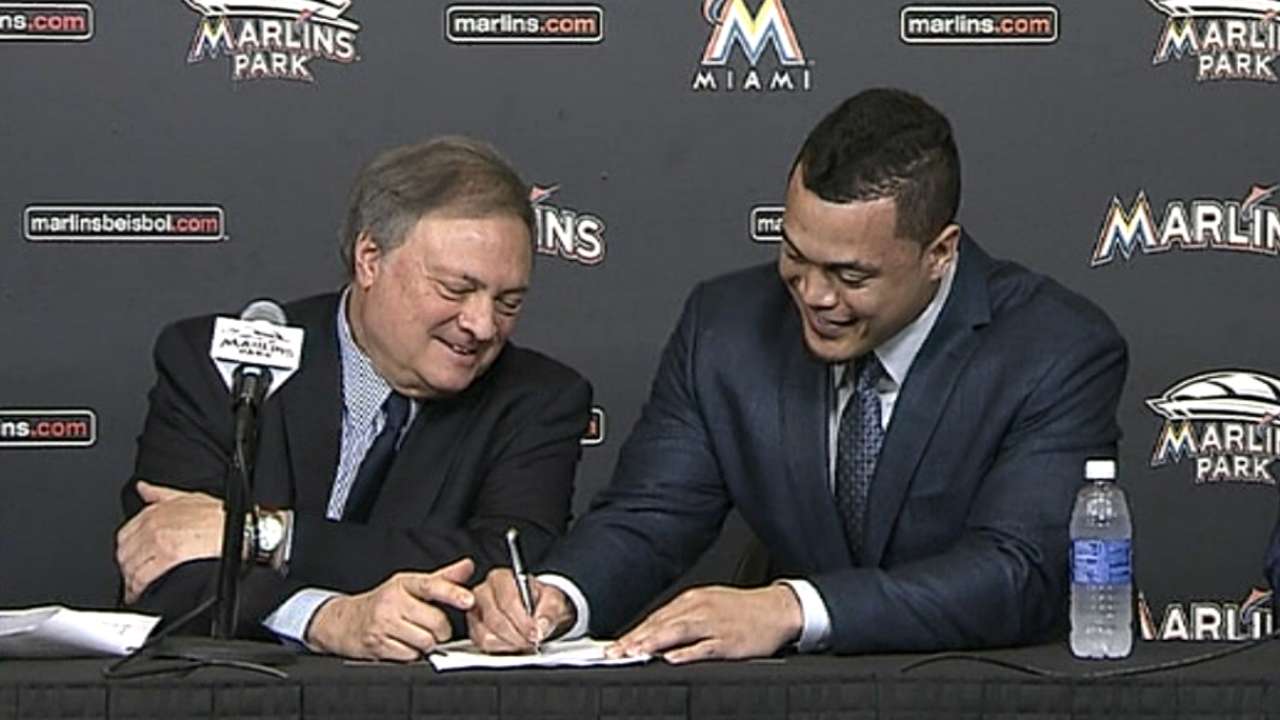 MIAMI -- The Marlins have already made a huge splash, signing Giancarlo Stanton to a record-setting deal on Nov. 19. When team officials arrive at the Winter Meetings in San Diego, they'll be looking to make some more moves.
Open to wheeling and dealing, the front office understands it has some unfinished business to tend to -- like finding a power bat and another front-line starting pitcher. If the club can accomplish one or both, the Winter Meetings will be a success.
If the Marlins are extremely greedy and happen to also acquire a regular second baseman, they will have converted a Winter Meetings triple play.
There is always uncertainty on the trade or free-agent markets, because other teams and variables come into play. The stability the Marlins do have now, as opposed to years past, is the fact Stanton is signed to a 13-year, $325 million contract, and the slugger is the undisputed centerpiece of the franchise. With a young superstar wrapped up, the hope is other high-end players will want to join him in South Florida.
"We have stability and sustainability, which is something this franchise has not had in the past," team president David Samson said the day Stanton signed.
Now they want some additional parts.
Jose Fernandez is expected to return around the All-Star break, and in the meantime, Miami is seeking as much pitching depth as possible.
Here's a quick glance at the Marlins' situation as they head to San Diego:
Club needs
Power bat: Miami made a run at free-agent first baseman Adam LaRoche, who instead accepted the White Sox's two-year, $25 million offer. The Marlins had a two-year, $20 million offer on the table. Unless Miami is targeting free agent Michael Morse, it appears a trade may be the way to go to add more firepower. Brandon Moss (Oakland), Allen Craig (Boston), Chris Davis (Baltimore), Evan Gattis (Atlanta) and Mark Trumbo (Arizona) are some possible trade targets.
Rotation: The ideal candidate would be a second ace, to give them an imposing one-two punch when Fernandez returns from his injury. The reality is, unless they get into the bidding for an upper-tier free agent like Jon Lester or Max Scherzer, that player may not be available to them. A more realistic target list may wind up being a pitcher with controllable service-time years. Basically a choice similar to when the Marlins obtained Jarred Cosart from the Astros in July.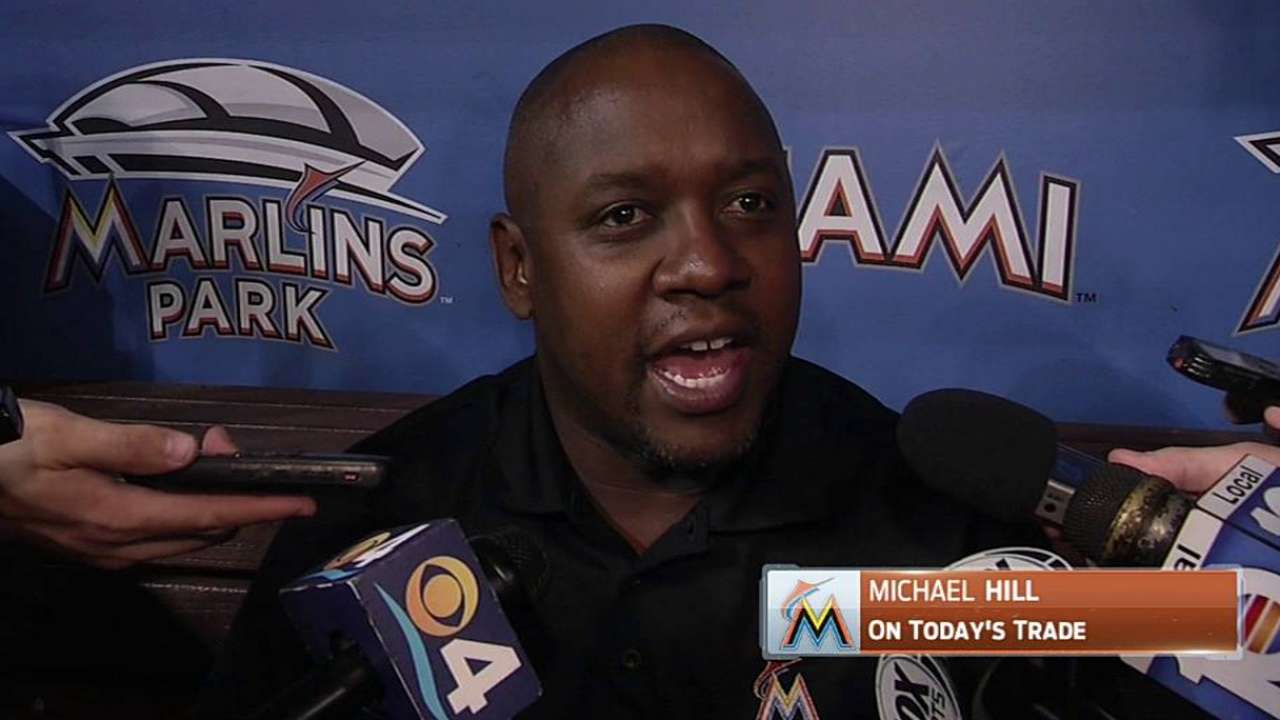 Second base: When the Marlins signed free agent Rafael Furcal last winter, they hoped they'd found the answer. It didn't work out. Furcal was signed to lead off, play second and add a veteran presence. Hamstring injuries derailed those plans, and he ended up playing in just nine games. So the search is again on, and the market is extremely lean. Miami may wind up once again going by committee, seeing if Donovan Solano and Enrique Hernandez can handle the position.
Who they can trade if necessary
1B Garrett Jones: If another first-base option is obtained, it is likely Jones will be moved. The veteran is signed for $5 million in 2015, and it is unlikely the Marlins would retain him as a backup.
LHP Mike Dunn: Second-year arbitration-eligible, Dunn's salary could increase from $1.4 million in '14 to around $3 million next year. The lefty has been one of the workhorses in the bullpen the past few years. While the club would like to keep him, he could be used as a piece to complete a trade.
2B Derek Dietrich: Injuries and spotty defense plagued Dietrich, the club's Opening Day second baseman. The 25-year-old is working at other positions, like first base and third base. The arrival of Hernandez makes Dietrich, a left-handed hitter, expendable.
RHP Nathan Eovaldi: If the club does acquire a front-line starter, Eovaldi very well could be shopped. He is affordable (first-year arbitration-eligible) and possesses a power arm, a combination that would make him enticing to a number of clubs.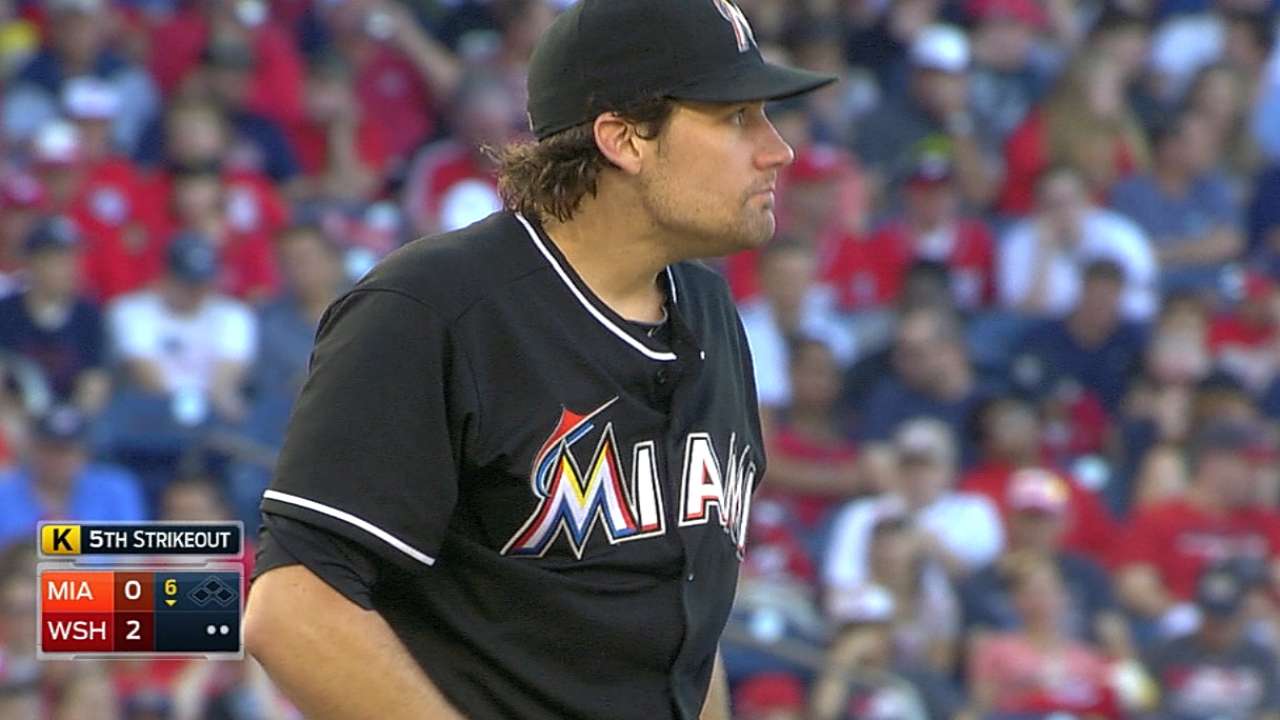 Top prospects
A year ago, the Marlins were highly protective of their pitching prospects. Although the club had needs, it refrained from dealing any of its young arms. This year, Miami is at least open to listening, and if something makes sense, they'd consider pulling the trigger. That means lefty Andrew Heaney, the team's top prospect according to MLB.com, could be part of a trade package. Tyler Kolek, the hard-throwing right-hander who was the second overall pick in 2014, is not in play.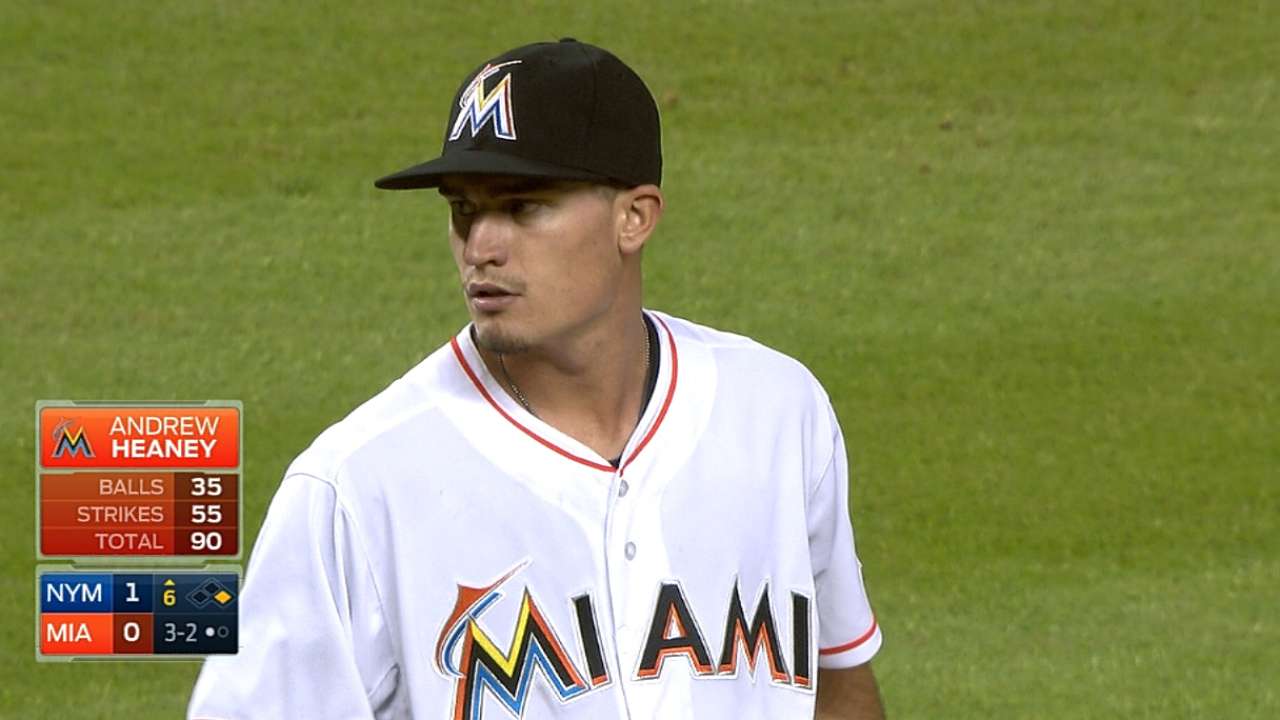 Rule 5 Draft
With their 40-man roster full, a space would have to be cleared for the Marlins to take part in the MLB Phase of the Rule 5 Draft, which caps the Winter Meetings on Thursday.
Big contracts they might unload
The closest is catcher Jarrod Saltalamacchia, set to make $15 million over the next two seasons. Miami is leaning toward keeping Saltalamacchia, who will make $7 million in '15.
Payroll summary
The projected number is $65 million. Unless there is some wiggle room, it is unlikely the club will be in on any of the top-tier free agents -- at least anyone seeking more than $20 million a season, or a total package above $100 million.
Joe Frisaro is a reporter for MLB.com. He writes a blog, called The Fish Pond. Follow him on Twitter @JoeFrisaro. This story was not subject to the approval of Major League Baseball or its clubs.