MLB.com Columnist
Jonathan Mayo
Pipeline Perspectives: Matuella should be No. 1 pick
Duke right-hander has plus stuff and better-than-average control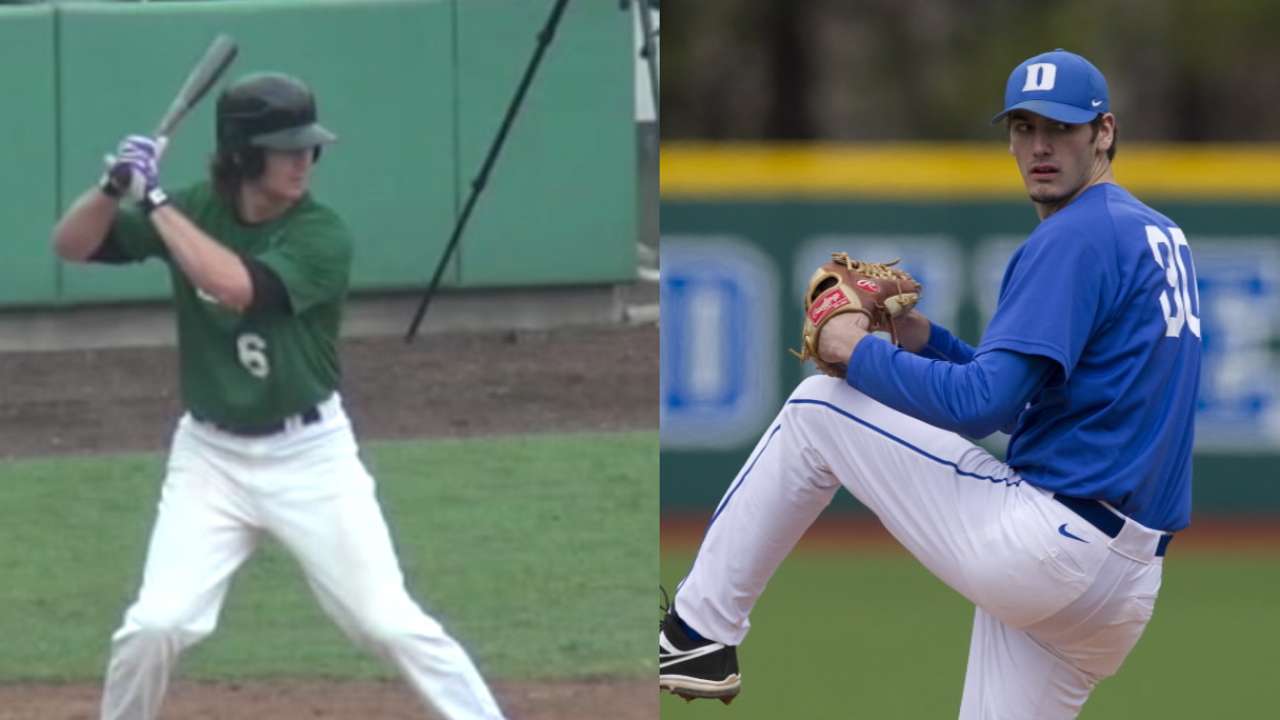 There's a good amount of subjectivity regarding baseball prospects. With the evaluation of talent being in the eye of the beholder, finding consensus is often difficult. Even Jim Callis and Jonathan Mayo of MLBPipeline.com don't always see eye to eye. They discuss their viewpoints regularly in a feature called Pipeline Perspectives. Submit a topic for them to debate.
We're well aware we have six months until the 2015 Draft is upon us. But it's never too soon to take a look at what the next Draft class has to offer.
Teams, after all, have follow lists and will hit the ground running the second the spring season starts up across high school and college baseball. Obviously, the Top 50 Draft prospects list we just put out will change considerably between now and June. But it's more than worthwhile to examine and peruse the list to get familiar with the top guys, if you're not already.
As the spring progresses, it will become more clear who the candidates for the No. 1 overall pick will be. That's not a guarantee we'll know who the Arizona Diamondbacks will select way ahead of time, but the field always narrows.
But that's for a later time. Now it's just a fun exercise to think about who could go 1-1 based on what we know now. To put the question another way: If the Draft was held today, who do we think should be the No. 1 pick? Jim is going with our current No. 1 prospect, high school shortstop Brendan Rodgers. I'm taking the top college arm, ranked No. 2 overall, Duke's Michael Matuella.
Both, to be sure, are more than valid choices. And I'm well aware there is some risk involved in getting in the Matuella camp. But he is exactly the type of amateur -- big, strong, plus stuff, tons of upside, possibly quick to the big leagues -- that teams invariably like at the top of a Draft.
First, the risk part. Matuella doesn't have the track record many scouts would like to have in a potential No. 1 pick. He's thrown just 116 innings over his first two seasons at Duke. He did pitch in the Cape in the summer of 2013, but only briefly, and he didn't throw at all last summer. He didn't face live hitters this fall, either.
The reason? A back condition called spondylolysis, a manageable defect of the vertebra in the lower back. Lower-back issues for a pitcher will always cause alarm, no doubt.
OK, that's the bad news. The good news is that now that it's been diagnosed and treated, Matuella has worked hard to make sure it's not an issue moving forward. The proof, as they say, might be in the pudding. He's going to have to go out and show he's healthy this coming spring. When Matuella does that, he'll make it abundantly clear why he should be in the No. 1 pick conversation.
There's his stuff: Four pitches, all with the potential to be Major League average or better, and Matuella can throw all of them for strikes. The fastball is plus, up to 97 mph, and he can flat out blow away hitters with it. Both his curve and slider can be above average, with the former a touch better than the latter, though both breaking balls can make hitters look bad. Oh, and Matuella has good feel for a changeup and better-than-average control.
All of that comes from a 6-foot-7 package. Matuella throws downhill, with an angle that makes it that much tougher to hit. The ball, already coming in with plus velocity, seems to get on the hitter even faster as a result of that downhill plane.
In other words, Matuella has all the makings of a top-of-the-rotation starter. Who knows, maybe the lack of innings is a positive, what with the slew of elbow surgeries that have become all the rage lately. In all seriousness, if Matuella shows his back isn't an issue this spring, the lack of track record won't be as big of a strike against him.
Dominant college starting pitchers, ones that profile as potential frontline starters, often go with the top pick. Mark Appel in 2013, Gerrit Cole in '11, Stephen Strasburg in '09 and David Price in '07. Don't be surprised if Matuella adds his name to that list on June 8.
Jonathan Mayo is a reporter for MLBPipeline.com and writes a blog, B3. Follow @JonathanMayoB3 on Twitter. This story was not subject to the approval of Major League Baseball or its clubs.