'I'm here to win,' Cruz says of joining Mariners
Right-handed slugger introduced to Seattle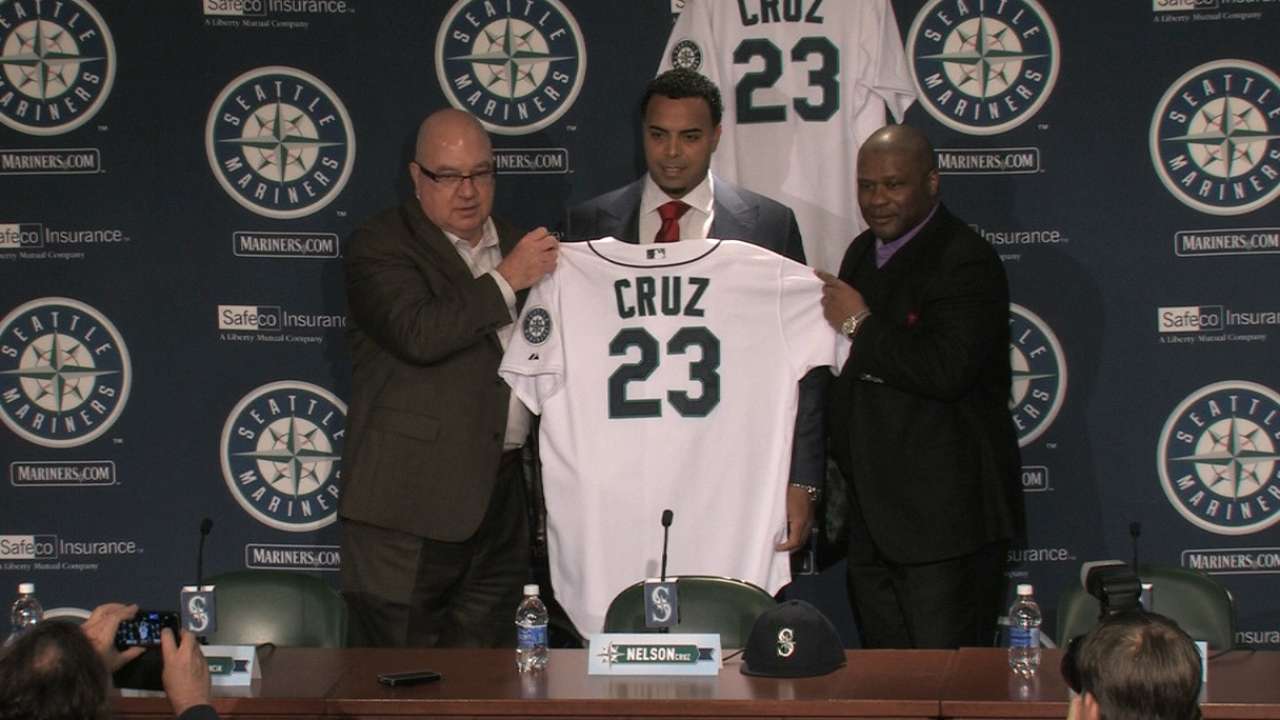 SEATTLE -- When they signed Robinson Cano a year ago to one of the richest contracts in Major League history, the Mariners got more than just the game's premier second basemen. Turns out they also landed a first-class recruiter and drawing card for other talented players.
That impact became apparent Thursday when slugger Nelson Cruz, a long-time friend of Cano and fellow Dominican standout, finalized his four-year, $58 million deal to join a Seattle club looking to continue its rise in the American League West.
Cruz played with Cano on the Dominican Republic's World Baseball Classic teams in 2009 and '13, as well as on some Caribbean Series squads and Dominican All-Star groups in the past.
"We're pretty close," Cruz said of Cano as the newest Mariner met with the media Thursday after signing his new deal. "He's one of the reasons I'm here. He was pulling for me the whole time. And I was pulling to be part of this. I'm very happy for the chance."
There's more to it, of course. Cano pushed for Cruz's addition last spring as well, but the Mariners and most MLB teams were hesitant after the big right-hander's 50-game suspension in the Biogenesis scandal in 2013 while he was with the Rangers. He wound up signing a one-year, $8 million deal during Spring Training with the Orioles, then led the Majors with 40 home runs in 2014 while batting .271 with 108 RBIs.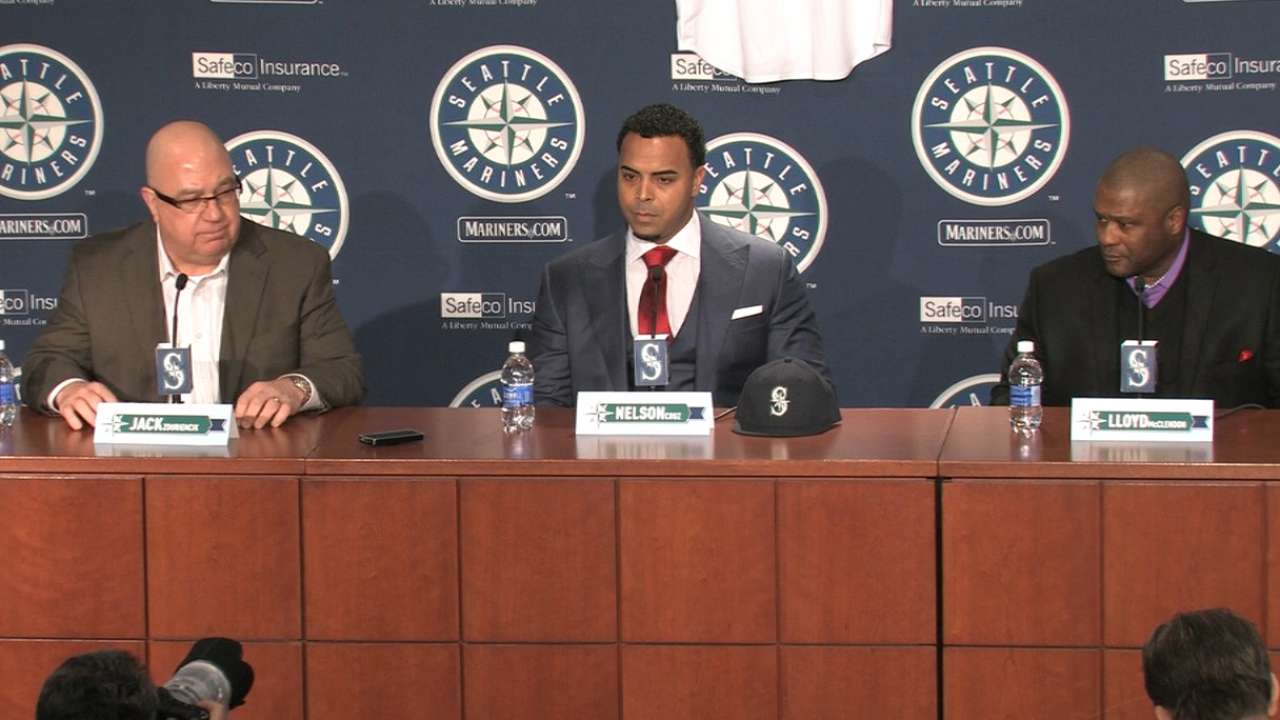 "He's been as remorseful as anybody involved with that process," Mariners general manager Jack Zduriencik said after Thursday's news conference. "It was an issue that was a mistake. He owned up to it, never denied it, just said, 'I made a mistake, it's time to move on and it's behind us.' What he's done speaks to who he is and what he is."
Cruz echoed that as well, saying he was motivated this past season to show what he can do, and he will bring the same drive and energy now to Seattle.
"Every year I come with something to prove," Cruz said. "I try to bring my best every year."
What he'll bring to the Mariners is a much-needed right-handed threat in the cleanup role, where he'll hit behind Cano and likely in front of Kyle Seager, the club's newly minted $100 million third baseman. Seattle played much of last season with seven lefties in its everyday lineup, though Zduriencik added right-handed-hitting center fielder Austin Jackson at the Trade Deadline and is still searching for another bat in right field after dealing Michael Saunders on Wednesday.
"We were challenged from an offensive standpoint," manager Lloyd McClendon said. "We just had no balance. Obviously, with the addition of Nelson, that gives us tremendous balance in the middle of the lineup, and hopefully we're not done. We'll see what happens."
Cruz played eight seasons in Texas before landing in Baltimore this past season, enjoying two home parks that are much more hitter-friendly than Safeco Field. But he's not concerned with what that change might mean to his numbers, insisting this move is about being on a team on the rise that wanted his help.
And, yes, Cano's friendship didn't hurt.
"I'm pretty comfortable with this division," Cruz said. "I've played here all my life. I know all about Seattle and Safeco Field and this division. It's nothing new to me. [Cano] expressed the way the Mariners treat their players, that this is a family. He talked about Lloyd and how good he was as a manager and how well he treated players. All the information I needed, I know already."
Zduriencik said the Mariners' winning record -- they jumped up 16 victories over 2013 to 87-75 last year -- has clearly opened eyes among free agents.
"It's getting better," Zduriencik said. "Last year's move was huge. Bringing in a guy like Cano, then [Fernando] Rodney following, and now Nelson. Yeah, pitchers love pitching here. But hitters look at the lineup. As much as you think they look at the ballpark -- and they do -- they also look at the lineup and who is going to be around me and what are the chances to win? That is a huge thing when you're talking to agents. The thing that comes out is, 'We think you guys have a chance to win.' And outside of the contract, that often carries the day when a player is making a decision."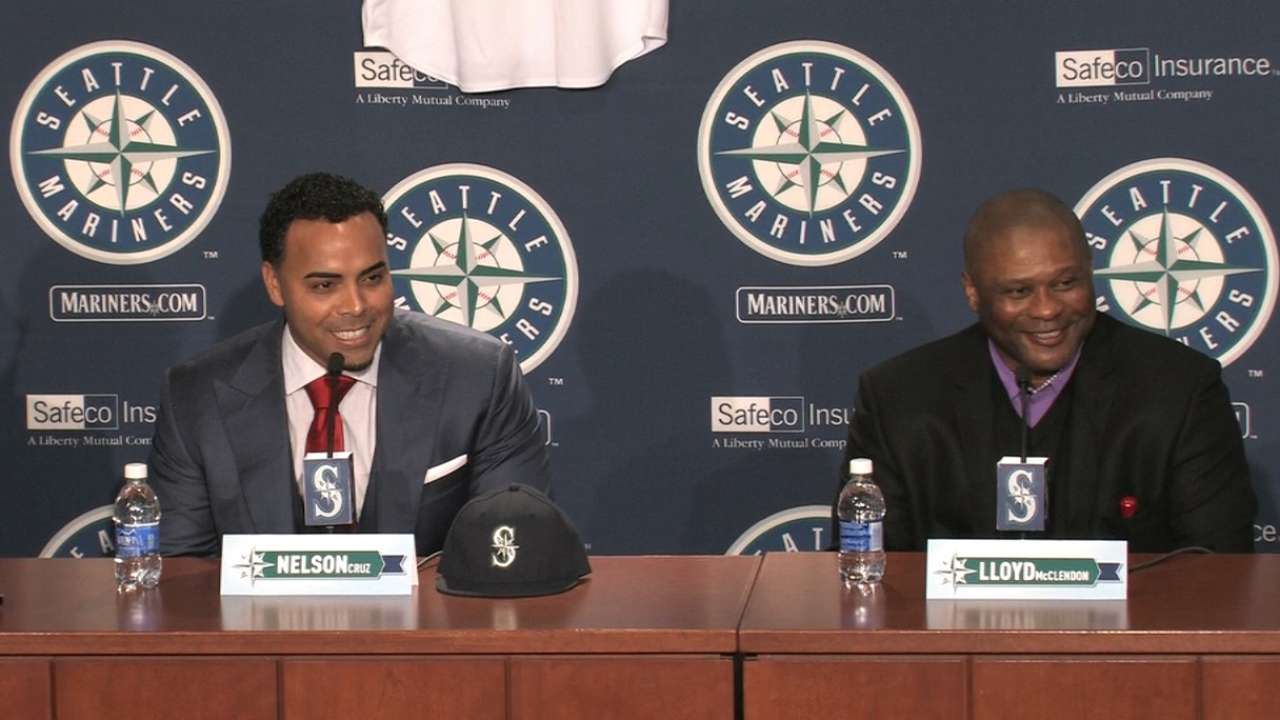 Cruz, a three-time American League All-Star, has played on three postseason teams, including two World Series clubs in Texas. He'd love nothing more than to help the Mariners get to the playoffs for the first time since 2001.
"I've had a chance to be on winning teams, and once you go there, that's your main goal," Cruz said. "You don't want to be out of that spot. That made the decision easier, and that's why I'm here."
McClendon happily gave up his No. 23 jersey number to his new cleanup hitter. On the heels of Seager's $100 million commitment, the second-year manager clearly is pleased with his team's direction.
"I woke up this morning and thanked my lucky stars," McClendon said. "This is a sign of commitment from ownership that this organization is moving in the right direction and we all have the same goals in mind, and that's to win a World Series. Having a player of Nelson's caliber in the middle of your order is going to be tremendous."
Greg Johns is a reporter for MLB.com. Follow him on Twitter @GregJohnsMLB as well as his Mariners Musings blog. This story was not subject to the approval of Major League Baseball or its clubs.