Determined Vincent never gave up on dream
Padres reliever was nearly cut from his junior college team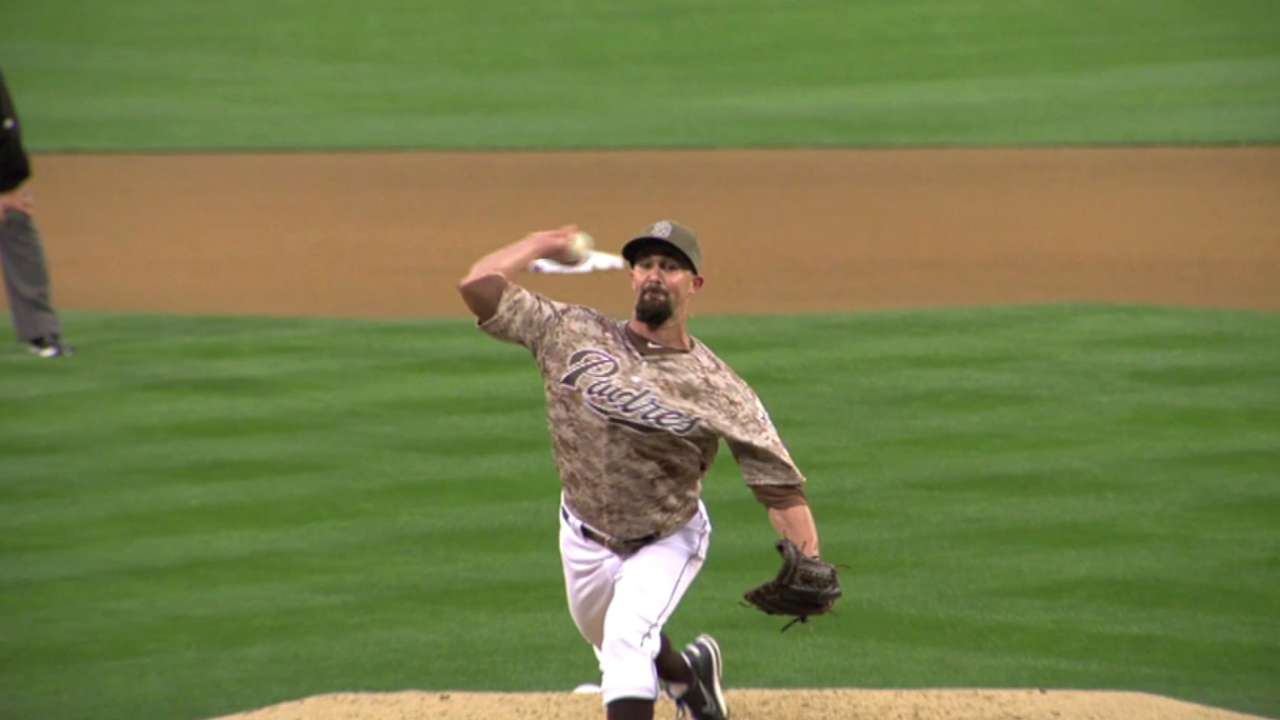 Nick Vincent is the perfect example of the power of perseverance -- plus a wipeout pitch.
"When I was in high school, I was nothing special," the Padres right-handed setup man said recently. "I was 5-foot-10 and 135 pounds. My fastball topped out at 83-85 miles an hour. I threw to contact."
Vincent's prospects didn't improve much when the San Diego County native advanced from Ramona (Calif.) High School to Palomar College.
"My junior college coach told me I was one of the last guys to make the team," said Vincent. "I might have been cut if [another] pitcher hadn't been injured."
Luckily, two things happened to Vincent: He began to grow, and he started working to concentrate on developing pitches.
"I began to grow at Palomar College," said Vincent. "I [also] started working on a training program.
"My velocity jumped two miles an hour at Palomar College and maybe another two miles an hour during my one season at Long Beach State. I got a lot stronger in three years."
Vincent, who is now 5-foot-11 and 180 pounds, began expanding his arsenal during his senior season at Ramona High, when he started working on a slider. And in his third season in the Padres organization, Vincent started working on a cut fastball that has served him so well during parts of three seasons with San Diego.
Three things have helped Vincent to succeed:
• The drive to compete
• The ability to change
• A refusal to get discouraged
Not even being moved from the starting rotation to the bullpen during his one season at Long Beach State deterred Vincent. In fact, that turned out to work in his favor.
"Shortly after that happened, I began to see that my stuff was best in short spurts," said Vincent, who has a 2.68 ERA in 135 career relief appearances with the Padres.
"I am perfectly suited to what I'm doing right now."
The Padres' 18th-round Draft pick in 2008, Vincent first emerged as one of San Diego's top prospects during his two seasons at Class A Lake Elsinore from 2009-10. He was 8-2 with a 2.79 ERA over 107 appearances with the Storm. Plus, he discovered the cutter.
"I picked it up from my throwing partner [Nick Schumacher] and developed it during the 2010 season," said Vincent. "I started studying how people threw it and used it. I studied pictures of Mariano Rivera.
"In 2011, when I was with [Double-A San Antonio], I started being able to throw the cutter where I needed to on either side of the plate. I started being able to throw it inside to right-handed hitters. The cutter became my pitch."
A strong season with the Missions in 2011 (8-2, 2.27 ERA in 66 appearances) shortened Vincent's path to the Padres. He made his Major League debut on June 26, 2012, just two weeks before his 26th birthday, although he spent the second half of that season shuttling between the Padres and Triple-A Tucson.
Vincent had a 1.71 ERA in 27 outings with the Padres in 2012, then posted a 2.14 ERA in 45 appearances in '13. Because he had a 3.60 ERA in 63 appearances this past season, it might not have been considered Vincent's best.
However, there are some other numbers to consider:
• Vincent set career highs in 2014 in games, innings pitched (55), strikeouts (62) and holds (20).
• He held the opposition scoreless in 51 of his 63 appearances and hitless in 34 of those games.
• Vincent stranded 42 of the 48 runners he inherited -- the 85.7 percentage rate being the fifth-best mark in the National League and the eighth-best mark in the Major Leagues.
• And from his July 23 return from the disabled list through Sept. 12, Vincent worked 23 1/3 straight scoreless innings over 25 appearances. The scoreless-innings streak was the second-longest streak by an NL reliever in 2014, and it was the longest by a Padres pitcher (starter or reliever) since Kevin Correia worked 23 1/3 straight scoreless innings in '09. Vincent's streaks were also the longest by a Padres reliever since Cla Meredith set franchise records with 33 2/3 straight scoreless innings and a 28-games scoreless games streak in '06.
Plus, remove three bad outings immediately before he went on the disabled list June 15 with shoulder fatigue and Vincent's ERA for the season would have been 2.24.
Two of the five homers Vincent gave up in 2014 came right before he went on the disabled list. So did two of his 11 walks and eight of the 36 hits he allowed -- all in a span of 2 2/3 innings.
"It started with my elbow bothering me," said Vincent. "When I overcompensated for that, my shoulder got tired. Everyone saw it. I was going down or going on the disabled list. When I came back, the pain was gone."
What happened last June reminded Vincent of how he views the game.
"It's a short game," he said. "My career could end at any time. It could end next year. I want to do everything I can while I'm in the game. I pride myself on going 100 percent all the time."