Overseas trip to visit troops still resonates for Marlins executive
Senior VP of marketing Flynn reflects on 2011 visit as team embarks on new trip Saturday
MIAMI -- Supporting the troops is more than just a slogan for Sean Flynn. It has a deeper personal meaning for the Marlins' senior vice president of marketing.
As an organization, the Marlins have a long history of reaching out to those in the armed forces. They do more than just talk the talk. Since 2010, the club has sent players and team employees overseas to visit those serving their country.
The latest trip, organized by Armed Forces Entertainment, begins on Saturday when a team contingent makes stops in Oman, Qatar and United Arab Emirates. Reliever Chris Hatcher, first baseman Justin Bour and former Marlins outfielder Preston Wilson, now a TV analyst for Fox Sports Florida, are taking part in the eight-day visit.
In February 2011, Flynn was part of the group that included team president David Samson, special assistants Andre Dawson and Jeff Conine and players Logan Morrison and John Buck. They met with troops stationed in Southwest Asia and Germany.
"Obviously, there was excitement about the players," Flynn said. "There were autograph lines for the players. But the fact any of us were there, traveling halfway around the world to say hello and bring a little part of home over, was the part that was expressed the most with those we met with."
A life-changing experience? You bet.
Training in the desert before the sun rises, zipping through the Persian Gulf on a patrol boat and watching the Super Bowl in the middle of the night on a military base in Bahrain, has a way of changing personal priorities. So does visiting a military hospital in Germany and seeing injured soldiers.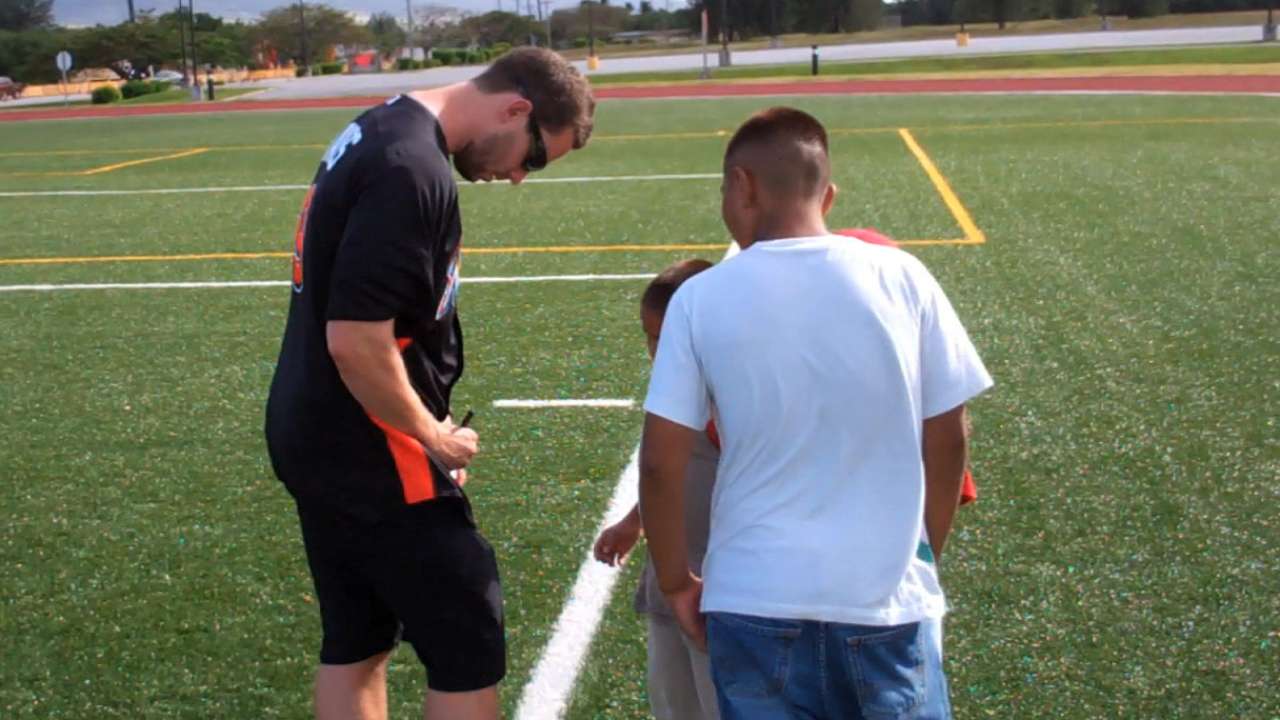 "Getting to spend some times with these folks who were injured basically in battle coming off field was pretty impactful," Flynn said.
You gain a whole new outlook when you watch pilots taking off and landing military planes in the middle of the night, or swing by to visit the famed Tree of Life in the sands of Bahrain.
"It was a life-changing experience in terms of changing my appreciation for what people sign up for," Flynn said. "These people are willingly, for not a lot of pay, signing up to do this. To sit in the sands of Southwest Asia and potentially head into battle."
One of the highlights of the trip was watching Super Bowl XLV, when the Green Bay Packers defeated the Pittsburgh Steelers, on an outdoor screen with the troops on a 60-degree night.
The days were full, with limited rest and numerous stops. There were times when the Marlins group tested their limits getting a taste of the daily training.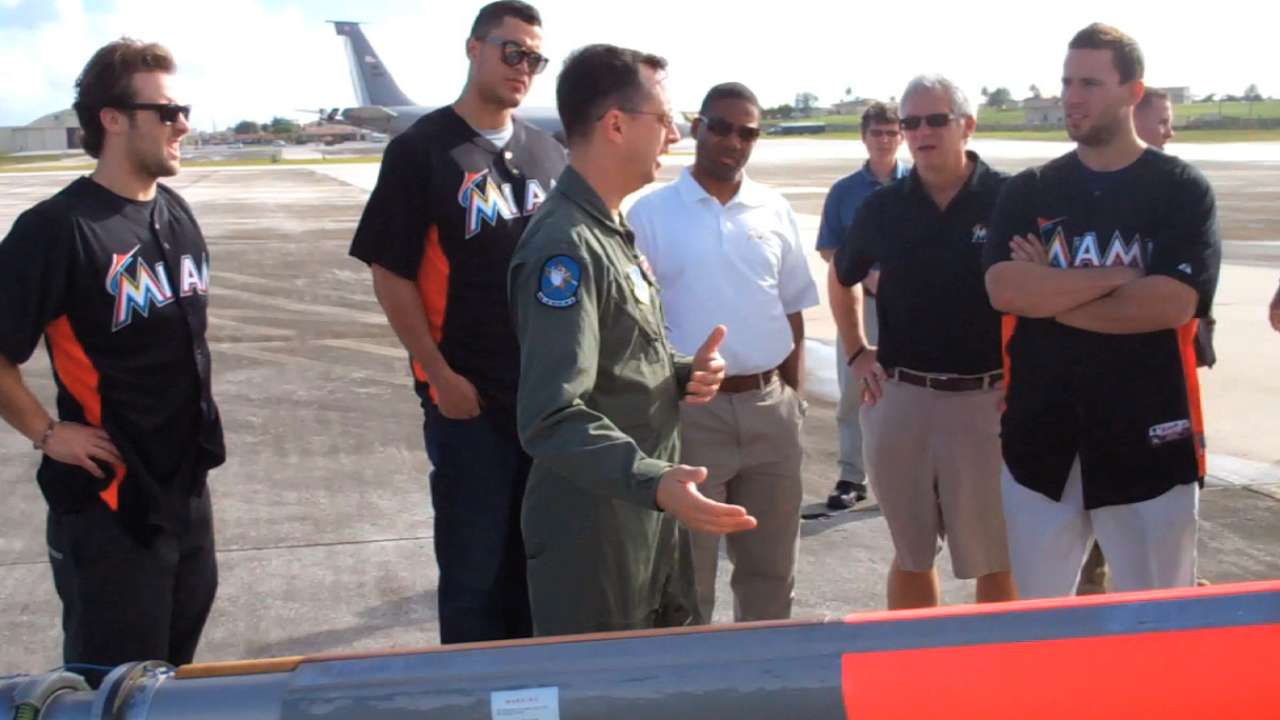 "When the alarm goes off at 4:30 to meet the bus at 4:45 in the morning," Flynn said, "the sun isn't out yet."
In Bahrain, the team stayed off base. So they had to clear several layers of security before entering the base for a rigorous morning workout. When they arrived, a special operations team was ready to break a sweat.
"They were fired up," Flynn said. "It almost was like midday for them."
Then the drills began. The morning was filled with sprints, pushups, bear crawls as well as physical activities like kicking and punching hand-held pads.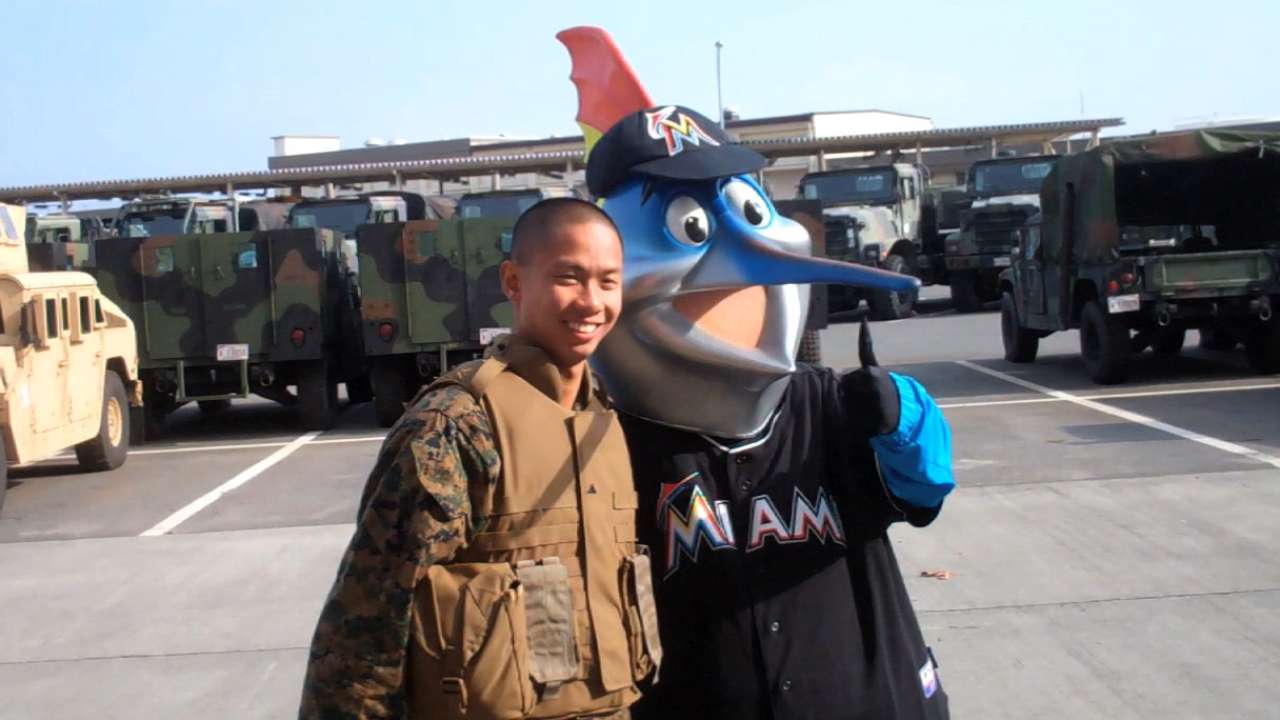 "It was a physical exercise," Flynn said. "Try to do boot camp training. It was that times 10. Although we were visitors and they were happy to have us there, they didn't slack off. They might have been even more intense because they had some visitors and wanted to show us what it was all about.
"To experience that at the break of dawn, in the desert in the middle of Bahrain with these troops that you know were sent to bad places right after that was just unbelievable."
The grueling training was preparing the special operations team for an undisclosed mission shortly afterwards.
"A couple of days, I asked where the guys were," Flynn recalls. "One of the commanding officers advised me that they were off doing their job somewhere. Obviously, he couldn't disclose that. These troops can be sent to the most dangerous places in the world in a moment's notice.
"Just to have been part of their day, their moment, and see what they do to be prepared was incredible."
Joe Frisaro is a reporter for MLB.com. He writes a blog, called The Fish Pond. Follow him on Twitter @JoeFrisaro. This story was not subject to the approval of Major League Baseball or its clubs.