MLB.com Columnist
Richard Justice
Hart isn't finished reshaping Braves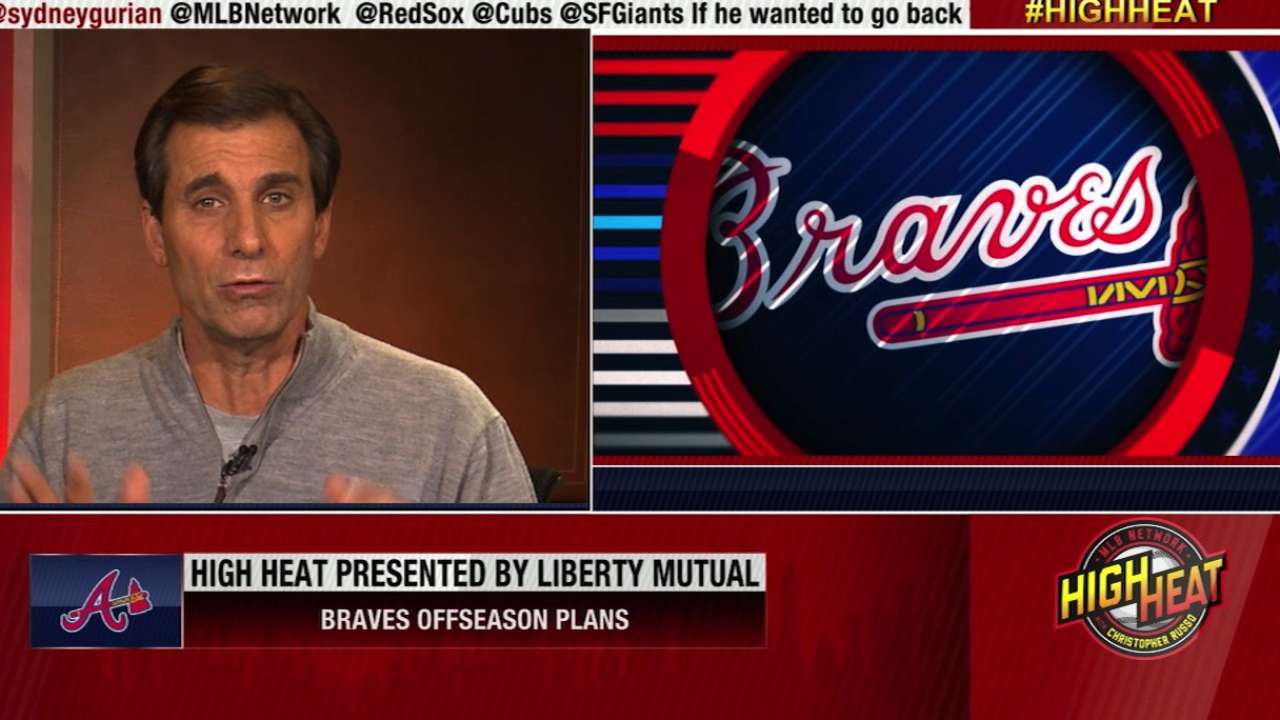 Who might be next to go?
Justin Upton? Yep, seems possible.
Evan Gattis? Maybe.
Welcome to John Hart's first two months on the job as president of baseball operations of the Braves. He wasn't brought in to leave things the way he found them, so he's working toward a vision of a new and improved Atlanta club. While that vision isn't clear at this point, it will be fun to watch Hart's team take shape.
At the moment, starting pitching probably is the first thing on Hart's wish list. Miller is a nice addition, but after Julio Teheran, Mike Minor and Alex Wood, there's uncertainty.
And there's B.J. Upton. He might be the guy Hart would most like to trade, but that may not happen since Upton has hit .198 during two seasons with the Braves and has three years and $46 million remaining on his contact.
OK, back to that vision thing.
Justin Upton is an obvious guy to go since he's a year away from free agency. Hart said he hasn't initiated a single call on the outfielder, but admits he has gotten a few.
Would the younger Upton bring the Braves a quality starting pitcher and perhaps a prospect or two? Stay tuned.
If you watched Hart transform the Cleveland Indians from one of baseball's least successful franchises to one of its most in the 1990s, you may have seen this movie before.
Back then, Hart would sometimes watch his big league team in the afternoon, then dash out of the ballpark to get to one of his farm clubs that evening. He'd occasionally make the trip by motorcycle because, well, because he was a man in a hurry.
When Hart took over as the Indians' general manager in 1991, they hadn't played a postseason game in 37 years. Plenty of people were skeptical about whether he would succeed.
Hart did succeed, though, in a big way, constructing teams that went to the playoffs six times in a seven-year stretch between 1995 and 2001.
They won the American League pennant twice in that time and averaged 93 victories per season. Only the Braves and Yankees won more.
The Indians did it with a productive farm system, and with Hart leading a smart, innovative front office that did virtually everything right.
Hart poured his heart and soul into the job. He surrounded himself with good people, organized them smartly and gave them the resources and freedom to do their jobs.
In the end, though, the Indians succeeded because Hart had a unshakable vision of what a successful franchise should look like, and through sheer determination and hundreds of tough decisions, he established himself as a master architect.
Hart drove his baseball people hard, and at times was tough on his managers. When he was done in Cleveland in 2001, he'd changed the way people viewed the Indians.
Among the people who took notice of Hart's nice work in Cleveland was John Schuerholz, then the Braves' general manager.
"I got to know him as a competitor," he said. "I admired the way he constructed his teams, the way he did, the way he constructed his executive teams, the way he expressed himself with clarity and enthusiasm and certainty and confidence."
And last year when Schuerholz, now the president of the Braves, wanted another baseball voice in his front office, he turned to Hart.
When Schuerholz dismissed his general manager, Frank Wren, two months ago, he convinced Hart to climb back into the saddle at 66 and attempt to rekindle some of the old magic.
Know this: Hart's track record says he will succeed. As he gathers new pieces from here, there and everywhere, patience may be important.
Hart's latest big deal -- signing free-agent outfielder Markakis to a four-year contract -- seems like the prelude to another deal, probably involving Justin Upton or Gattis.
All that's certain is that the Braves are different than they were just a few weeks ago and that Hart is far from finished.
Richard Justice is a columnist for MLB.com. Read his blog, Justice4U. This story was not subject to the approval of Major League Baseball or its clubs.