MLB.com Shop must-haves on display at Men's Journal event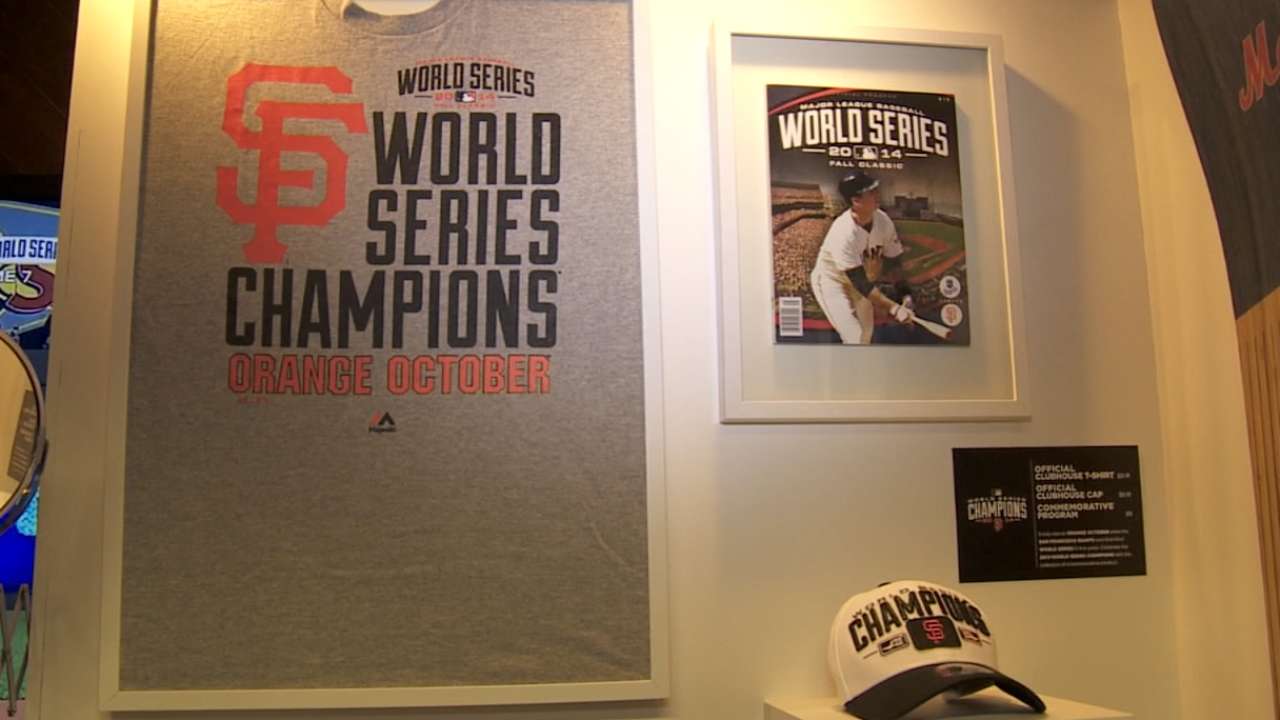 Yes, two is still the magic number this holiday shopping season -- the top two. In other words, expect to see a massive amount of Jeter apparel around Major League Baseball in 2015, despite his departure as a player. The memories will not fade any time soon.
"Any time you see his face, you're going to think 'New York Yankees,' you're going to think 'MLB player,'" said Giants reliever Jeremy Affeldt, speaking at a Men's Journal Gear Lab pop-up store at Fourth and Broadway in Manhattan, which is showcasing a slew of MLB.com must-haves, including those two Jeter items and plenty more, such as caps and Movado watches, as the celebration of a career continues.
"The guy was awesome. I have a lot of respect for him," said Affeldt. "I've played against him a few times, I've watched him quite a bit, and he just handled himself like a true professional. You never saw him in the papers for anything dumb. You never saw him in any kind of chaos or any kind of controversial situation. He handled himself well in a very, very tough city. ... It's pretty special."
Dodgers second baseman Dee Gordon also was on hand, and when asked what would be at the top of his own wish list, he replied, "I like the Derek Jeter signed baseball. He's a great player, it was his last year -- that's a great collector's item for anyone."
When told that Jeter commanded the top two spots on Cyber Monday despite being retired, Gordon added, "Definitely not a surprise. Jeter was the ultimate competitor and captain, and he just went about his business the right way. For that to happen, it's definitely a testament to how great he was."
There among the Men's Journal wide-ranging gift ideas -- including Triumph motorcycles and a mesmerizing, 65-inch, curved Samsung UHD TV -- were such baseball goodies as Ramp Sports skis and snowboards featuring logos for every MLB club, as well as '47 Brand Scrum T-shirts, Topps trading cards, and team-logo bottles of vino and bubbly from MLB.com/wine.
According to MLB Advanced Media's e-commerce unit, the No. 3 top-selling item on Cyber Monday was the Giants Authentic No. 40 Madison Bumgarner Home Jersey with the World Series Champions patch. That jersey is now available for 25 percent off the $257.99 retail price because of the ongoing MLB.com Shop sale for custom jerseys and tees, so that Fall Classic MVP's look will keep going strong.
The Bumgarner jersey is part of an expansive Giants World Series Champions collection, and Affeldt, the winning pitcher in the final Major League game of 2014, stood in front of one of the examples on display at the pop-up event: the gray Official Clubhouse Champions T-shirt.
What does the "Orange October" on that shirt mean to him now?
"Drama," Affeldt said. "We put some serious drama out there. When the black and orange get to October, we're a hard team to beat. We proved that this year. We weren't picked by anybody to win in D.C. We weren't picked by anybody to win in St. Louis. Honestly, we weren't even picked to beat Kansas City. So to be able to say 'Orange October' and own it, I think we owned it this year. I think we own that phrase. I'm proud to say we were 'Orange October' this year, and our fans can be proud of that as well."
Affeldt has a favorite holiday gift suggestion or two for Giants fans.
"Honestly, that Kiss The Ring logo there is pretty awesome," he said. "You see that on our jerseys and our shirts. For me, that's a huge deal. Anything that says Dynasty is a huge deal. ... People ask, 'Well, how do you know if you're a dynasty?' I think if you talk to any player in the Major Leagues, they'll tell you how hard it is to win three championships in a matter of five years. To be able to win three and to say you're part of a dynasty, all the fans should buy that shirt."
Affeldt and Gordon attended the event not as a pitcher-batter matchup within a famous Giants-Dodgers rivalry but as fans of the holiday shopping experience and two guys who love this "season."
"I'm simple, I like sweats, I like T-shirts, I'm really simple to shop for," said Gordon. "My family doesn't think I am, but I actually am very simple to shop for."
Gordon was asked whose jersey fans should look for from the Gordon clan -- "old school" from his father, Tom; the current No. 9 Dodgers jersey; or what brother and 2014 first-round Draft pick Nick is wearing on the way up.
"I'll take Nick over me any day," Gordon said humbly.
Rob Weinstein, associate publisher of marketing for Men's Journal, said that all the gear on display is the result of a year's worth of testing by the magazine's staff. He stood between the two most popular Cyber Monday items as he discussed the items MLB fans especially go for.
"I don't think there's any coincidence when it comes to Derek Jeter," Weinstein said. "I'm not surprised at all that these are the two biggest-selling items. ... He's been nothing but a role model, whether it comes to on the field or off the field. He's just a person that the whole world respects, and there aren't enough of those people these days."
Mark Newman is enterprise editor of MLB.com. Read and join other baseball fans on his MLB.com community blog. This story was not subject to the approval of Major League Baseball or its clubs.