Prep shortstop Rodgers leads 2015 Draft class
Duke's Matuella, 2014 top pick Aiken follow Florida high school infielder on Top 50 list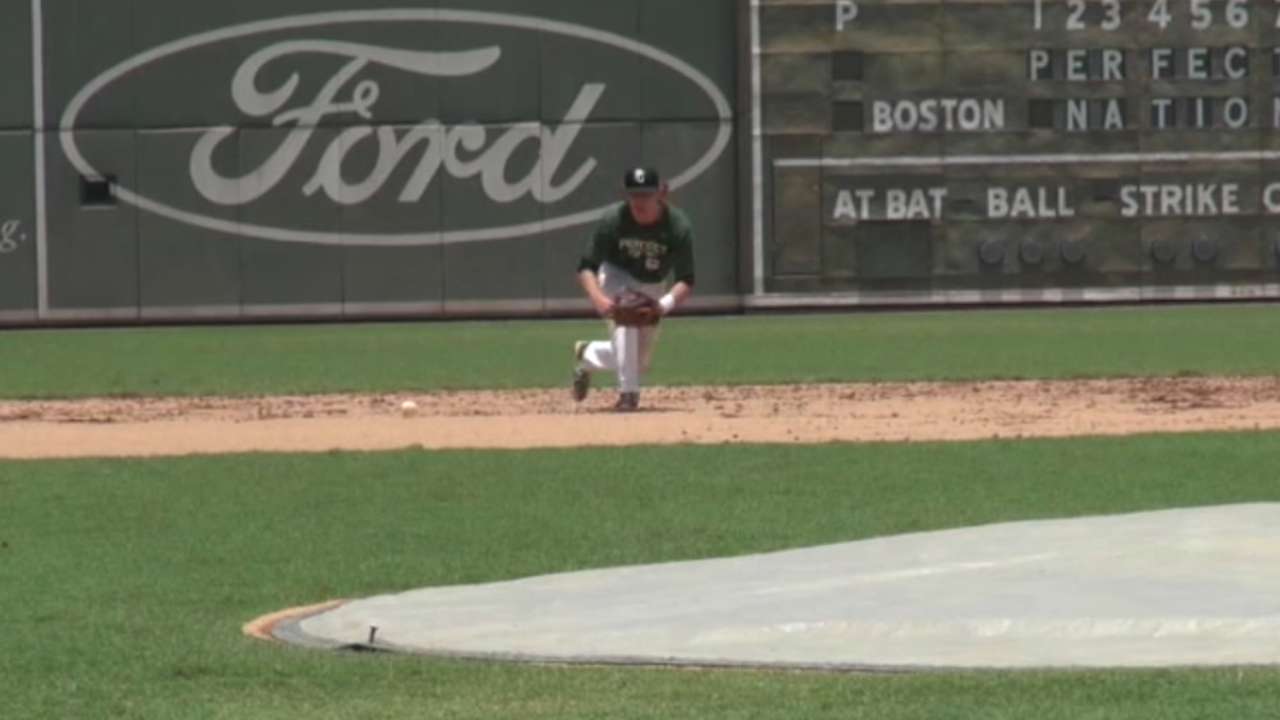 For the second time in their history, the Arizona Diamondbacks own the top pick in the First-Year Player Draft. The first time that happened, in 2005, they took a high school shortstop with a potent bat.
Ten years after grabbing Justin Upton, the D-backs could follow a similar path. Lake Mary (Fla.) High School shortstop Brendan Rodgers sits atop MLBPipeline.com's initial Draft Top 50 rankings, thanks to his three plus tools (bat, power, arm) complemented by two solid ones (speed, defense). Unlike Upton, who immediately moved to the outfield as a professional, Rodgers should remain at shortstop.
Six months before the Draft begins on June 8, Rodgers' main competition comes from two pitchers, both of whom have high upsides tempered by medical issues. Duke's Michael Matuella is a 6-foot-7 right-hander who can miss bats with his mid-90s fastball, his curveball and his slider. But he also has spondylosis, a manageable defect of the vertebra in his lower back. Matuella has logged just 121 innings in two years of college and summer ball, and he didn't face live hitters during fall practice.
Also in the mix is left-hander Brady Aiken, who combines three plus pitches with command and athleticism. That package led the Astros to take him No. 1 overall last year out of a San Diego high school, but their $6.5 million bonus agreement fell apart after a post-Draft physical raised concerns about the ulnar collateral ligament in his pitching elbow.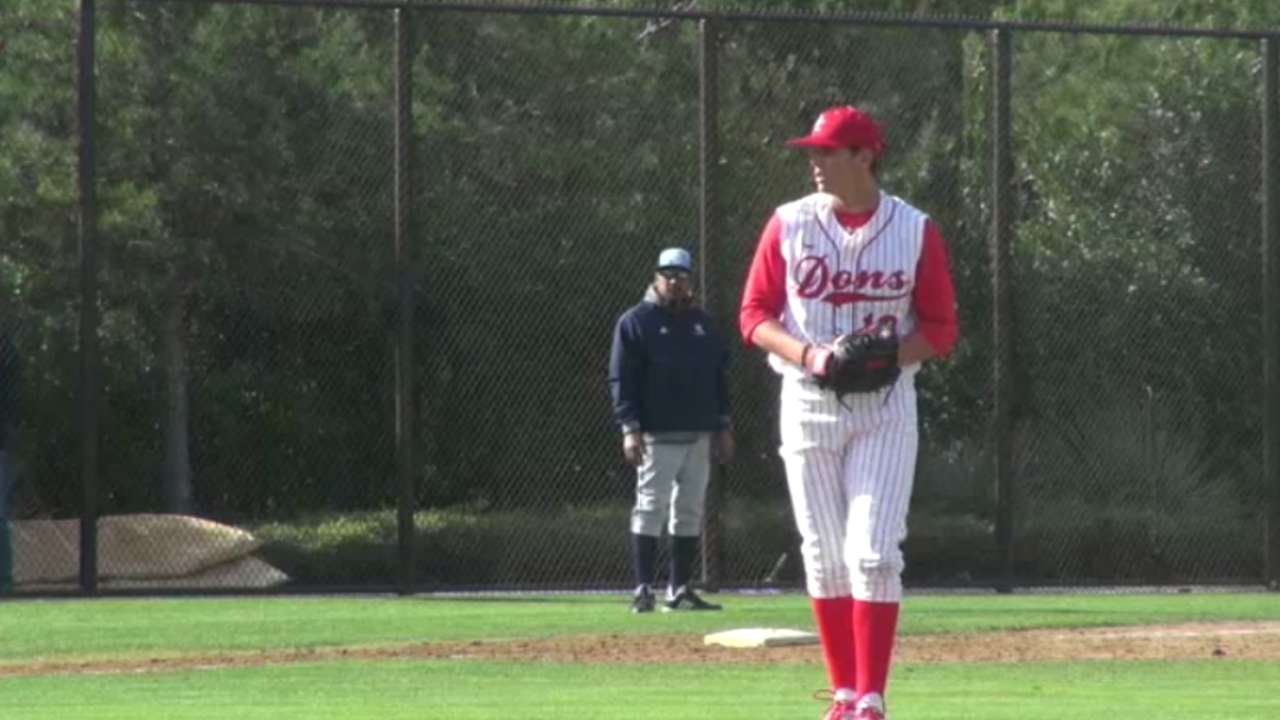 Aiken is expected to pitch at a to-be-determined junior college in the spring, which would make him Draft-eligible as a freshman. The Astros received the No. 2 pick this year as compensation for not signing Aiken and earned the No. 5 choice with their play on the field, making them the first team ever with two selections that early. Houston's allotted bonus pool for the first 10 rounds should be in the neighborhood of $18 million, topping the previous record of $14.2 million that the Marlins had last year before trading a supplemental first-round pick to the Pirates.
Callis, Mayo take first crack at top 10 picks
Rodgers, Matuella and Aiken have separated themselves from the rest of the Draft pack heading into 2015. While they're all attractive, none is a slam-dunk No. 1 overall pick like Carlos Rodon appeared to be a year ago at this time. Rodon wound up going third to the White Sox, behind Aiken and Tyler Kolek (Marlins).
"This is a really hard Draft so far," an American League scouting director said. "I've spent a lot of time looking at it and there aren't any no-brainers. There are no Carlos Rodons sitting here in this Draft.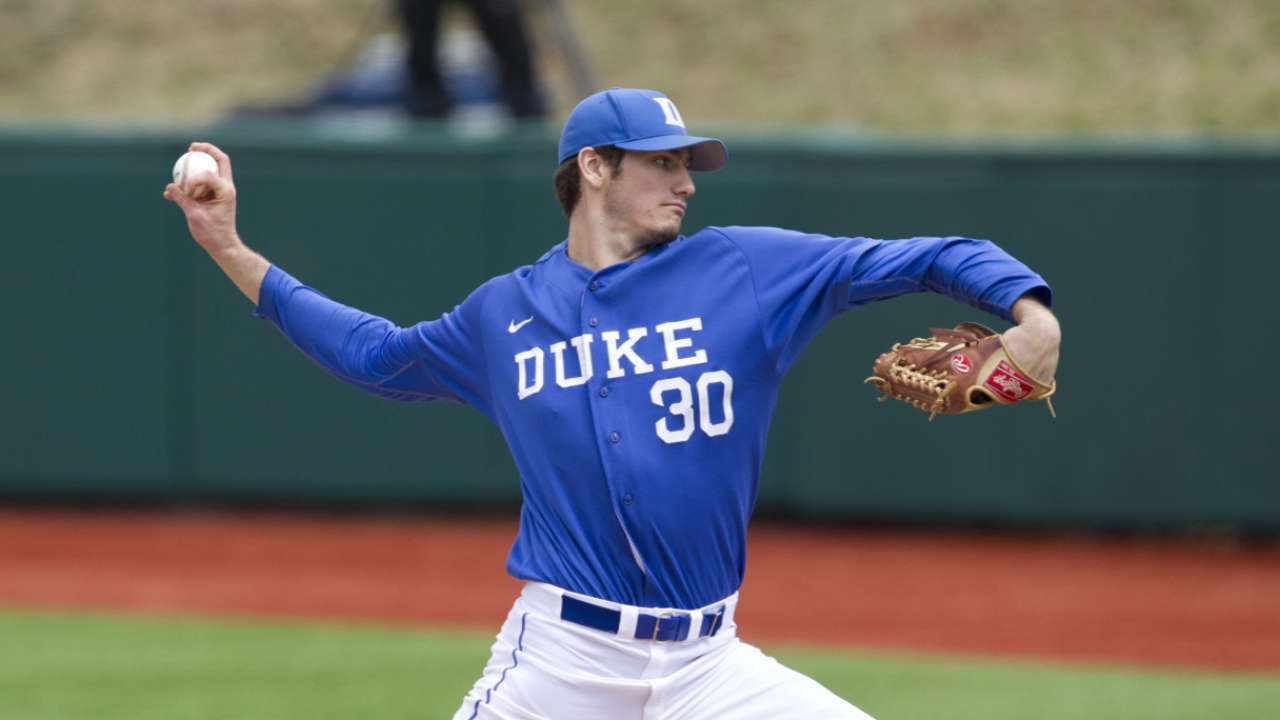 "I really like Rodgers, but when you really get down to the tools, he's not the plus runner that usually goes along with a shortstop. Aiken is a wild card. Matuella sticks out as somebody we're supposed to like, but we don't have the documentation we have on other guys. We haven't had that many looks at him and it's almost like he's a northern high school kid who came out of the blue."
Rodgers aside, pitching should dominate the top of the Draft. There are plenty of left-handers and right-handers as well as collegians and high schoolers, and pitchers occupy seven of the first eight spots and 10 of the first 13 on MLBPipeline.com's Top 50. The Draft record for pitchers in a first round is 20, a number reached in 2001 and '14, and that mark will be challenged.
San Clemente (Calif.) High School southpaw Kolby Allard, who has a lot of parallels to Aiken but comes with a smaller six-foot build, is the consensus top prep pitcher available. Fellow California lefty Justin Hooper, of De La Salle High School in Concord, is the hardest-throwing high schooler with a fastball that has reached 97 mph and a 6-foot-7 frame that suggests more velocity to come.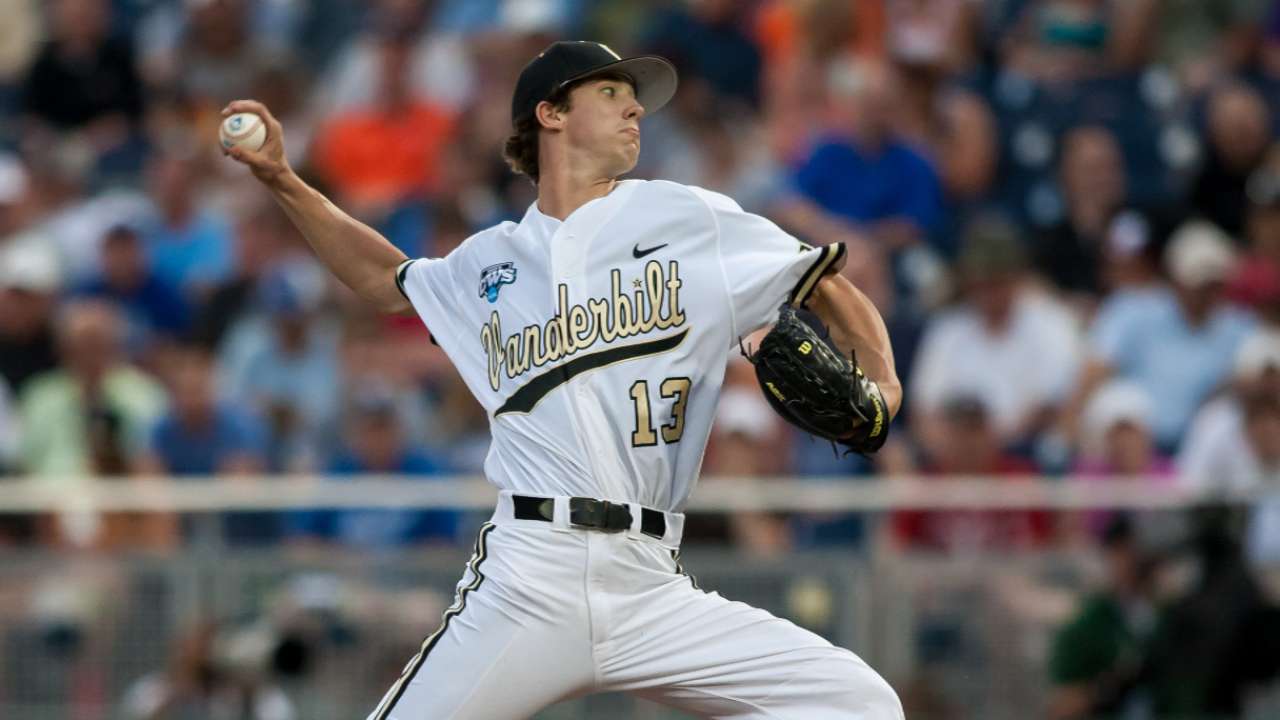 On the college side, Vanderbilt right-handers Walker Buehler and Carson Fulmer both will factor into the upper half of the first round, as will Virginia lefty Nathan Kirby and Louisville righty Kyle Funkhouser. The junior-college ranks are stronger than usual and could produce multiple first-rounders for the first time since Phil Dumatrait and Robert Stiehl in 2000. Phil Bickford, who declined to sign with the Blue Jays after being taken No. 10 overall in 2013, transferred from Cal State-Fullerton to the College of Southern Nevada after hitting 98 mph with his fastball in the Cape Cod League.
In contrast to the abundance of pitching, there's a scarcity of position players, especially on the college side. Vanderbilt's Dansby Swanson is the best of the group -- the Commodores should become the first program to produce three first-rounders in one Draft since Miami had Yonder Alonso, Jemile Weeks and Carlos Gutierrez in 2008 -- but is more of a solid player than a superstar and still has to show he can play shortstop after previously manning second base. Swanson could be the only college hitter taken in the top dozen picks, with Louisiana State shortstop Alex Bregman and Cincinnati outfielder/second baseman Ian Happ the only other contenders.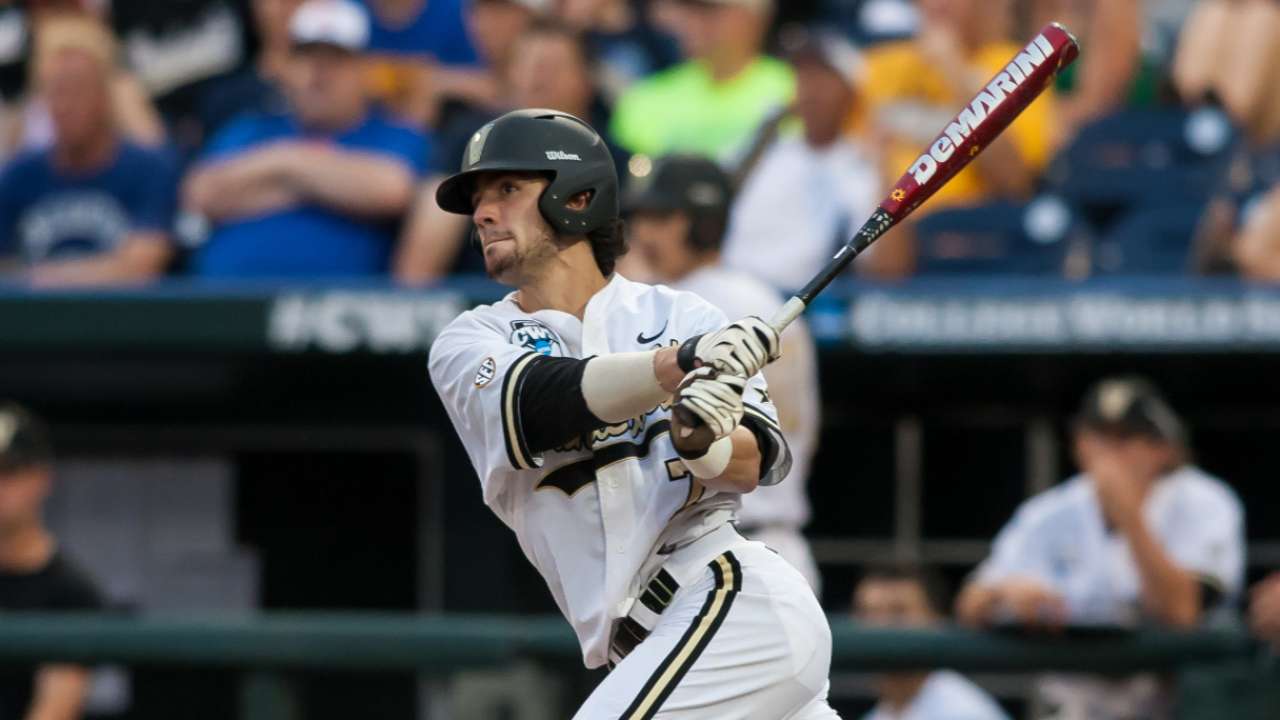 "With the college position players, wow, there are some question marks for sure," an AL scouting executive said. "That's been an issue in the last three or four Drafts for the most part. The better position players are still signing out of high school. Those guys get paid."
Several high school outfielders could get paid handsomely in 2015, with Daz Cameron (Eagle's Landing Christian Academy, McDonough, Ga.), Nick Plummer (Brother Rice High School, Bloomfield Hills, Mich.), Trenton Clark (Richland High School, North Richland Hills, Texas) and Kyle Tucker (Plant High School, Tampa, Fla.) all looking like first-rounders and intriguing athletes Demi Orimoloye (St. Matthew's High School, Orleans, Ontario.) and Garrett Whitley (Niskayuna, N.Y., High School) possibly knocking on the door. The most famous name in the prep class, Cameron, is the son of former All-Star and Gold Glove Award winner Mike Cameron. Daz emerged as an early first-rounder as a sophomore.
In a Draft with a lot of uncertainty, the biggest X factor could be Allen (Texas) High School shortstop Kyler Murray. He's a well-above-average runner with plenty of bat speed and arm strength. He's also the top-rated dual-threat quarterback prospect in the nation and is committed to play both baseball and football at Texas A&M.
"He's as much an impact guy as you can see running around out there on a baseball field," the scouting director said. "He can fly, he's athletic, he's in the middle of the field and he looks like he has a feel to hit. If he decides to be a full-time baseball player, he'll be exciting."
Murray still has a lot to prove, including whether he can stick at shortstop and if he's willing to give up football. The same is true of many of the other top prospects in this Draft, which means that the landscape could look radically different six months from now.
"It's just wide open right now, especially at the top," the executive said. "There are some nice players, but there's a lot of gray area. There are just no elite guys who completely stand out. There's not as much upside at the top as the past few Drafts."
Jim Callis is a reporter for MLB.com and writes a blog, Callis' Corner. Follow @jimcallisMLB on Twitter. This story was not subject to the approval of Major League Baseball or its clubs.