Mozeliak provides insight into Cardinals' offseason
ST. LOUIS -- Five days before traveling to San Diego for the Winter Meetings, Cardinals general manager John Mozeliak gathered with a handful of local media members in a Busch Stadium conference room on Wednesday to discuss recent moves made and those possibly still on the horizon.
Here are some highlights from that gathering:
• With the Cardinals' right-field hole plugged with Jason Heyward and the bullpen restocked, the club's biggest offseason need remains a right-handed bat off the bench. Mozeliak said that the club has continued to reach out to right-handed hitters looking for a part-time playing role. Among those the Cardinals contacted was Josh Willingham, who has since retired.
• Mozeliak noted that while the Cardinals will be "opportunistic" within the free-agent starting pitching market, there remains no organizational urgency to add. Mozeliak, repeating the sentiment a few times, said that he would like to give Carlos Martinez the chance to be the Cardinals' fifth starter. By adding two relievers this winter, the Cardinals have that flexibility.
That said, Mozeliak didn't rule out adding a starter from the middle- or lower-tier market later this offseason.
"I think as that market develops, we'll definitely be on the sidelines watching," Mozeliak said. "I think the way that [Martinez] is looking at this opportunity is that he's got something to prove. He wants to be that guy. Given the moves we've made, we want to see him have that opportunity."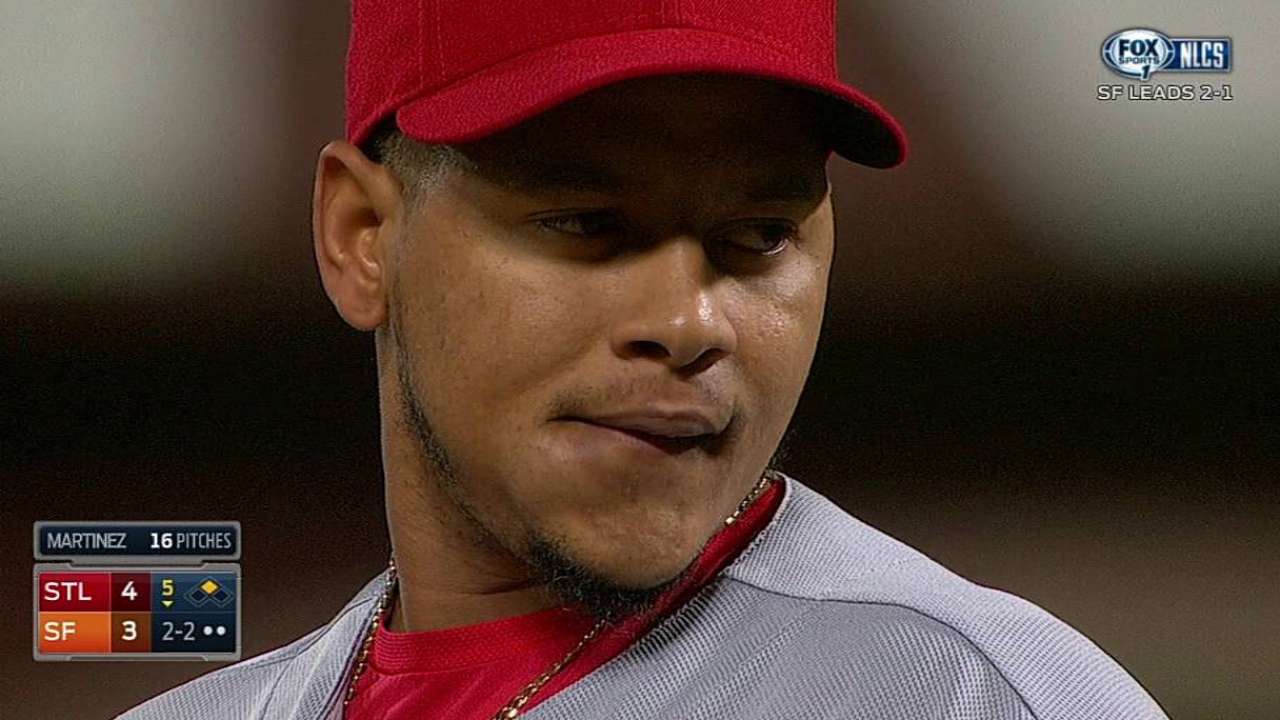 • In describing the organization's pursuit of free-agent reliever Matt Belisle, Mozeliak said that the Cardinals targeted him early this offseason and then moved quickly to sign him after adding reliever Jordan Walden in a November trade. On Tuesday, the Cardinals officially signed Belisle to a one-year deal with a base salary of $3.5 million.
"We were looking for someone who could ultimately pitch in multiple roles," Mozeliak explained. "Obviously, when you look at our current setup in our bullpen with [Trevor Rosenthal], Walden and [Seth] Maness, we feel pretty confident with nine, eight, seven. But you can't go with that every day. You're going to need some flexibility. The two things that were very attractive about Belisle was the fact that we feel he can pitch in those high-leverage-type innings, but we also feel that the type of leadership that he'll bring to that bullpen [is important]."
• Mozeliak described the decision to non-tender Daniel Descalso on Tuesday as "difficult" because of the personal relationship he had developed with the utility infielder over Descalso's five years in St. Louis.
"Dan was just one of those true professionals, but he was also someone you call a friend," Mozeliak said. "From a baseball player to a person, he did a lot of positive things for us. Unfortunately, I don't think we were able to provide the type of playing time that he was looking for. And frankly, I think it could have become a strained relationship if we kept going with it."
Mozeliak confirmed that he did explore the trade market for Descalso before the non-tender deadline, but he never felt he was close to making a deal.
• Mozeliak suggested that the Cardinals were not helped by the latest wave of free-agent additions at Tuesday's non-tender deadline. He also noted that the Cardinals are not actively pursuing adding another backup catcher.
• In explaining his decision to promote Chris Correa to be the team's next scouting director, Mozeliak stressed that he felt staying in-house with the hire would minimize the learning curve and make the transition more seamless.
"Plus, I didn't want somebody to come in here and try to reinvent the wheel, frankly," Mozeliak added, referring to how the Cardinals run their First-Year Player Draft process. "I think we do a pretty good job at it. Not that we can't improve and not that we shouldn't be pushing the innovative button, but I didn't want somebody to come in here and tell the group how we're going to start doing things."
• Mozeliak anticipates announcing all of the Cardinals' Minor League staffs next week. He said the delay in that announcement was because of "a lot of change."
• The Cardinals have gotten only positive feedback from rehabbing players Jon Jay (left wrist surgery), Peter Bourjos (hip surgery) and Adam Wainwright (elbow surgery) over the last several weeks. The Cardinals are less certain about Jaime Garcia's recovery timeline and likely won't know whether he'll be able to contribute at the start of the season until Spring Training.
Jenifer Langosch is a reporter for MLB.com. Read her blog, By Gosh, It's Langosch, and follow her on Twitter @LangoschMLB. This story was not subject to the approval of Major League Baseball or its clubs.