Blue Jays acquire Saunders in deal for Happ
New addition is expected to assume starting job in left field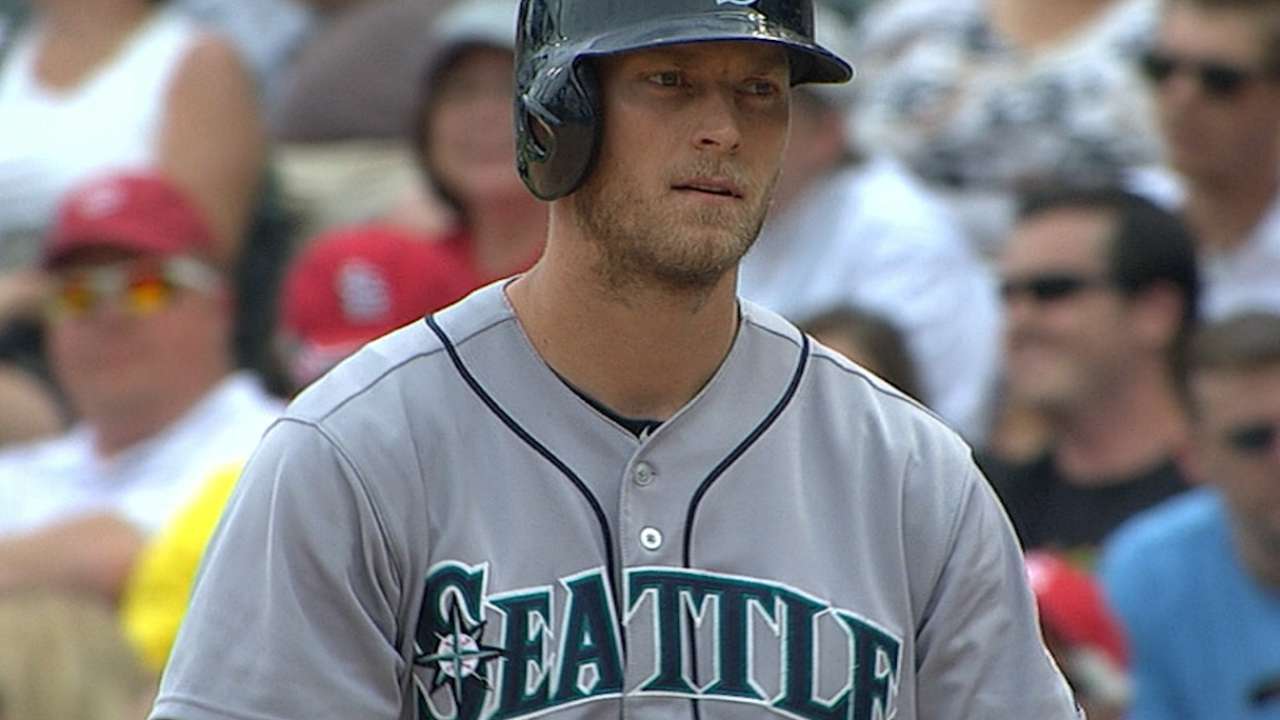 TORONTO -- The Blue Jays filled their hole in left field on Wednesday by acquiring Michael Saunders from Seattle in a deal for left-hander J.A. Happ.
The trade all but officially guarantees that free agent Melky Cabrera will not be retained by the club. Toronto had interest in re-signing Cabrera, but it does not appear as though the two sides ever got close to agreeing on a lucrative multi-year contract.
Saunders will likely take over for Cabrera in left field, while rookie Dalton Pompey is the early favorite to win the starting job in center. The Blue Jays ultimately decided to acquire an outfielder through a trade because the options in free agency weren't as feasible.
"We've been talking about Saunders on and off for years at various times," general manager Alex Anthopoulos said. "We just could never come close to an agreement, but especially with Melky being a free agent and having a need in left, he's a guy that we continued to talk about.
"We think there's upside with the bat, he's already a pretty good offensive player and we love the fact that we can have that plus-defensive guy on the corner as well."
Saunders, who is projected to earn approximately $4 million through arbitration, is a well-known player for fans north of the border because of his time with Team Canada. The native of Victoria, British Columbia, recently played at the 2013 World Baseball Classic and previously represented his country at the 2008 Beijing Summer Olympics.
The 28-year-old Saunders is coming off a season that saw him hit .273 with a .791 OPS in 78 games for Seattle. He also had eight home runs and 34 RBIs in a season that was partially interrupted because of injuries. Saunders initially hurt his shoulder two years ago, re-injured it during the 2014 season, while also dealing with a strained oblique.
Saunders has the ability to play all three outfield positions, but he is considered a stronger defender in either left or right field. He'll be in left for the Blue Jays and likely will hit in the bottom half of the order while providing some occasional power.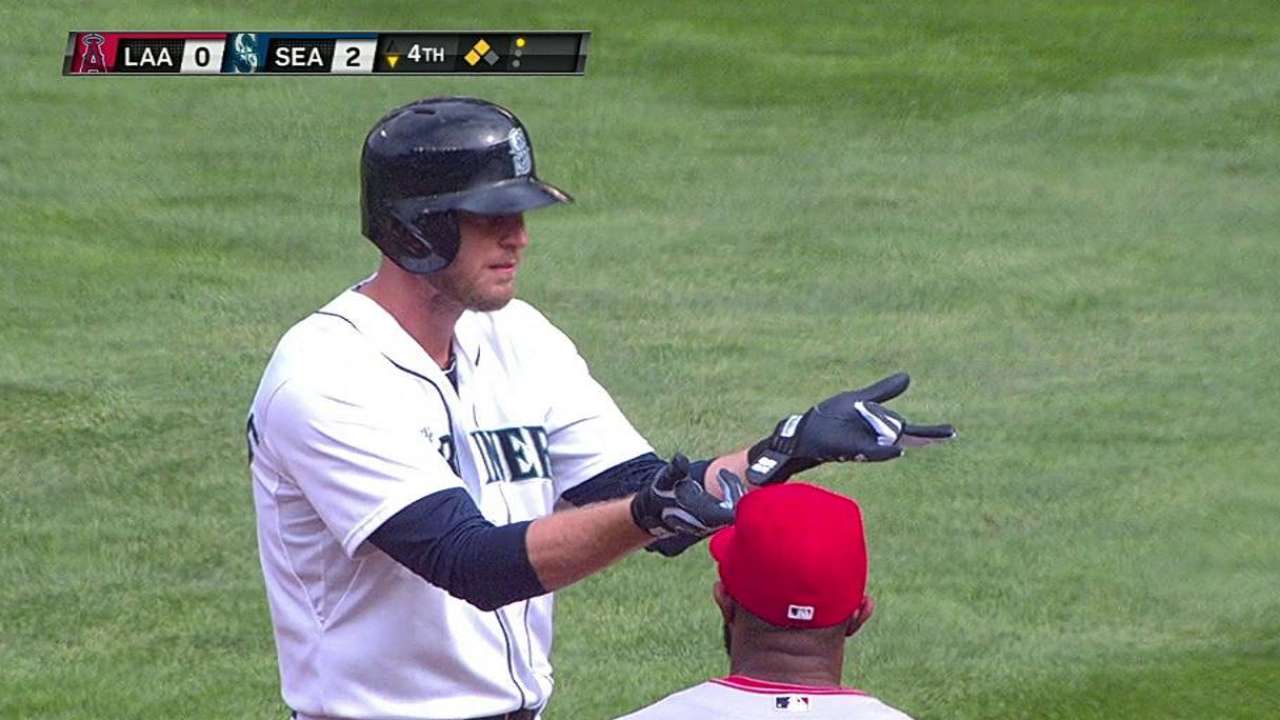 "From an ability standpoint, he does a lot of things," Anthopoulos said. "He's an above-average defender in left field, which is important. I know this wasn't talked about that much, but at least our internal evaluations, from a metric standpoint, we were below average defensively in the outfield last year and we're trying to get better.
"We think he has some power and going from that ballpark to ours can unlock some things and two years of control is nice too. It's an athletic, two-way player, that provides a left-handed bat, a stolen base component, defensive insurance at all three [outfield spots]."
Anthopoulos said the Blue Jays weren't actively looking to trade Happ, but it has been a well-known fact for the past several weeks that he was available. His departure likely clears a spot in the rotation for prized prospect Aaron Sanchez while veteran swingman Marco Estrada and left-hander Daniel Norris also will compete for the No. 5 spot during Spring Training.
Happ is set to earn $6.7 million in the final year of his contract and a move away from hitter friendly Rogers Centre should help his career. The eight-year veteran is a predominantly a fly-ball pitcher, and even though that usually leads to trouble in Toronto, he's coming off a relatively strong year.
The 32-year-old Happ got off to a rocky start in 2014 and he didn't earn a starting job out of Spring Training, but he bounced back by May. Happ finished the year with a respectable 4.22 ERA over 158 innings and a slight change to his arm slot led to better overall control. Happ will now join a formidable rotation in Seattle which also includes Felix Hernandez, Hisashi Iwakuma and James Paxton.
"We weren't shopping J.A. Happ, but we had a lot of teams that asked about him," Anthopoulos said. "I think the big thing there is the fact that he had one year of control, Saunders has two years of control. That has a pretty important impact.
"Then also, from our standpoint, the outfield situation for us ... clearly we maintained dialogue with Melky, but as we looked at the alternatives in free agency, it became pretty clear to us that there weren't that many options in free agency that made sense for us."
Cabrera will continue to explore his options on the open market, but he now has one less potential suitor to deal with. He's reportedly seeking at least a five-year contract and the lack of common ground in negotiations with Toronto likely helped facilitate this trade with Seattle.
The 30-year-old Cabrera enjoyed a bounce-back season for the Blue Jays in 2014. He posted a .301/.351/.458 slash line while appearing in 139 games. In a lot of ways, he was an ideal No. 2 hitter for the organization, but both sides will now head in a different direction. The market for Cabrera isn't clear, but he has drawn interest from the Royals and a few other teams according to multiple reports.
"We didn't feel good at all about the free-agent options at left field either because players had some other places they preferred to play first, the asking price might not fit with what we're trying to do, the years," Anthopoulos said without referencing one specific player.
"There's a number of things that come into it but we pretty much came to the decision, it got to the point that we didn't think the free-agent market was going to solve our issues in left field.
Gregor Chisholm is a reporter for MLB.com. Read his blog, North of the Border, and follow him on Twitter @gregorMLB. This story was not subject to the approval of Major League Baseball or its clubs.