Markakis coming home to play for Braves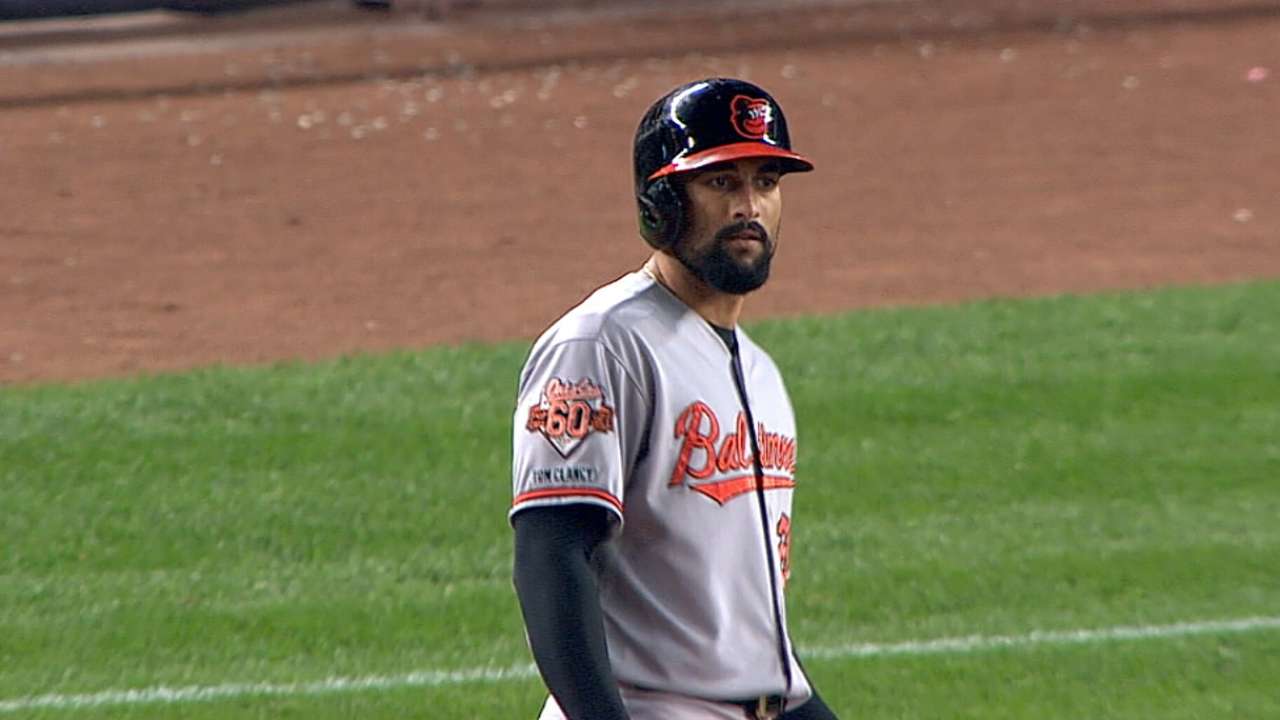 ATLANTA -- The Braves got the outfielder they have been pursuing on Wednesday, when Nick Markakis chose to spend the next few years playing in front of friends and family members who watched him grow up in the Atlanta area.
Early Wednesday evening, Atlanta reached an agreement with the free-agent outfielder for four years and $44 million, pending a physical, though the club has not confirmed the financial terms of the deal.
In addition to gaining the chance to return to the area where he attended high school and college, Markakis will be reunited with his close friend and former Orioles teammate Jim Johnson, who signed a one-year deal with the Braves on Wednesday afternoon.
Manager Fredi Gonzalez and assistant general manager John Coppolella flew to Baltimore on Monday to have dinner with Markakis and his agent, Jamie Murphy. The meeting seemed to give Gonzalez and Coppolella confirmation that Markakis could prove to be an asset both on the field and in the clubhouse.
The signing provides further reason to believe that the Braves are planning to trade one of their projected corner outfielders -- Justin Upton or Evan Gattis -- and may have wanted to ensure they had a player to fill one of those spots.
This past season, Markakis batted .276 with a .342 on-base percentage and .386 slugging percentage in 155 games for the Orioles, and his defense in right field earned him his second career Gold Glove Award.
Since having a portion of the hamate bone in his right wrist removed during the middle of the 2012 campaign, Markakis has not regained the power that he displayed as he compiled a .455 slugging percentage and averaged 17 homers through the first seven seasons of his career.
When he returned from the surgery later in 2012, he recorded a .489 slugging percentage over the 54 games he played before his season ended because of a fractured right thumb, an injury caused by a CC Sabathia pitch.
Markakis batted .271 with a career-low .356 slugging percentage in 160 games during the 2013 season, but he showed some progress on 2014, hitting four additional homers and producing a slugging percentage that was 30 points higher than the previous season's mark.
In addition to being able to replace the defensive contributions of the recently traded Jason Heyward, Markakis could serve as the leadoff hitter Atlanta is seeking. He batted .274 with a .339 on-base percentage in the 144 games he sat atop Baltimore's lineup last season.
Mark Bowman is a reporter for MLB.com. This story was not subject to the approval of Major League Baseball or its clubs.