Mariners add starting pitcher Happ in deal for Saunders
Seattle gets 'left-hander with experience' to address one of top offseason goals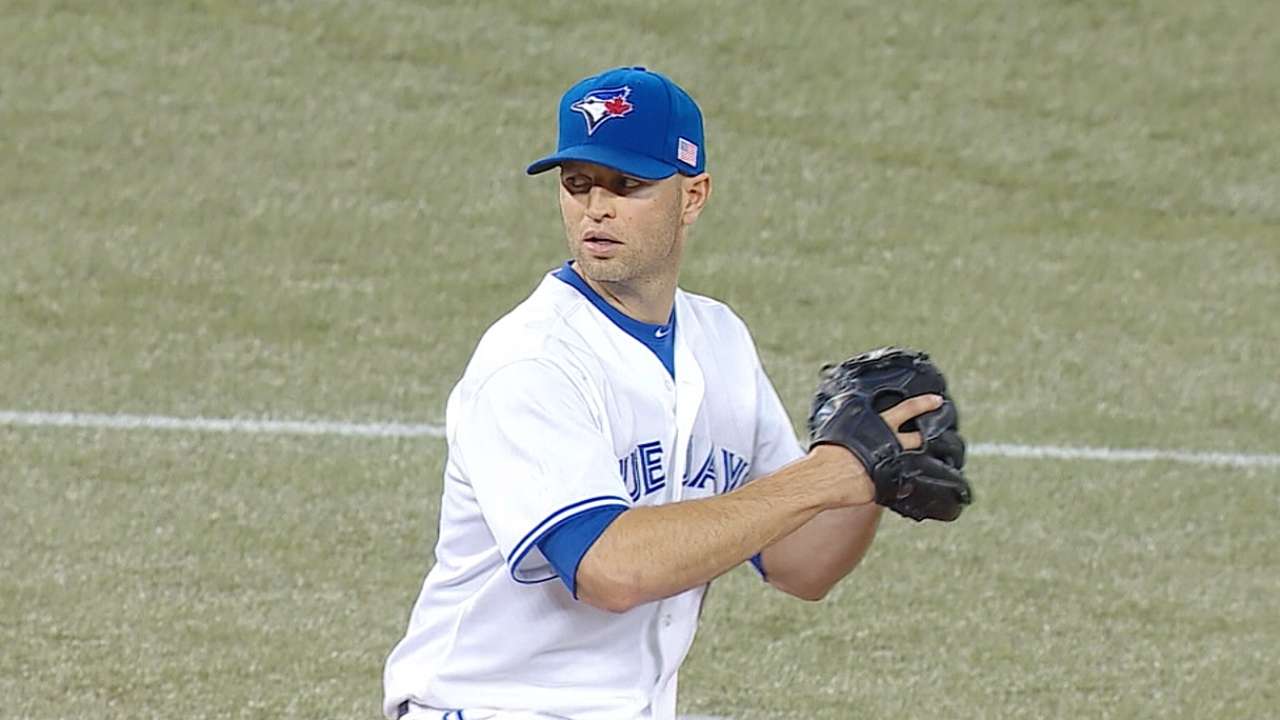 SEATTLE -- Looking to add veteran depth to one of the American League's top pitching staffs, the Mariners acquired left-hander J.A. Happ from the Blue Jays in exchange for outfielder Michael Saunders, the club announced on Wednesday.
Coming on the heels of an agreement with free-agent slugger Nelson Cruz, which is expected to be formally announced Thursday at an 11 a.m. PT news conference, the move checks off another box on general manager Jack Zduriencik's to-do list.
"One of our goals this offseason was to land a big bat and the second goal was to acquire a starting pitcher," Zduriencik said. "To get a left-hander with experience is important."
Seattle has standouts Felix Hernandez and Hisashi Iwakuma at the top of its rotation, but the team was looking to add a proven starter to supplement youngsters James Paxton, Taijuan Walker, Roenis Elias and Erasmo Ramirez. Happ's addition likely means free agent Chris Young, the 2014 American League Comeback Player of the Year, will not be returning.
Zduriencik looked at injuries to Paxton and Walker this past season, the uncertainty surrounding the return from shoulder surgery by Danny Hultzen and the fact Ramirez is out of Minor League options, and the GM felt insurance was necessary.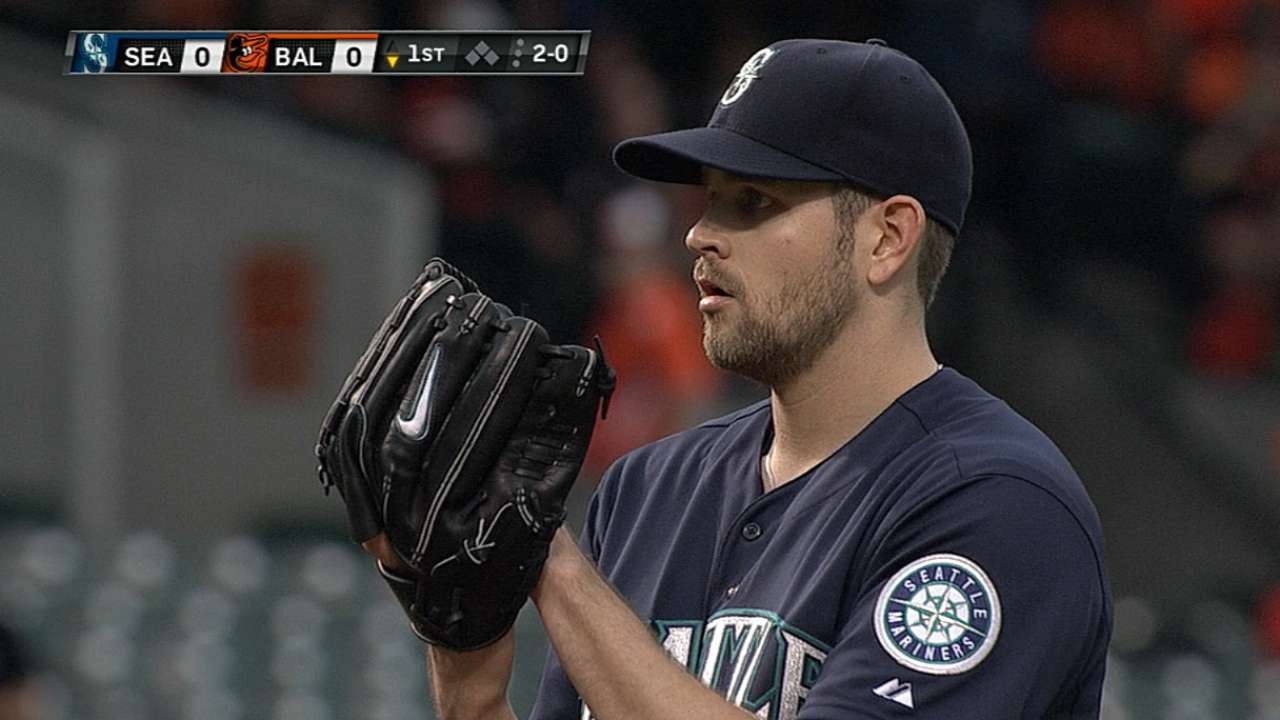 "I just felt we were in a position where we needed to add a starting pitcher," Zduriencik said. "When you look at all the trade options and free-agent market, there was a big gap. Where we ended up with this trade is exactly what we're looking for.
"He's a very athletic kid and pitched very well in the second half. He's got a swing-and-miss type fastball and established his breaking ball more as the year went on. He's pitched in Philly and Toronto, two hitter-friendly ballparks. When you think of him pitching here, we're a pretty good defensive team with a pitcher's ballpark."
Happ, 32, went 11-11 with a 4.22 ERA in 30 games (26 starts) as the fifth starter for Toronto last season. The eight-year Major League veteran has a contract of $6.7 million for 2015, and he will be a free agent after the season.
"Getting that initial call, you're always a little shocked," Happ said after learning the news. "You don't ever necessarily expect it. But I'm excited. The two times I've been to Seattle, I loved it -- the park and the atmosphere there. Obviously I'm going to a good team. There's a lot of excitement."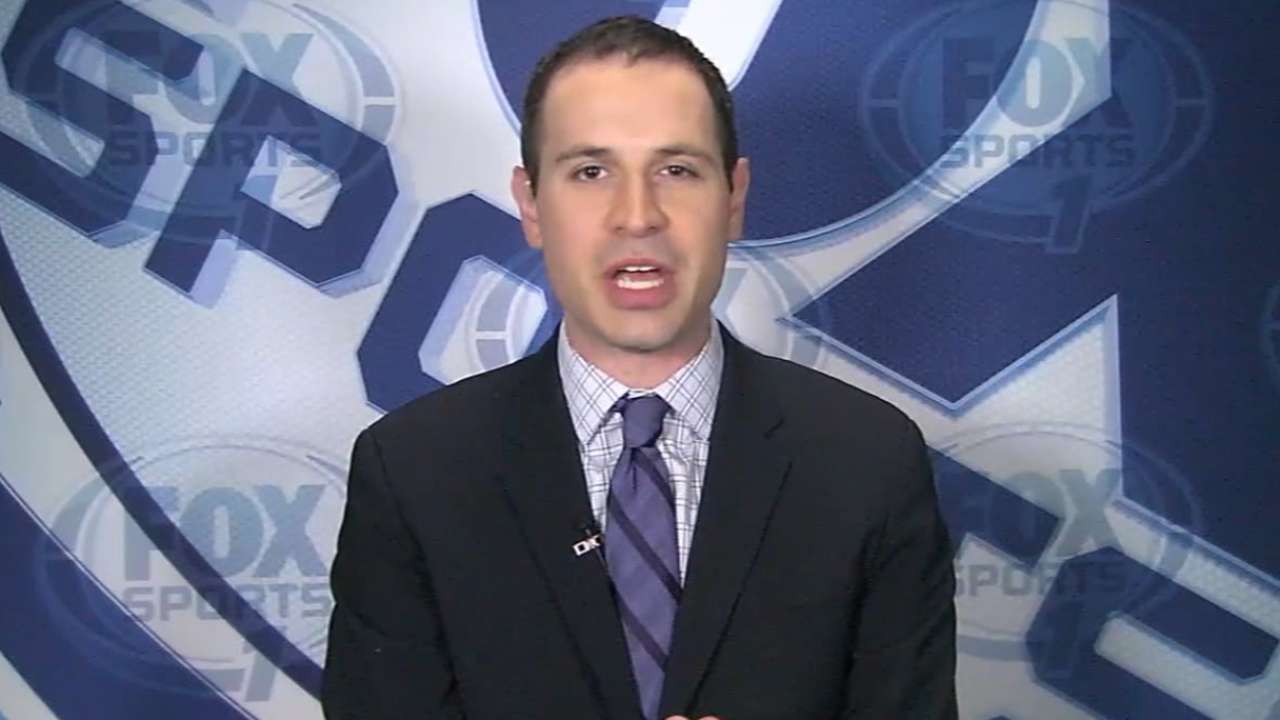 The 6-foot-5 southpaw has a career record of 51-53 with a 4.24 ERA and a 1.387 WHIP. He went 19-20 with a 4.39 ERA in three seasons in Toronto, but pitched only 10 games in 2012 due to a broken foot and 18 games in 2013 after being hit in the head with a line drive that put him on the disabled list for three months in midseason.
Happ started out this past season on the DL with a back issue and then pitched out of the bullpen upon his return, but soon was moved into Toronto's rotation and wound up throwing 158 innings, his highest total since his rookie season with the Phillies when he was 12-4 with a 2.93 ERA and finished second in the National League Rookie of the Year voting.
"It was great," Happ said of his 2014 bounceback season. "That's just what I was looking for. I just had a couple of strange things happen [the two previous seasons]. I didn't feel it was indicative of my overall health. It was just some frustrating things. I felt, if given the opportunity, I could perform. It was nice to do that, for sure."
Happ pitched in eight playoff games with the Phillies in 2008-09, including two relief appearances in the '09 World Series against the Yankees.
Saunders' departure leaves the Mariners with four returning outfielders on their roster in left fielder Dustin Ackley, center fielder Austin Jackson and rookie backups James Jones and Stefen Romero. Zduriencik indicated another move likely will be coming to add another corner outfielder.
Cruz can play right field as well, though he'll likely be viewed primarily as the designated hitter. Many of the top free-agent outfielders have already come off the board, with Melky Cabrera and Alex Rios the top remaining names. There are some interesting outfield trade possibilities being bandied about, with Matt Kemp, Justin Upton and Yoenis Cespedes the biggest -- and most expensive -- names mentioned, but the Mariners could go any number of directions at this point.
"We're engaging in a lot of discussions," Zduriencik said. "We have some ideas, some thoughts that we've shared among ourselves over the last few weeks, some things that could happen. ... These things on the perimeter, you don't know how it'll happen. But there are discussions going on. We've had several today. Where they end up, you don't know. But we do have interesting dialogue going on."
Saunders, 28, has been with the Mariners his entire career since being drafted in the 11th round in 2004, including the past six years in the Majors. He put up a .273/.341/.450 line with eight home runs and 34 RBIs in 2014, but played only 78 games due to two trips to the DL with a sprained shoulder and a strained oblique.
Saunders hit .231/.301/.384 in 553 games in his time with Seattle, with his best season coming in 2012, when he hit 19 home runs with 21 stolen bases and a .247 average in 139 games.
Greg Johns is a reporter for MLB.com. Follow him on Twitter @GregJohnsMLB as well as his Mariners Musings blog. This story was not subject to the approval of Major League Baseball or its clubs.