Torii calls it 'no-brainer' to come home to Twins
Outfielder signs one-year, $10.5M deal, excited about club's prospects
MINNEAPOLIS -- For Torii Hunter, Wednesday's news conference at Target Field wasn't an introduction to the Twins' organization, it was a reintroduction.
Hunter, who played the first 11 years of his career in Minnesota, officially returned home, as the 39-year-old outfielder signed a one-year, $10.5 million contract with the Twins on Wednesday. The deal, initially reported Tuesday, had been pending a physical and includes full no-trade clause protection.
Hunter, joined by Twins general manager Terry Ryan and manager Paul Molitor at the news conference, said he bypassed the chance to sign with a ready-made contender to return to his roots, and believes the Twins could surprise in 2015.
"I definitely think that me coming here was a no-brainer," said Hunter, who donned his No. 48 Twins jersey. "This is where my heart is. There were other clubs that might've given me a chance to win, but in the back of my mind, I knew they weren't necessarily going to win. So why not go somewhere where we're going to fight, and there might be tough times, but we have a chance to win this thing."
Hunter played from 1997-2007 with the Twins, who selected him in the first round in the 1993 First-Year Player Draft. He won seven Gold Glove Awards and made two All-Star appearances during his time with the club, hitting .271/.324/.469 with 192 homers, 259 doubles and 126 stolen bases in 1,234 games.
"This is where I needed to be," Hunter said. "This is home for me. A lot of people might not agree, but the majority know this is where I need to be at the end of my career to give back. But I can still play a little bit. I've got some bullets left.
"I'm not the guy that's going to turn it around right away, but I really think this ballclub can do some things. I'm here, and I'm here to win."
Hunter left Minnesota in 2008 to sign with the Angels before playing the last two seasons with the Tigers in pursuit of his first World Series title. He is a five-time All-Star who won nine straight Gold Glove Awards from 2001-09 and won Silver Slugger Awards in 2009 and '13.
Hunter hit .286/.319/.446 with 17 home runs last season and is a .279/.334/.446 career hitter in 18 Major League seasons. He's been to the postseason eight times in his career, including four times with the Twins, but has never won a World Series. Hunter said he had offers from clubs that have fared better than Minnesota in recent years -- the Twins have lost at least 92 games in four-straight seasons -- but said he believes the club is going in the right direction.
"I've been scouting them and these guys have talent and can swing the bat," Hunter said. "These guys had fight. So you see the potential. Don't count these guys out."
Hunter will start in right field for the Twins in 2015, as Oswaldo Arcia will move over from right field to left field. Hunter moved off center field to right field during the 2010 season while with the Angels. His defense the last two years has been his weak suit, as advanced metrics such as Ultimate Zone Rating and Defensive Runs Saved have painted him as a below-average defender in right.
But Hunter will bring the Twins much-needed power from the right side after the departure of Josh Willingham and will also serve as a clubhouse leader and mentor to the club's younger players. Hunter is known as one of the best clubhouse presences in baseball and is very familiar with Molitor.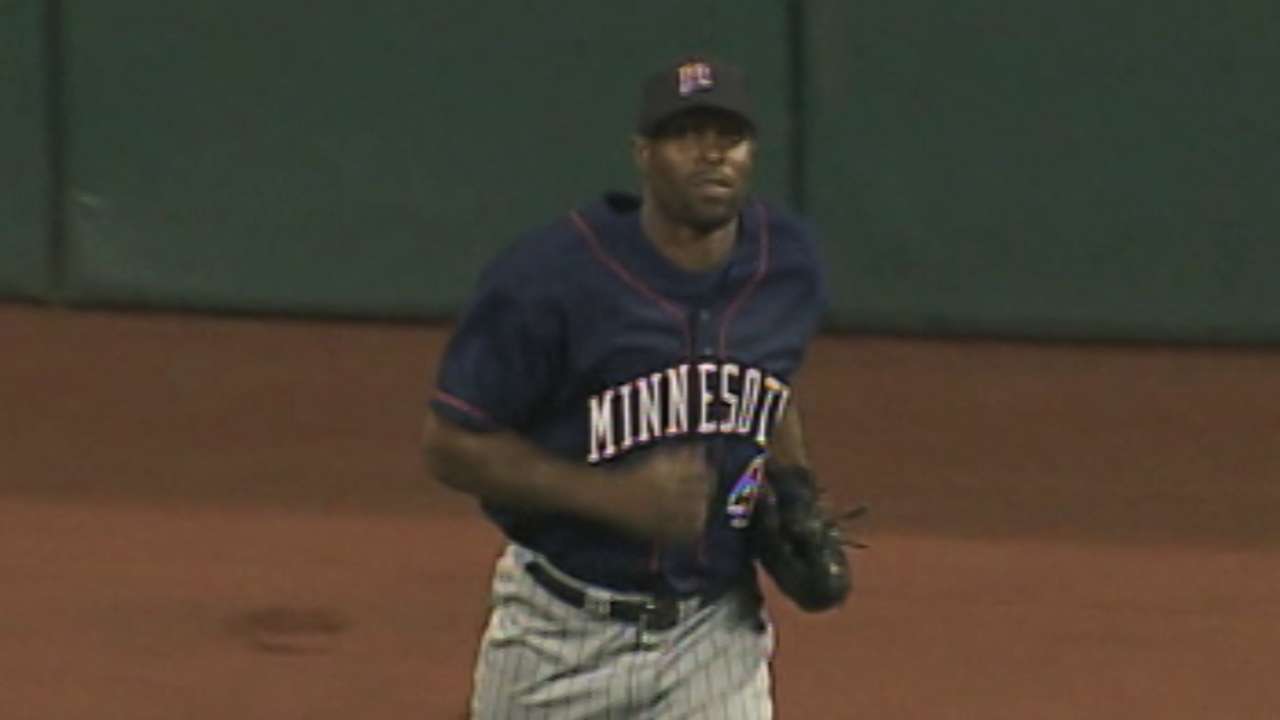 "We're looking for a guy with presence and the veteranship that he brings to an organization, not only on the field but off," Ryan said. "We watched him grow as a young man into a veteran-type player that's done a lot of good things not only for us, but for other organizations.
"We've got a young club here, we've got young position players. We brought Torii here not only to help them out, but also because we believe he can be productive in his own right."
Hunter was a teammate of Molitor in '97 and '98, although Hunter only played in a combined eight games those two years. But Molitor was also around Hunter while serving as Minnesota's bench coach in 2000 and '01. Hunter was also a teammate of new Twins bullpen coach Eddie Guardado from 1997-2003 and both represented the Twins as All-Stars in 2002.
"I think we have some leaders emerging, which is a good thing, but we were one of the youngest teams in the game," Molitor said. "So to have the opportunity to add a guy like Torii and have his presence, I think is a good thing."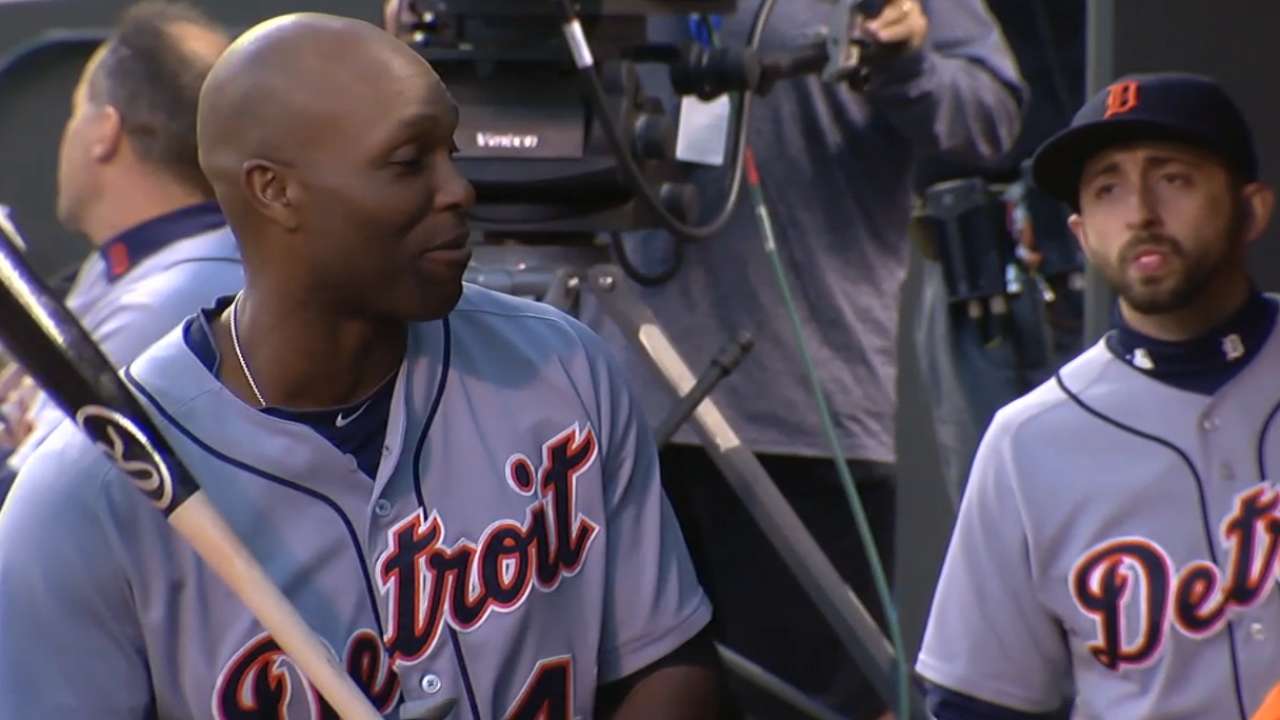 Hunter is also known for his rapport with the media, but the news conference took a twist, however, when Hunter was asked about his beliefs on gay marriage. Hunter, a Christian who has expressed his thoughts on the issue in the past, deflected the question.
"It's not even a baseball question," said Hunter, who was clearly agitated by the question. "My thoughts are already known."
But Hunter made it clear that Minnesota is where he wants to finish his career, as he said he hasn't ruled out playing beyond 2015, but the Twins will be his last team.
"I promise you, this is my last stop," Hunter said. "It's going to be with the Twins. I'm not playing with anybody else."
Rhett Bollinger is a reporter for MLB.com. Read his blog, Bollinger Beat, and follow him on Twitter @RhettBollinger. This story was not subject to the approval of Major League Baseball or its clubs.