Cuban teen prospect Moncada arrives in U.S.
Free-agent infielder may soon begin workouts for MLB teams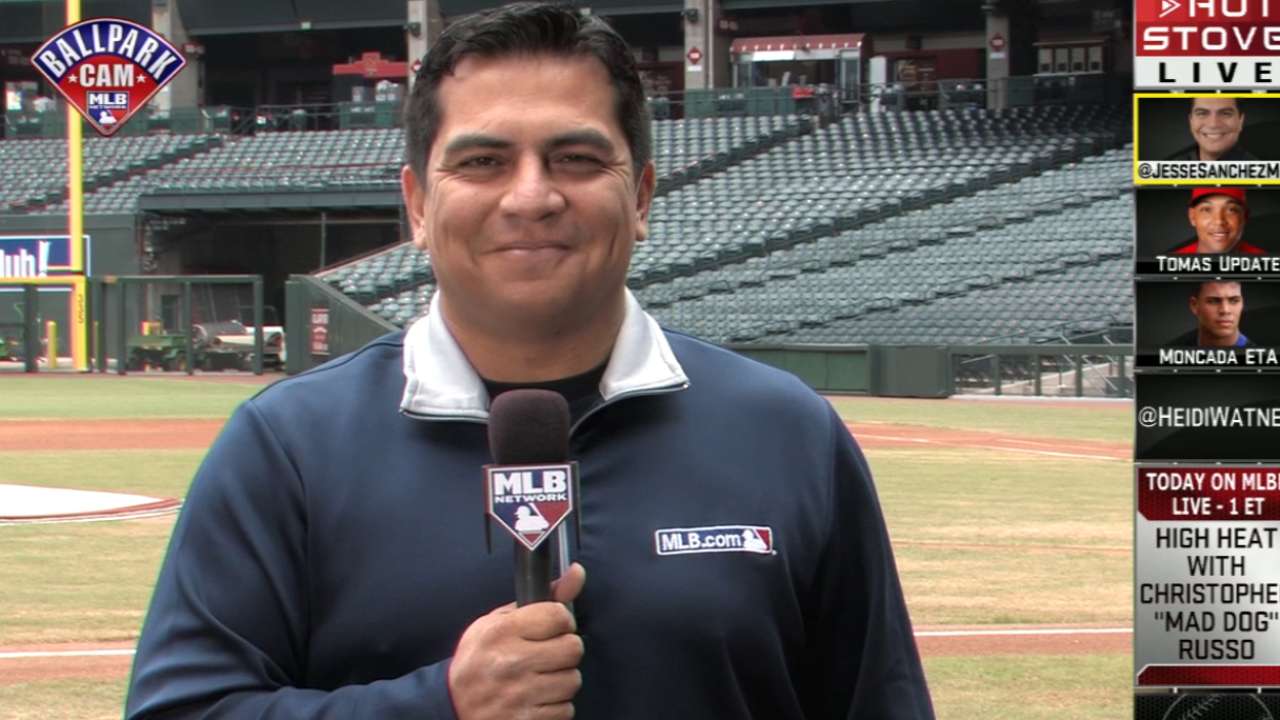 Cuban teenage prospect Yoan Moncada is in the United States.
Moncada arrived from Guatemala over the weekend using a visitor visa and he is currently staying with his agent David Hastings in Florida, according to MLB.com sources. Last month, the switch-hitting infielder, established residency in the Central American country and Moncada was declared a free agent by Major League Baseball. He must still be unblocked by the U.S. Department of Treasury's Office of Foreign Assets Control before he can come into a final agreement with a club.
On Tuesday, FanGraphs.com reported Moncada was in Florida.
It's unclear what the next step is for Moncada, 19, but his arrival could mark the beginning of private workouts for teams within the month or at the beginning of 2015. The teenager, who began playing professionally for Cienfuegos in Cuba at 17, has been compared to Cubs outfielder Jorge Soler and Yasiel Puig at the same age.
Moncada's unique talents come with a unique story.
While many Cuban players are known to leave the island in late-night escapes or defect from the national team during international tournaments, the 6-foot-1, 210-pound Moncada was granted his release from the Cienfuegos team this year and cleared by Cuba's National Baseball Commission. He was later granted a visa and a passport by the Cuban government and left on an airplane to Central America, where he trained for several months before his first showcase in front of 60-70 scouts on Nov. 12.
The Yankees, Braves, Red Sox and Cubs all reportedly had four or more scouts at the showcase, but every team has expressed some level of interest.
Because Moncada is under 23 and has not played in a Cuban professional league for at least five seasons, he will be subjected to the international signing guidelines, but it's unclear if he would be eligible to sign during the 2014-15 international signing period, which started July 2 and ends June 15, or during the 2015-16 signing period, which starts on July 2.
The Yankees, Red Sox and Rays have a reputation for being aggressive on the international market, having spent more than 15 percent above their allotted bonus pools and are in the maximum penalty range for the 2014-15 signing period. The penalty includes a 100 percent tax on their pool overage and prohibits them from signing any pool-eligible player for more than $300,000 during the next two signing periods. Those three clubs will not be able to sign Moncada if he becomes eligible after June 15.
The Cubs and Rangers, on the other hand, can't sign an international player for more than $250,000 during this signing period after exceeding their pools last period by more than 15 percent. They would benefit from Moncada not becoming available until after June 15.
One thing is certain: Moncada has arrived.
Jesse Sanchez is a national reporter for MLB.com. Follow him on Twitter @JesseSanchezMLB. This story was not subject to the approval of Major League Baseball or its clubs.