Angels expected to stay the course at Winter Meetings
Dipoto says club will 'keep eye towards opportunity,' but roster mostly intact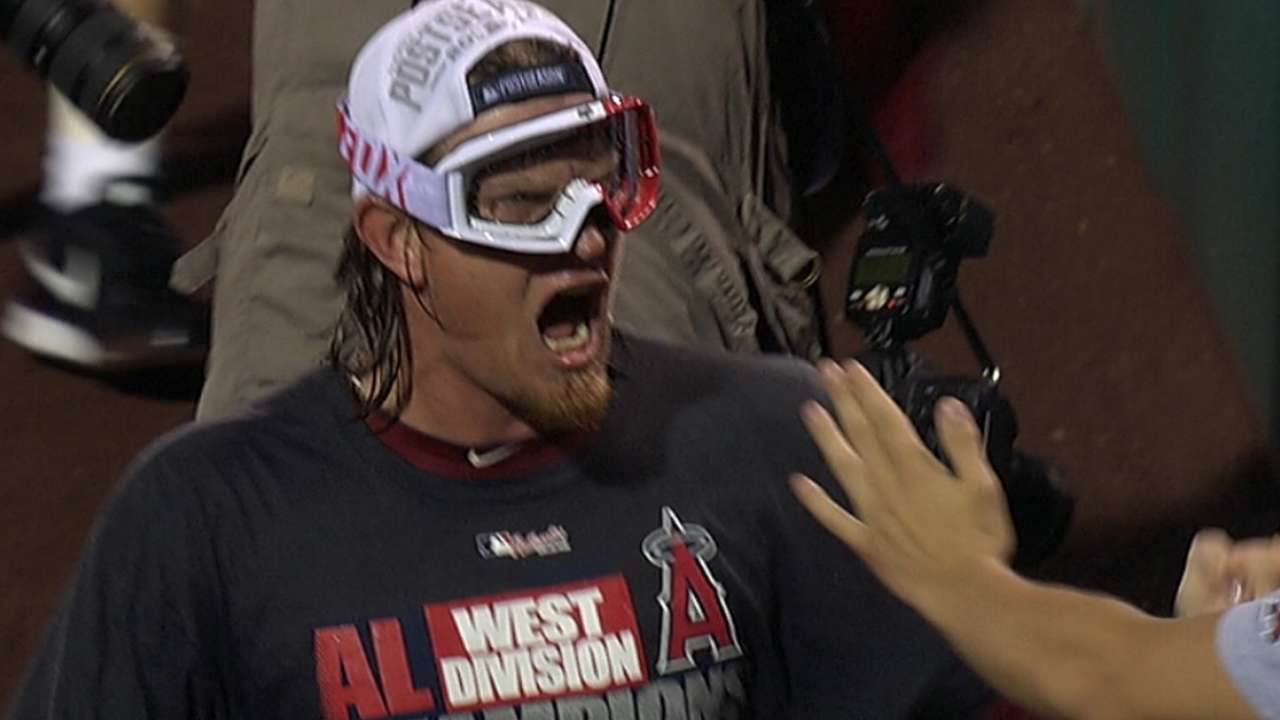 ANAHEIM -- The Angels' front-office contingency will descend upon San Diego by Sunday afternoon, joined by executives from 29 other teams and representatives for all of the big free agents for the ever-eventful Winter Meetings.
Restraint will be their motto.
That, essentially, is what this offseason is all about. With a payroll that's already less than $10 million below the luxury-tax threshold that acts as their spending limit, and most of their 98-win team already in the books, the Angels don't figure to make any radical changes to their Major League club this winter.
And while that may be frustrating to fans of a team they feel is one major piece away from getting over the hump -- particularly a top-of-the-rotation starter -- the Angels sound determined to stay on course.
"We know what our model is," Angels general manager Jerry Dipoto said. "We set it up to be this way, and we're going to stay disciplined to it. Now we've reached that time and you have to stay disciplined. We're committed to that. We like this group. We think this group has some staying power. The minute you start breaking up too many of the sustainable parts, that's when it starts changing your course, and we can't allow that to happen."
Dipoto knows he doesn't have much wiggle room to spend, but he's also convinced the Angels are already good enough to win another American League West title.
All eight of his position players -- all of whom had an OPS-plus over 100, making the Angels the fourth team in history to do that -- are returning, as is potential designated hitter C.J. Cron.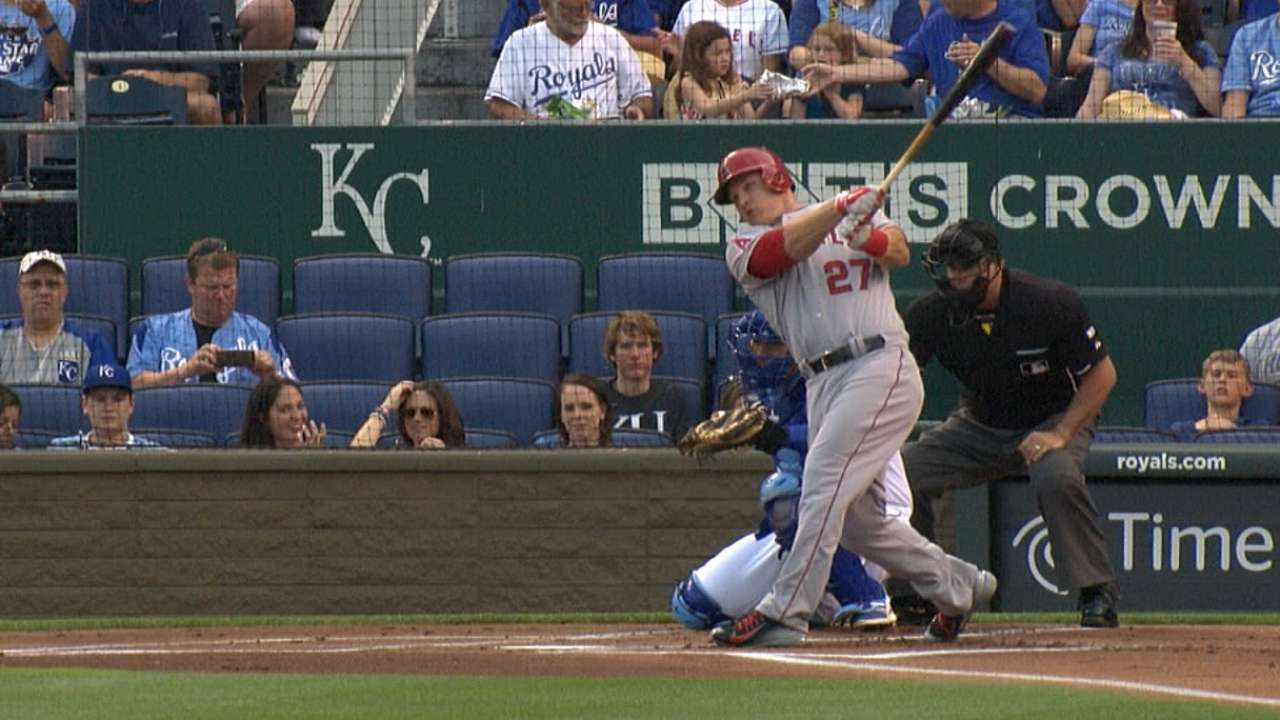 A bullpen that boasted the fourth-lowest WHIP in the Majors over the last three months is mostly intact, with the closer (Huston Street), setup man (Joe Smith) and seventh-inning guy (Kevin Jepsen) coming back, and a host of solid middle relievers (Fernando Salas, Mike Morin, Cesar Ramos and Vinnie Pestano, among others) in the mix.
And Garrett Richards is on track to be fully recovered from a torn patellar tendon by Spring Training, at which point he'll join a rotation that figures to include Jered Weaver, C.J. Wilson, Matt Shoemaker and Hector Santiago.
The Angels went into the offseason with a desire to add young, cost-controlled starting pitching. Then, seven days after the World Series, they got it by sending backup catcher Hank Conger to the Astros for 24-year-old right-hander Nick Tropeano, who will compete for a spot in the rotation but can also be stashed in Triple-A until a need arises.
With Tropeano, the Angels don't feel they have to trade the likes of Cron, Howie Kendrick or David Freese for pitching, though they'll keep their ears open just in case.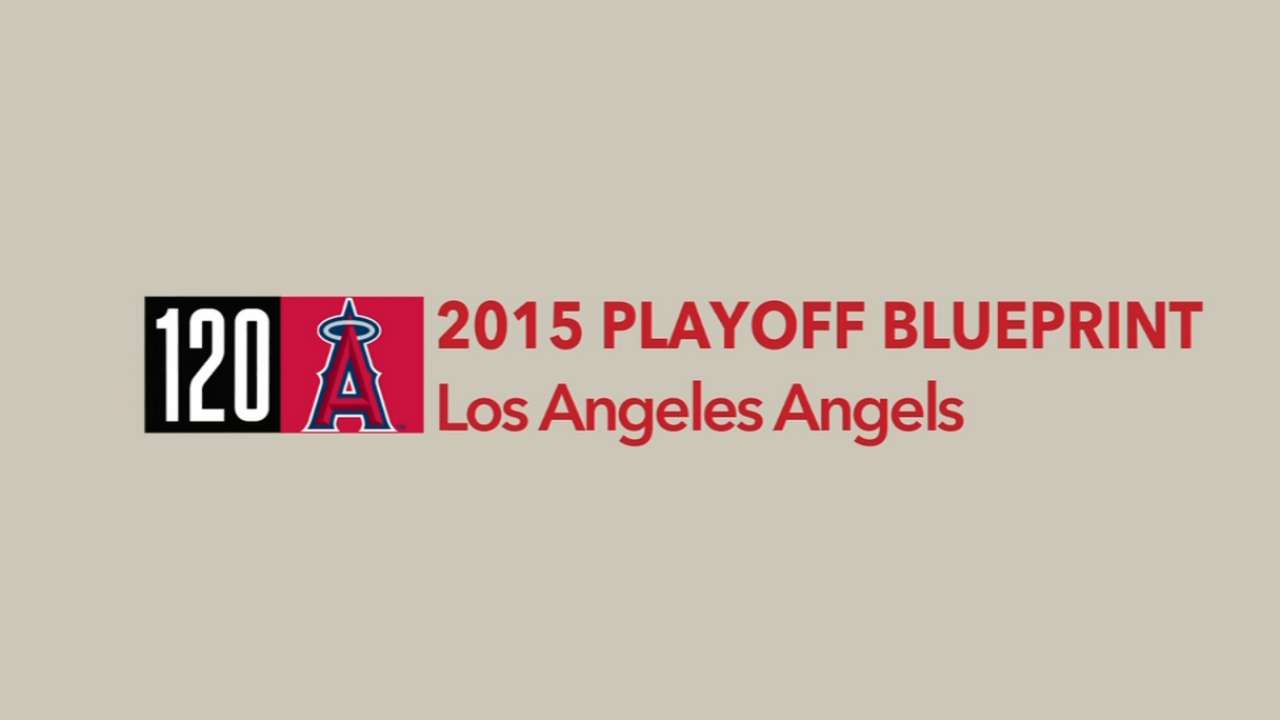 "We've amassed a nice group of pitching at the Triple-A, Major League level, and we don't need to do anything uncomfortable to make sure that we like the pitchers we can run out there every fifth day," Dipoto said. "If this is our team moving forward for 2015, we're excited about it. If the chance to get better exists, it's probably going to have to get better at the top."
That means the Angels aren't interested in acquiring a veteran starting pitcher who isn't a clear upgrade over what they currently have. In free agency, that player doesn't exist within their budget. On the trade market, he's hard to obtain without the package of prospects the Angels can't offer.
So, what are the Halos even going to do at the Winter Meetings?
"We're going to keep an eye towards opportunity," Dipoto said. "Part of the appeal of building flexibility and depth is that it does give you the ability to capitalize on opportunity. We'll be open to that. I can't say I know what the opportunity is going to be, but we'll be open to it should it happen."
The Angels, Dipoto added, "do want to come away with a little bit more infield depth."
Gordon Beckham was non-tendered on Tuesday, leaving the Angels with a glaring need for a utility infielder. They'd like to bring Beckham back on a smaller deal, but will keep an eye toward other inexpensive free-agent options with an ability to play shortstop.
The Angels will also try to find "controllable assets, particularly left-hand bullpen," Dipoto said.
Ramos, acquired from the Rays in exchange for pitching prospect Mark Sappington, is currently the Halos' only lefty in the bullpen, and he won't be used in a specialist role. Dipoto would like to add more lefty relievers to augment an organizational depth chart that is almost entirely right-handed.
He'll also look for catchers who can compete with the likes of Carlos Perez, Jett Bandy and Jackson Williams for the backup job, and in an ideal world, Dipoto would add a left-handed-hitting outfielder to balance out the bench at some point this offseason.
But the moves figure to be subtle, and restraint will remain the Angels' theme next week.
"This dates back to even July at the Trade Deadline when we acquired Huston," Dipoto said. "We had a pretty clear idea of how our offseason was going to set up, how our roster for 2015 was going to look for the most part, and you have to stay disciplined to your model."
Alden Gonzalez is a reporter for MLB.com. Read his blog, Gonzo and "The Show", and follow him on Twitter @Alden_Gonzalez. This story was not subject to the approval of Major League Baseball or its clubs.