MLB.com Columnist
Richard Justice
Shortstop upgrade could put Mets over the top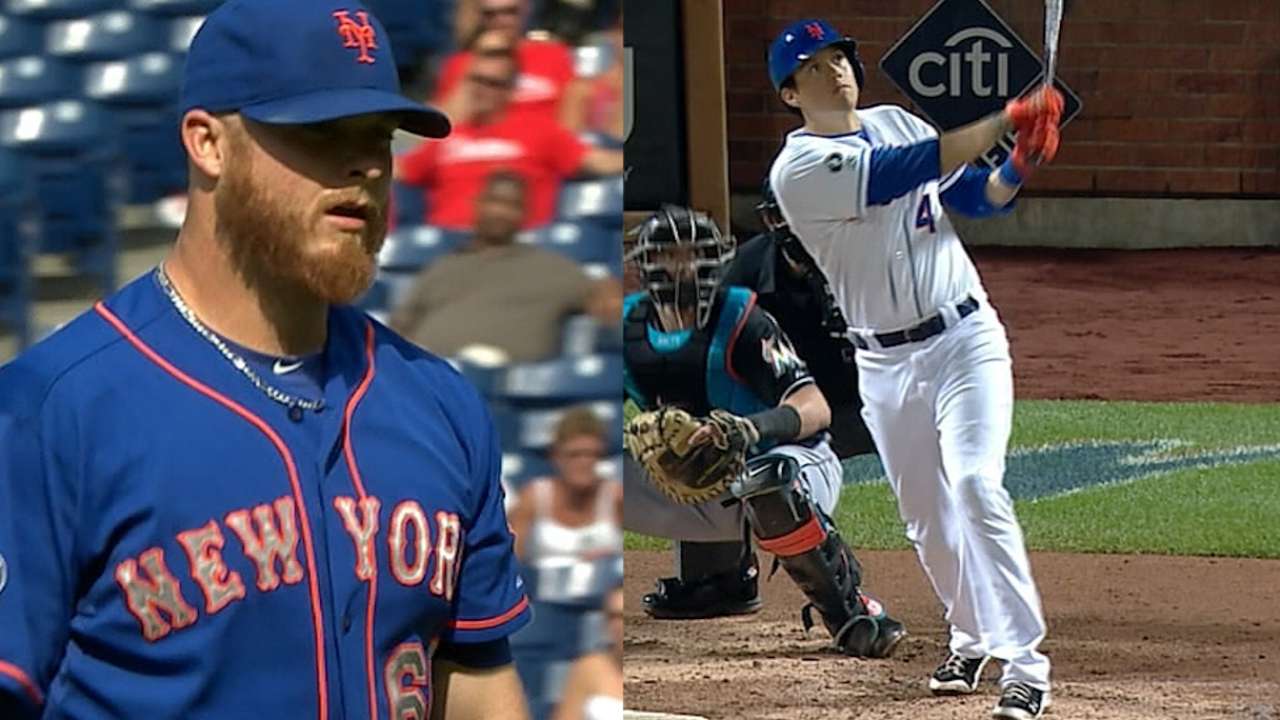 One of the beautiful things about the Hot Stove season is that storylines occasionally take on a life of their own. That's how it is with the Mets and their attempts to upgrade at shortstop. If the Mets decided to trade one of their starting pitchers for a shortstop, it could help them make the playoffs in 2015 or they could regret it for a decade. This has become a hot topic because the team looks so solid in so many areas.
Looking back on it, general manager Sandy Alderson has done a really nice job in a fairly short amount of time. He arrived in 2010 hoping to replicate the success he'd had in Oakland in building an organization that won three straight American League pennants (1988-90).
As Alderson had done in Oakland, he focused on constructing a great farm system, especially by acquiring power arms and building depth at every position. Four years later, the Mets have what every other club strives to acquire: pitching, young pitching and quality pitching.
In Matt Harvey, Zack Wheeler, Jacob deGrom, Noah Syndergaard, Jon Niese, Dillon Gee, Rafael Montero, Jack Leathersich and others, the Mets have the kind of pitching depth a franchise can ride into October.
"We had to get to the point where we had these assets," Alderson said. "You have to let them mature a little bit before they actually have value, or as much value as some of them have today. Part of being patient is not just getting extra Draft picks and things, it's having the patience to let your players mature to the point where they have more value. That doesn't mean we're going to go out and trade them all, or even some of them. They've gotten to the point where they're not only valuable in a trade, they're valuable to us on the 25-man roster. We're definitely in a better spot."
Plus, the Mets have depth in other areas, too, even at shortstop. They just had four of the top 10 prospects in the New York-Penn League this season.
Now what?
When Alderson surrendered the 15th overall pick of the 2015 First-Year Player Draft to sign veteran outfielder Michael Cuddyer, it was the kind of acquisition a club makes when it believes it's on the verge of contention.
Alderson agrees.
The Mets are in a good place, potentially a really good place. Even if they don't do one other thing, they might be good enough to go to the playoffs.
"We've got the starting-pitching depth," Alderson said. "We've got veteran leadership. I don't see why we can't be very competitive. That's the way I'm looking at it at this point and expect to be looking at it when we open Spring Training."
Alderson ticks off the reasons: nice lineup, deep rotation, improved bullpen.
Are there holes? Yes, absolutely.
On the other hand, almost every team has a hole or two. This is a cause for concern, but it's not the red flag it might have been a decade ago.
There aren't any perfect teams. So general managers scramble to build organizational depth and to figure things out on the fly.
Now about that situation at shortstop.
The Mets readily admit that they'd like to upgrade there. They've inquired about almost everyone, from Troy Tulowitzki to Didi Gregorius to Alexei Ramirez to an assortment of others.
That Alderson hasn't made a deal probably says that every team is seeking pitching at this point.
Here's what Alderson has to weigh: Does he really have too much of it? Would the right guy at shortstop propel them to the playoffs?
Or would Alderson be foolish to trade that pitching? For one thing, the attrition rate on pitching is so high.
For another, Alderson really doesn't have a complete grip on how good some of the younger guys are going to be. He has resisted trading any of them so far, because he wanted to give each time to make their way through the system and also to allow the Mets to figure out exactly what they had.
Here's a name to remember: Matt Reynolds.
Reynolds is a 24-year-old shortstop and former second-round pick out of the University of Arkansas coming off a season in which he split time between Double-A Binghamton and Triple-A Las Vegas. He had success at both, compiling an overall .859 OPS.
As the Mets have checked out the inventory of available shortstops, they keep coming back to Reynolds. Is he ready?
"Do I realistically think Reynolds is going to be an option at the beginning of the season?" Alderson asked. "Probably not. Could it happen? Yeah, it could happen."
So do the Mets need a stopgap for a few months? Or does Alderson need to do something bigger?
Alderson knows that not making routine plays behind a young pitcher is a good way to kill his confidence and blow up his pitch count. And the Mets have three other young shortstops making their way through the system. At some point -- perhaps sooner rather than later -- help will arrive.
But the bottom line is that the Mets appear to be as good as any team in the NL East except for the Nationals.
In the end, their success probably will come down to the health and production of David Wright and Curtis Granderson.
If they're the players they've been for most of their careers and if Harvey is completely back to No. 1 starter status, it could be a fun summer at Citi Field.
Richard Justice is a columnist for MLB.com. Read his blog, Justice4U. This story was not subject to the approval of Major League Baseball or its clubs.