MLB.com Columnist
Phil Rogers
Torii's return to Twins about loyalty, character
Drafted by Minnesota in '93, veteran brings leadership, experience to youth-laden club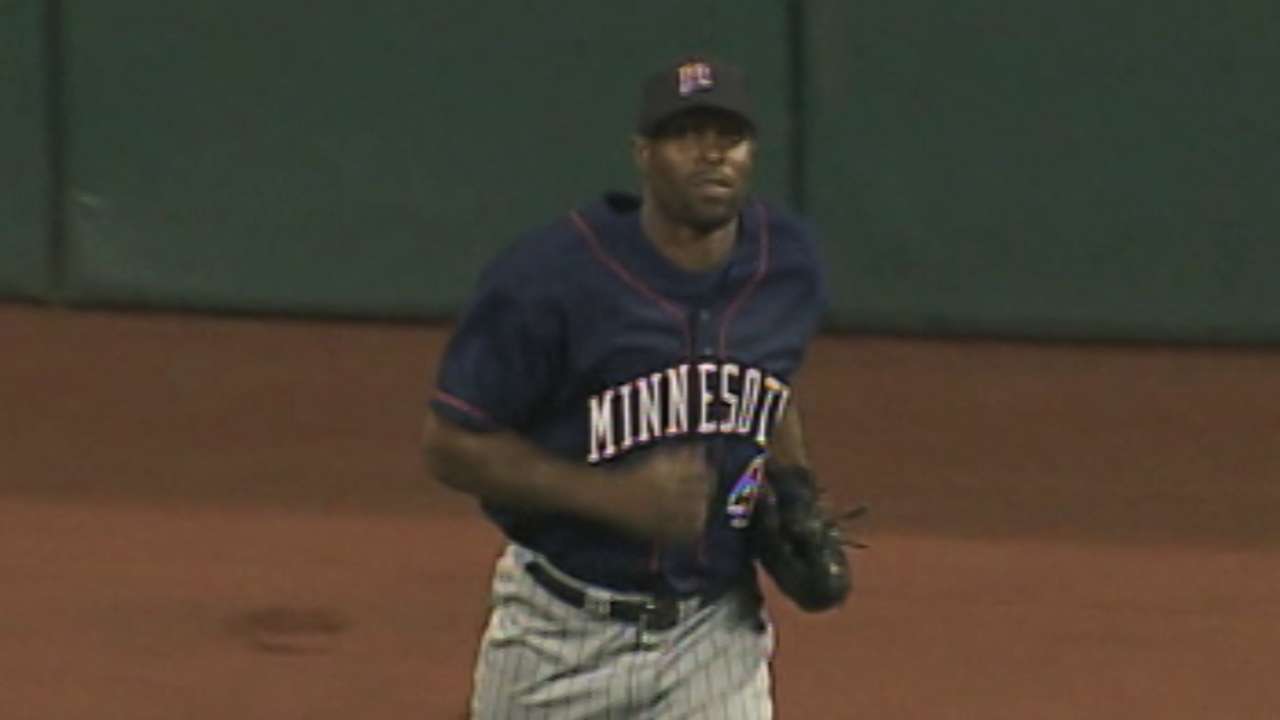 Some things are just right. Torii Hunter returning to the Twins qualifies as one of those.
There will be a lot more significant moves made this Hot Stove season, no doubt. But there may not be a cooler decision than Hunter declining interest from the Rangers, Blue Jays, Royals and others to return to his original organization.
Hunter will be well-paid, for sure. But the one-year, $10.5 million contract didn't drive this deal. If you know both Hunter and the Minnesota organization -- a family-run franchise where everyone is on a first-name basis, where Terry Ryan's word is as good as it was in 1997, when Hunter made his debut -- you know this deal is about loyalty and character.
Hunter was severely tempted by the offers he received, especially the one from the Rangers, which would have allowed him to be a full-time resident at his home in Prosper, Texas, about 40 miles north of Globe Life Park in Arlington. But he couldn't say no to Ryan and the chance to play for Hall of Famer Paul Molitor, who was wrapping up his career with the Twins when Hunter was getting his started.
This move adds to the credibility of Ryan's latest reworking of the Twins, who have labored through four long seasons since getting swept in the 2010 American League Division Series, their sixth trip to the postseason in a nine-year stretch. They took small steps forward last season, mostly due to a terrific performance by Phil Hughes, and hope to speed up the process when prospects like Byron Buxton, who is ranked No. 1 by MLB.com, Miguel Sano, Eddie Rosario and Alex Meyer arrive.

The hope is that this group will be like the one that surrounded Hunter in the late 1990s. Jacque Jones, A.J. Pierzynski, Cristian Guzman and Doug Mientkiewicz joined Hunter in turning the Twins from an also-ran into the dominant team in the AL Central from 2002-10, with guys like Joe Mauer, Justin Morneau and Michael Cuddyer arriving after lots of the heavy lifting had been done.
While the Twins won only 70 games last season, they introduced intriguing players like Kennys Vargas and Danny Santana while getting 20-plus homers from second baseman Brian Dozier and right fielder Oswaldo Arcia. They weren't the pushovers they'd been.
Molitor, who replaced Ron Gardenhire as manager, worked with most of these kids in the Minor Leagues. Now he'll manage them.
That job will be a lot easier with Hunter setting an example on the field and in the clubhouse. He'll turn 40 next July and isn't the same two-way standout who averaged 4.0 WAR from 2001-12. But if Hunter has to tumble into the Fenway Park bullpen to try to help one of the Twins' pitchers, he's going to do it. And he won't be a lot of fun for pitchers to face either, as his OPS hasn't been under .765 since 2003, when he hit a career-low .250.
You'd expect Hunter and Buxton will be joined at the hip in Fort Myers, Fla., next spring. Aaron Hicks, the former first-rounder who has hit .201 the last two seasons, won't be far away, either. Hunter was signed as a player, sure, but the Twins know they're also going to get a lot of informal coaching from him, too.
You can sweat the defensive metrics if that's all you see. But this is about the big picture, not the small stuff.
If Hunter says something one day that unlocks Hicks' potential, or is still bouncing around Buxton's brain 10 years from now, this will be one of the best moves Ryan ever made. Since leaving the Twins to sign a five-year, $90 million contract with the Angels, Hunter has played on four postseason teams in seven years, including the last two with the Tigers. He was heartbroken after the Orioles swept Detroit in the ALDS in October, with the eight-run eighth inning in Game 1 crushing the Tigers.
Hunter was so spent emotionally that he talked about retiring. But he didn't mean it. He loves the game he plays, and it shows.
Don't be surprised if Hunter is one of the biggest names on the trade market in July, as he still burns to play in the World Series. If the Twins aren't a surprise contender, they will listen to offers for him. Hunter could bring back a nice piece or two to continue the construction.
But that's a long time from now. Hunter's going to be doing everything he can to help the team that took him in the first round of the 1993 First-Year Player Draft. The scout that recommended him was Mike Ruth, who, of course, is still scouting for the Twins. Hunter's first manager, Tom Kelly, will be waiting for him on a back field in February, zinging him with one-liners as he throws batting practice.
That's the way this franchise rolls. It's really not that surprising that Hunter has returned to remember how it felt when he was in Buxton's shoes.
Phil Rogers is a columnist for MLB.com. This story was not subject to the approval of Major League Baseball or its clubs.