Trades on the horizon as Phils look to rebuild
Club could be active at Winter Meetings as it tries to deal veterans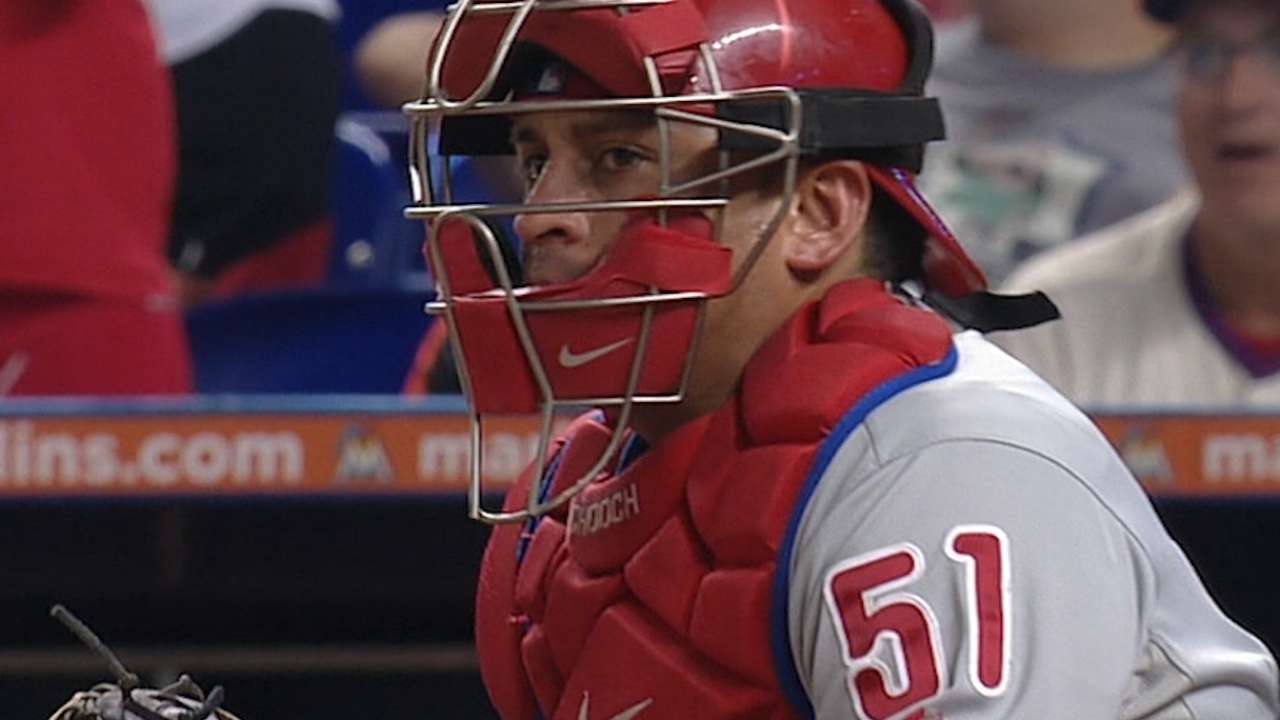 PHILADELPHIA -- The Phillies promised a highly anticipated and long overdue roster overhaul this winter.
They said they intended to take a step back.
"Yep, I think that's the overall plan," general manager Ruben Amaro Jr. said last month. "I mean, I think, 'How far back do we want to go?' Not very far. But I think it's important for us if that's what we have to do. Ultimately, you'd like to not have to take a step backward. But if that's what we have to do for the long-term viability and sustainability of our club, that's what we'll try to do."
But entering next week's Winter Meetings in San Diego, the Phils are exactly the same team as the one that finished last in the National League East in 2014, despite a franchise-record payroll. They look exactly the same as the team that suffered consecutive 89-loss seasons.
Have the Phillies come close to anything?
The Phillies will not say, but it would be interesting to see how close they have come to trading veterans like Cole Hamels, Ryan Howard, Jonathan Papelbon, Marlon Byrd, Carlos Ruiz and Antonio Bastardo. It also would be interesting to know how seriously they pursued Cuban outfielder Yasmany Tomas, who signed with the D-backs for $68.5 million. Tomas seemed to be a perfect fit for the Phils -- a 24-year-old power-hitting outfielder with loads of potential. They have nobody like him in their system, which has suffered through years of poor Drafts. But they passed.
The Phillies have plenty of work to do. They only have re-signed outfielder Grady Sizemore and right-hander Jerome Williams to this point. Expect to hear endless speculation next week about Hamels, who is the only player on the roster that could net the organization a haul of prospects. The Cubs, Red Sox and Dodgers are teams with enough Minor League talent to compensate the Phils for Hamels, so expect to hear more about them, too.
The Phillies would love to move Howard to an American League team, but how much salary would they eat to make it happen? Howard is owed $60 million, which includes a $10 million buyout on a club option for 2017.
There is plenty of speculation that the Phillies could release Howard if they cannot find a trade partner for him. But the belief here is that will not happen with $60 million owed. The Phils do not have a younger version of Howard waiting in the wings (i.e. Howard in 2005 when Jim Thome was entrenched at first base). If they did, it might become reality. But it is very hard to believe Philadelphia will eat $60 million to play Darin Ruf on a semi-regular basis when the organization considers him a platoon player. Maikel Franco at first base? The Phillies love him at third, so he does not seem to have a long-term future there.
So, yes, there is a very real chance the 2015 infield will include Howard, Chase Utley and Jimmy Rollins, with a combination of Cody Asche and Franco third base.
Exactly the same.
That leaves Ruiz and Byrd as the most likely position players to be dealt.
Hamels will remain a hot name, but do not forget about Papelbon. He is keeping his fingers crossed about being traded to a contender, and who can blame him? The Phillies have no plans to contend in 2015. If they sign any free agents next week, expect them to be more of the mid- to low-level variety, pitchers or players who provide depth to the big league roster.
"We're looking to improve this year, but we're more concerned with what we're going to be doing down the road, improving down the road," Amaro said last month.
Todd Zolecki is a reporter for MLB.com. This story was not subject to the approval of Major League Baseball or its clubs.