MLB.com Columnist
Tracy Ringolsby
Dangling Kemp is Dodgers' play this offseason
In order to patch areas of needs, club will have to give up something big
The defending National League West champion Dodgers know what they need to do this offseason.
It is a matter of getting it done. And that's not easy.
They are looking for a shortstop and/or third baseman. They would like a back-of-the-rotation starter -- maybe a younger arm who could develop. And they need to replenish that late-inning bullpen bridge, which as much as any area can be singled out for the Dodgers' inability to get past the Cardinals during the NL Division Series.
The Dodgers are willing to pay the price, financially. The problem is that what they need isn't on the free-agent market. The answers to questions they have, like third baseman Pablo Sandoval or shortstop Hanley Ramirez, were scooped up quickly by the Red Sox.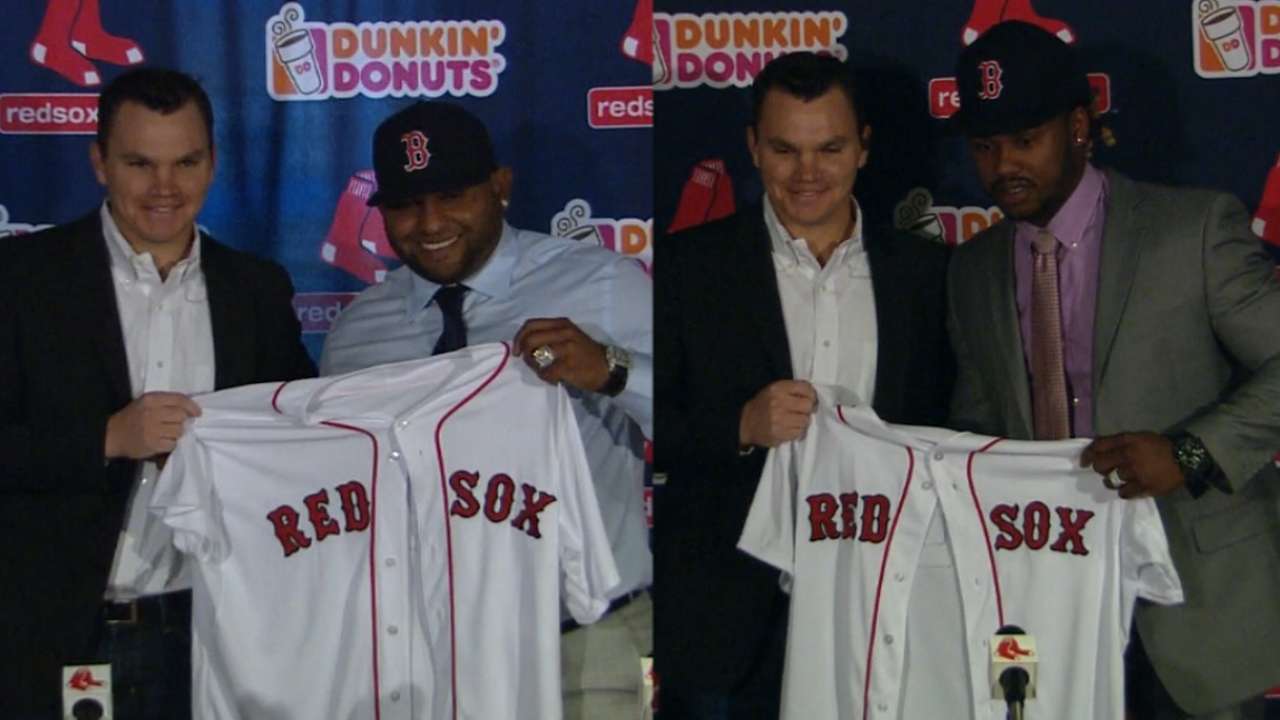 That's why the Dodgers are looking at the trade market.
And that's why the name heard most often from the Dodgers' side is Matt Kemp.
It's not that the Dodgers are looking to get rid of Kemp, who has five years and $107 million remaining on his contract. With the loss of Ramirez to free agency, Kemp and Yasiel Puig are the two right-handed-hitting threats on the roster. And after two injury-plagued seasons, Kemp showed signs of being Kemp again last season.
If the Dodgers find a taker for Kemp, however, they are going to have to pray for health of Carl Crawford, a return to All-Star consistency from Andre Ethier and an emergence of rookie Joc Pederson. All three, it must be noted, are left-handed hitters.
But if the Dodgers don't dangle Kemp, how are they going to get an impact player or two in return?
Think about it. Yes, there is an outfield surplus, but:
• Ethier, who will turn 33 in April and has three years and $56 million remaining on his contract, is a former All-Star who had 31 home runs and 106 RBIs in 2009, but he has hit just 16 home runs and driven in 94 runs the last two years combined. He was a fourth outfielder last season, hitting only .249 and starting just 78 of the 130 games in which he appeared.
• Crawford, who is 33 and has three years and $62.25 million remaining on his contract, is a left fielder without the pop a team wants from a corner outfielder. He is a leadoff hitter with a career .332 on-base percentage. And Crawford has been challenged trying to stay on the field recently, appearing in 252 games the last three seasons in which he has 17 home runs and 96 RBIs -- total.
• Pederson, who turns 23 in April and was an 11th-round Draft pick in 2010, got his first taste of the big leagues last September, had four singles in 28 at-bats and struck out 11 times. He has, however, hit .302 in the Minors, and last summer at Triple-A Albuquerque, he hit .303 with 33 home runs. Pederson also struck out 149 times.
Enter Kemp, who has drawn particular interest from Baltimore, Seattle and San Diego. After hitting .324 with 29 home runs and 126 RBIs in 2011, earning NL All-Star, Gold Glove and Silver Slugger honors while finishing second in NL MVP Award voting, he battled injuries in '12 and '13. This past season, Kemp rebounded, hitting .287 with 25 home runs and 89 RBIs.
It is not out of the question the Dodgers could eat some of that salary, but they are going to have to get a strong return, because -- once again -- finances aren't a concern.
Right now, their projected starting third baseman is Juan Uribe, who will be 36 in March and has found a home at the position with the Dodgers because of a lack of an alternative. His 27 home runs the last four seasons combined is well below the norm for a third baseman.
With the loss of Ramirez, the shortstop situation is so much up in the air that on the offseason depth chart at the position is Justin Turner, who at the age of 30 has played 45 big league games at shortstop (29 starts), and 59 in the Minors (57 starts).
And the bullpen is a definite concern. Former general manager Ned Colletti did try and put the pieces together, and he didn't try to do it on the cheap. It just didn't work.
A lack of confidence in the arms being counted on to get the game from the seventh into closer Kenley Jansen played a part in manager Don Mattingly's need to stay longer than he may have wanted with Clayton Kershaw in the postseason.
While the Dodgers would like a starting pitcher, they aren't looking at the marquee names on the free-agent market. Their need is at the back end. They have as good a Nos. 1-4 rotation as any team with Kershaw, Zack Greinke, Hyun-Jin Ryu and Dan Haren, which leaves them looking for someone who could fit with Haren in the Nos. 4-5 slots.
The areas of concern have been identified. The Dodgers know who they can dangle in hopes of making a deal.
Now comes the hard part: Finding the match to make it all work.
Tracy Ringolsby is a columnist for MLB.com. This story was not subject to the approval of Major League Baseball or its clubs.