MLB.com Columnist
Jim Callis
2015 Mock Draft: Callis, Mayo call Top 10
Shortstop Rodgers, hurler Matuella among leading candidates for top selections
Yes, it's very early for prognostications, with the 2015 First-Year Player Draft six months away (June 8-10), but we're giving it a shot anyway. Here is our first crack at predicting the first 10 picks of the 2015 Draft. While neither of us got a pick exactly right six months out last year, we did each name five of the players who went in the top 10 picks.
1. Diamondbacks
Callis: Brendan Rodgers, SS, Lake Mary (Fla.) HS. The last time it had the No. 1 overall pick, Arizona took another high school shortstop (Justin Upton, 1995). Rodgers has an impact bat, but unlike Upton, he will be able to stay at shortstop.
Mayo: Michael Matuella, RHP, Duke. There are some question marks surrounding Matuella, mostly around lack of track record and some injury history. But he's the one college arm who stands out as having the stuff to become a clear advanced future front-line starter in his Draft class.
2. Astros (compensation for not signing 2014 No. 1 overall pick Brady Aiken)
Callis: Matuella. Houston makes up for missing out on Aiken by grabbing the top pitcher in the 2015 Draft, as Matuella combines a mid-90s fastball, two tough breaking pitches and a 6-foot-7 frame.
Mayo: Rodgers. I'm basically flip-flopping with Jim here, as the Astros take the best player on the board, dreaming of a left side of an infield with Carlos Correa at third and Rodgers at shortstop.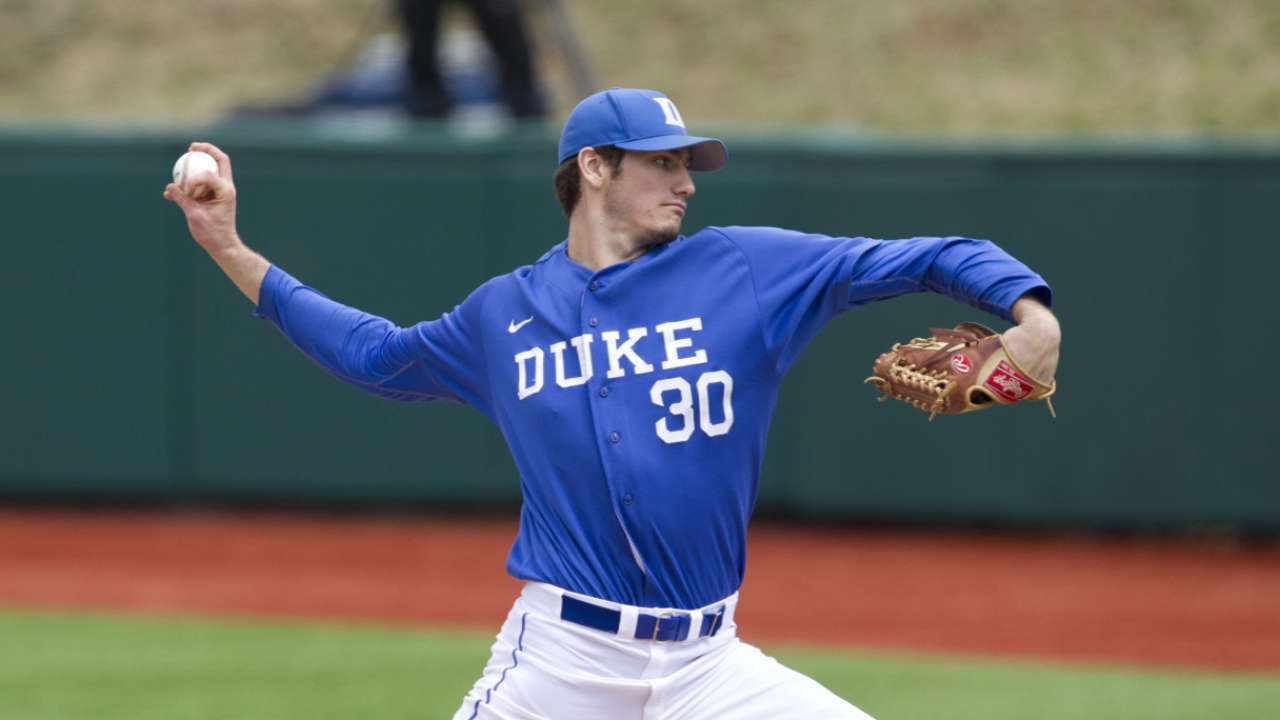 3. Rockies
Callis: Brady Aiken, LHP. He may not have picked a place to pitch in 2015 yet, but unless Aiken's medical reports scare off other teams like they did with the Astros, he's not going to last long. His quality stuff, advanced pitchability and track record of success bode well for his ability to succeed at Coors Field.
Mayo: Dansby Swanson, SS, Vanderbilt. College position players are hard to come by, especially ones who play up the middle. Swanson will prove he can stay at short, and he profiles as a top-of-the-order catalyst. Tulo replacement, anyone?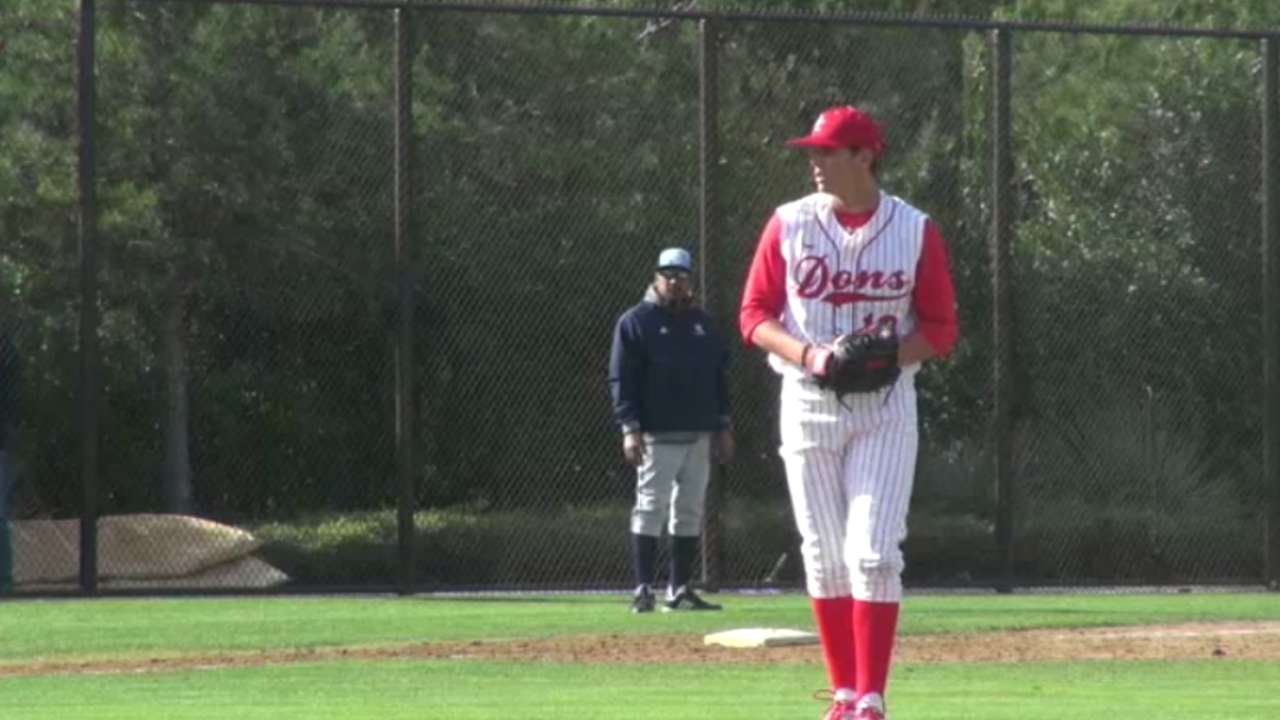 4. Rangers
Callis: Daz Cameron, OF, Eagle's Landing Christian Academy (McDonough, Ga.). Texas has spent first-round picks on up-the-middle players four times in the last five Drafts, and it will do so again with its highest pick since 1986 (Kevin Brown at No. 4). Cameron has solid tools across the board and has fine instincts in center field, no surprise for the son of three-time Gold Glover Mike Cameron.
Mayo: Aiken. Assuming he's healthy, he's not going to fall far, and honestly could go anywhere in the top five, aside from back to the Astros. The Rangers have taken a pitcher with their first pick in three of the last four Drafts, and in Aiken, they'd be getting a guy with No. 1-pick-type stuff.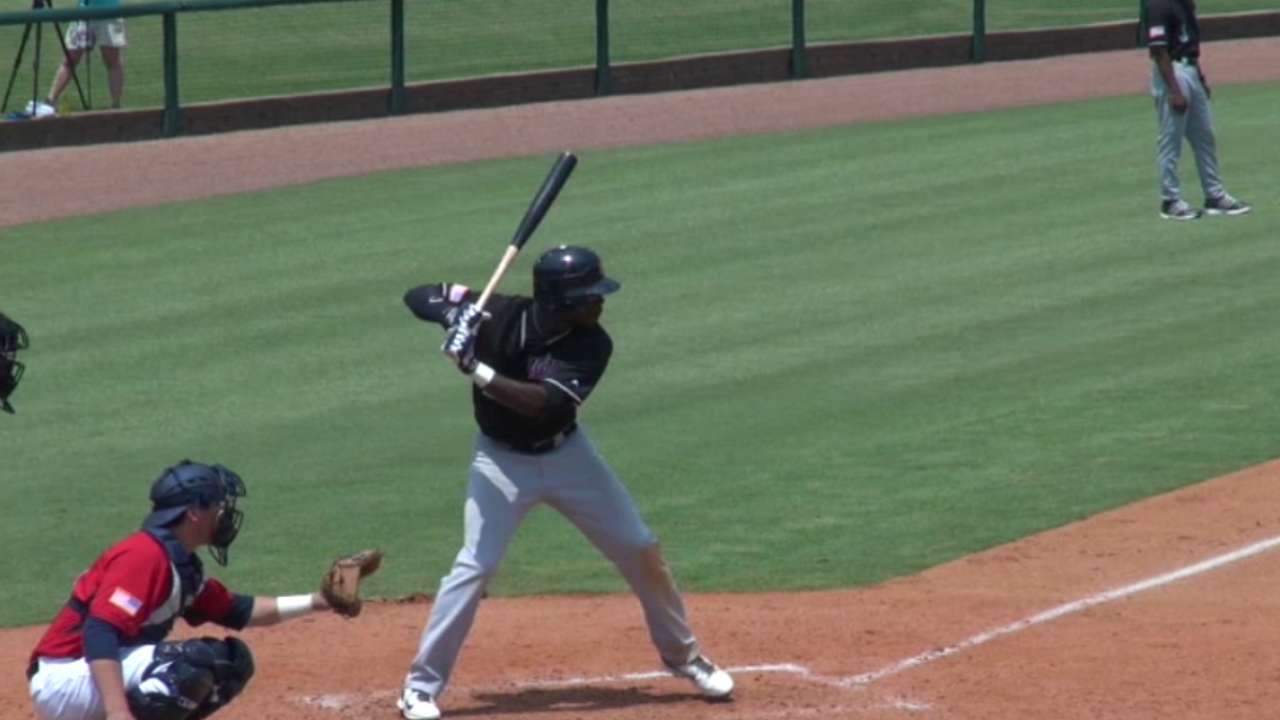 5. Astros
Callis: Nathan Kirby, LHP, Virginia. No team has owned two of the top five selections, and Houston can use this one to get the front-line left-hander it hoped for in Aiken. Kirby has one of the best fastball/slider combinations in the college crop.
Mayo: Kirby. After taking Rodgers with their first selection, the Astros go the college pitching route to get the top southpaw from that group, excluding Aiken. Kirby has the chance to move fairly quickly and join Mark Appel in a future Houston rotation.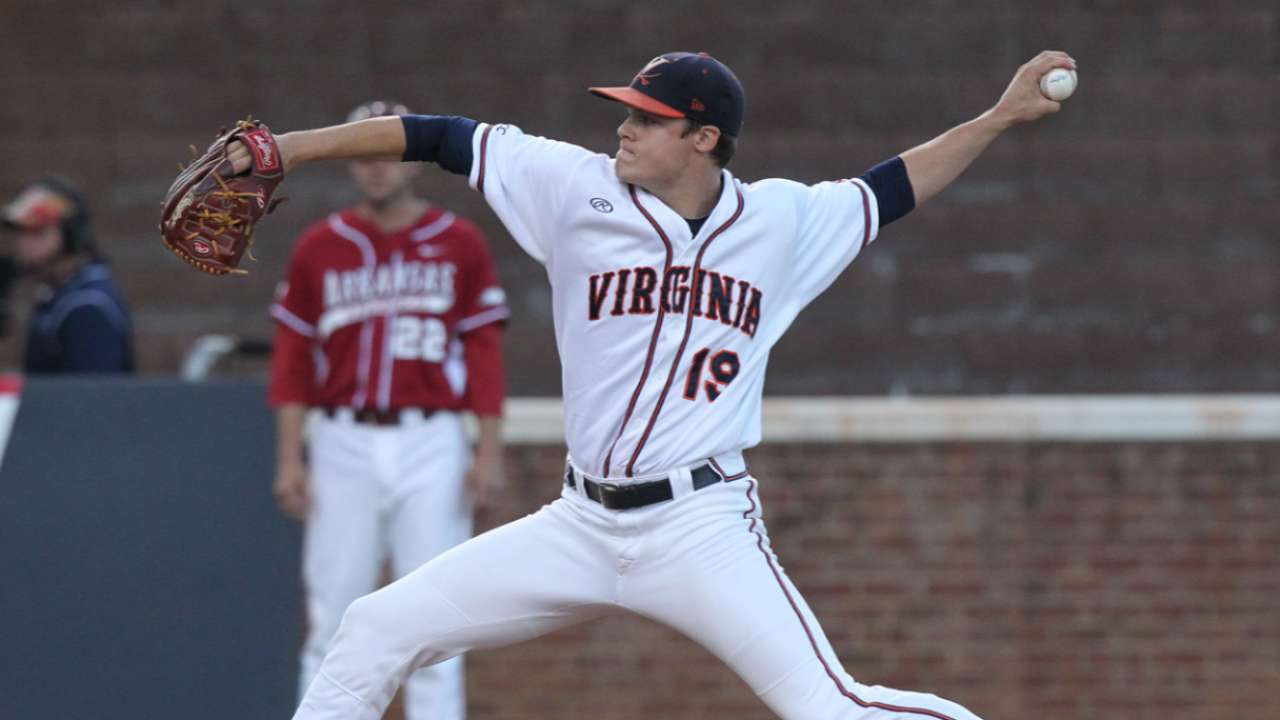 6. Twins
Callis: Walker Buehler, RHP, Vanderbilt. Five Vanderbilt pitchers have gone in the first round since 2007, and Buehler and Carson Fulmer will add to that number in June. Buehler isn't physical at 6-foot-1 and 160 pounds, but he can carve hitters up with four offerings and provide quick help for a Minnesota rotation that could use it.
Mayo: Buehler. This is the fourth straight year the Twins will be picking in the top 10 (top six, actually). They've used the previous three to take high schoolers (Nick Gordon, Kohl Stewart, Byron Buxton), but Buehler could give them quick rotation help, and Minnesota hasn't shied away from advanced college arms in the past.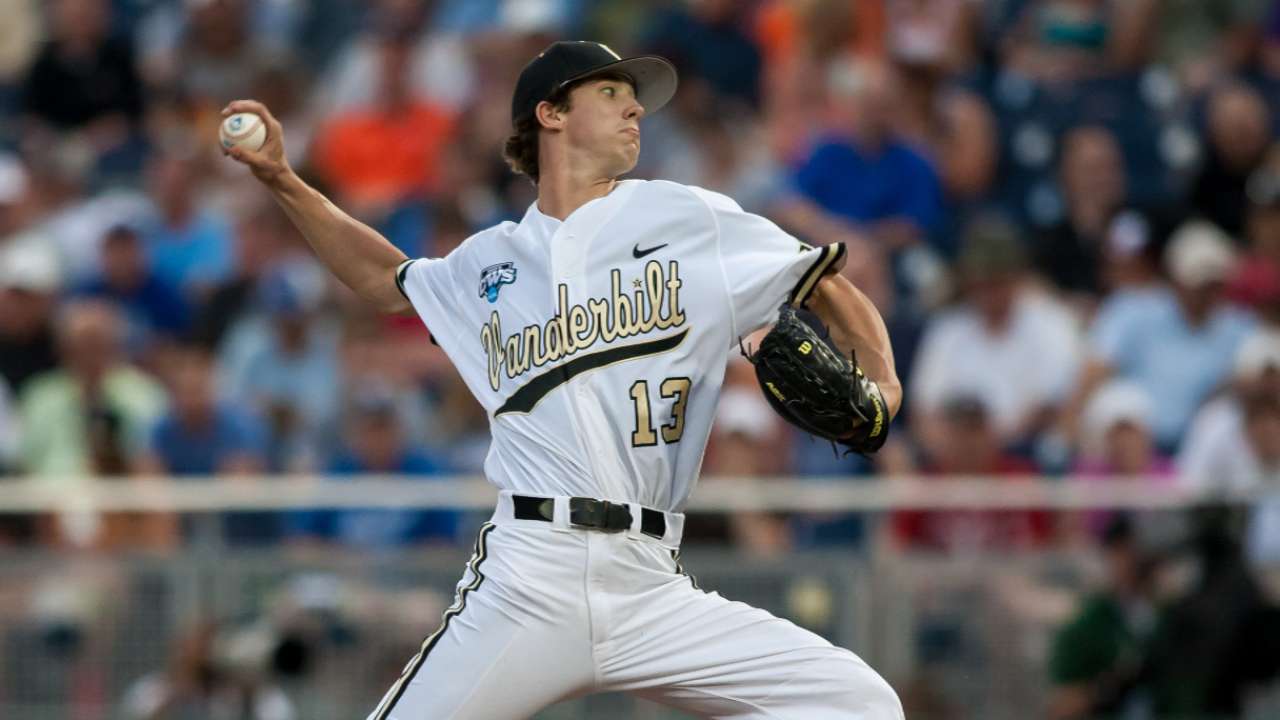 7. Red Sox
Callis: Kyle Funkhouser, RHP, Louisville. The strength of the 2015 Draft is pitching, and Boston has more position players than it knows what to do with, so an arm makes sense here. Funkhouser could have three plus pitches when all is said and done.
Mayo: Kolby Allard, LHP, San Clemente (Calif.) HS. The Red Sox took a high school lefty at No. 7 back in 2013 (Trey Ball), so they're clearly not afraid of being patient with this pick. Having pitching talent high up in the system doesn't hurt, either, and Allard is ranked as the best prep arm in the class.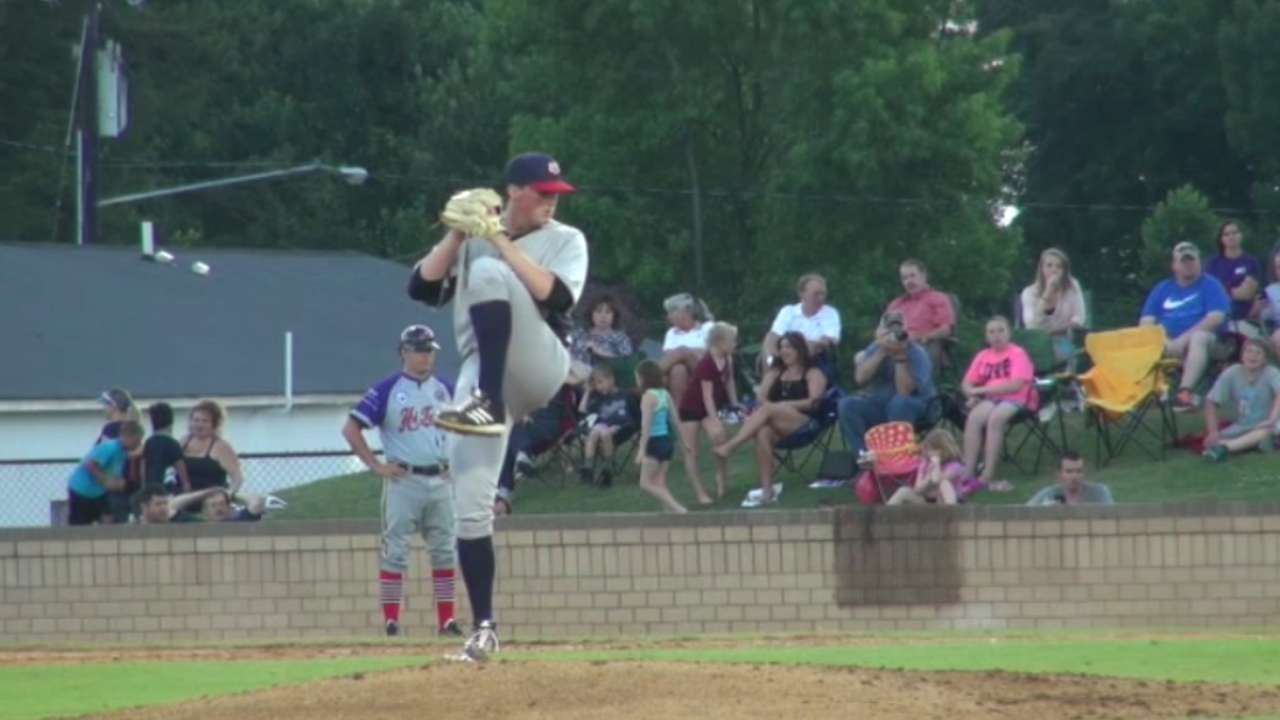 8. White Sox
Callis: Swanson. Vanderbilt has a first-round position player as well, with Swanson headlining the 2015 crop of college bats. The Most Outstanding Player of the 2014 College World Series, he's a leadoff type who should stay at shortstop (and has a better chance to do so than Tim Anderson, Chicago's 2013 first-rounder).
Mayo: Funkhouser. The Louisville standout capped off a strong sophomore season with a terrific turn with Team USA over the summer. A strong junior campaign could catapult him over some of the college arms we have going earlier.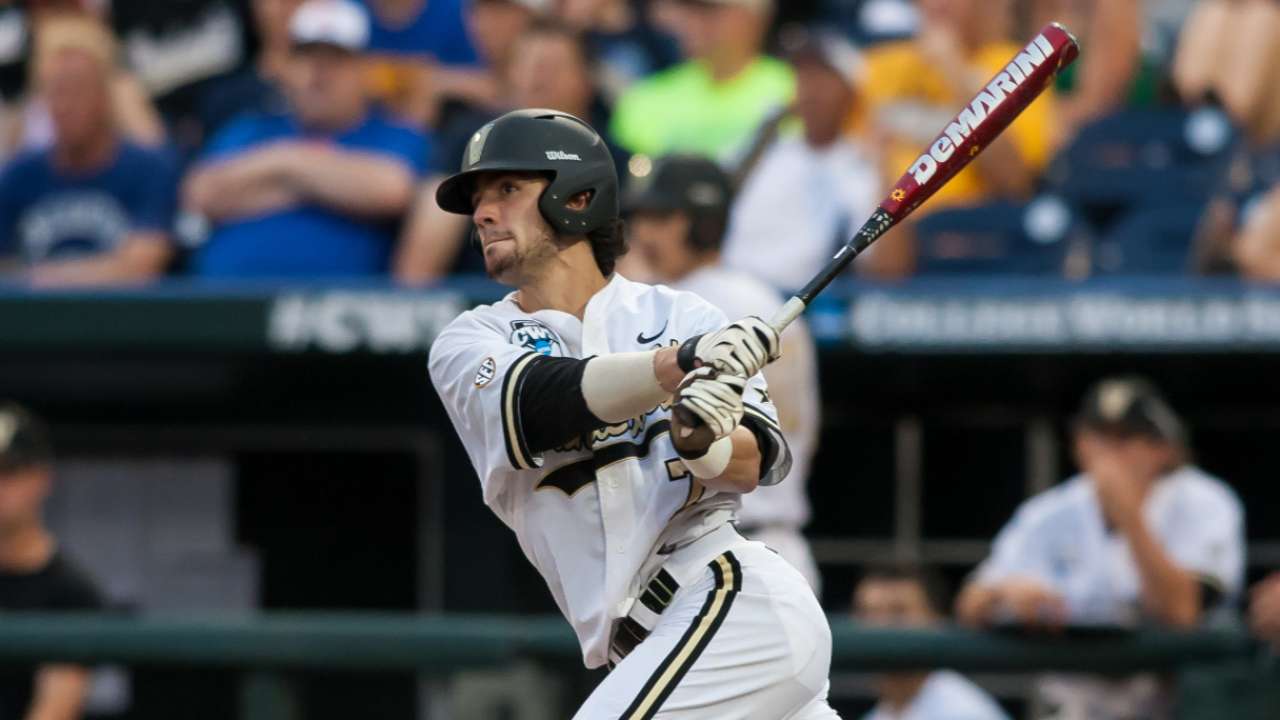 9. Cubs
Callis: Allard. Like Aiken, he's a Southern California native who ranks as the best high school pitcher in his Draft class. His lack of size will prevent him from going as high as Aiken did, but Allard has similar stuff and will be a nice fit for the pitching-needy Cubs.
Mayo: Kyle Cody, RHP, Kentucky. My "reach" pick, as he's ranked No. 19, but he's the type of college arm who could move up boards with a strong junior season. At 6-foot-7, 245 pounds, he's a future workhorse, with more than enough stuff to start. The Cubs' glut of position players and dearth of pitching prospects has been well-documented.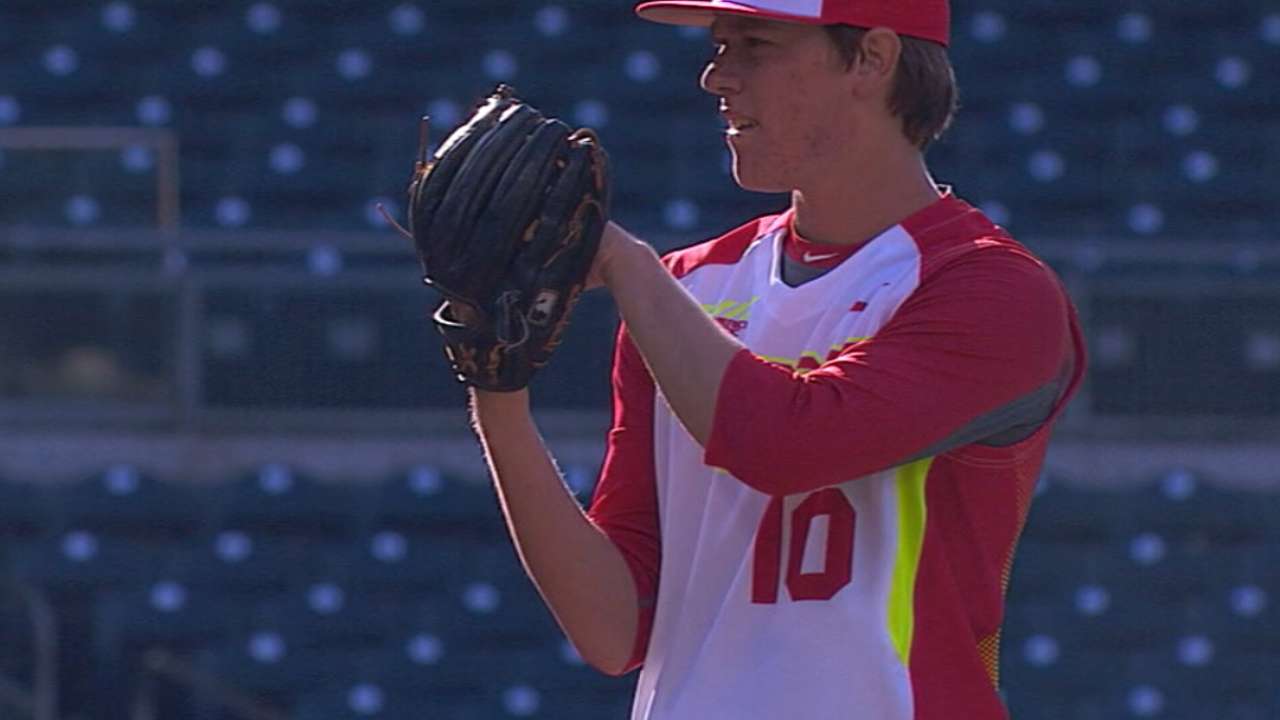 10. Phillies
Callis: Justin Hooper, LHP, De La Salle HS (Concord, Calif.). Philadelphia has revamped its scouting department, so maybe it won't be as ceiling-focused as it has been previously. Neverthless, a 6-foot-7 lefty who already can reach the upper 90s with the promise of more velocity to come will be hard to pass up.
Mayo: Cameron. There are teams that like toolsy players that will undoubtedly be interested in Mike Cameron's son. Daz can do a little bit of everything, at a premium position. It's hard to imagine his skills and his bloodlines falling too much beyond this spot.
Jim Callis is a reporter for MLB.com and writes a blog, Callis' Corner. Follow @jimcallisMLB on Twitter. Jonathan Mayo is a reporter for MLB.com and writes a blog, B3. Follow @JonathanMayoB3 on Twitter. This story was not subject to the approval of Major League Baseball or its clubs.