MLB.com Columnist
Phil Rogers
It's time Minnie is rewarded with plaque in Cooperstown
White Sox legend was a pioneer for Latin players and an elite talent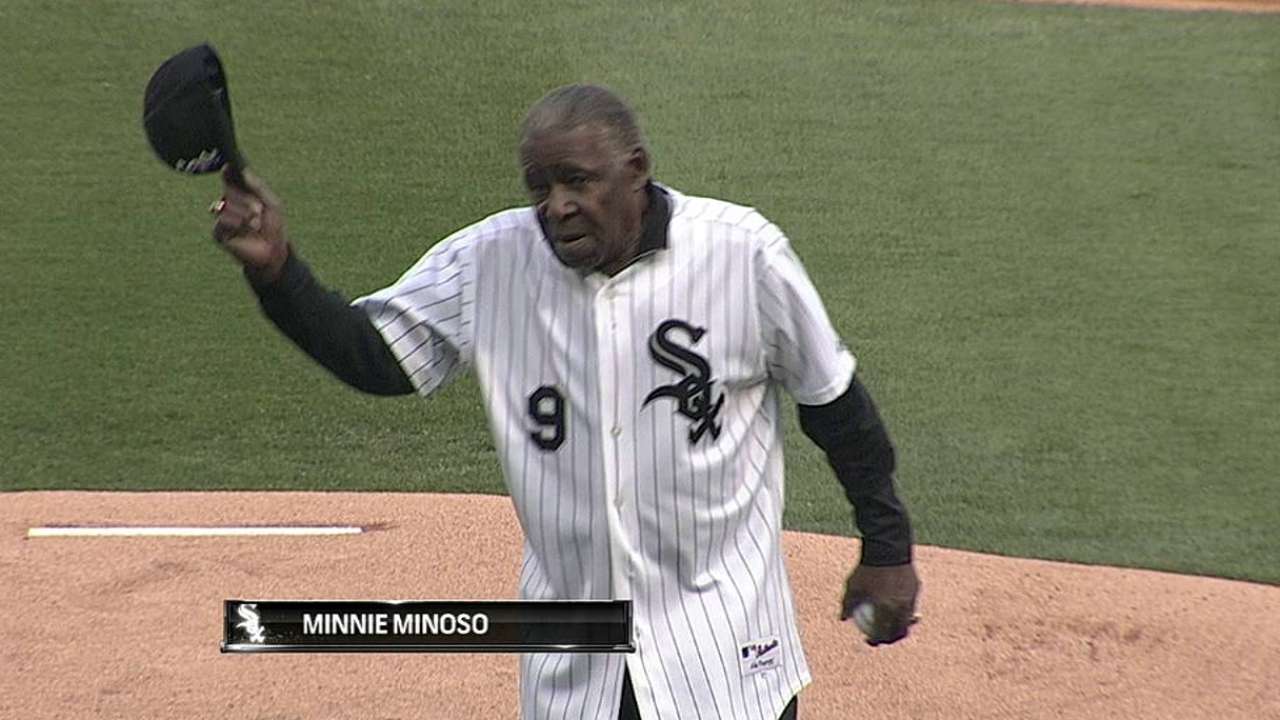 Almost nine years have passed, but Billy Pierce isn't over the shock he felt when he walked into U.S. Cellular Field expecting to celebrate Minnie Minoso's election into the Hall of Fame.
"I thought it was a sure thing," said Pierce, who played nine seasons with Minoso on the White Sox. "I got down there and the girl at the desk said, 'Bill, Minnie just left. He was really down.' I know it was disappointing to him, to us. We just couldn't figure it out."
Who could?
A special committee of academics and other experts empowered to evaluate holdover candidates from the Negro Leagues sent 17 of the 39 on the ballot to Cooperstown, but not Minoso (or, for that matter, Buck O'Neil). It was a stunning rejection for a highly deserving man, but hardly the only one.
Minoso never received more than 21 percent of the vote from the Baseball Writers' Association of America -- perhaps because his gimmicky comebacks for Bill Veeck meant he was only on the ballot once in the first 22 years after he played his last serious game -- and was turned away by the Golden Era Committee only three years ago, when the late Ron Santo was elected.
Minoso, who just turned 89 on Saturday (or 92, depending on which of his two listed birthdates is accurate), keeps hoping that someday he'll have his plaque in the Hall of Fame, where baseball's greatest players and pioneers are honored.
"I can't wait much longer," he said last month at Chicago's Cubby Bear, where he'd stopped to welcome Joe Maddon to town.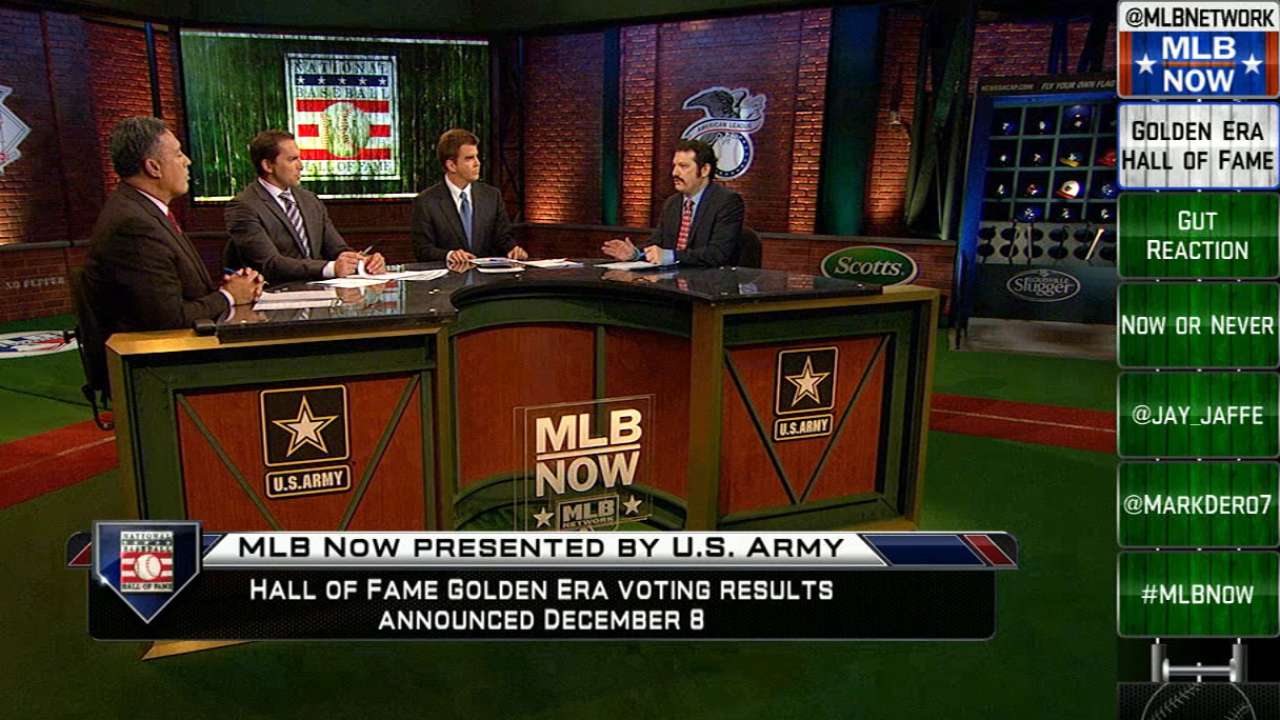 Minoso is up for Golden Era consideration again, this time alongside the 211-game-winning Pierce and Dick Allen, who won the 1972 American League MVP Award while playing for the White Sox. As difficult as it has been for voters and historians to get their arms around Minoso's legacy, his case is extremely compelling.
"How many guys are Minnie Minoso?" Pierce said. "It's hard to figure sometimes on Hall of Fame voting. But to me he deserves to be in. His record indicates it. He was a good fielder. He could throw. He could run bases. He hit almost .300."
Minoso started his baseball career in Cuba and helped the New York Cubans win the Negro League World Series in 1947. He played third base that season, but Minoso was an outfielder when he played nine games with the Indians in '49.
Minoso was at least 25 -- and perhaps 28 -- when he was robbed of the AL Rookie of the Year Award in 1951 (check the relative performance of him and winner the Yankees' Gil MacDougald some time), but still played 15 seasons before leaving for a 10-year run in the Mexican League after the White Sox released him in '64. He piled up offensive stats and won three Gold Gloves Awards, which is why Bill James ranks him as the 10th-best left fielder of all time, ahead of 12 Hall of Famers.
Without context, Minoso's career stats don't glitter. He batted .298 with 186 home runs, 1,023 RBIs and 205 stolen bases. But Minoso was so much better of a player than that. He was a hitter who had 814 walks and only 584 strikeouts. That's greatness, especially when some pitchers are using you for target practice. Minoso ranks ninth all-time in hit-by-pitches (192), leading the league in that category 10 times.
Yet Minoso played with such a joy that James lists it as his lasting legacy. "The fantastic level of his passion for the game … shone through everything he did, every play he made," James wrote in an e-mail.
In a 10-year span that started in 1951, Minoso ranked in the top 10 in average eight times; the top 10 in steals nine times (leading the AL three times); the top 10 in doubles eight times; and the top 10 in homers twice.
Modern metrics argue that Mickey Mantle was the only player better than Minoso in the AL of the 1950s. The Mick piled up 7.5 WAR per season; Minnie was at 5.2. Ted Williams, by then in his 30s, averaged 4.8; Yogi Berra, in his prime, averaged 4.7.
There's no metric for toughness but if there was, Minoso would register off the charts.
In a game at Yankee Stadium in May 1955, Minoso took a pitch from Bob Grim off the left side of his head, breaking his helmet. It was two days later, when the White Sox were back in Chicago, when Minoso would learn he had a fractured skull. He went to the hospital on the advice of the Comiskey Park cook, not the team trainer, who had cleared him to play.
"The doctor said if I had played one more game I could have died," said Minoso, who missed only two weeks.
Off the field, Minoso had to be just as tough as on it. He was the first dark-skinned Latin player in the big leagues. He faced racial prejudice in a country in which he didn't speak the language.
"There were only two kinds of players then," Minoso once told me. "There was black and white, and I am not white."
Pierce says Minoso never asked for better treatment. He kept a smile on his face when others might have exploded.
"Especially for his first couple of years," Pierce said. "It was hard, no doubt about that. Minnie's a pretty good fellow. He never complained about anything.
"I know one time I was the player representative, and [general manager] Frank Lane asked me to go talk to [Minoso], because he had to live in a different hotel in Spring Training. [Minoso] said, 'No, Bill, everything's fine.' Al Smith and him were together. [Minoso] said, 'We got nice things here. We have a car. You guys don't have a car that's given to you.' He accepted everything quite well."
Hall of Famers Tony Perez and Orlando Cepeda have said they grew up wanting to be just like Minoso.
"Orestes Minoso was the Jackie Robinson for all Latins -- the first star who opened the door for other Latin American players," Cepeda said. "He was everybody's hero. I wanted to be Minoso. [Roberto] Clemente wanted to be Minoso."
Despite the language and cultural barriers, Minoso was hugely popular in Chicago, both among fans and, especially, his teammates. He was generous in sharing his experience with younger teammates like Jim Landis.
"I love Minoso," Landis said. "I can say he was my first papa playing baseball. He's just a hell of a guy."
Pretty great player, too.
Phil Rogers is a columnist for MLB.com. This story was not subject to the approval of Major League Baseball or its clubs.