Astros Urban Youth Academy helps pair sign scholarships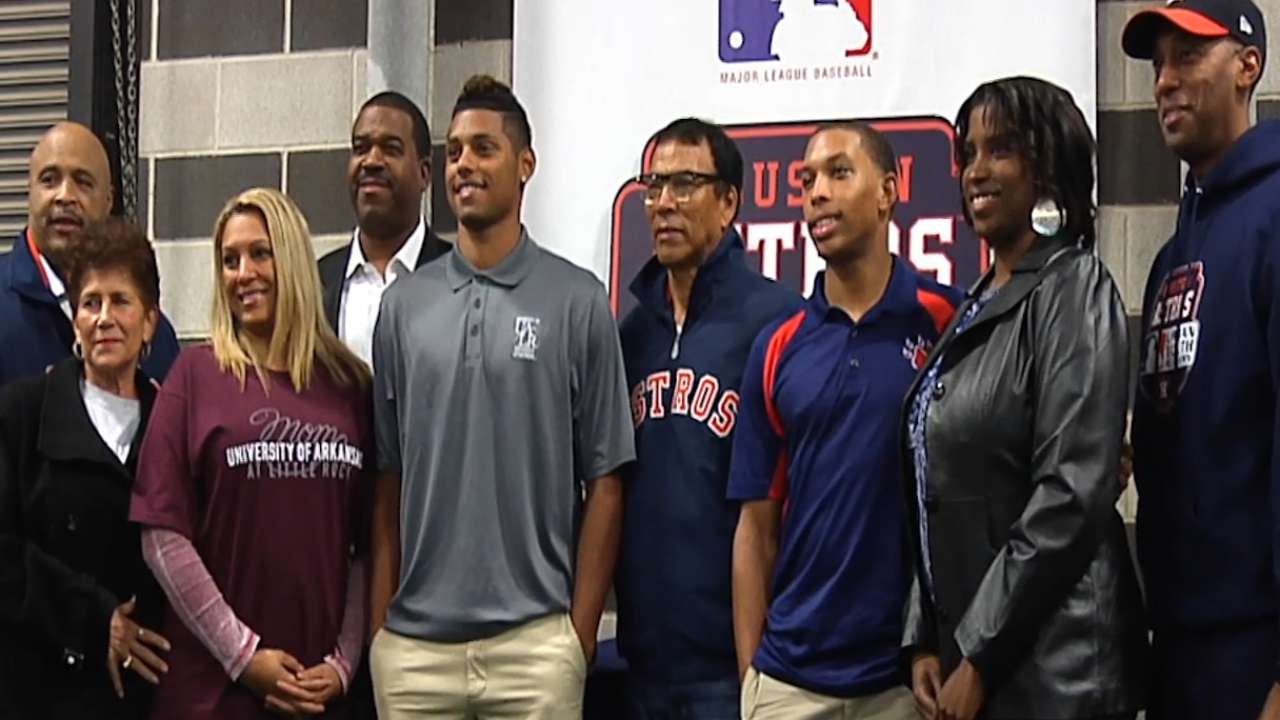 HOUSTON -- Opened in 2010, the Astros Urban Youth Academy provides free baseball and softball instruction, as well as life skills and academic support, for Houston-area inner-city youth.
The academy, which is run by the Astros Foundation, is designed to make a difference in the lives of those who are classified as at-risk.
It's working. High school seniors Pablo Salazar and Evian Benjamin became the first two members of the academy to sign college baseball scholarships. On Tuesday night, the pair participated in a ceremonial signing at the facility.
Salazar, a shortstop, third baseman and right-handed pitcher, signed with the University of Arkansas-Little Rock, and center fielder Benjamin signed with Sam Houston State, which has played in the NCAA Division I baseball tournament the past three seasons and six of the last eight years.
"I want to thank the academy for doing what they do," said Salazar, who plays baseball at Lutheran South High School. "I've been here for three years and I've just gotten better ever since. All the coaching here is good, they help everybody. It's a good opportunity for kids to come out of this program.
"[The coaches] critique you on what you need to do. They tell you straight up. They have you come out on different days of the week to get better, and they have indoor facilities so you can get work in."
Benjamin also had scholarship offers from Dartmouth and the University of Houston.
"The Urban Youth Academy really got me going," Benjamin said. "It helped me see what my other options out there were. It helped me develop my game mentally and physically. And it showed what I can and can't do."
The Astros were one of the first teams in Major League Baseball to open an urban youth academy. Salazar and Benjamin are examples of what the Astros academy can lead to.
"I wouldn't be here [signing a scholarship] if it wasn't for the guys at the academy doing what they do," Benjamin said.
Salazar and Benjamin signed at the academy located at Sylvester Turner Park before family members, friends, and other baseball players from the academy. Daryl Wade, the director of the Astros Urban Youth Academy, said more than 2,000 kids have participated in the academy in 2014.
"It's an oasis of opportunity for kids," Wade said. "I always felt that once we got that first kid a scholarship, once that first kid gets drafted, the sky is the limit for us. It's basically not about the numbers. If we can help get a kid become a better citizen, I think that's what it is about. But of course, getting a baseball scholarship is big time.
"We have an ownership that really believes in youth sports. Very evident by all the programs we're doing around the city, as far as refurbishing fields. The support we get [from the Astros] is tremendous."
Benjamin, who is 5-foot-11 and 170 pounds, played at Episcopal High School. He's part of the 12-person recruiting class of first-year Bearkats coach Matt Deggs.
"Evian is a guy we liked more each time we saw him play," Deggs said. "He is very athletic and plays a fearless style of baseball which fits perfectly with what we do.
"Evian has great instincts on the field, especially for stealing bases, and that is something that very few players possess and is hard to teach."
With Tuesday's signings, more youngsters are expected to participate at the academy, open year-round free of charge to youngsters age 7-17 from the Houston area.
"As the group gets a little older and approaches draft and college age, it's kind of exciting for us because we can actually scout these guys immediately for the upcoming Drafts," said Mike Elias, the Astros' director of amateur scouting who was in attendance for Tuesday's signing. "Both of these players are guys that have been on our radar, and Pablo Salazar in particular has been on a lot of elite showcase events this summer.
"So he's someone we've been following for a while. This [the academy] is a good chance to get up close and see them a little bit this winter, and we'll definitely see both of these kids in the spring time. It's really an incredible resource for the area because this is a first-rate facility, the instruction is free, it's pro-caliber instruction, and the exposure you get to college and pro scouts is something not easy to come by."
Richard Dean is a contributor to MLB.com. This story was not subject to the approval of Major League Baseball or its clubs.