Reds acquire Magill from Dodgers for Heisey
Club declines tender offers to relievers Ondrusek, Partch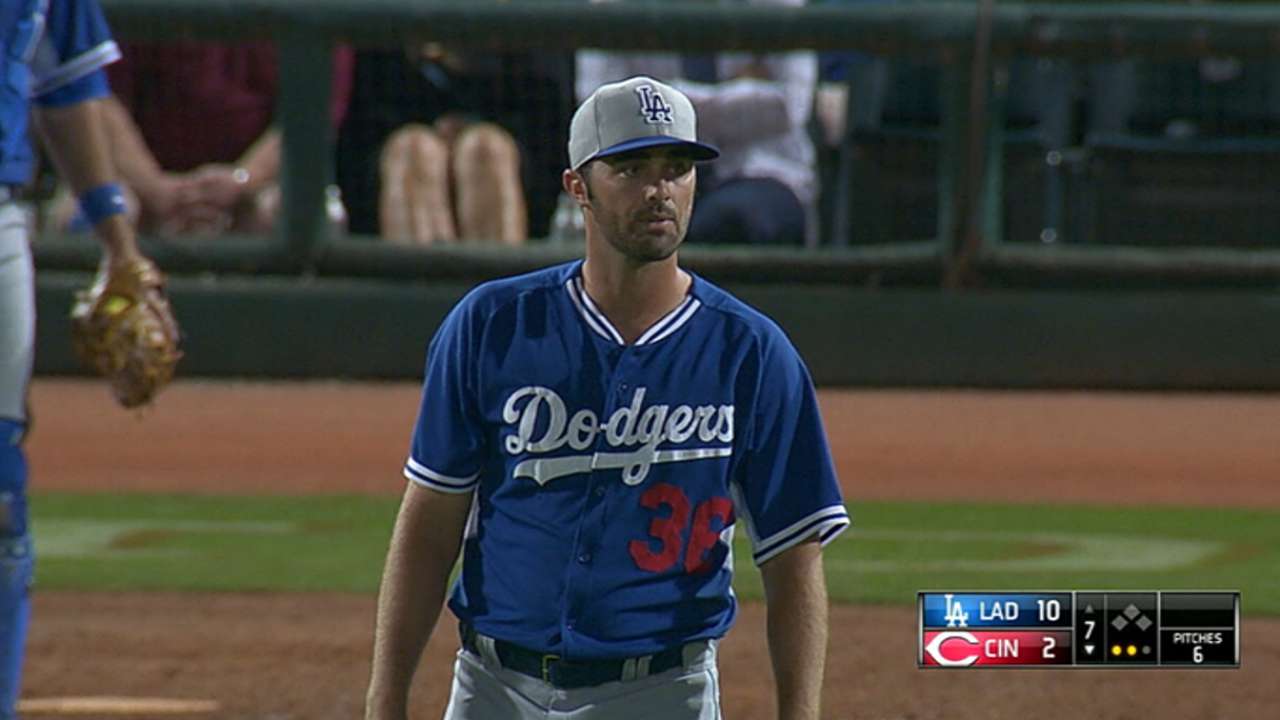 CINCINNATI -- Shortly before Tuesday's deadline to tender contracts to players on their 40-man roster, the Reds traded reserve outfielder Chris Heisey to the Dodgers for Minor League pitcher Matt Magill.
Cincinnati also did not tender contract offers to right-handed relievers Logan Ondrusek and Curtis Partch, making them free agents. Heisey and Ondrusek were two of nine Reds eligible for arbitration this winter. Partch was still under club control, but he had not reached arbitration status.
Teams had until 11:59 p.m. ET on Tuesday to tender 2015 contracts to all of their unsigned players. A player who is non-tendered is released from their club and becomes a free agent able to sign with any of the 30 Major League clubs.
Heisey, who turns 30 on Dec. 14, avoided an arbitration hearing last winter by signing a one-year, $1.76 million contract. Clearly the Reds wanted to get a return for him rather than non-tendering Heisey.
Prospect acquired by Reds
Matt Magill, RHP: Magill made his Major League debut in 2013, going 0-2 with a 6.51 ERA in six starts for the Dodgers. He returned to Triple-A Albuquerque in 2014 and split his time between the bullpen and the rotation. In all, he went 7-6 with a 5.21 ERA over 84 2/3 innings. He struggled to find consistency with his delivery in both roles and his command suffered, as he averaged 6.37 walks per nine innings. Magill's low-90s fastball and sharp slider give him two solid offerings and make him especially tough on right-handed hitters. To return to the Major Leagues as a starter, he will have to improve his command and his changeup, hoping to increase his effectiveness against left-handed batters. Otherwise, Magill should be able to carve out a role in the bullpen.
--
Teddy Cahill
Following a first two promising seasons in the Majors, including 2011 when he hit 18 homers with 50 RBIs, Heisey struggled at the plate and missed multiple chances to claim a regular spot in the lineup as the left fielder.
In 119 games last season, Heisey batted .222/.265/.378 with eight home runs and 22 RBIs. His wins-above-replacement number (WAR) was 0.9. Heisey's four pinch-hit homers led the Majors, however, and his 10 career pinch-hit homers are three shy of the club record.
A 25-year-old right-handed pitcher, Magill made six starts for the Dodgers in 2013 and was 0-2 with a 6.51 ERA. Last season at Triple-A Albuquerque, he was 7-6 with a 5.21 ERA in 36 games, including 12 starts. In 2012 for Double-A Chattanooga, he posted a 3.75 ERA and struck out 168 batters over 146 1/3 innings and 26 starts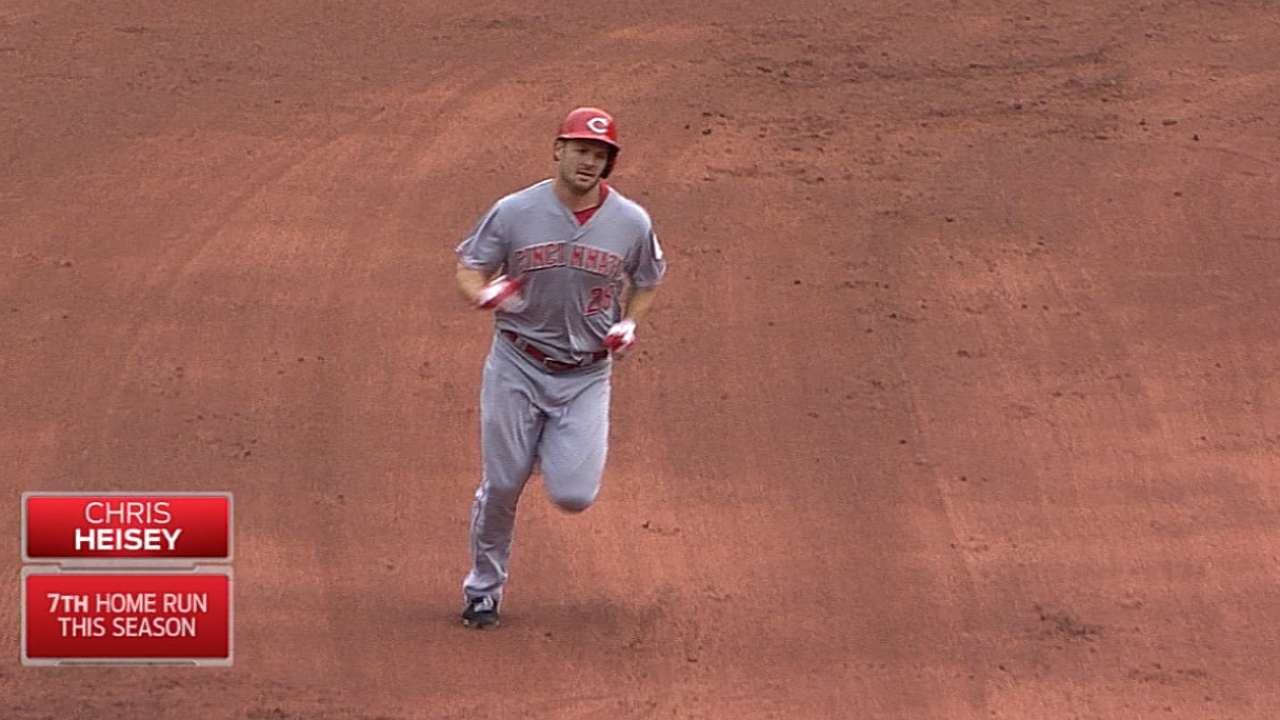 "We are excited to be adding a player with a power arm who has a chance to help our club next season," Reds general manager Walt Jocketty said.
Ondrusek, 29, worked 60 or more games in each of his first three seasons in the Majors from 2010-12 and earned a two-year, $2.3 million contract that avoided his first two years of arbitration before the 2013 season.
It was often a struggle with inconsistency since for Ondrusek. He was 3-3 with a 5.49 ERA in 40 appearances in 2014. Over his 41 innings, he allowed 50 hits and 16 walks while striking out 42. Of his 40 first batters faced, 24 were retired by Ondrusek and he allowed nine of his 25 inherited runners to score.
Partch, 27, had six different stints in the Majors in 2014 and two in '13. He worked seven scoreless innings for Cincinnati last season and posted a 4.75 ERA in 41 games for Triple-A Louisville.
The Reds now have 38 players on their 40-man roster.
Mark Sheldon is a reporter for MLB.com. Read his blog, Mark My Word, and follow him on Twitter @m_sheldon. This story was not subject to the approval of Major League Baseball or its clubs.