D-backs will look to continue makeover at Winter Meetings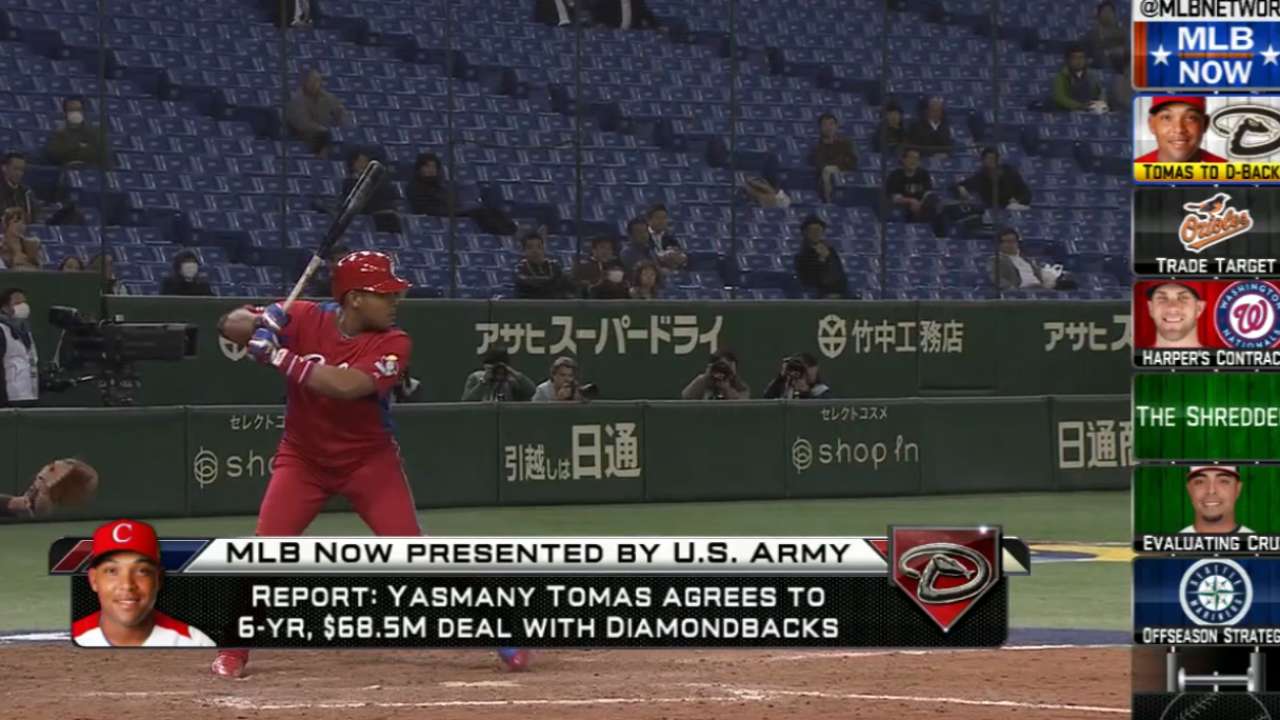 PHOENIX -- Give D-backs general manager Dave Stewart credit -- the man stuck to his word when he said he was not going to wait until the Winter Meetings to begin making over a team that finished with the worst record in the Majors in 2014.
Already Stewart has bolstered the starting rotation by acquiring Jeremy Hellickson from the Rays, and then he surprised most in the baseball world by agreeing to terms with Cuban free agent Yasmany Tomas on a six-year, $68.5 million contract.
There is still more the club would like to do, however, and that work will pick up speed Monday when baseball's annual Winter Meetings begin in San Diego.
This will be Stewart's first experience at the meetings as a GM after serving most recently as a player agent. It will likewise be the first taste of them in an executive role for chief baseball officer Tony La Russa.
During last year's meetings in Orlando, Fla., La Russa found out he was being inducted into the National Baseball Hall of Fame. This year, La Russa and Stewart will be focused on adding more starting-pitching depth at both the Major and Minor League levels.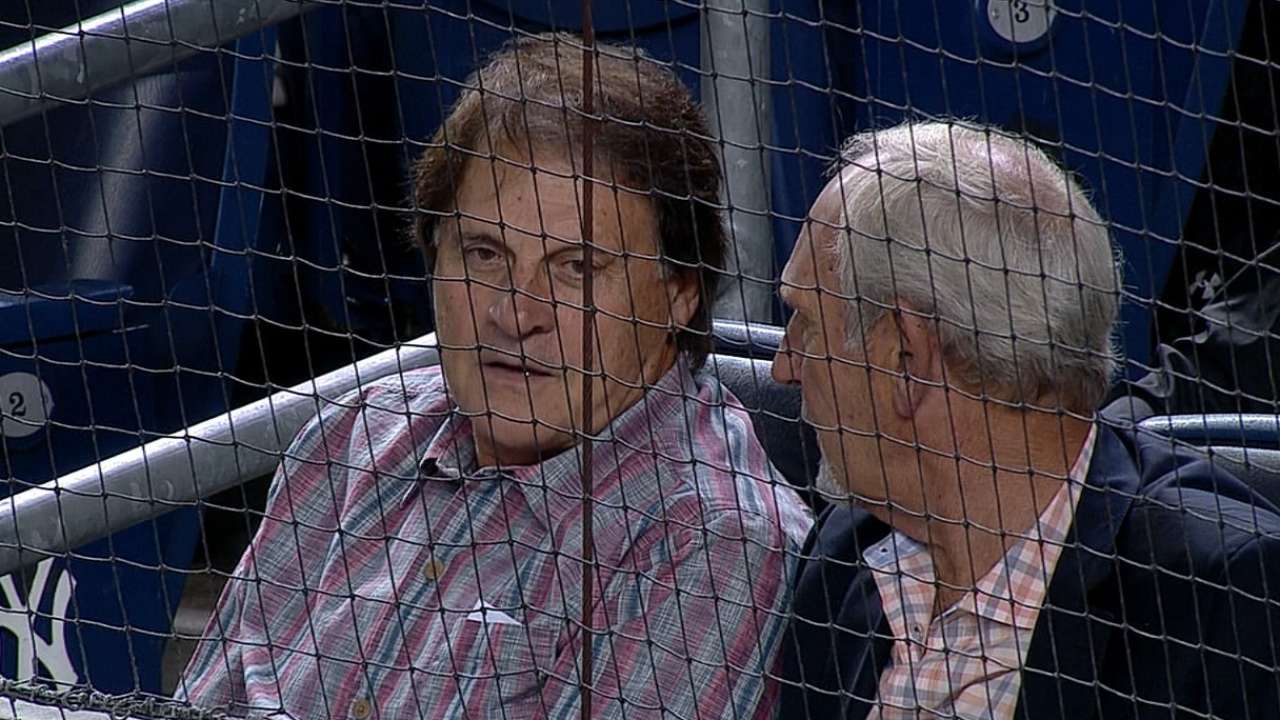 As it stands right now, the D-backs have Hellickson, Wade Miley and Josh Collmenter in the rotation. After that, things become less clear.
The team is hoping for a return to form of right-hander Trevor Cahill as he is set to make $12 million next season. Rookie Chase Anderson showed promise last season and will be given a shot to win a spot, and the club could decide to use Daniel Hudson as a starter after he had back-to-back Tommy John surgeries and was used as a reliever last September.
Top prospect Archie Bradley could also be a candidate, though it appears the team would like to have him start the season in the Minors. And with Patrick Corbin and Bronson Arroyo set to start the season on the disabled list following Tommy John surgery, the team would like to continue to add depth to further foster competition.
"By nature, I'm optimistic, but I also know the reality is that some of the things we're trying to get, like pitching, a lot of people are trying to get," La Russa said earlier during the offseason. "We've been encouraged by the interest in areas where we have some depth. That tells me that we've got a shot to do something."
One area in which the D-backs are deep is in the middle infield, with Chris Owings, Aaron Hill, Didi Gregorius, Cliff Pennington and Nick Ahmed on the roster.
Last September, the D-backs played Owings at second and Gregorius at short, with Hill at times moving to third base. But with rookie third baseman Jake Lamb on the rise, the team may decide Lamb should get the bulk of the playing time at third, which leaves a glut of infielders.
That gives the D-backs some trade chips, particularly when it comes to Gregorius and Owings. It is unlikely the team would be able to move Hill without having to pick up a large chunk of the $24 million he's owed over the next two seasons.
"Any time you've got a surplus of quality of middle infielders, that obviously gives you an opportunity to maybe improve in areas that we need to," Stewart said. "What I would say is that it does make it a little more attractive to get to where we want to be, if that's what we decide we want to do. If we decide we want to subtract from that area."
The D-backs also have explored trading catcher Miguel Montero, who is owed $40 million over the next three years. Now that free-agent backstop Russell Martin has signed, the market for Montero's services could pick up.
The D-backs had a club-record Opening Day payroll of $110 million in 2014, and with the addition of Tomas, they could end up pushing over the $100 million mark again, making them even more likely to deal Montero.
"I've tried to make it as clear as I can publicly that all of our players have been asked about," Stewart said last month when the Montero trade rumors first surfaced. "I've not shopped any of our players. All of our players have been asked about. That's the best way I can put it."
Steve Gilbert is a reporter for MLB.com. Read his blog, Inside the D-backs, and follow him on Twitter @SteveGilbertMLB. This story was not subject to the approval of Major League Baseball or its clubs.