Seager stays humble amid $100 million deal, lofty praise
Calling seven-year contract 'a blessing,' third baseman motivated to improve, win in Seattle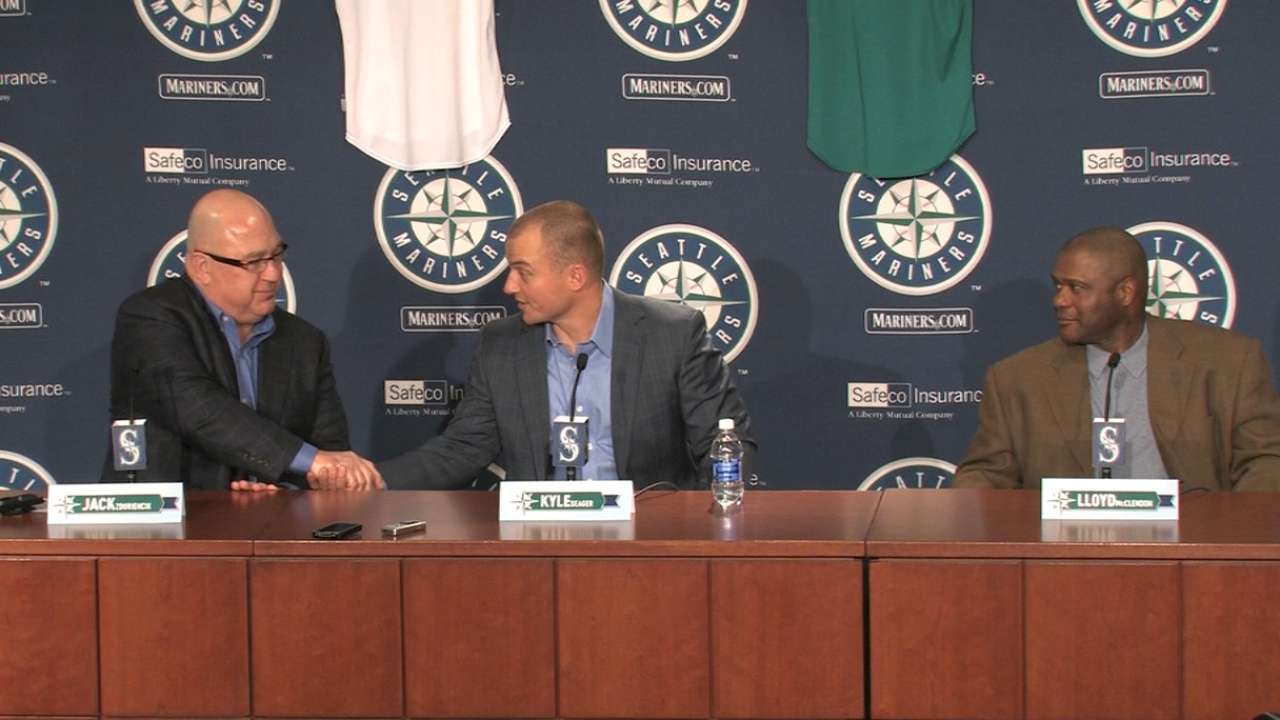 SEATTLE -- Despite having just put his name on a seven-year, $100 million contract, Kyle Seager insisted he was the same guy on Wednesday. The same small-town kid from North Carolina who just loves baseball.
As a player who has worked hard to develop from a third-round Draft pick in 2009 to an American League All-Star and Gold Glove Award winner this past season, Seager knows what got him to this point. And the only change he sees in becoming a $100 million player is taking away some of the off-field pressures that come with worrying about the next looming contract.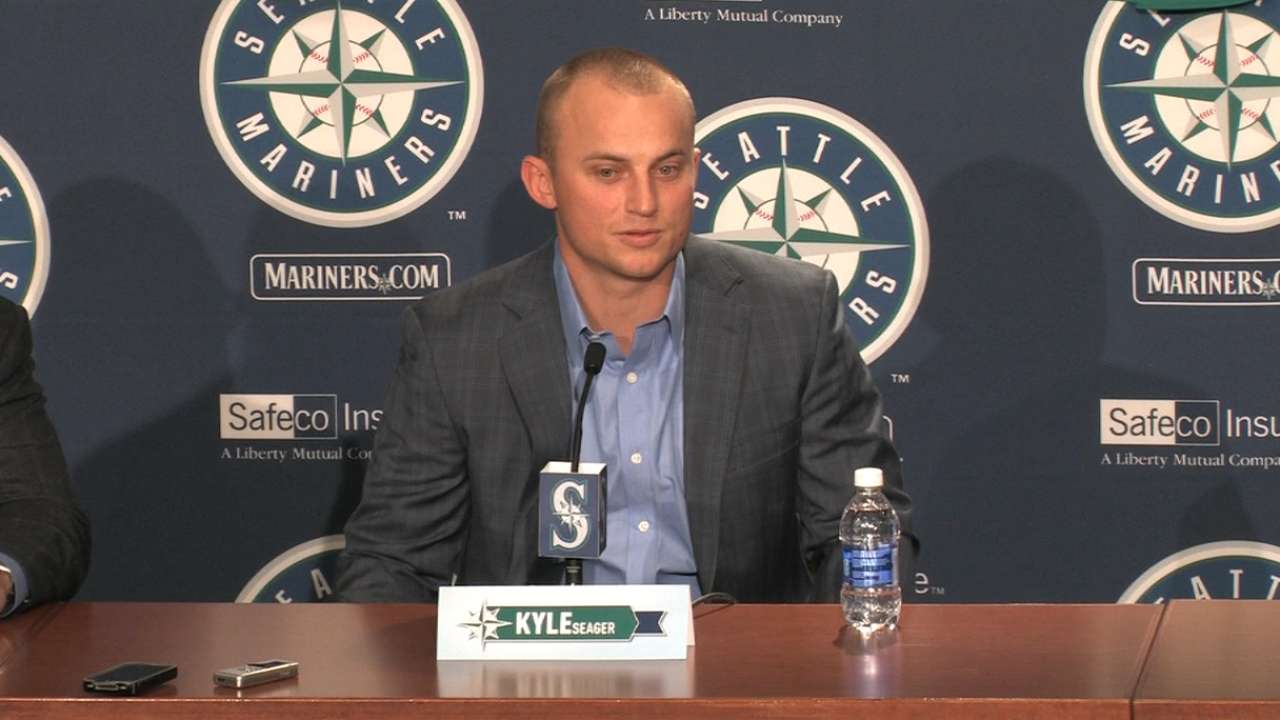 "There's two ways to look at it," Seager said, flanked by manager Lloyd McClendon and general manager Jack Zduriencik at a news conference announcing the finalized deal. "You can look at it like if they're willing to give you this kind of a commitment, you have to play better or try harder or something like that. But from my perspective, this takes a lot of the stresses away from the baseball field. This gives me and my family a lot of security away from the field.
"And on the field, this just makes it that much better and helps what we're building for. This is all about winning. You don't have to worry about any of the other stuff. You're just focused on winning."
The Mariners believe the 27-year-old will be a big part of their chances of winning more in the future, and they've made that clear with their commitment. Seager joins Mike Trout, Freddie Freeman and Buster Posey as the only Major Leaguers to sign $100 million deals in their first year of arbitration eligibility.
Seager's contract will pay him $22 million in base salary, plus a $3.5 million signing bonus, over the next three seasons in what would have been his arbitration years. It also buys out his first four years of free agency for $74.5 million from 2018-21, with another club option year in 2022 for $15 million to $20 million depending on prior performance levels.
That's a lot of cash, and Seager acknowledged he still hadn't been able to wrap his head around that part.
"No, not at all," he said. "No, it's awesome. I'm so thankful to everybody to have that much faith in me. This whole experience has just been a blessing."
Seager said his next purchase will likely be a toy truck for his infant son, Crue, who was in attendance alongside his wife, Julie. That's classic Seager, the man called "Old School Seager" by the Mariners' marketing department last year.
Kyle Seager finalizes his seven-year extension with the #Mariners. pic.twitter.com/p0hZTL8Y2i

- Seattle Mariners (@Mariners) December 3, 2014
McClendon threw out some high praise at Wednesday's gathering, saying Seager has the potential to someday win an AL MVP Award and league home-run title. But the Mariners skipper said it's Seager's down-to-earth nature that assures him the big contract won't change his approach.
"He's everything that's right about the Seattle Mariners," McClendon said. "The way he goes about his business, the production on the field, the good family man. He does everything very professionally, and that's what we're striving to get out of all of our players.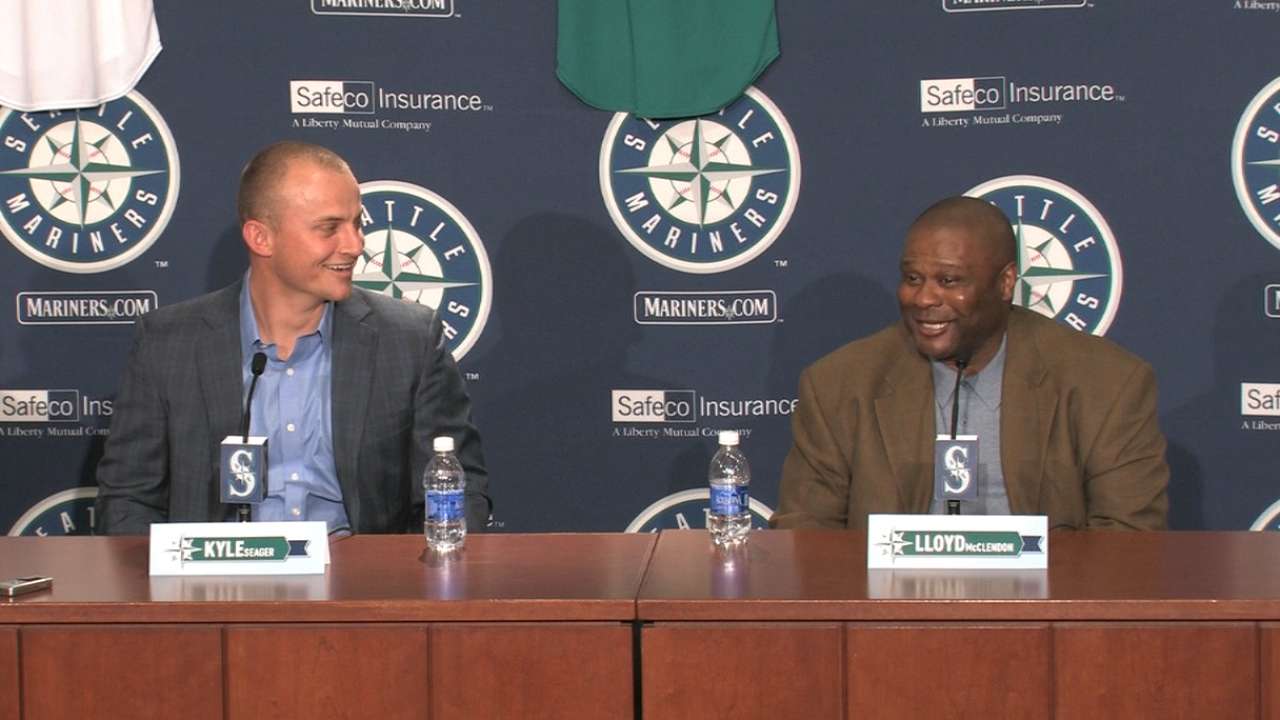 "I know this contract is right because he's not motivated by money. He's motivated to be the best third baseman in baseball and he'll continue on that quest."
Seager hit .268 with 27 doubles, four triples and a team-leading 25 home runs and 96 RBIs in 159 games this past season, and he took a big step forward defensively in winning his first Gold Glove Award. With free agency still three years away, there was no rush for a long-term deal at this point, but Seager welcomed the conversation when the Mariners approached him at season's end and finalized the deal last week.
Why now instead of waiting to see if his price might go up even more in subsequent years in the MLB marketplace?
"There's a lot of factors that go into it," Seager said. "First and foremost, me and my wife love it here. We love the organization, it's been great to us. We love all the people here, and Seattle is a wonderful place. We completely love it here and we're excited to stay here.
"And from the other side of it, we know what we have here. We know we have a good group of guys here, we know we'll be competitive and play well and we're going to take this thing to the next level. So it was a very easy decision from both ends."
Zduriencik acknowledged there is risk for the Mariners, guaranteeing a seven-year deal to a player three seasons prior to free agency. But the GM feels it's the perfect time to lock up Seager as he enters the prime of his career, and said his durability and body type help ease any concerns.
"This is a great moment for the organization and a great moment for Kyle," Zduriencik said. "When you look at a person who has exemplified hard work and class, there's no question Kyle falls into those categories. It's wonderful to have a homegrown player rewarded. He's worked very hard to get where he is today."
And while the low-key Seager looked to keep it all in perspective, those who've come to know and appreciate his work ethic and humble nature were thrilled to see his success paid off in a contract that raises him from $540,000 in 2014 to third on the Mariners' payroll behind Robinson Cano's $240 million contract and Felix Hernandez's $175 million deal.
"When I took this job, I said this was a golden era for the Seattle Mariners," McClendon said with a smile. "I didn't know it'd be this much gold though. That's pretty good."
Greg Johns is a reporter for MLB.com. Follow him on Twitter @GregJohnsMLB as well as his Mariners Musings blog. This story was not subject to the approval of Major League Baseball or its clubs.