While willing to listen, Rockies could add at Meetings
Tulo, CarGo to draw interest, but with no mandate to shed payroll, Rox might opt to bolster pitching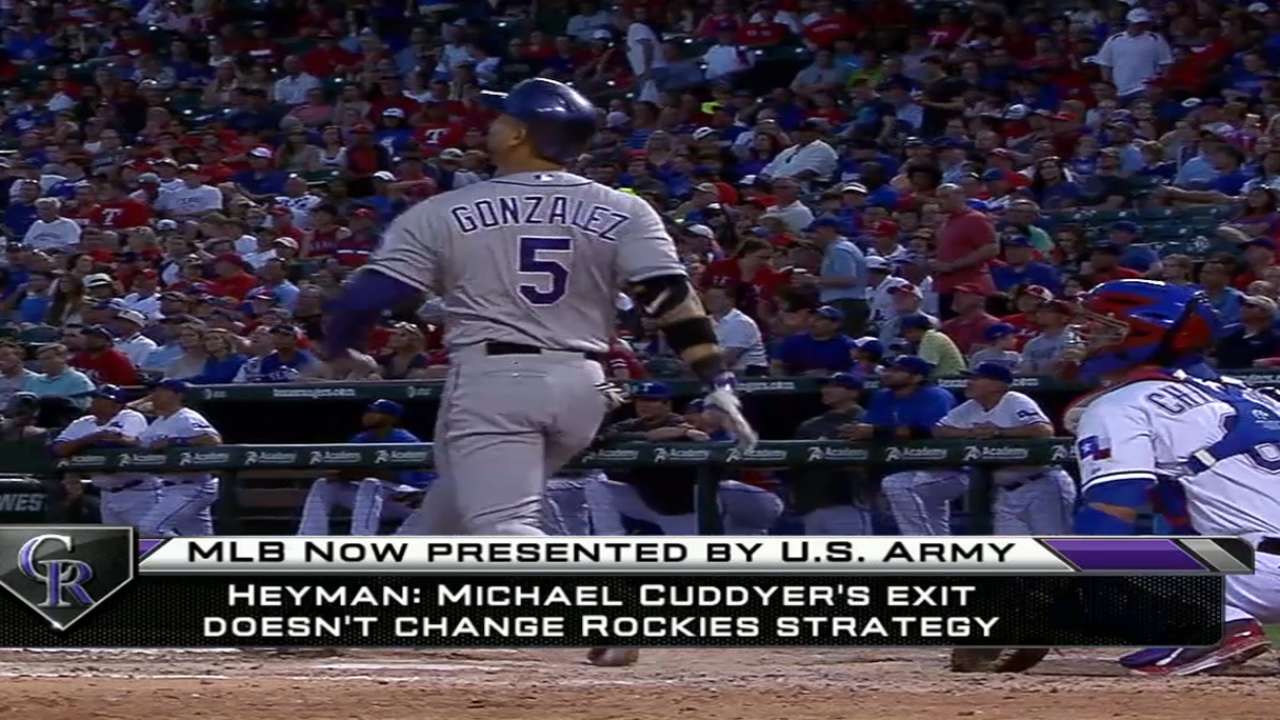 DENVER -- New Rockies general manager Jeff Bridich will arrive Sunday for the Winter Meetings in San Diego not only with a clear shopping list -- starting pitching and relievers at the top, with catching a possible item -- but plenty of options for meeting their needs.
The Rockies will listen to any trade offers -- even for stars Troy Tulowitzki, Carlos Gonzalez and Justin Morneau -- but that doesn't mean they want to trade any of them. That is because Bridich has enough freedom to fill needs without the mandate to shed big contracts. The team's position in recent years has been that there is more talent than what's been shown by last-place National League West finishes in 2012 and '13 and a fourth-place finish in '14. All the Rockies need is health and pitching, and they seem willing to put their money where that assessment is.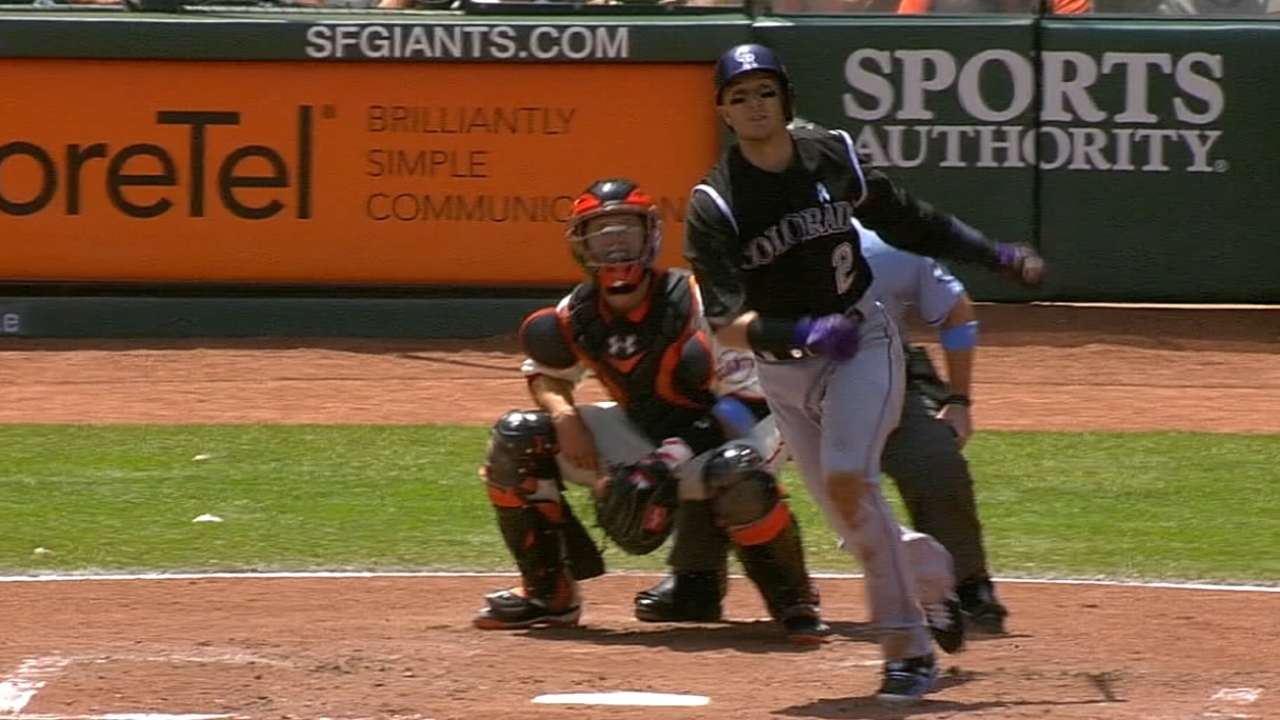 Bridich will not reveal the team's payroll budget for 2015, but the lack of a mandate to move money is a signal that the Rockies see adding to a club with a strong offense -- provided players stay healthy -- as a possible plan. Being in the listening mode leaves the door open to deals large and small, but that's not the same as rebuilding.
Beyond eliminating the narrow top echelon of the free-agent starting pitchers, the Rockies have been quietly exploring possibilities because, Bridich said, "Our payroll will allow us to do that." The meetings in San Diego could be a good time to strike in their effort to put together a team that has enough talent to have hope in an NL West that includes the defending World Series-champion Giants and the defending division-champ Dodgers.
"I don't think we're going to stand around for three days and not be active," Bridich said. "Whether it leads to anything happening is anybody's guess. We've been in enough discussions over the past couple of months that there's reason to think we'll be able to do some things."
But Bridich is not interested in making a splash just for the sake of looking active, either.
"If that were the case, we'd be trading players or releasing players every day," Bridich said. "You try to make decisions on behalf of the organization. If something makes sense, we'll keep our eyes and ears open. If not, we're not going to chase fool's gold."
Bridich sees a lineup that can be productive.
Tulowitzki was a prime candidate for the NL Most Valuable Player Award before he had to undergo season-ending surgery to repair a torn left hip in August. After hitting 25 homers before the 2013 All-Star break, Gonzalez battled a ligament problem in his right middle finger the second half of 2013, a benign tumor in his left index finger at the start of 2014 and a knee injury that required surgery in August.
But while they fought their various issues, Morneau won the NL batting title in 2014, third baseman Nolan Arenado became a two-time Rawlings Gold Glove Award winner and saw offensive growth, DJ LeMahieu earned his first Gold Glove Award, and outfielders Charlie Blackmon and Corey Dickerson became everyday players.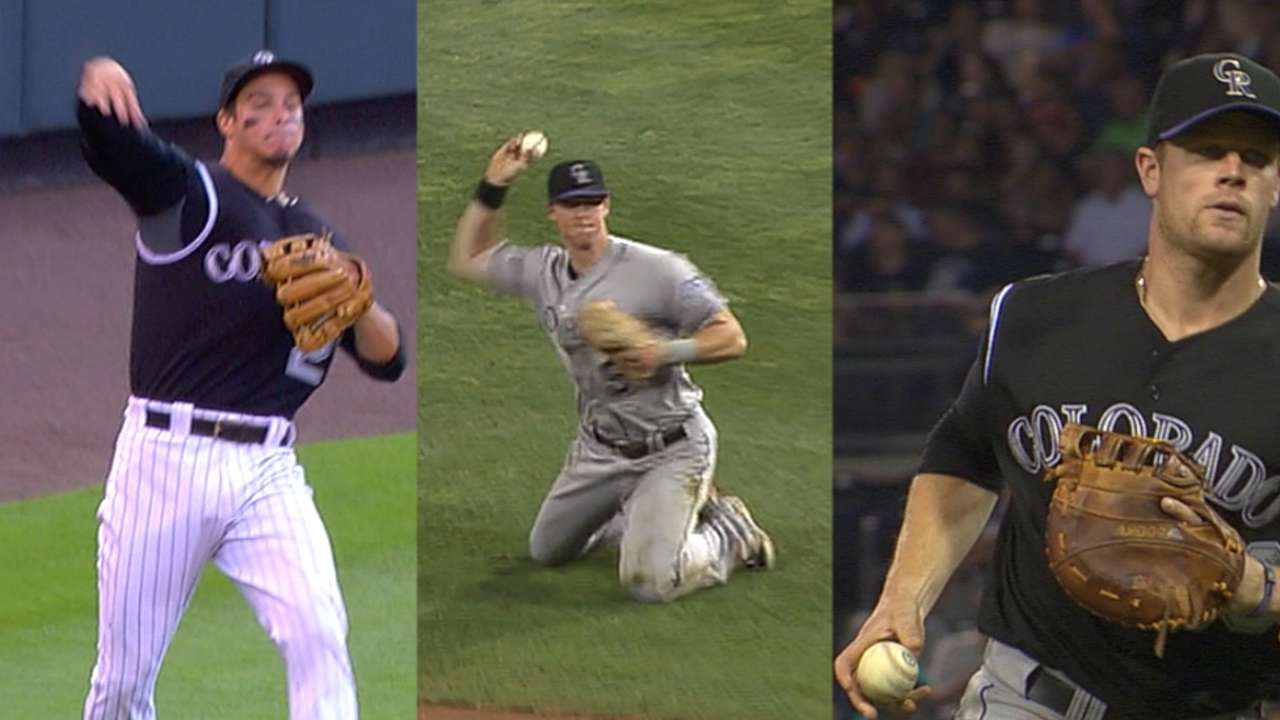 Bridich and the Rockies will need to carefully weigh any offer that risks dismantling the offense.
"If you look at April and May and September of last year, when we had our best health, you'd have no choice but to say that," Bridich said. "We had some young players that arrived and started to flourish at the big league level, guys like Mr. Blackmon and Mr. Dickerson, and Nolan when he was healthy, so guys are starting to settle in.
"Even though we lost Michael Cuddyer [to the Mets via free agency], it's a pretty complete lineup. Again, it's important to maintain health better than we have the past couple of years."
Bridich said the Rockies are receiving detailed updates every 7-10 days on the rehab programs of Tulowitzki and Gonzalez, and both are "extremely active and right where they should be with rehab." Tulowitzki has even spent a couple of days with the Rockies' rehab and physical therapy staff at their Spring Training complex in Scottsdale, Ariz.
So if a major deal doesn't happen, the Winter Meetings could be where the Rockies reveal their plan for augmenting their lineup with improved pitching. Beyond saying the Rox are not in play for the less-than-a-handful of top pitchers on the market, Bridich has avoided discussing specific free agents. The impression from Major League personnel outside the organization is the new front office has given few indications of its strategy but is calculating moves.
Bridich said there is no truth to the notion that starting pitchers refuse to listen to the Rockies because of hitter-friendly Coors Field, so free agency is an option.
"We'll try to uncover every stone and walk down every possible road that we can walk down," Bridich said. "There have been discussions with free-agent pitchers, and there are other pitchers we felt there wasn't any need to pursue based on what type of pitcher they were. That's no different than any other offseason."
The Rockies also are trying to determine whether they stay with Wilin Rosario, who battled injury last season but has hit for power in the past, and Michael McKenry as their catchers, or trade Rosario and seek a defensive upgrade via free agency.
"Right now, we have two Major league catchers on the roster, and we're going to go through the arbitration process with them, with where they are in their careers," Bridich said. "It's still fairly early in the offseason. Only one free-agent catcher has signed, Russell Martin in Toronto. Whatever we do, it's the same as the other areas. We're going to look at any and all ways to upgrade our team in terms of talent."
Thomas Harding is a reporter for MLB.com. Read his blog, Hardball in the Rockies, follow him on Twitter @harding_at_mlb, and like his Facebook page, Thomas Harding and Friends at www.Rockies.com. This story was not subject to the approval of Major League Baseball or its clubs.