White Sox may be wise to seek full-time closer
Petricka, Putnam could be in-house candidates for the job in 2015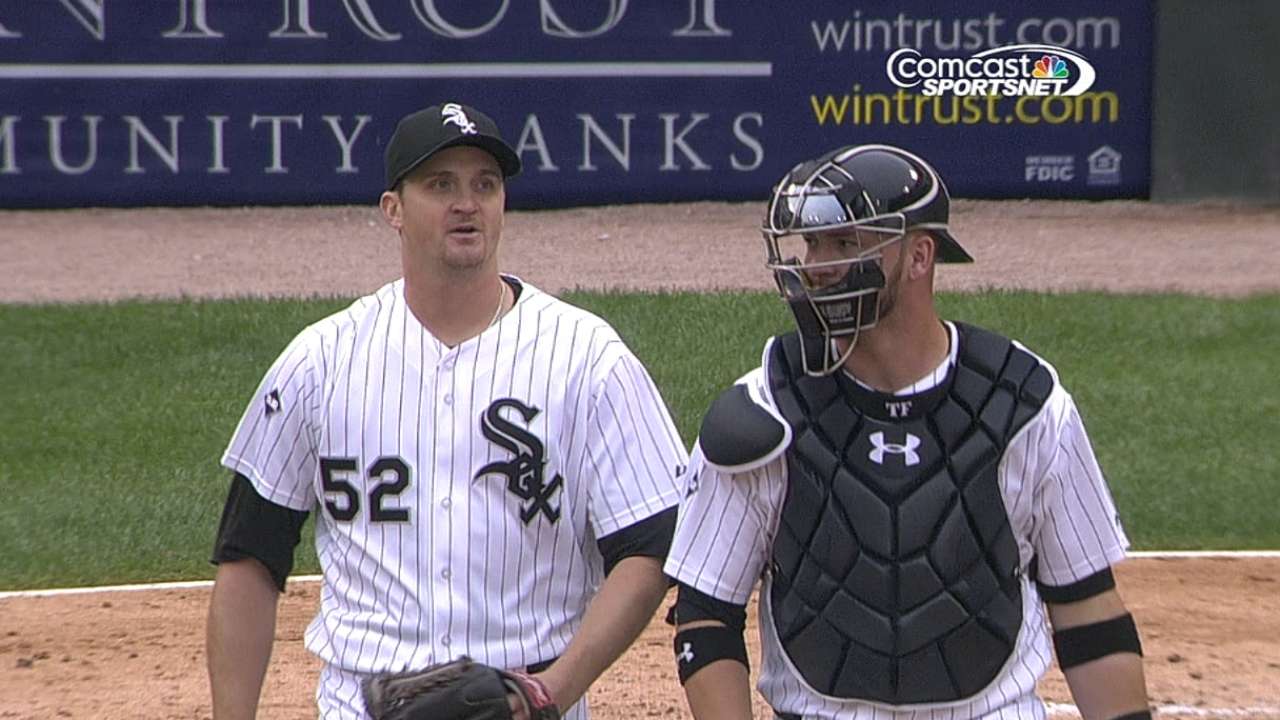 CHICAGO -- The White Sox still need bullpen help, even with the addition of Zach Duke via a three-year, $15 million deal. In the midst of that search for relief, the question becomes whether the club needs a clear-cut closer.
General manager Rick Hahn has mentioned as far back as the end of the 2014 campaign that he wasn't exactly set on the one closer for the ninth inning scenario. In 2005, the White Sox used Shingo Takatsu, Dustin Hermanson and then rookie Bobby Jenks as closers en route to the World Series title. The Giants have won three World Series crowns in the past five seasons with three different closers.
Young options such as Frank Montas and even Carlos Rodon could emerge as short-term closing possibilities, although both seem targeted for the starting rotation, especially Rodon, who was the third pick overall in the 2014 First-Year Player Draft. The White Sox have had past success in developing starters through Major League bullpen stints, with Chris Sale emerging as the most recent example.
But if the White Sox reshaping plan has "serious playoff contention" at the top of its to do list for 2015, then building the pitching staff from the back to the front makes sense. Having a set ninth-inning option, more often than not a proven commodity who is not a rookie or a young pitcher finding his niche, allows manager Robin Ventura greater flexibility in arranging the relievers leading up to that final line of pitching defense, while also giving him one less late-inning worry.
Closer options on the free-agent market include David Robertson, Francisco Rodriguez and Sergio Romo. The White Sox also could explore the trade front.
Duke adds to that young corps featuring Jake Petricka, Zach Putnam, Daniel Webb and Chris Bassitt, without factoring in the even younger options of Rodon and Montas. Petricka topped the 73-win White Sox with 14 saves in 2014, followed by six from Putnam, who was one of the surprise success stories on the roster.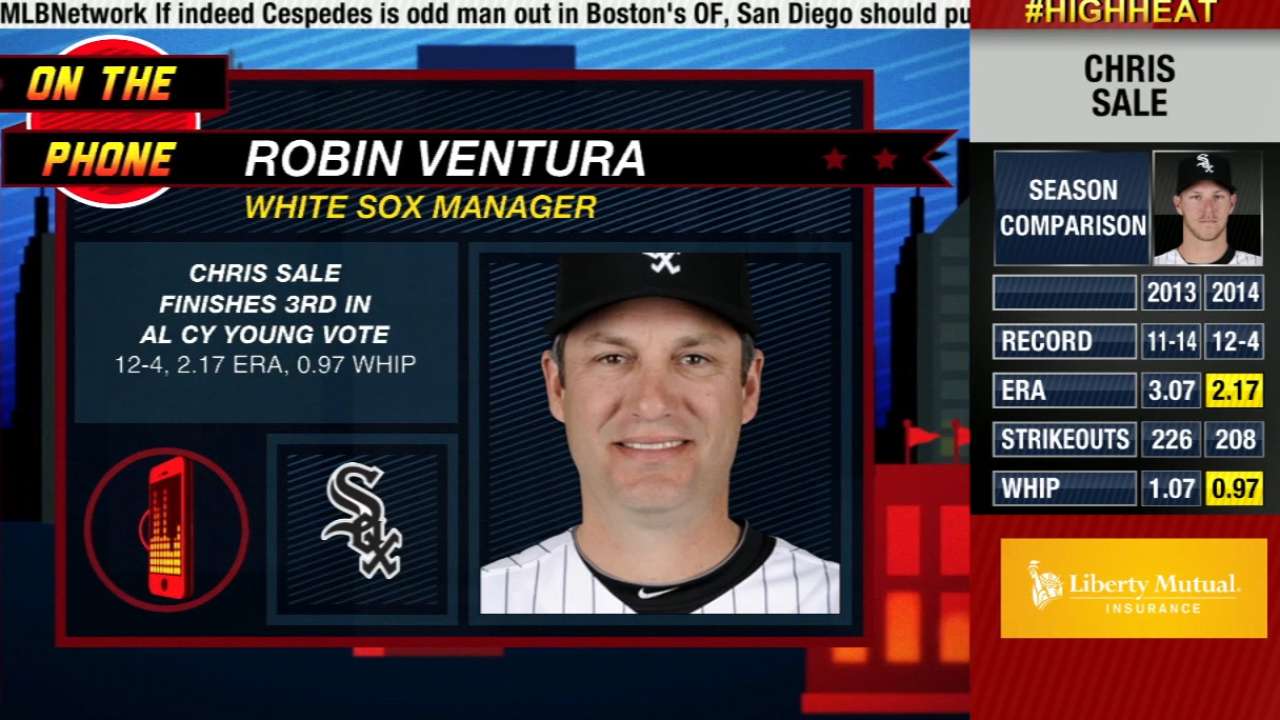 As the club is currently constructed, those two would be the favorites for that closer's spot with the hope being that they gained valuable experience from their first significant big league runs.
"Even add Daniel: We certainly hope that the full Major League baseball season that they experienced as rookies is going to benefit us this year," pitching coach Don Cooper said. "All three of those guys, back up last year with a good solid 2015, and then they are big leaguers.
"One year don't do it. One year is valuable experience they gain. There's no more thought as to what it's like or how do you get through a whole season."
Cooper pointed to a case such as Bassitt, who was only up for six games, of which five were starts, but understood that his physical stuff plays at this higher level. He also talked about Maikel Cleto as an interesting relief case, especially after they gave him a changeup and that changeup proved to be a big enough differential off the fastball to quickly make it a reliable pitch.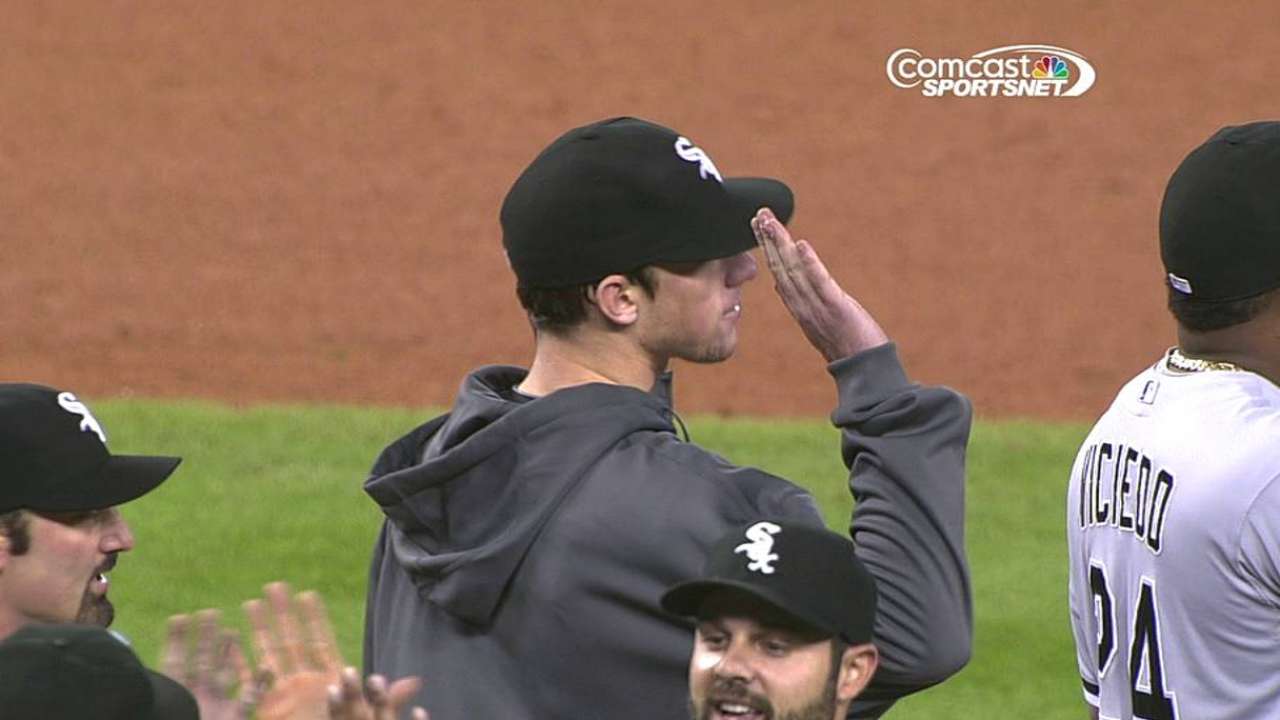 Petricka couldn't have expected the closing opportunity he received back in Spring Training. Injuries to Nate Jones and Matt Lindstrom, along with Ronald Belisario's ineffectiveness in the ninth, presented Petricka that chance, and the 26-year-old right-hander said at the end of the season that he learned the most about the mindset needed to work in late innings.
Moving into the offseason, Petricka wanted the chance to close again, but he already was ready for pretty much any option presented by the White Sox.
"Maybe it's another kind of committee thing, like whatever the matchup plays, so be ready for the eighth or ninth or whatever it is," Petricka said. "I just plan to be in those tough situations again and just contributing. I'm thrilled to be in the position I am in."
Since 2003, the White Sox have made 1,059 quality starts that ranks them second-most in the Majors behind the Mets during that time. Sale and Jose Quintana combined for 43 quality starts in '14, and John Danks, despite finishing with a 4.74 ERA, produced 20 quality starts of his own.
Hahn intends to add to that starting rotation, focused on a right-handed hurler, but that starting group frequently gives the team a chance to win. For a team intent on contending for many years to come, beginning with 2015, making a commitment to that certainty for the final three outs could become an important comfort.
Scott Merkin is a reporter for MLB.com. Read his blog, Merk's Works, and follow him on Twitter @scottmerkin. This story was not subject to the approval of Major League Baseball or its clubs.