Giants have much to do entering Meetings
Starting pitching, left field, third base among holes to fill for champions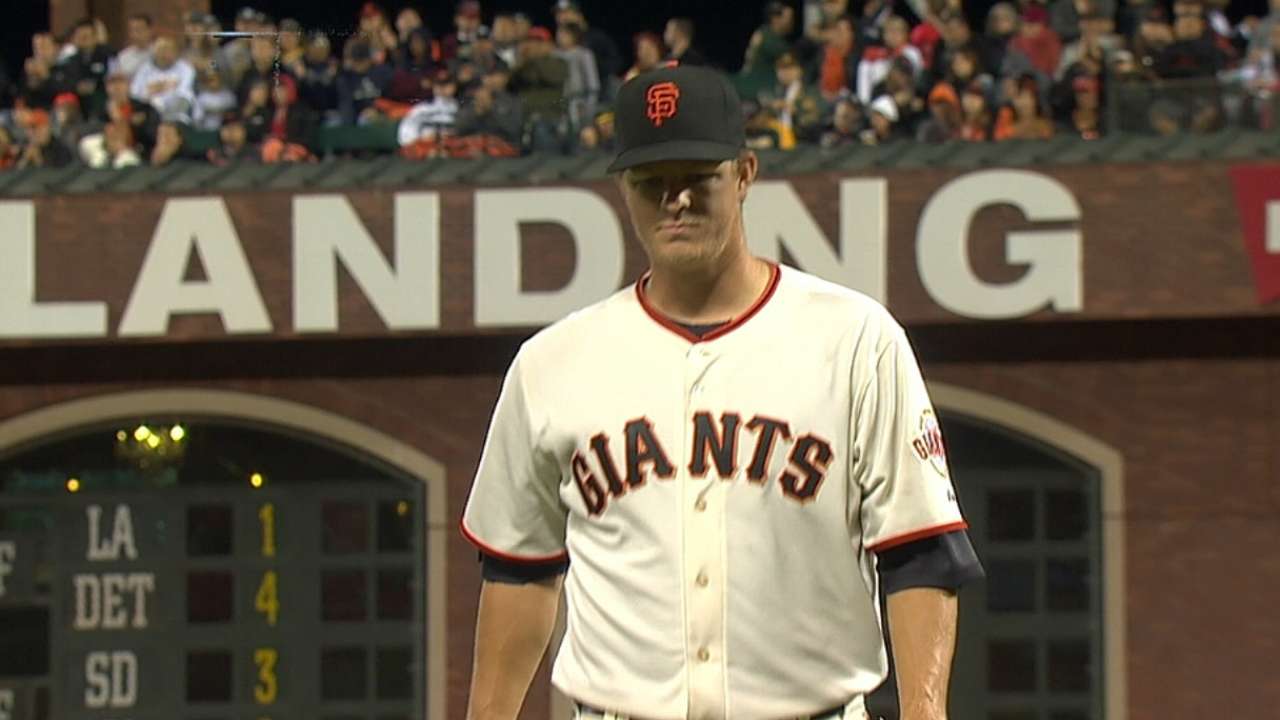 SAN FRANCISCO -- The Giants are approaching the offseason with the same aggressiveness that has helped them win three World Series in the past five seasons.
Given the daunting length of their shopping list, their proactive attitude is a must.
Barring dynamic deals in the next few days, the Giants will enter the Winter Meetings that begin Monday in San Diego needing at least one starting pitcher, a third baseman and a left fielder. Baseball's reigning champions already have demonstrated their intent to fill these vacancies regardless of expense.
The Giants offered third baseman Pablo Sandoval a five-year, $95 million contract, matching the terms he accepted from Boston. They've emerged as a leading suitor for free-agent left-hander Jon Lester, who's expected to command a six-year deal worth $130 million or more.
And though the Giants tried to maintain the core of their roster following their previous World Series conquests in 2010 and 2012, assistant general manager Bobby Evans indicated Tuesday that the club would consider exploring a trade or two that would address a personnel need.
"I think the options are numerous," Evans said. "Trying to figure out how to differentiate the options might be harder than anything. ... No circumstance is being dismissed at this point. It's too early."
It's not too early to determine that the Giants want a durable starter to help stabilize their pitching rotation. Giants starters ranked a pedestrian seventh among National League staffs in innings during 2014 and 10th in 2013. By contrast, they never ranked lower than fourth from 2009-2012. Matt Cain formerly was a given to exceed 200 innings, but he's trying to overcome elbow surgery. Tim Lincecum hasn't pitched 200 innings since 2011. Tim Hudson, who totaled 189 1/3 regular-season innings this year, will turn 40 next July 14.
Free agency offers the Giants multiple alternatives if they don't sign Lester, who has drawn heavy interest from the Red Sox and Cubs. San Francisco could shift its focus to Max Scherzer, though he could be more expensive than Lester. Other intriguing starters include Aaron Harang and Ervin Santana.
Evans didn't rule out retaining Jake Peavy or Ryan Vogelsong, free-agent starters who spent 2014 with the Giants.
"We've maintained contact with each of them," Evans said.
Keeping either would be a popular move. Peavy won six of his last seven decisions to help San Francisco reach the postseason and Vogelsong's legendary perseverance made him a fan favorite long ago.
But though Cain, Lincecum and Hudson each prompts doubt to some degree, Evans cited them, along with postseason hero Madison Bumgarner, as part of San Francisco's incumbent quartet of starters. Thus, if the Giants acquire another starter, they might lack room for Peavy or Vogelsong, despite the ever-present need for rotation depth. Said Evans, "We really sit with only one true spot open. So it's going to be tricky to try to stay connected to our free agents."
Needing replacements for Sandoval and free-agent left fielder Michael Morse, who's unlikely to return, the Giants have been linked to several free-agent position players, including third baseman Chase Headley and outfielder Nick Markakis. Free-agent outfielder Alex Rios has long intrigued the Giants, who briefly considered swapping Lincecum to Toronto for him at the 2007 Winter Meetings. But Rios, who'll turn 34 in February, accumulated just four homers and 54 RBIs in 521 plate appearances this year for Texas, despite batting .280.
Any team approaching the Giants about a trade is likely to inquire about their stable of pitching prospects, a talented contingent that includes Kyle Crick, Tyler Beede, Keury Mella, Ty Blach, Clayton Blackburn, Chris Stratton, Steven Okert, Luis Ysla, Derek Law, Kendry Flores, Joan Gregorio and Ray Black. None pitched above Double-A this year.
Typically, the Winter Meetings have been productive for the Giants. They signed Morse at last year's gathering, retained center fielder Angel Pagan and second baseman Marco Scutaro in 2012 and acquired Pagan from the Mets in a trade during the 2011 Meetings. But the pace of activity can't always be guaranteed.
"Some of these things are just going to take through the Winter Meetings and possibly beyond to really get sorted through," Evans said.
Chris Haft is a reporter for MLB.com. Read his blog, Haft-Baked Ideas, and follow him on Twitter at @sfgiantsbeat. This story was not subject to the approval of Major League Baseball or its clubs.