Mostly set, Brewers will listen at Meetings
Agenda in San Diego could include filling bullpen holes, finding platoon 1B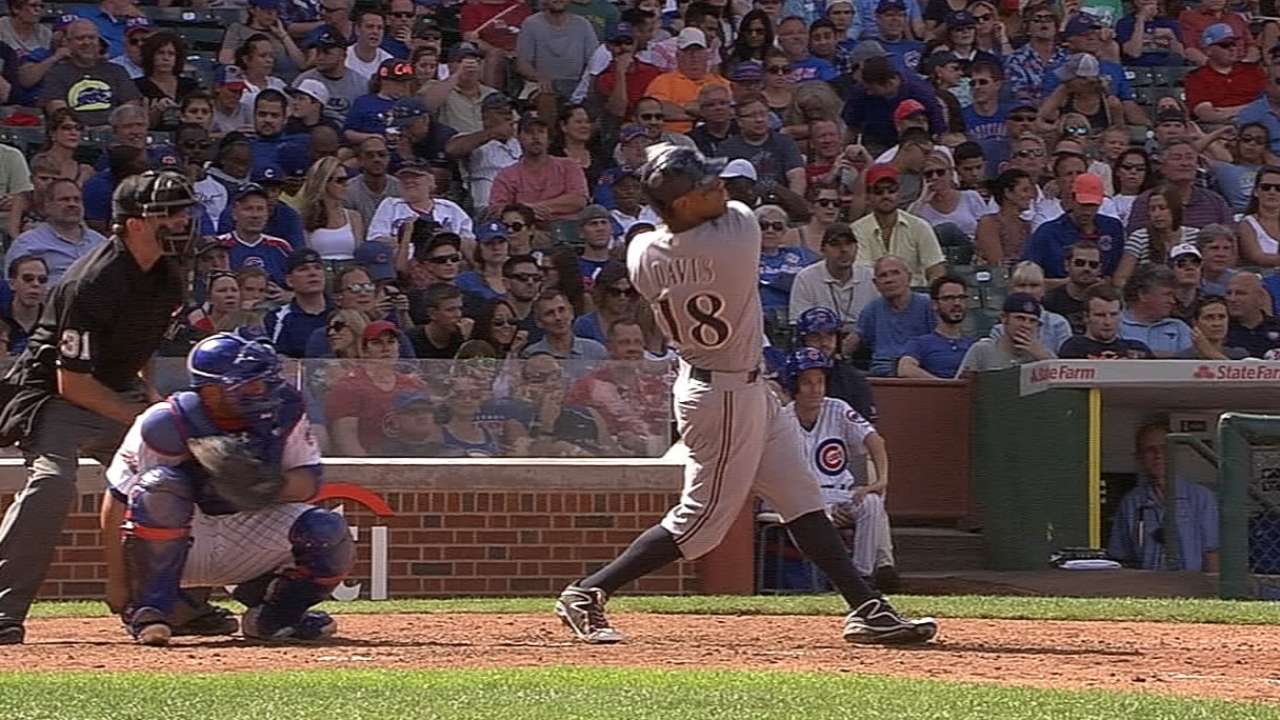 MILWAUKEE -- Last month's trade for first baseman Adam Lind gave the Brewers a complete starting lineup to go with an overflowing starting rotation -- all by Nov. 1. But that does not necessarily mean club officials will be idle at next week's Winter Meetings.
"You can't fall into the trap of thinking you're 'set,'" Brewers assistant general manager Gord Ash said. "You want to go into these Meetings with the mindset of, 'Is there a combination of factors that can make you a better team?'"
Such is the mindset that general manager Doug Melvin, Ash and other Brewers officials will take to San Diego, this year's site of baseball's biggest offseason gathering.
On one hand, the addition of outfielder Gerardo Parra in July, reliever Jonathan Broxton in August and Lind in November, plus veteran third baseman Aramis Ramirez's decision to exercise his half of an option, means the Brewers don't have big holes to fill as they did at last year's Meetings, when first base remained unsettled. Were the Brewers in need of a first baseman, third baseman or a closer, Melvin said, they might be "scrambling" in San Diego to fill those spots.
Instead, the Brewers head to the Meetings with more movable pieces than most clubs, most notably six starting pitchers (Yovani Gallardo, Kyle Lohse, Matt Garza, Wily Peralta, Mike Fiers and Jimmy Nelson) for five spots, two of whom (Gallardo and Lohse) will be free agents after next season. Melvin is open to listening if other clubs call about either veteran right-hander.
"I think that's a really good way to put it: 'Listening,'" Ash said. "That is an area of strength for us, and it's probably going to have to come down to when the free-agent period is exhausted. Then clubs are going to start looking at trades.
"There have been some exploratory calls, but I don't think, until the big free-agent pitchers fall, there's going to be any more meaningful dialogue."
He added: "But we're certainly not out there saying, 'Look we've got six guys. We've got to get rid of one.'"
Gallardo will earn $13 million in 2015; Lohse is due $11 million.
"I've always been pretty open to anything," Melvin said. "I don't think our sport lives in a world of 'untouchables' very much anymore. Look at the [A's trading] Josh Donaldson, an All-Star. There are very few players that are in the untouchable class in our sport today because of the payrolls."
While considering bigger possibilities, the Brewers will look to address some smaller areas. They have bullpen openings behind Broxton and projected setup men Will Smith and Jeremy Jeffress. They will look at right-handed-hitting first basemen to potentially pair in a platoon with Lind. And, like most clubs, they will look for versatile bench players.
"Sometimes it takes time for any big moves to happen or occur, but I think getting Adam Lind is huge for us," right fielder Ryan Braun said in assessing the Brewers' winter so far. "Adding a left-handed bat to the middle of our lineup should be something that really benefits us. It's probably been one of our bigger issues over the last couple of years is that we've been a predominantly right-handed-hitting lineup, and our division has really good right-handed pitchers."
Lind owns an .860 career OPS against right-handed pitching and a .588 OPS against lefties, so the Brewers are likely to pair him with a right-handed-hitting platoon partner. The top internal option is catcher Jonathan Lucroy, who could occasionally play first base as a break from the grind of catching.
"Again, it falls into the category of 'you could do it today [with Lucroy] if you had to,'" Ash said. "I still think we want to look to see whether there is a stronger platoon player available to help our bench."
Because the Brewers' projected payroll is already above $100 million, future additions are far more likely to come via trade rather than free agency. But the Brewers can never be ruled out. In Spring Training in 2013, they surprised the baseball world by signing Lohse to a three-year contract. Earlier this year, the Brewers signed Garza for four years and a club-record (for a free agent) $50 million.
That history has produced some speculation that the Brewers could make a sneaky bid for a top free-agent pitcher again.
"If we are, I am not aware of it," Ash said. "But if you had asked me last year at the same time, I would have said the same thing."
Adam McCalvy is a reporter for MLB.com. Read his blog, Brew Beat, and follow him on Twitter at @AdamMcCalvy. This story was not subject to the approval of Major League Baseball or its clubs.