Cubs could add to Maddon's roster at Meetings
New skipper headed to San Diego gathering with Epstein, Hoyer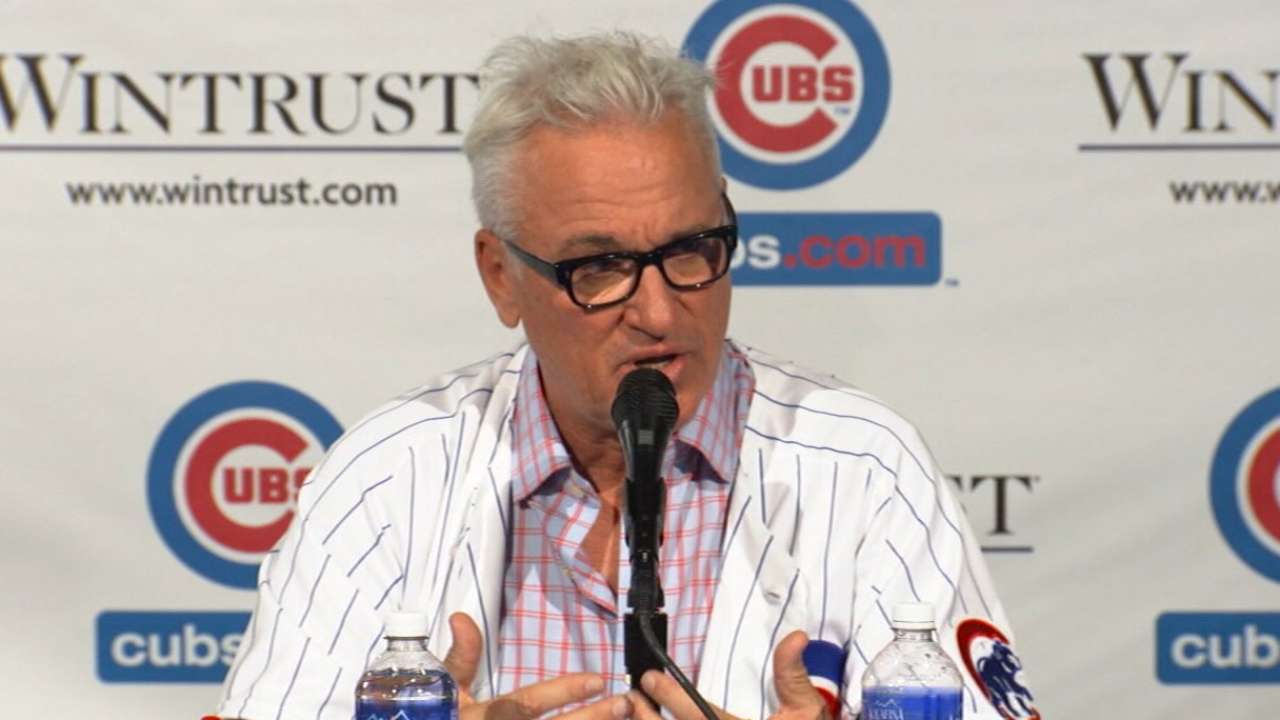 CHICAGO -- Last year at the Winter Meetings, Joe Maddon talked about how he liked the challenge of managing the Rays despite the payroll and roster limitations the team faced.
Heading into baseball's annual winter gathering, which opens Monday in San Diego, Maddon finds himself in a completely different situation as the manager of the Cubs.
The Cubs have payroll flexibility, an overload of young talent and the longest championship drought in professional sports. President of baseball operations Theo Epstein is betting that Maddon, who boasts that "60 is the new 40," can end that drought.
Epstein and general manager Jed Hoyer head to San Diego with a wish list they hope to address this offseason. They're looking for a starting pitcher and met in mid-November with free agent Jon Lester, hoping to lure him to the National League. The Cubs missed in their bid for free-agent catcher Russell Martin, but continue to check on free agents and possible trade partners to add more left-handed bats, plus players who get on base more and strike out less.
"We have that list of guys [we want], and there's no one domino, two dominoes, three dominoes that need to fall for us to start doing it," Hoyer said last week.
Maddon was the Cubs' first big signing. He has been busy with the opening of his new restaurant, Ava, in Tampa, Fla., and most likely won't meet the Cubs players face to face until the January convention in Chicago. He'll be formally introduced as the Cubs' newest skipper during the manager sessions at the four-day Winter Meetings.
"Why would you not want to accept this challenge?" Maddon said during his introductory news conference, held at the Cubby Bear bar across from Wrigley Field. "In this city, in that ballpark, under these circumstances, with this talent -- it's an extraordinary moment, not just in club history but in today's game. This confluence of all these items coming together at the same time is pretty impressive."
Factor in all of the above plus a five-year, $25 million contract from the Cubs, and that made Maddon's decision easier. He had opted out of his contract with the Rays, taking advantage of a clause he wasn't aware of until Andrew Friedman left the Rays to take over as president of baseball operations with the Dodgers. Maddon could've sat out a year, done some television work, but then the Cubs called.
"He's unique," Friedman said of Maddon during the General Managers Meetings last month in Phoenix. "He is incredibly open-minded. He's incredibly positive and not just outwardly. He's a great communicator with the players. He does a really good job of putting guys in a position to have success.
"He's the only manager I've ever worked with, but there's not an area I wouldn't give him incredibly high marks," Friedman said. "I'd bet on him to accomplish special things with anything he's doing in life."
During Maddon's tenure as the Rays' manager, he watched talented players such as James Shields, B.J. Upton, and Carl Crawford leave because Tampa Bay couldn't afford to keep them. Maddon wasn't discouraged; it was reality.
"There's more of a pure sense in regards to the game and how it should be played," Maddon said last December in Lake Buena Vista, Fla., about managing the Rays. "So for a lot of different reasons, working where I work is the best job in Major League Baseball."
Until now.
The young Cubs, such as Jorge Soler, Javier Baez, Arismendy Alcantara and Kyle Hendricks, are still developing. So are the cornerstones, Anthony Rizzo and Starlin Castro. The plan for 2015 is to be competitive in the NL Central, but Epstein also has said that if they don't find the right players this winter, they will wait until the Trade Deadline or next offseason to consider free agents available.
Has Maddon given Epstein and Hoyer his own wish list?
"As far as talent, in our conversations, he's on board with what our offseason plans are," Hoyer said of Maddon. "He talked about having a great relationship with Andrew Friedman in Tampa and talked through transactions with them. I expect us to have the same relationship here.
"He knows it's our job to go out and collect the talent and put the roster together," Hoyer said. "It'd be disappointing if we didn't have input from him because he's going to be managing them and I think he looks forward to providing that insight."
There's room on the Cubs' payroll, which has $35 million committed to eight players in 2015. That figure will increase once they deal with 10 arbitration-eligible players, including starting pitchers Jake Arrieta and Travis Wood and infielder Luis Valbuena.
Carrie Muskat is a reporter for MLB.com. She writes a blog, Muskat Ramblings, and you can follow her on Twitter @CarrieMuskat. This story was not subject to the approval of Major League Baseball or its clubs.