Aggressive Mariners head to Winter Meetings
Club exploring avenues to boost offense, starting rotation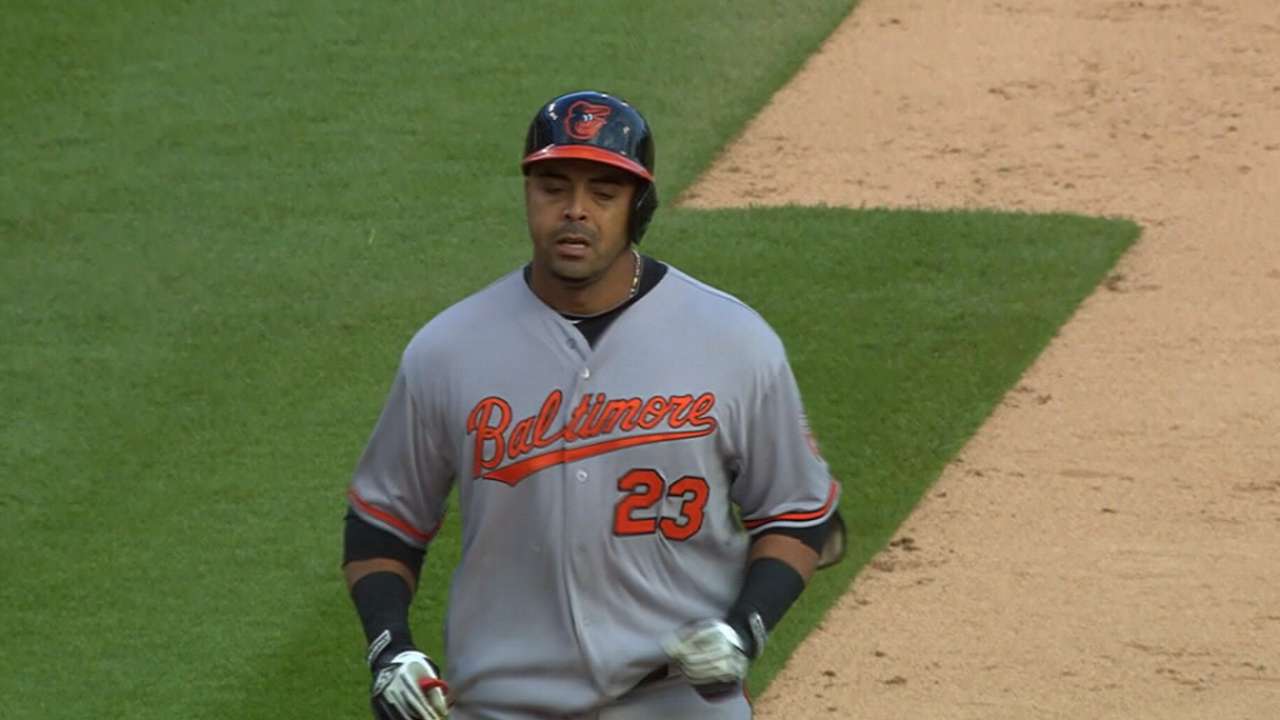 SEATTLE -- Even with a $100 million contract extension for Kyle Seager and a $58 million deal with free-agent slugger Nelson Cruz, general manager Jack Zduriencik says there is still work to be done as the Winter Meetings approach next week in San Diego.
The Mariners are pushing hard to improve a club that finished one win shy of an American League Wild Card berth last season even with a 16-victory improvement, and Zduriencik and his group are not done yet, as evidenced by Wednesday's trade of outfielder Michael Saunders to Toronto for left-hander J.A. Happ.
"We will continue to be as aggressive as we can be and as sensible as we can be at the same time," Zduriencik said, noting that there is still available payroll budget, even with Cruz's addition to a club already on the hook for $24 million each for Felix Hernandez and Robinson Cano in 2015.
The Mariners still have some tradable assets, particularly pitching, if Zduriencik chooses to pursue that path for another bat to bolster a club that led the AL in ERA last year but was tied for 11th in scoring and last among the league's 15 teams in on-base percentage and OPS.
Yet Zduriencik is understandably reluctant to part with prized young arms Taijuan Walker and James Paxton and completely shot down any notion that veteran right-hander Hisashi Iwakuma is being shopped.
"There's no truth to that," he said. "I didn't have any substantive dialogue there. With Felix and Iwakuma at the top and the other young guys we have, that's a formidable rotation."
Of course, that won't stop the Mariners from being in the middle of many rumors circulating around the Winter Meetings, which run Monday through Thursday. The tough part is separating fact from fiction when it comes to Hot Stove reports, such as the recent word that Iwakuma was available after the Red Sox had inquired about him in exchange for outfielder Yoenis Cespedes.
Just because a team calls and asks about a player doesn't mean he's available. Zduriencik knows that his club's backbone has been its outstanding pitching, and he wants to build on that, not subtract from his strength.
"Your job as GM is to listen," he said. "There are a lot of things out there that may or may not be true. There could be scenarios where you have conversation, but it really doesn't have a lot of legs to it. It's just conversation, and sometimes it gets published. We know our strength is our bullpen, and our starting pitching is real good. We have some guys we think have really high upside, and it'll be fun to watch it unfold. Our plan is to add where we can, wherever we can."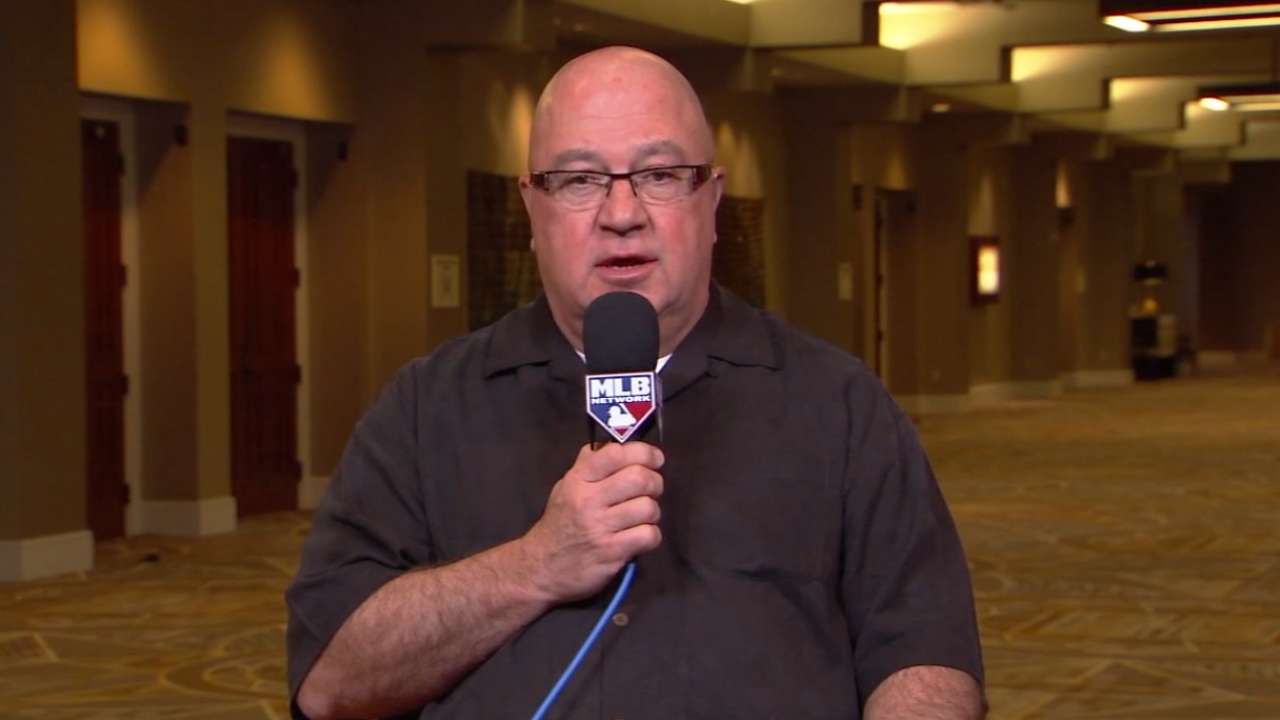 After going 87-75 and retaining the core of its roster, Seattle has far fewer holes to fill this winter. Cruz takes the vacant designated-hitter role, but the club opened a corner outfield spot by sending Saunders to Toronto. Melky Cabrera is the biggest remaining free-agent name there, along with Alex Rios.
Across the MLB landscape, big free-agent bats have been the hot commodity so far this winter, with Cruz joining Victor Martinez, Hanley Ramirez, Russell Martin, Yasmany Tomas, Michael Cuddyer, Nick Markakis and Billy Butler in the early run of free agency. Thus the Winter Meetings likely will focus more on the surplus of free-agent pitching that has yet to be tapped, as well as potential trades for such offensive players as Cespedes, Justin Upton, Matt Kemp and others who might be available.
By signing Cruz, the Mariners no longer will be required to pursue trades as the best avenue to add offense, but that doesn't mean the door is closed. Zduriencik said deals are often the last option for clubs, and he expects an active market.
"A lot of clubs have looked at free agency as a way to acquire without giving up players," he said. "It does put a lot of other things on hold. If you're going to make a trade, you'd like to see if you are in on free agents and how that plays out. They kind of go hand in hand."
If the right deal for another bat is there, Seattle won't stop at Cruz, even with a payroll that already includes about $95 million for Cano, Hernandez, Cruz, Seager, Iwakuma, Fernando Rodney, Willie Bloomquist, Danny Hultzen and now Happ, who will earn $6.7 million.
Another estimated $16 million is on the books for the five remaining arbitration-eligible players, putting the Mariners already well beyond last year's $106.7 million final budget for their 40-man roster.
"I think the signing of Seager is a big statement," Zduriencik said. "We stepped up with Felix and Cano and then Rodney last offseason and then the trades we made in August [to add center fielder Austin Jackson]. We're in a position now where we came one game short. We can add to this club now and still keep our core of players, which is really key."
Having some young, cost-controlled quality players to offset the high-priced veterans is critical, and the Mariners have some of those with catcher Mike Zunino, first baseman Logan Morrison and left fielder Dustin Ackley, as well as a host of young pitchers. Zduriencik indicated that he's content with shortstop as well, where rookies Brad Miller and Chris Taylor split time last season.
"Either guy is capable of being a Major League shortstop," he said. "There are a lot of things we like about Brad Miller and Chris Taylor and even our young kid, Ketel Marte. Shortstop is really a strong point for us, even going down below that to Tyler Smith and Jack Reinheimer. Those are all good, young players. We've done a really good job of bringing in middle infielders."
Topping that list, of course, is Cano, whose deal was finalized at this time last year. Now the Mariners are seeing what else they can add.
Greg Johns is a reporter for MLB.com. Follow him on Twitter @GregJohnsMLB as well as his Mariners Musings blog. This story was not subject to the approval of Major League Baseball or its clubs.