Bucs eye starting pitching heading into Winter Meetings
With lineup mostly set, Huntington looking to re-sign Liriano, Volquez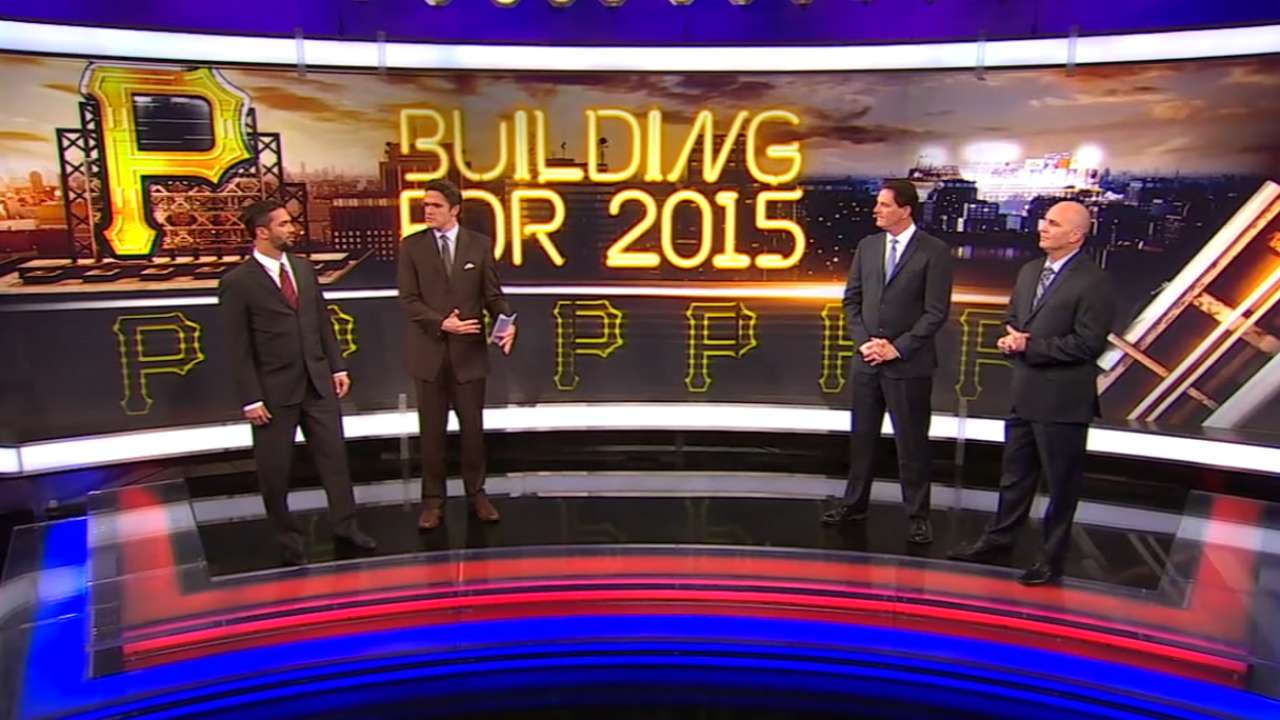 SCOTTSDALE, Ariz. -- The Pirates have been going through their 40-man roster like a neglected closet this offseason, replacing last year's fashion with new duds -- 15 at last count.
General manager Neal Huntington indeed has been busy with moves, but most have raised eyebrows, not headlines. The Pirates are always in their market-forced bargain-hunting mode, but this offseason's conservatism is owed more to the team's solid core than to frugality.
Manager Clint Hurdle could make out his April 6 starting lineup today. That development frees Huntington to zero in on one target in San Diego, where the Winter Meetings will open on Monday: starting pitching. Huntington's week by the Pacific could be quiet, since his second-tier targets are still waiting for the elite free agents to set the market.
Until the Max Scherzer-Jon Lester-James Shields bottleneck is loosened, the Bucs won't have the full attention of Francisco Liriano, and retaining him is Huntington's top priority. That's not a revelation -- he tipped his hand with the $15.3 million qualifying offer to the lefty -- but the fact that the Pirates will also make a play for Edinson Volquez is.
Volquez was signed a year ago as a replacement for A.J. Burnett, who has already returned. For the moment, the thought of a reunited veteran rotation of Burnett, Volquez and Liriano excites the Bucs. It started with Burnett, whose agreement to a straightforward one-year deal -- no incentives, no options -- for $8.5 million left Huntington with plenty of rope for additional moves.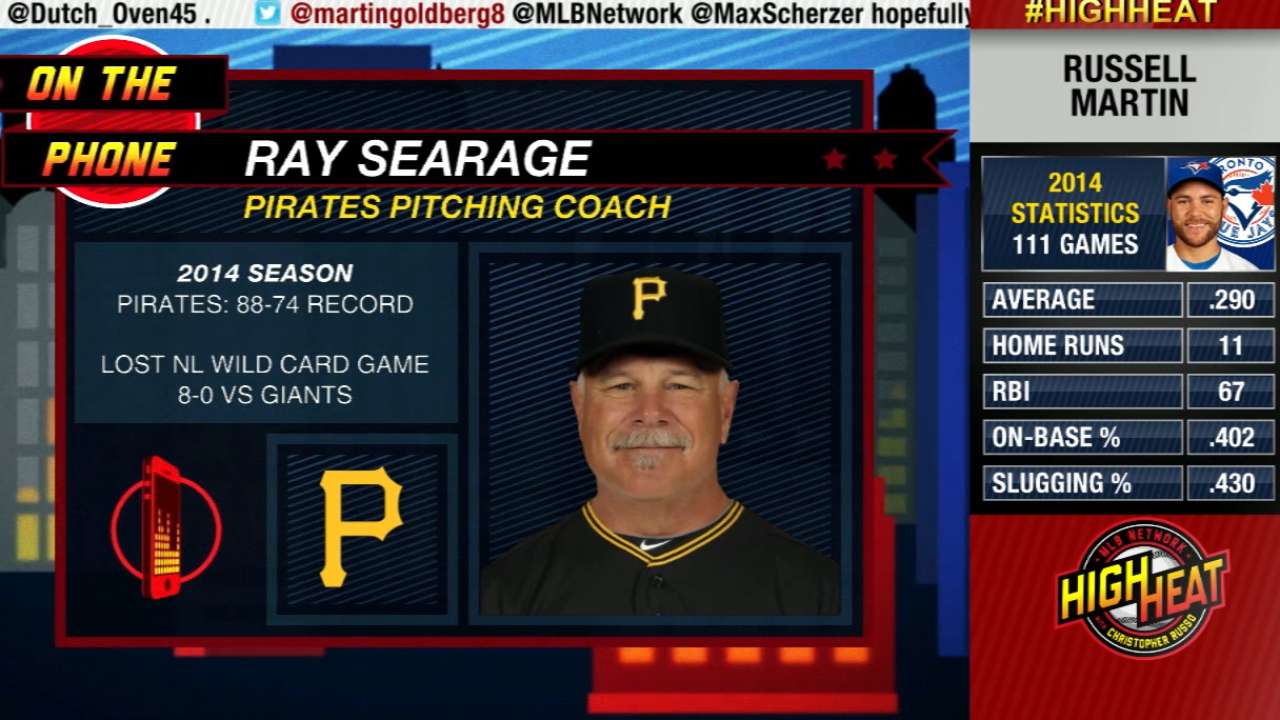 "[Burnett's] desire to come back and thus willingness to take less money allowed us to have flexibility," Huntington said. "And we can be patient with the market, having already added someone who we feel can still be a quality Major League starter."
Burnett and catcher Francisco Cervelli, acquired in trade from the Yankees a few days before the Russell Martin breakup became official with his Toronto deal, have been the key moves thus far. Burnett's is one of five 2015 contracts already on the books, next to those of Andrew McCutchen, Starling Marte, Jose Tabata and Charlie Morton. Those, and rough projections for the rest of the roster, including 11 arbitration-eligible players, set the Bucs' current payroll commitment at approximately $70 million.
Club president Frank Coonelly has made frequent references to the likelihood of the payroll reaching $90 million. The $20 million "rope" gives Huntington the latitude to engage both Liriano and Volquez, friends who between them earned $13 million in 2014 and are looking for salary bumps in multiyear contracts.
"We still feel there are other opportunities to make the club better, and we'll continue to work hard to find upgrades or to improve our depth," Huntington said.
Depth, particularly around the infield, has been an ongoing, nonstop objective. The latest move -- Sean Rodriguez, acquired in a trade with Tampa Bay on Monday -- may not be the last. As other veteran, versatile infielders keep landing on the market, the Bucs may continue stacking the odds in their favor.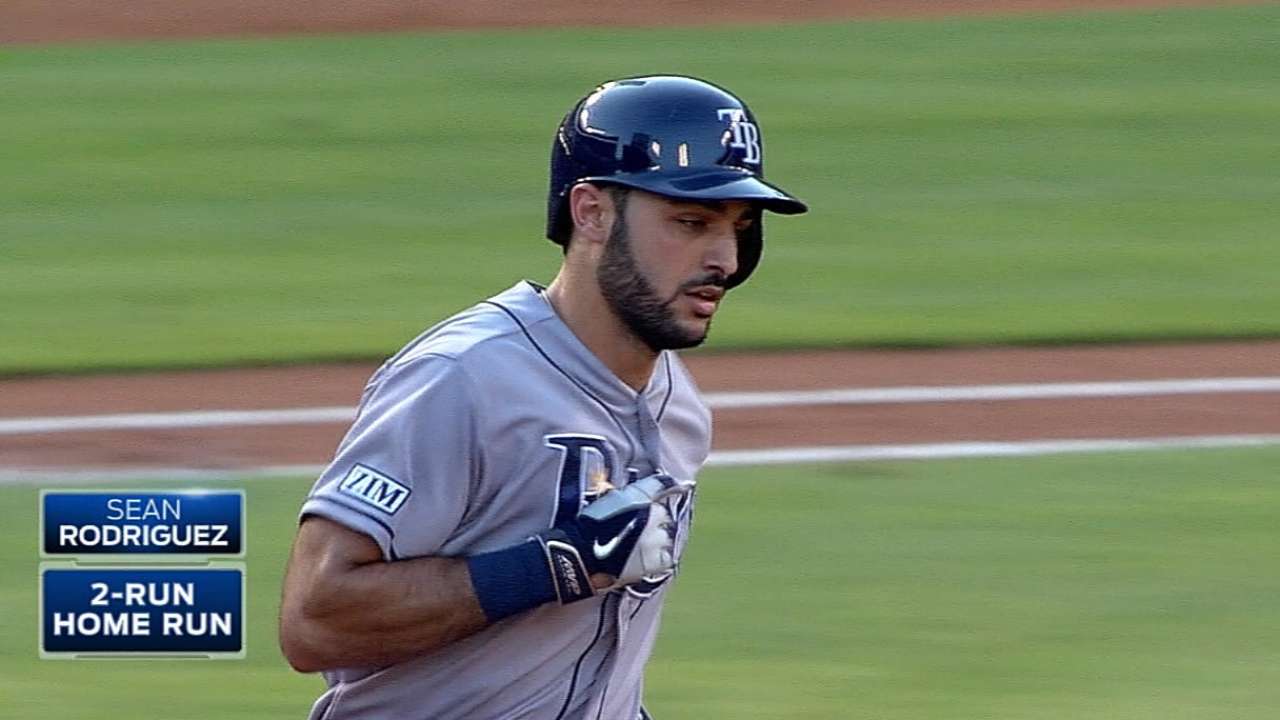 That may seem like a modest objective, but not in light of the 2014 experience. When veteran infielder Clint Barmes was lost for seven weeks to a groin injury, the Pirates went through a rotation of replacements -- Michael Martinez, Brent Morel, Jayson Nix -- that severely hampered Hurdle's ability to make moves.
Hurdle's starting eight is set -- albeit written in pencil, not in stone, because Huntington's willingness to include top prospects in Trade Deadline moves last July leaves open the possibility of a blockbuster-type deal that could alter the lineup.
However, at the moment, the Pirates' Opening Day lineup projects to include an outfield of Marte, McCutchen and Gregory Polanco; an infield of Josh Harrison, Jordy Mercer, Neil Walker and Pedro Alvarez; and Cervelli behind the plate.
This is in contrast to the situation a year ago, when questions hung over shortstop, first base and right field. Those have been straightened into exclamation marks by Mercer's solid bat (.278 with .767 OPS the last four months), Harrison's breakthrough -- enabling Alvarez's move to first base -- and the conviction that Polanco is prepared to make his mark following a rough but educational debut.
Tom Singer is a reporter for MLB.com and writes an MLBlog Change for a Nickel. Follow him on Twitter @Tom_Singer. This story was not subject to the approval of Major League Baseball or its clubs.