MLB.com Columnist
Richard Justice
Lester offers suitors the total package
Proven winner and model citizen will be transformative influence on next team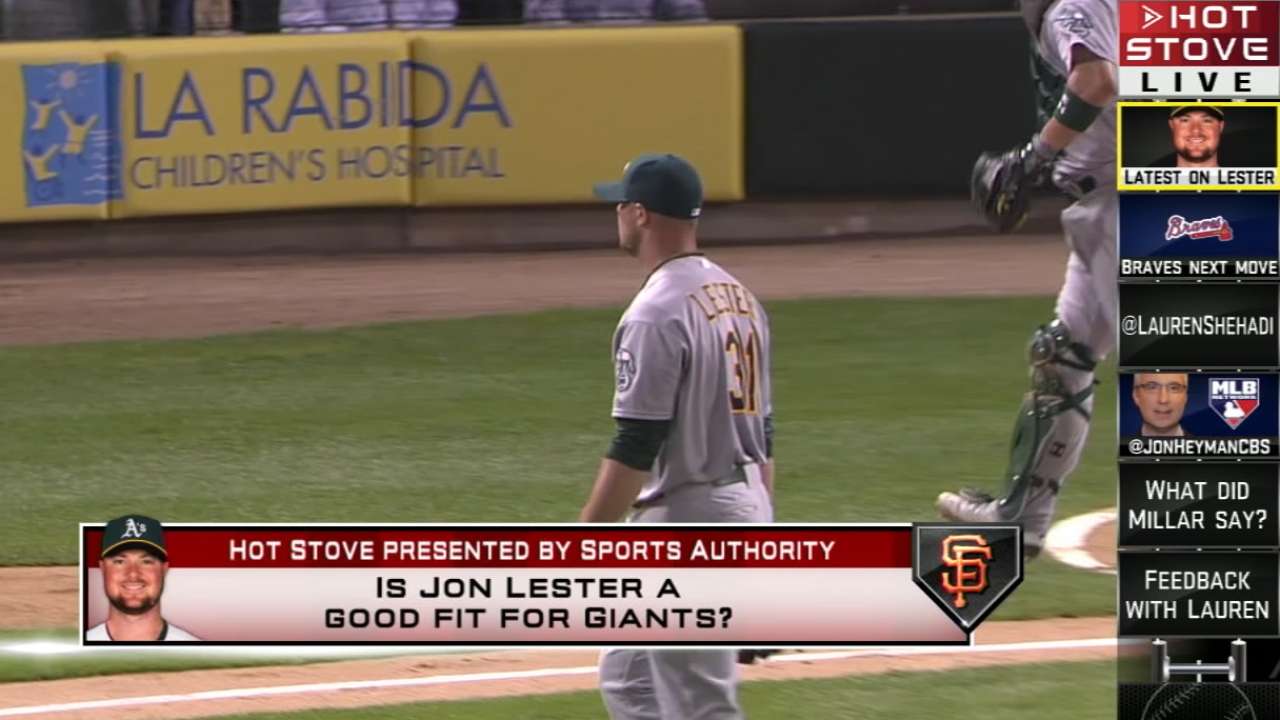 Let's be clear about why Jon Lester is in such demand. Actually, it couldn't be simpler. He's the living, breathing definition of a No. 1 starter, and there aren't many of them out there.
Lester wants the baseball in the most critical games. He wants it in the World Series. Lester wants it when the bullpen is tired or the losing streak is getting worrisome. He simply wants to be the guy to take control of things and turn the ship in another direction.
Perhaps as much as any pitcher in the game, Lester understands the responsibility that comes with being a true No. 1. He sets a tone for everyone. Lester knows that he's expected to give his team a chance to win even when his stuff isn't all that great -- because that's his job.
Free agency is filled with uncertainty. As Branch Rickey once said, or is credited with saying, "You don't really know a guy until you have him on your club."
There are no questions about Lester. His story has been told often enough that we all understand who he is and what he's about. That he underwent cancer treatment, that he dealt with the fear and the exhaustion and all the rest, is part of his story.
That Lester was able to return to the big leagues and to pitch at the highest level possible says plenty about his resolve and talent.
Listen, there aren't a lot of laughs when you're around this guy. Lester is a serious, serious man, a consummate professional. He's the guy who will show up the earliest, work the hardest and produce the most.
Lester also gets it in other ways. He will be a good citizen of the community, someone committed to helping those who have less in an assortment of ways. When a team gets Lester, it gets the whole package.
If the Cubs win the sweepstakes, they will have made an impact acquisition just below Theo Epstein and Joe Maddon in terms of its impact on the franchise.
Lester would sit atop the rotation, with Jake Arrieta behind him, pitching for a club that has a chance to get really good really quick.
Lester would give the Red Sox a championship look again. The Red Sox and Cubs -- the latter through Epstein, a former Boston executive -- have a history with this guy. They know just about everything there is to know, and these are two of the most aggressive teams in their pursuit of Lester. That fact alone tells you plenty, doesn't it?
The Giants? Lester would be a perfect fit there, too, joining a winning culture and a rabid fan base. Can you imagine manager Bruce Bochy lining up Madison Bumgarner and Lester in October?
Between them, Lester and Bumgarner have allowed two earned runs in 57 World Series innings. They've been in a combined 28 postseason games and compiled a 2.35 ERA. So with the lights the brightest and the stakes the highest, these two guys have historically been at their best.
For Lester, his decision almost certainly will come down to comfort for himself and for his family. In terms of financial security, he can get that from any of the teams bidding for him.
Lester's decision could start a domino effect, with James Shields being able to find out his true market value, and perhaps Max Scherzer as well. The teams that don't get Lester will gather themselves and consider how to allocate the money they had set aside for the left-hander.
Here's hoping Lester is enjoying this little ride through free agency. Not many players arrive at this point at a time when their value and reputation couldn't be higher. In short, he's the exact kind of player every team wants.
Richard Justice is a columnist for MLB.com. Read his blog, Justice4U. This story was not subject to the approval of Major League Baseball or its clubs.