Rising in fame, Duda's quiet manner remains the same
Recent trip to Japan showed Mets first baseman's comfort emerging
NEW YORK -- Minutes after touching down at Kansai International Airport in November, Lucas Duda grabbed his luggage and stepped into a public area, where dozens of well-wishers had lined up seeking autographs. Duda appeared to hesitate for a moment as teammates on Major League Baseball's All-Star Series tour of Japan filtered past him. Then he stepped forward and signed.
If any doubt remained as to the extent of Duda's burgeoning fame, his trip to Japan demolished it. Everywhere Duda went, from ancient temples to modern restaurants (he adores sushi), people recognized the 30-homer first baseman.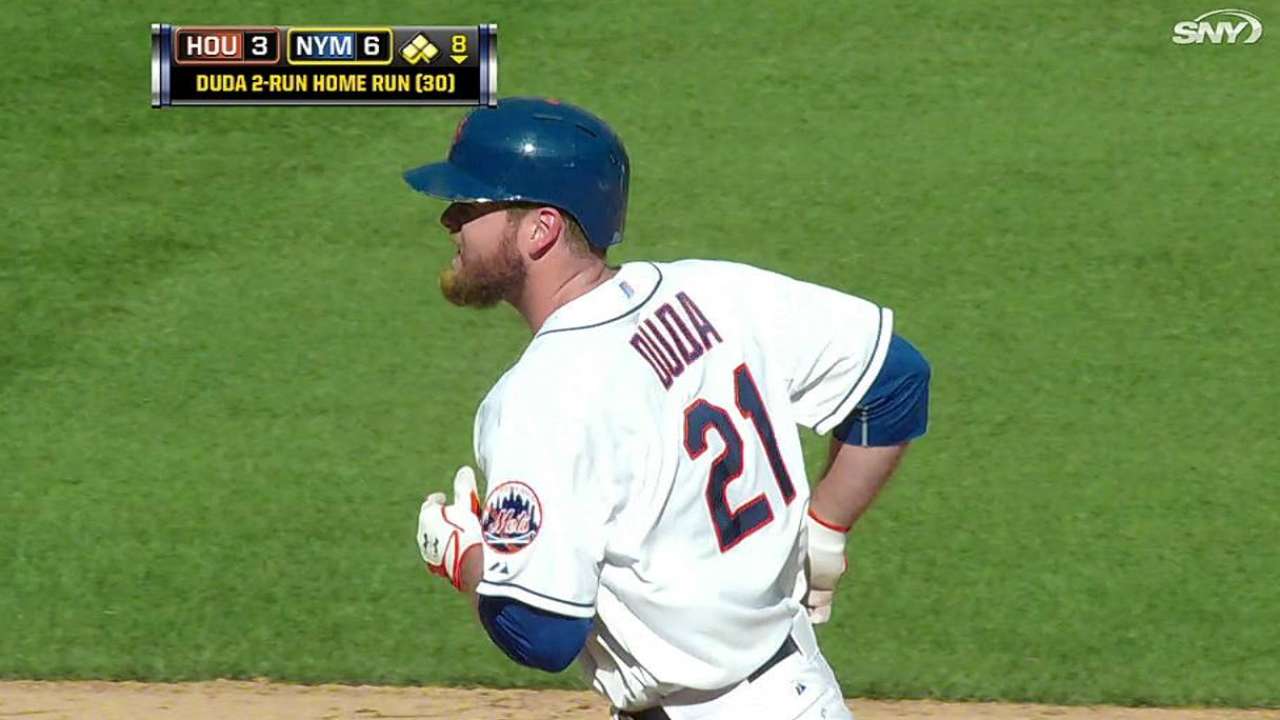 The man who once puzzled his franchise with colossal power and an apparent lack of self-confidence is now a cornerstone of the Mets' plans. In a lineup that includes David Wright, Curtis Granderson and now Michael Cuddyer, Duda profiles as the cleanup hitter. In a clubhouse bursting with youth and personality, Duda belongs. In a league that has seen Ike Davis pinball from team to team, Duda is entrenched.
It was not always this way. As recently as a year ago, the thought of Duda touring Japan with some of the game's brightest stars -- Robinson Cano, Evan Longoria, Yasiel Puig, et al -- seemed unrealistic. Duda did not even have a steady job on his own team, let alone a gig alongside modern-day baseball royalty. But it was Duda who showed up to a welcome party his first night in Japan, squeezing toward the finger foods in a suit and tie. It was Duda who climbed to the top of Osaka Castle the next day, hiking alongside his father. It was Duda who seemed in his element.
Before flying to Japan, Duda joked -- or was it a joke? -- that he hardly belonged on this traveling band of All-Stars. But with each step in the Far East, he appeared more at ease.
"Sometimes we tell the media something and they kind of run with it a bit, and I think that may have happened," Duda said of the early perceptions regarding his purported lack of confidence. "It's never really been a big issue or what it's made out to be. I felt good and felt just blessed to be [in Japan], and have the opportunity to play with this group of guys."
He is still a quiet person, moving about Japan with a beanie slung low over his mop of light brown hair. When a picture of Duda grinning ear to ear next to a Japanese geisha hit Twitter, Vic Black joked that he could hardly believe his teammate's smile. Wright received the photo in an email and simply laughed; he, like Daniel Murphy, is one of Duda's better friends on the team, which tends to mean quiet dinners on the road vs. boisterous nights out.
David Duda still talks about his son like a teenager, joking that throughout their time in Japan -- the two shared hotel rooms in all four cities -- he "had to learn not to ask so many questions."
"He shuts down," the elder Duda said. "He just wants his quiet time. He wants to be by himself. Even though we're in the same room, he just wants to be playing videogames or texting his buddies. When he's ready to talk to me, he'll talk to me. And he doesn't talk that much, anyway."
Teammates marvel at Duda's wry sense of humor, even if for the most part he keeps quiet. In Japan, on the nights when his father watched batting practice from the field, Duda would greet him with a quick hug, maybe a fist bump. Then he would move on his way, back into an All-Star clubhouse increasingly suited to him.
After the final game, an exhibition in Okinawa in which he reached base four times, Duda climbed aboard a charter bus bound for the airport. MLB's traveling caravan was looking to make a quick getaway, beating an airport curfew en route to Los Angeles. As a result, thousands of fans still milled about the stadium as the players departed, shouting and waving at the buses as they passed.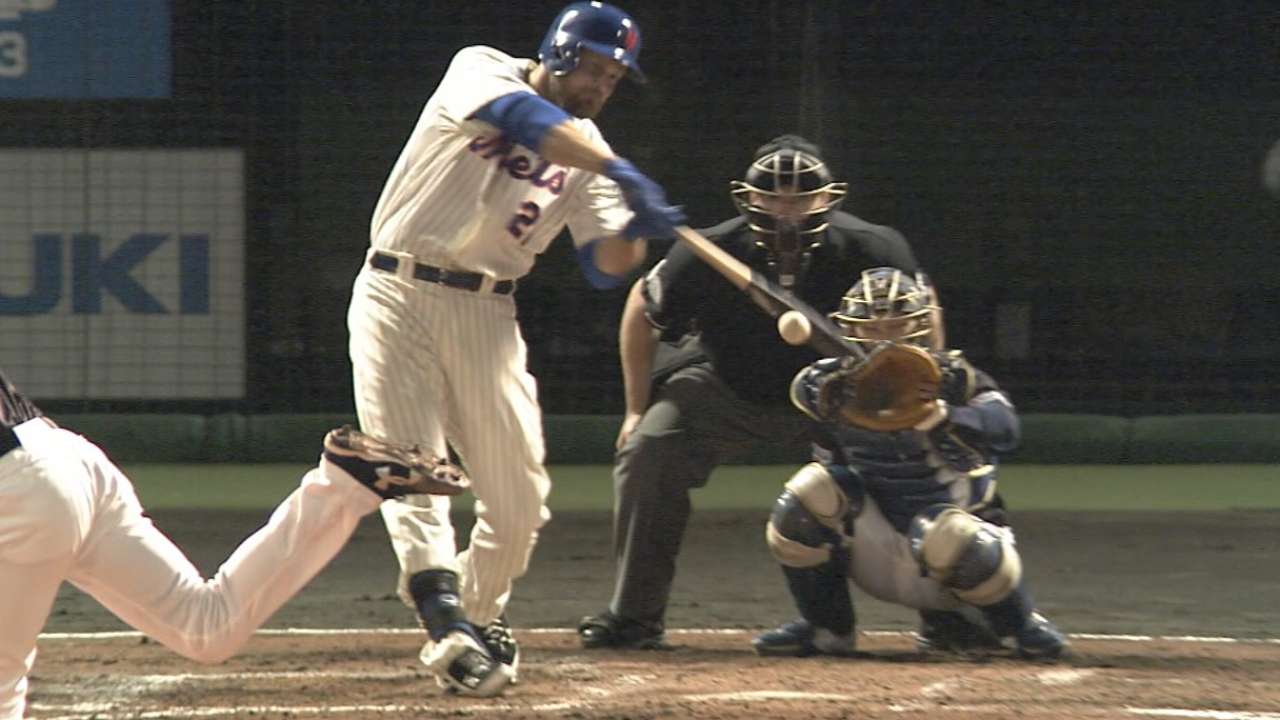 Sitting next to his father toward the back of one vehicle, Duda stared as they passed deep pockets of people ringing the driveway. The bus eventually made it out to the street and pulled up at the airport, where Duda stood and joked with a group of All-Star teammates loitering at the gate.
Then the jet bridge opened, and he boarded the plane as one of them.
Anthony DiComo is a reporter for MLB.com. Follow him on Twitter @AnthonyDicomo. This story was not subject to the approval of Major League Baseball or its clubs.