MLB.com Columnist
Anthony Castrovince
Lester will cause Hot Stove domino effect
Pitching market sure to heat up as soon as free-agent lefty picks from many suitors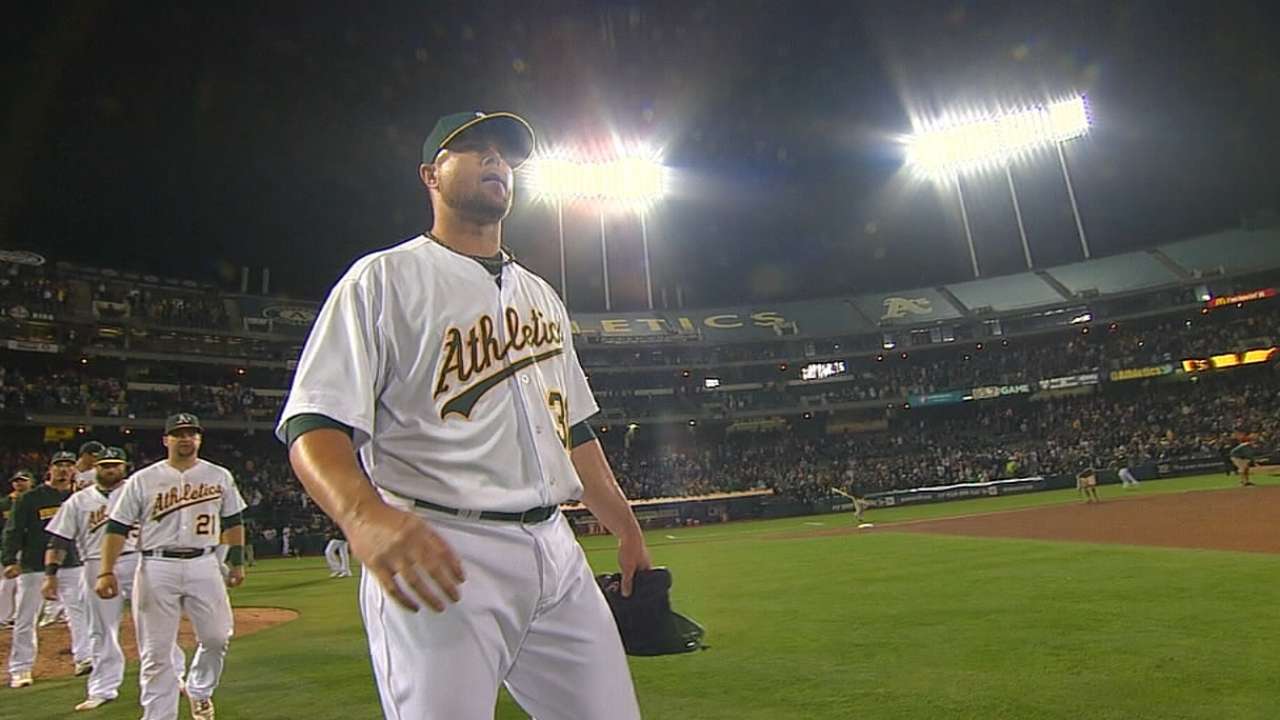 The state of offense in Major League Baseball is such that hitters (Hanley Ramirez, Pablo Sandoval, Victor Martinez, Nelson Cruz, Billy Butler, Yasmany Tomas, Adam LaRoche, Michael Cuddyer) have been flying off the shelves this Hot Stove season, and we're even hearing Wily Mo Pena rumors. Starters, with one exception (A.J. Burnett), have sat untouched. A game often said to "start with starting pitching" has not exactly worked that way this winter.
Jon Lester is going to change all that, because so much of the Hot Stove activity this winter -- not just the markets for other free-agent starters but also the trade markets involving Cole Hamels, Jordan Zimmermann, Jeff Samardzija and Mat Latos, to name a few -- will fall in line after his situation is settled.
Because of his recent Cy Young pedigree, Max Scherzer is generally regarded as the market's best available arm, but Lester's market has developed more quickly, because A) he's not represented by Scott Boras, who tends to bide his time in free agency, and B) he's not tied to Draft pick compensation. That latter point is one that could end up landing the left-handed Lester, who is the same age (30) and has the same career ERA (3.58) as Scherzer in 356 2/3 more innings pitched, a contract comparable to that of the right-handed Scherzer.
Lester has been visiting or been paid a visit by multiple MLB teams, with three clear suitors and some other possibilities still looming as the Winter Meetings near. In the end, the numbers being discussed will probably be fairly consistent across the board, and it will basically come down to Lester's preference.
Let's run down the advantages and disadvantages of each situation.
Red Sox
Lester could be the rare free agent who goes back to the team that traded him mere months earlier. But if Lester is no longer interested in granting Boston a "hometown discount," as he was a year ago, one could hardly blame him. The Red Sox certainly have regrets about their past best offer (four years, $70 million) to Lester, because now his price tag has skyrocketed well north of $100 million, and -- all past unease about long-term contracts for pitchers aside -- they remain interested. As things stand, if the Red Sox are able to land Lester at the kind of terms being reported (six years and at least $130 million), then they would have to move salary elsewhere to stay below the luxury tax threshold for 2015, though it remains to be seen how much of a concern that penalty is for them.
Boston is a comfortable place for Lester, and the moves the club has made to shore up its offense all but ensure they'll be factors in the American League East in 2015. But it's notable that Lester's camp -- both in Spring Training and at the All-Star break -- wasn't interested in negotiating with the Red Sox after that $70 million starting point. This is someone who was determined to test free agency, and there's a reason why players wooed by multiple intriguing clubs end up trying something new.
The Red Sox can still land Lester, but I'm not sure they're going to get a significant discount. You wonder if, with their ample trade chips, they might be better off targeting Hamels, whose five-year, $114 million remaining contract (assuming his $20 million option for 2019 is exercised, which it would probably have to be to get him to agree to remove Boston from his no-trade list) looks like a bit of a bargain in this market.
Cubs
The Cubs are at an interesting crossroads this winter, because they're at a point of financial flexibility to add a high-profile free agent such as Lester (to whom they've reportedly made a six-year, $138 million offer) and they're getting to the point in which their young talent is ready to coalesce into a contender. But 2015 still looks to be a bridge year while those players arrive and mature at the Major League level in a deep division. And as much as Lester would move the needle in terms of proving to the fan base that a serious effort is being made, next year's free-agent market could be loaded with options like David Price, Zimmermann, Samardzija, Johnny Cueto and Doug Fister, when the Cubs are more prepared to make a serious run at a title.
Still, Theo Epstein has a built-in relationship with Lester and knows what an asset he can be to a predominantly young club in need of leadership. That is why the Cubs are in this pursuit.
The question for Lester is whether he wants to take a potential competitive step back in '15 in order to be part of something potentially special down the road. Whoever helps end a championship drought more than a century old is going to be an icon on the North Side. How much does that thought intrigue Lester at this stage of his career?
Giants
At this point, anything shy of a World Series is a letdown for San Francisco, and the Giants certainly have reason to be uncomfortable with the short- and long-term outlook for their rotation. Madison Bumgarner is locked up through 2017, which is a great start, but Matt Cain is coming back from surgery, Tim Hudson is 39 and a year from free agency, Tim Lincecum is a major question mark a year from free agency and we've yet to see a full season of Yusmeiro Petit as a starter.
On top of that, the Giants don't have as deep a stash of trade chips as the Red Sox to be in on an attractive "backup plan" such as Hamels. Their best option, it seems, is to take the savings from not signing Sandoval and apply them to an upper-echelon starter, and Lester would give them a dynamic lefty combo to sandwich around Cain.
For Lester, the appeal here is obvious. The Giants play in one of the most beautiful cities in the world, in a pitcher-friendly ballpark routinely loaded with passionate fans. They have a championship culture and a family feel. They have one of baseball's great game-callers in Buster Posey and a Hall of Fame-bound skipper in Bruce Bochy.
All that said, San Francisco is a long way from Lester's Atlanta home, and sometimes that sort of thing has sway for a family man like Lester.
The "mystery" market
Dodgers? We all understand that Andrew Friedman is intent on scaling back an out-of-control payroll if he can, but it's hard to imagine the Dodgers abstaining from the Lester sweepstakes. Clayton Kershaw is signed through 2020 and Hyun-Jin Ryu through 2018, but it is worth keeping in mind that Zack Greinke can opt out of his contract after the '15 season, if he so chooses.
Cardinals? There were rumors of interest, but the Cards have a deep stash of young, controllable pitching, and they are better off using their future financial flexibility elsewhere.
Royals? Lester and Ned Yost are neighbors and occasional hunting partners. But that's not enough of a bond to create the kind of discount it would likely take for Kansas City to land a front-line arm like Lester.
Blue Jays? Doubtful. They've committed nearly $110 million to 12 players for 2015, and that's with a significant portion of Russell Martin's contract backloaded.
Braves? As John Hart said on MLB Network Radio recently, "Right player, wrong time."
Best guess (always subject to change)
The pull of building something legendary with an old friend takes over, and Lester winds up a Cub.
Anthony Castrovince is a reporter for MLB.com. Read his columns and follow him on Twitter at @Castrovince. This story was not subject to the approval of Major League Baseball or its clubs.