Final preparations for this weekend's Redsfest underway
Annual fan event begins Friday at Duke Energy Center in Cincinnati
CINCINNATI -- There aren't many offseason weekends where the Reds watch closely for weather forecasts and care about snowfall. But this weekend is one of them.
That's because the annual Redsfest will be back at the Duke Energy Center in Cincinnati on Friday and Saturday. And the good news is that no snow is predicted by forecasters. Last year, a winter storm on the first day of the fan fest put a damper on its attendance before a larger crowd poured in on Day 2.
"The track record, with the exception of last year due to weather, tells us that we get about 45 percent of the attendance ... on Friday and about 55 percent on Saturday," said Karen Forgus, the Reds' senior vice president of business operations. "Given that Saturday's hours are longer, it's a pretty good split."
Redsfest hours are Friday from 3-10:30 p.m. ET and from 11 a.m.-6:30 p.m. on Saturday. Tickets can be purchased at reds.com/redsfest, by calling (513) 381- REDS, at Great American Ball Park's box office and at select Kroger stores with a Ticketmaster retail outlet.
Two-day tickets are $25 for adults and $12 for kids 12 and younger. One-day tickets are $17 for adults and $7 for kids. Children 3 and under are admitted for free.
The finishing touches to turning the Duke Energy Center into a Reds fans' paradise are ongoing this week and will continue right up until the doors open.
"We actually started loading in the Monday before Thanksgiving," Forgus said. "We have been loading in for a long time. It really does take that long to get ours to the level we want. The Major League Baseball people that do [All-Star] Fanfest will be in town to especially see our Redsfest, because they've heard of the incredible things that we do."
The MLB FanFest will be a large part of the 2015 All-Star Game events in Cincinnati, and the setup will likely be quite similar to Redsfest.
For each two-day Redsfest admission purchased, fans will receive two free tickets to the Reds vs. St. Louis Cardinals game on Sunday, April 12. Fans purchasing a one-day Redsfest admission will receive one free ticket to the April 12 game.
"It's a good game, and that's a really good value," Forgus said.
Another added bonus this year: The first 11,000 fans through the Redsfest doors each day will receive a free 2015 MLB All-Star Game ornament.
All proceeds from Redsfest benefit the Reds Community Fund.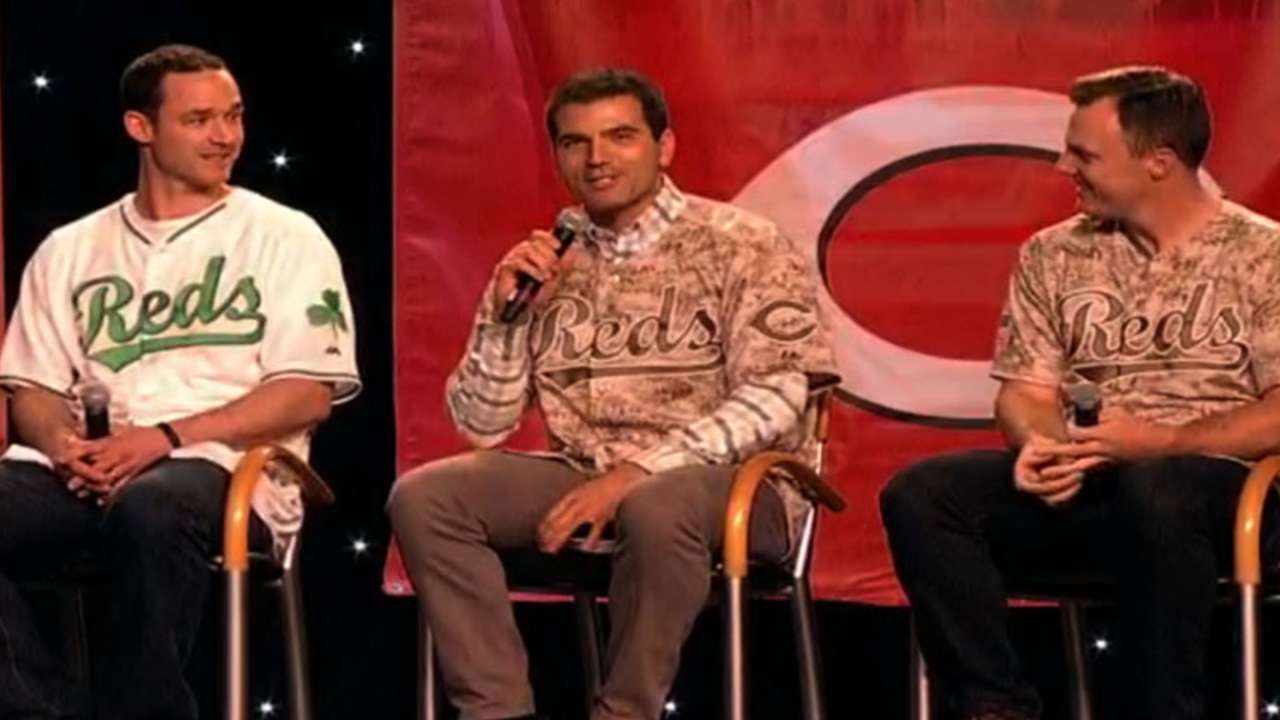 More than 80 current and former players and coaches are scheduled to attend 2014 Redsfest, including Joey Votto, Johnny Cueto, Todd Frazier, Billy Hamilton, Jay Bruce, Aroldis Chapman and Brandon Phillips.
All of the players will be assembled on the main stage around 5:30 p.m. on Friday for introductions to fans.
"Part of the reason we get such a good turnout on Friday is that main stage moment when we do all the player introductions. That's a big draw," Forgus said.
Another reason Redsfest is popular is the many opportunities for autographs and photos with the players.
"There are 100 player autograph sessions that are free of charge. That's a big deal in a day and a half," Forgus said.
Since the Reds reinvented and redesigned Redsfest in 2007, the event has grown in size and scope. There is now more than 300,000 square feet of convention center space being used along three floors.
For additional details on Redsfest, including players attending, event itineraries and more, go to reds.com/redsfest.
Mark Sheldon is a reporter for MLB.com. Read his blog, Mark My Word, and follow him on Twitter @m_sheldon. This story was not subject to the approval of Major League Baseball or its clubs.