Bond with father helping Brantley thrive on field
Indians outfielder guided at plate by dad, who played four seasons in Majors with Mariners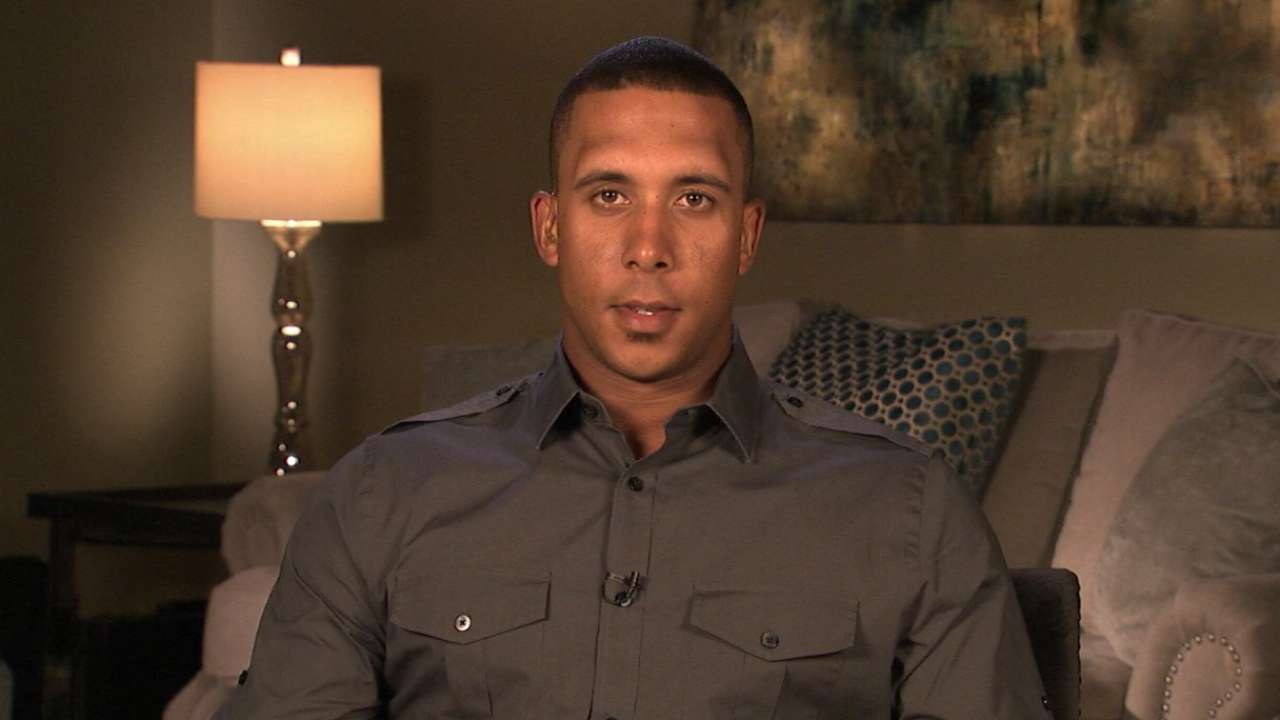 CLEVELAND -- No one understands the subtleties of Michael Brantley's swing better than the Indians outfielder. A close second would be his father, Mickey, who often assumes the role of personal hitting coach when he is not standing back and admiring from afar as a proud dad.
Hitting baseballs hard is the Brantley family trade.
As the calendar flips to December, the father-son partnership will soon rekindle in a batting cage in Port St. Lucie, Fla., where Mickey and Junior live roughly 15 minutes apart. They will start by meeting three times each week, getting Michael familiar again with a swing that made him a finalist for the American League's Most Valuable Player Award this past season.
"He'll come out to the cage and I'll say, 'We're just getting the hands loose today,'" said Mickey, who then chuckled. "And then he'll say, 'Whaaat?' There's not a lot to his swing. So, Michael will work left-center, right-center, do tee work, flips, all that, just to get him that feel of the controlling the barrel again."
Brantley controlled the barrel with precision and force last season, turning himself into one of baseball's elite run producers after a career spent with the mindset of a leadoff hitter. Brantley's breakout year for the Indians was partially the result of some fatherly advice during one of their weekly workouts last winter.
Video: TB@CLE: Brantley singles for his 200th hit of season
A former Major League player and hitting coach, Mickey Brantley felt it was time for his son to tweak his approach. For the bulk of his career, Michael had taken a defensive mentality in the batter's box, working counts, waiting for the perfect pitch and trying to just get on base. Mickey had watched his boy turn into a more physical player, developing power potential that might be unlocked with more aggressiveness.
"The day before I left for Spring Training," Michael Brantley said, "my father sat me down and asked me to do something. He said, 'I want you to get ready to hit every pitch.' That means [being ready] from the first time I step in the batter's box, the first pitch that that pitcher threw to me."
This was not a new suggestion, though.
"I can't lie," Michael said with a laugh. "He's been trying to get me to do it for the last couple years, but I never really bought into it."
That changed prior to the 2014 season.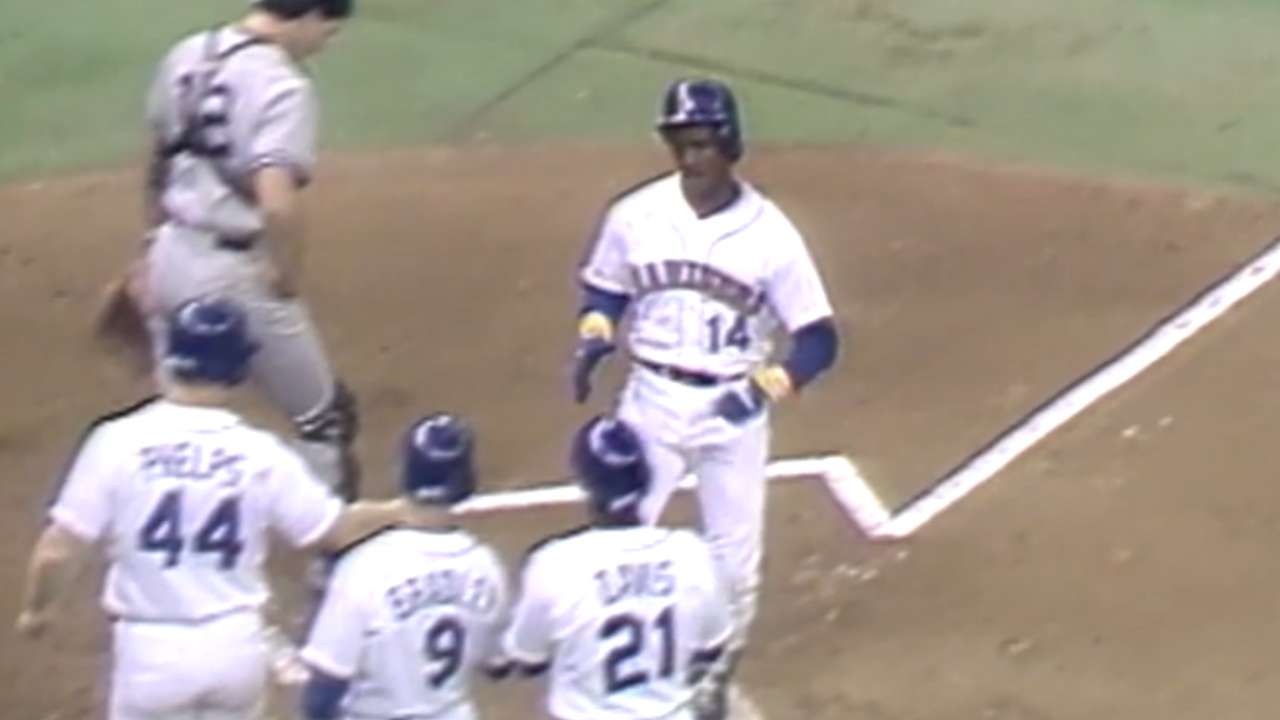 Father knows best
As the story goes, Brantley and his dad were sitting next to one another when some of the postseason awards were revealed last month. Brantley, who won an AL Silver Slugger Award and finished third in voting for the AL MVP Award, saw his numbers on display on TV, turned to his dad and feigned surprise.
"Hey, Pops. I had a pretty good season, huh?" Michael said.
"Son, you had a great season," Mickey replied.
Mickey read some of the articles that detailed that memorable exchange between father and son. The elder Brantley made one clarification to his own version.
"He had a tremendous year," Mickey Brantley said.
Video: Michael Brantley wins 2014 Silver Slugger Award
Michael Brantley made his first All-Star team last season and finished with career bests in games played (156), average (.327), on-base percentage (.385), slugging percentage (.506), home runs (20), stolen bases (23), doubles (45), runs (94), RBIs (97), hits (200) and total bases (309). He also ended with nearly as many walks (52) as strikeouts (56) in one of the greatest all-around seasons in Indians history.
Brantley became the first player in Cleveland history to have at least 20 steals, 20 homers, 40 doubles and 200 hits in a single campaign.
Following his dad's advice heading into the season played a big role in unlocking Brantley's offensive potential.
"That was a big adjustment that he made with his dad," Indians hitting coach Ty Van Burkleo said. "Instead of really trying to work counts as much, he wanted to be a little more aggressive and go for driving the ball a little more often. I think that was definitely a part of the reason why he had such a great year."
Van Burkleo works with Michael Brantley on a daily basis during the season, but the hitting coach said having Mickey's input is valuable.
"He knows Michael's swing inside and out," Van Burkleo said. "It's a great resource for him. He has all the trust in the world in him. He was raised by a dad who played the game, so he's had knowledge of the game since he was old enough to walk probably."
Evidence of Brantley's altered approach can be found in his first-pitch results.
In 2014, Brantley swung at the first pitch 21.9 percent of the time (a career high) and had 16 percent of his at-bats end on the first offering. The outfielder hit .404 (40-for-99) with a .566 slugging percentage last season. From the 2010-13 seasons, Brantley hit .339 with a .508 slugging percentage on the first pitch, but only had 10 percent of his at-bats end with the first pitch. In that span, he only swung at the first pitch 15.2 percent of the time.
Video: CLE@MIN: Brantley hits a solo dinger to right field
"He can work the count, hit with two strikes. That's fine, if you're a leadoff hitter," Mickey Brantley said. "But I saw Michael as more than that. ... What I told my son was, 'Be ready to hit every pitch.' That doesn't mean he has to swing at the first pitch, but be ready to hit it. If that's the pitch that's going to be a good pitch that you can handle, that you see well, get the barrel to it."
Brantley only promised his dad that he would test the approach in Spring Training, where all the outfielder did was hit .500 (25-for-50) with 10 extra-base hits, 14 RBIs and only two strikeouts in 18 games. That convinced Brantley to carry that approach into the season.
"It worked for me in Spring Training," Brantley said. "So I decided to keep that mentality during the season, and it worked out."
A defining moment
The seventh pitch from Al Alburquerque jumped off Brantley's bat on May 19 in Cleveland. It sailed on a line over Progressive Field's right-field wall and disappeared into the visitors' bullpen. Brantley -- known for his poise -- pumped his fist and let out a howl as he rounded first base.
In the midst of a trying stretch for the Tribe, Brantley delivered his first career walk-off home run: a solo shot in the 10th inning of a division clash with Detroit. When Brantley sprinted around third base, he tossed his helmet away, flashed a childlike smile and ran into a mob of teammates who drenched him with water.
"Michael called me and told me what a great feeling that was," Mickey Brantley said. "He told me how excited, how pumped up he was. I said, 'Michael, you can do this. You have all these skills that are now starting to come out front.'
"He just got more and more confident after that. I think that took Michael to another level."
Video: DET@CLE: Brantley belts a walk-off homer in the 10th
The task for Brantley now is finding a way to elevate his game even more after turning in an incredible MVP-caliber showing in 2014.
Mickey, who suited up for the Mariners for parts of the 1986-89 seasons, laughed when it was mentioned that Junior topped his single-season RBI total in 2013 and then beat his best single-season home run showing in '14. Michael was born in 1987, and his dad had a career year for Seattle in '88, hitting 15 homers and driving in 56 runs in 149 games.
The family bragging rights belong to Michael now.
"And he can do more," Mickey Brantley said.
What might Brantley aim to improve on this year?
"I want to strike out less," said the outfielder.
That made Van Burkleo laugh.
"That's because he's a perfectionist," Cleveland's hitting coach said. "What he puts his mind to, he does. Who knows what this guy can do? He improves every year. It's pretty amazing."
That process will resume soon in a batting cage in Florida.
Brantley's dad will surely have some ideas.
"If you challenge him," Mickey Brantley said, "he accepts the challenge."
Jordan Bastian is a reporter for MLB.com. Read his blog, Major League Bastian, and follow him on Twitter @MLBastian. This story was not subject to the approval of Major League Baseball or its clubs.