Dodgers sign Barney, tender contracts to arb-eligibles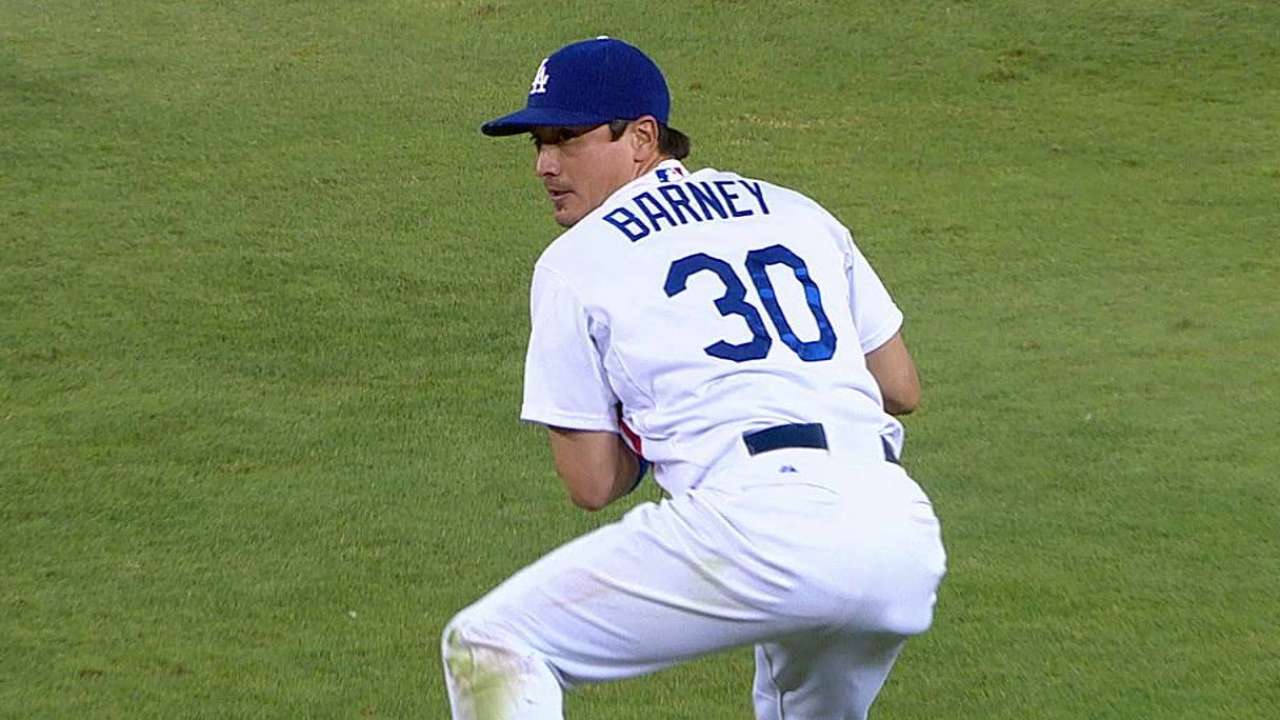 LOS ANGELES -- The Dodgers signed infielder Darwin Barney to a one-year contract Tuesday night and tendered contracts to all seven of their remaining arbitration-eligible players.
Barney, who earned $2.3 million in 2014, settled for $2.525 million to be a reserve infielder.
The seven players tendered contracts: catchers A.J. Ellis and Drew Butera, closer Kenley Jansen, All-Star second baseman Dee Gordon, utility infielder Justin Turner, pitcher Juan Nicasio and outfielder Chris Heisey, acquired earlier in the night from Cincinnati for pitcher Matt Magill.
Ellis could have been a non-tender after receiving a $3.55 million salary in 2013, when he battled two serious injuries and struggled to a .190 batting average.
But the club lacks depth at his position. In addition, National League MVP and Cy Young Award winner Clayton Kershaw gave an enthusiastic endorsement of Ellis' value when the season ended, and since then new general manager Farhan Zaidi has spoken highly of Ellis' leadership skills and his career body of work.
"Our decision was based on the totality of his contributions to the team," said Zaidi, who included Ellis' close relationship with Kershaw as a factor.
But Zaidi also cited Ellis' clubhouse presence, defense and, particularly, his high on-base percentage and walk-to-strikeout ratio as values that shouldn't be understated.
Zaidi said the Dodgers could go with a platoon behind the plate in 2015 rather than a de facto starter. Butera earned $800,000 last year and is out of options, as is his competition for the backup job, Tim Federowicz.
Nicasio received a $2.025 million salary in 2014 to be a starting pitcher, but fell out of the Colorado rotation and became a somewhat better reliever. He had been designated for assignment before the Dodgers acquired him last month. Zaidi said Nicasio's improvement as a reliever prompted his acquisition.
The timing of Barney's settlement indicates he was the lone threatened non-tender for the club, which apparently had no intention of paying Barney a higher salary leveraged through the arbitration process.
Barney was acquired in a July 28 trade from the Cubs and played well under the radar, batting .303. Known more for his Gold Glove at second base, Barney would have been in line for approximately a $2.75 million salary through the arbitration process.
Zaidi said Barney is capable of playing Major League shortstop, but gave no indication that Barney is being considered as a replacement there for Hanley Ramirez, who left as a free agent.
"He can play a variety of roles, that's part of the attractiveness of bringing him back," Zaidi said.
Zaidi said no multi-year contracts were discussed with any of the arbitration-eligible players. He also said he did not expect a flurry of signings in the next few days, as the arbitration process continues into February.
Ken Gurnick is a reporter for MLB.com. This story was not subject to the approval of Major League Baseball or its clubs.