Rangers non-tender three, including Ogando
Moreland, Feliz tendered contracts from Texas before deadline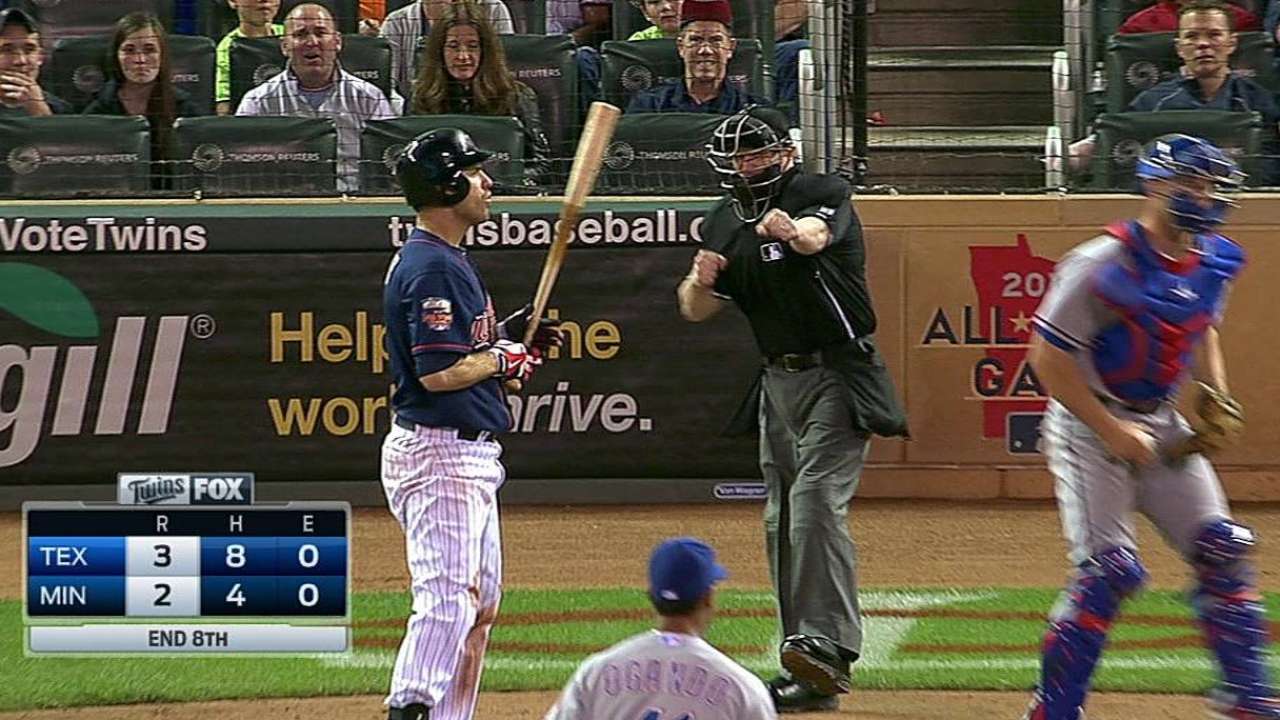 ARLINGTON -- The Rangers announced on Tuesday that they have decided not to offer a contract to pitcher Alexi Ogando, making him a free agent. Ogando, one of the few remaining members of the 2010-11 World Series teams, had been eligible for arbitration.
The Rangers tried to get Ogando to agree to a new contract before Tuesday's non-tender deadline. But Ogando told the Rangers if they did not tender him a contract that would make him arbitration-eligible, he would rather test the free-agent market. The Rangers were not willing to do that because of the uncertainty of Ogando's health.
"There is too much uncertainty," Rangers general manager Jon Daniels said. "We didn't want to go through the [arbitration] process with that out there."
Ogando likely would have made approximately $3 million or more through the process and Daniels said, "We viewed it there was too much uncertainty to commit to those dollars."
Ogando, one of the great scouting success stories in franchise history, was an All-Star starter and a 13-game winner for the Rangers in 2011. But he struggled with injuries the past three seasons. Ogando was on the disabled list three times in 2013 due to shoulder and biceps tendinitis, and then was limited to 27 relief appearances last season because of elbow inflammation.
Ogando had been throwing in the Dominican Republic this winter, but did not feel comfortable pitching in winter ball. The Rangers were hoping he would be able to take that step and allow them to feel more comfortable offering him a contract.
"It would have helped just to see him in a game," Daniels said. "I expect him to go to [Spring Training] without any limitations. We have seen him throw live batting practice and he is ready to go."
The Rangers originally drafted Ogando in the Minor League phase of the 2005 Rule 5 Draft from the Athletics. Ogando was an outfielder with the Athletics, but was drafted on the recommendation of former Rangers executive A.J. Preller to make him a pitcher.
The Rangers had to wait five years while Ogando sat on the restricted list because of his involvement in a visa fraud scandal in the Dominican Republic. He was finally reinstated in 2010.
The Rangers also decided not to offer contracts to infielder Adam Rosales and left-handed pitcher Michael Kirkman, making them free agents as well. The moves leave the Rangers with 37 on their 40-man roster.
That allows the Rangers room to maneuver in the free-agent market and the Rule 5 Draft next week. The Rangers are close to re-signing free agent pitcher Colby Lewis, but came up short in their pursuit of outfielder Torii Hunter. The Rangers made a one-year offer, but Hunter has chosen to sign with the Twins.
Daniels said the Rangers expect to finalize a new contract with Lewis at some point later this week.
Rosales appeared in 56 games with the Rangers this past season, hitting .262 while playing all four infield positions as well as designated hitter. He was also eligible for arbitration and there is a possibility the Rangers could re-sign him later this winter.
"We like Adam and what he brings to a club," Daniels said. "He is a great teammate, versatile, plays with energy. We would welcome him back. We did make him an offer and a raise off of last year. We made an offer we thought was fair. We'll stay in touch."
Kirkman, who was out of options, was selected by the Rangers in the fifth round of the 2005 First-Year Player Draft and had the longest tenure with the organization of any player on the 40-man roster. He played in parts of five seasons with the Rangers and was 2-6 with a 4.98 ERA in 94 career relief appearances.
His career had a number of setbacks including some command issues at times. He also went through two battles with skin cancer in 2012-13 although he stayed free of that this past season.
The Rangers are left with two arbitration cases in first baseman Mitch Moreland and Neftali Feliz. Both were tendered contracts before Tuesday's 11 p.m. CT deadline.
Moreland was in doubt because of his own health problems the past few seasons. He had surgery on his left ankle in June but has been given a clean bill of health by Dr. Keith Meister and could be the Rangers leading candidate at designated hitter next season.
"We have always believed in Mitch," Daniels said. "His role has changed, but we believe in the bat and like the great makeup. He is a hard worker. We're excited to see what he can do. He can add something to the club."
The most intriguing move made by a club at the non-tender deadline that might affect the Rangers was by the Padres. They declined to offer a contract to shortstop Everth Cabrera, leaving them with a hole in their infield.
The Rangers have shown interest in some of the Padres starting pitchers, including Andrew Cashner, Tyson Ross and Ian Kennedy. With Cabrera gone, the Padres could try to address their shortstop situation in a deal for one of the Rangers' middle infielders.
The Rangers have Elvis Andrus signed for eight years and $120 million, which may be a difficult contract for the Padres to handle. But the Padres could be interested in some of the Rangers' younger infielders including Luis Sardinas, Jurickson Profar or Hanser Alberto. The Rangers protected Alberto from the Rule 5 Draft because of concerns about possibly trading one of their other infielders.
T.R. Sullivan is a reporter for MLB.com. Read his blog, Postcards from Elysian Fields, and follow him on Twitter @Sullivan_Ranger. This story was not subject to the approval of Major League Baseball or its clubs.