MLB.com Columnist
Phil Rogers
Samardzija would give White Sox top-rated rotation
Chicago would likely have to deal a top prospect to get righty from Oakland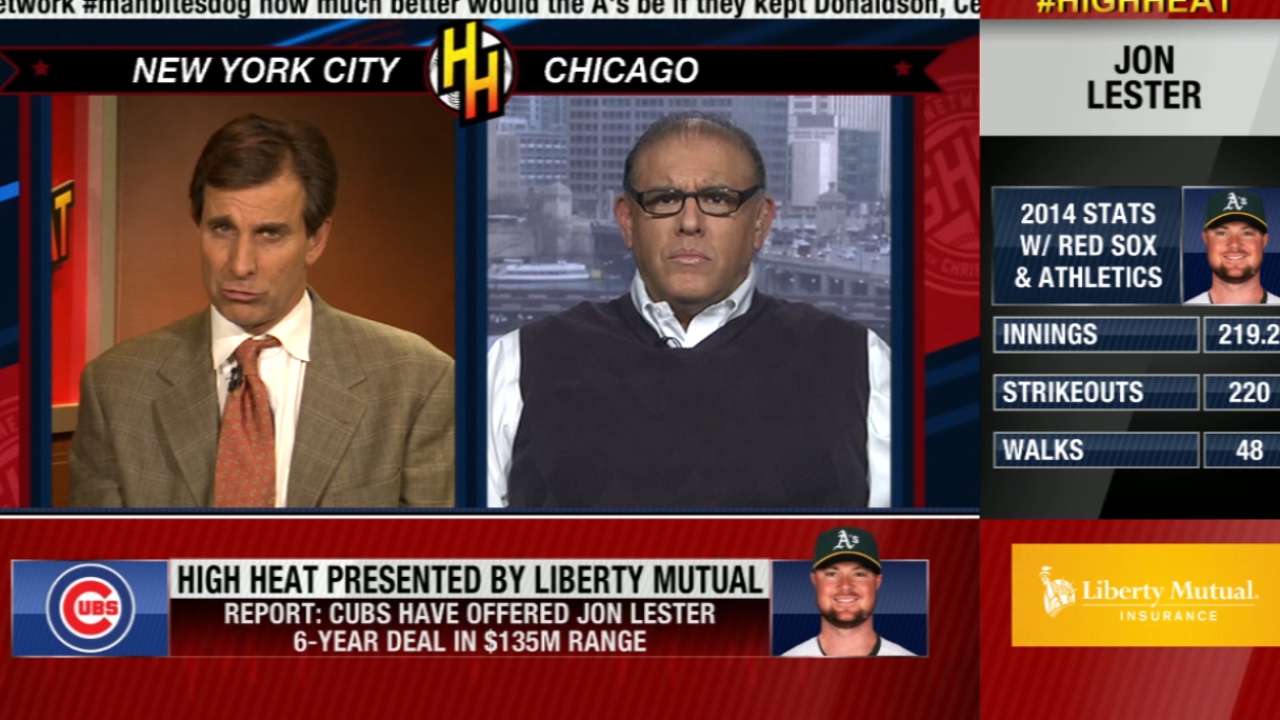 The temptation must be killing Rick Hahn. Like everyone else, the White Sox general manager knows that the A's are making Samardzija available, and that he grew up in South Side territory and would enjoy a chance to pitch for the team he grew up following. But Hahn knows something else that a lot of people around baseball may be overlooking.
With Samardzija, the White Sox could have the best rotation in the American League next season. Better than the Mariners. Better than the Royals. Better even than the Tigers, especially if they fail to re-sign Max Scherzer.
There are two reasons for this, and they're probably not the reasons you're thinking about. The first is that North Carolina State left-hander Carlos Rodon could win the AL Rookie of the Year Award next year if gets to Chicago by mid-May, if not on Opening Day; the other is that left-hander Jose Quintana is a whole lot better than his 24-24 career record suggests.
In fact, if you go by WAR, Quintana is quite a bit better than Samardzija. That seems surprising given the amount of fuss about Samardzija this year, what with the high-return trade from the Cubs to the A's and speculation that Oakland might be able to break even by trading him now, when the team acquiring him can make him a qualifying offer and get Draft-pick compensation if he turns out to be a rental.
But the numbers are there. Using baseball-reference's WAR numbers, the unsung Quintana has compiled an 8.9 rating over the last two years, compared to a combined 4.7 for Samardzija.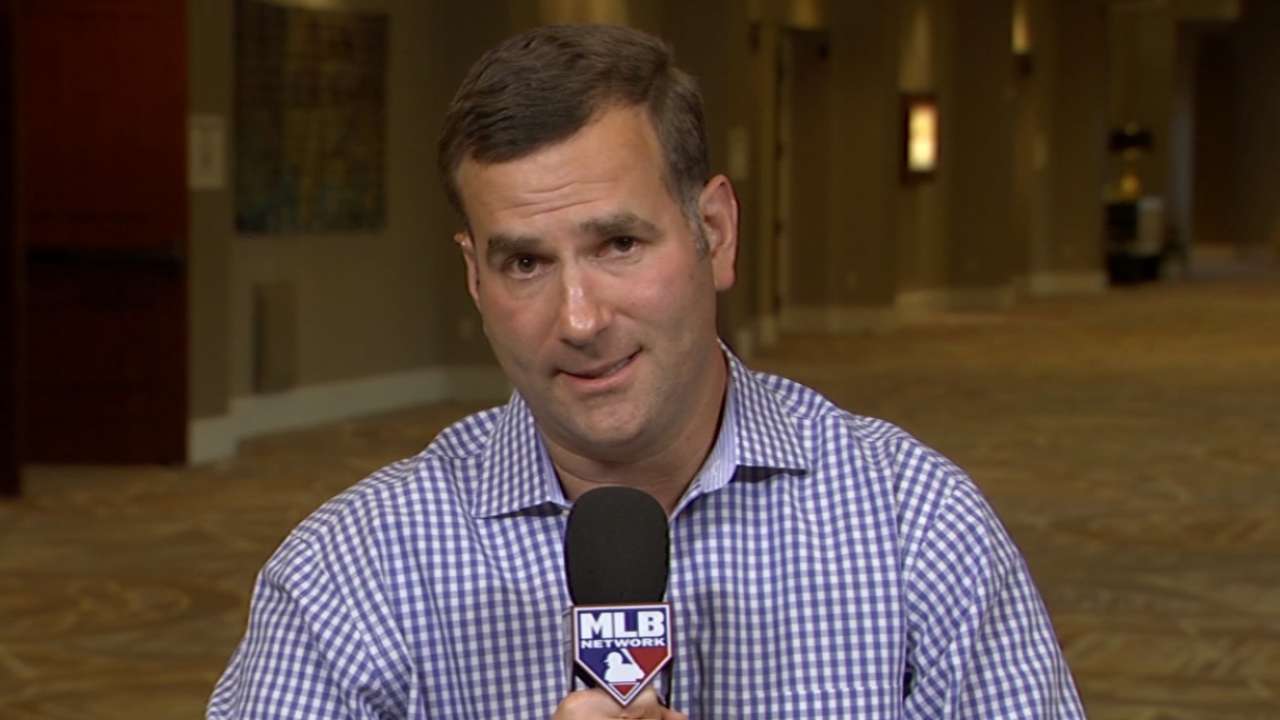 The difference isn't quite as big using Fangraphs' WAR numbers, but both are highly valued. They have Quintana at 5.3 this year, ninth best among Major League starters, while Samardzija put up a 4.1 between the Cubs and A's, ranking 15th.
And here's the part that has to have Hahn believing the White Sox could be a real force next season. Chris Sale would be the ace, not Quintana, Samardzija or Rodon.
Take the average WAR delivered by Sale, Quintana and Samardzija over the last two seasons and add in the average WAR of the eight starters to get ROY votes this year, with the latter average becoming the projection for Rodon. You'd have four starters with a 16.7 baseball-reference WAR.
The Nationals were the only team in the Majors that got such a high WAR from its top four starters last season. Even with Clayton Kershaw and Zack Greinke, the Dodgers weren't as highly rated, and no one in the AL was better than the Tigers' 14.3.
So there you are, Mr. Hahn. Trade for Samardzija without giving up one of your top starters and you are positioned to win a ton of 4-2 and 3-1 games, provided you also upgrade your bullpen. Zach Duke is a good addition, but you still need a right-hander with gristle or even two more veteran relievers if you can get them.
And here's another thing to keep in mind. The White Sox have the pieces to get Samardzija.
Alexei Ramirez probably doesn't work with the A's, as he's 33. But shortstop prospect Tim Anderson is another question entirely. He's the kind of upside guy that Billy Beane sent to the Cubs to get Samardzija (Addison Russell). Anderson might not be a finished product, but he's at least as close as Daniel Robertson and closer than Franklin Barreto, whom Oakland acquired from Toronto in the Josh Donaldson deal.
With Hahn and international scout Marco Paddy doing an impressive rebuilding of the farm system, the White Sox have lots of intriguing players. Francellis Montas, who has Bartolo Colon's build and velocity, and shortstop Cleuluis Rondon came from the Red Sox in the Jake Peavy trade. Eighteen-year-old outfielder Micker Adolfo was a big-ticket international sign. Switch-hitting third baseman Trey Michalczewski, outfielders Jacob May and Adam Engel and pitchers Tyler Danish and Andrew Mitchell were all taken behind Anderson in the 2013 Draft.
The question is: What would you give up for a year of Samardzija? He rejected the Cubs' attempts to sign him long term and seems determined to let the open market determine his value next winter. But could the White Sox turn that around?
Because they have Sale, Quintana and Jose Abreu committed to long-term contracts at smart prices (Sale and Abreu through 2019, Quintana through '20), and because they only have two seasons left on the ill-advised John Danks deal, they could fit a fat Samardzija contract onto their payroll for the long haul.
An $18 million salary for Samardzija in 2016 would still leave the White Sox under $80 million in guaranteed contracts for that year, and under $60 million for 2017, when Danks will be off the books. So how about it, Mr. Hahn, do you feel like having Sale, Quintana, Samardzija and Rodon for the next five seasons?
Their average age is 25 years, 306 days. They could have an average salary of $10 million three seasons from now, even with Samardzija earning $20 million. You could keep this rotation together, even with a mid-level payroll.
But only if Hahn is willing to reach into his farm system to deal some of his top talent. That's the rub.
Will he regret it if the White Sox fall short in 2015 and Samardzija says adios? Probably, but what if he could pull it off, keeping Samardzija for the long haul? It's got to be a tempting proposition.
Phil Rogers is a columnist for MLB.com. This story was not subject to the approval of Major League Baseball or its clubs.