Royals named Baseball America's top organization
Club's player development cited in building winning atmosphere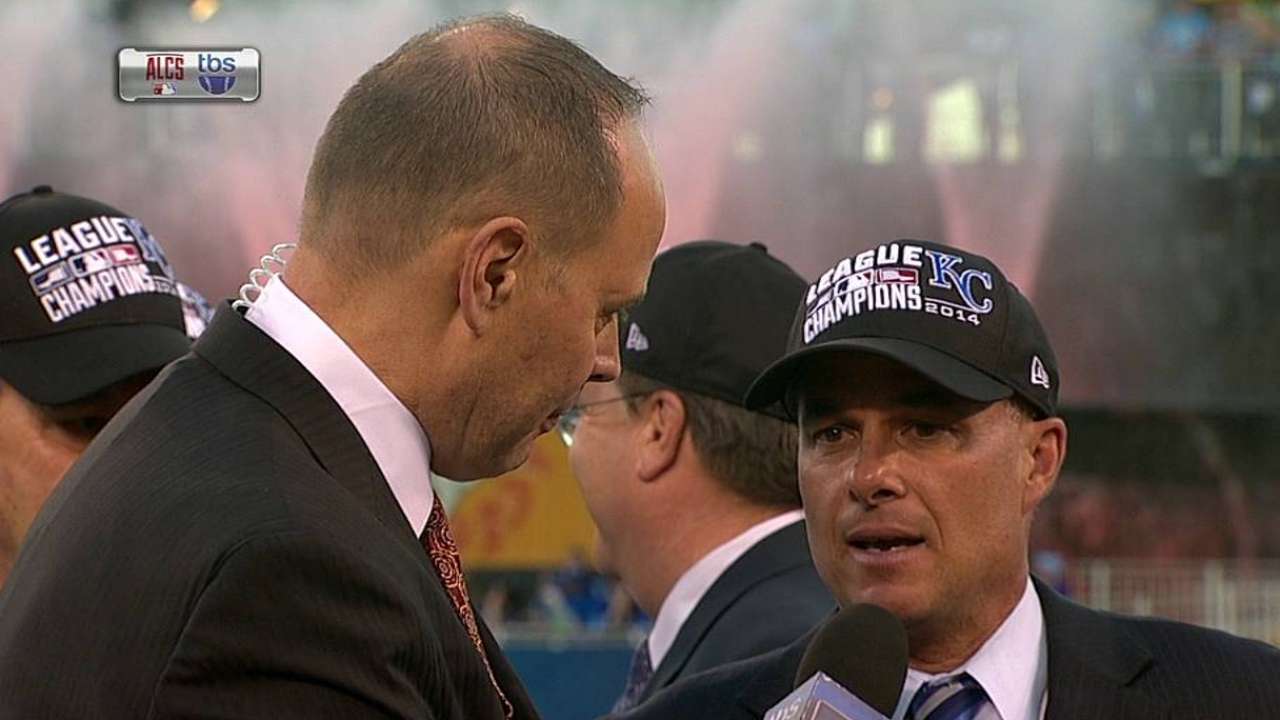 KANSAS CITY -- Homegrown is the by-word of success for the Royals and Baseball America recognized that in selecting the franchise as the publication's Organization of the Year for 2014.
This is the second time the Royals have won the award, which was established in 1982. They were also the winner in 1994.
This time around, all of the Royals' planning and strategizing culminated in the team's first postseason and World Series appearance in 29 years.
Baseball America, though, noted: "Making it to the World Series by itself wouldn't have made the Royals Baseball America's 2014 Organization of the Year. It's the path the Royals have taken that earned the award. General manager Dayton Moore and his staff built a World Series team the way they promised they would when Moore was hired, through scouting and player development."
Moore, though, directed credit to Royals chairman David Glass and team president Dan Glass.
"There was a lot of support from Dan and Mr. Glass, that's for sure," Moore said. "They've been very supportive of all us."
The primary thrust was to rebuild from within the organization and use that homegrown talent to restore prestige to the franchise.
"Mr. Glass made it pretty clear to me that he understood it was going to take some time," Moore said. "His exact words to me were: 'I want to build a model organization here in Kansas City and I want to do it through the farm system, scouting and player development, and build a strong international program.'
"He gave us the resources to hire the best people that were available and we were able to bring them on board and support them to do their jobs well."
The Royals' postseason roster consisted predominantly of players who came up through the Minor League system. Of the 26 players in the postseason, 13 were either selected in the First-Year Player Draft or signed in the international market. Ten, if you count Jeremy Guthrie, were obtained in trades. (Guthrie came in a trade, then re-signed as a free agent.) One was claimed on waivers, with just two, Omar Infante and Jason Vargas, coming aboard as free agents.
Baseball America added: "Moore's staff has also been a beacon of stability. There have been a few moves here and there, but the vast majority of Royals' front office that was celebrating the pennant victory were the same people Moore brought aboard in 2006."
Moore also gave credit to the work done by the previous administration headed by Allard Baird.
"There were some good players here, too, Alex Gordon, Billy Butler and Zack Greinke, so there were people that did a lot of good things prior to us arriving here in Kansas City," Moore said. "We just tried to do all we could to build a bond with some of the good work the previous people had done here."
With the Glass family's support, Moore expanded his staff in the scouting and player development areas, giving baseball operations a vigorous and ambitious approach.
The success has been seen throughout the organization. Not only were the Royals American League champions in 2014, their club at Omaha won its second straight Triple-A championship.
"It's very rewarding to receive this great honor," Moore said. "I'm very proud of all the great work that all of our people have done."
Dick Kaegel is a reporter for MLB.com. This story was not subject to the approval of Major League Baseball or its clubs.