Padres tab Kotsay as new hitting coach
One year after retirement, 17-year veteran joins Black's staff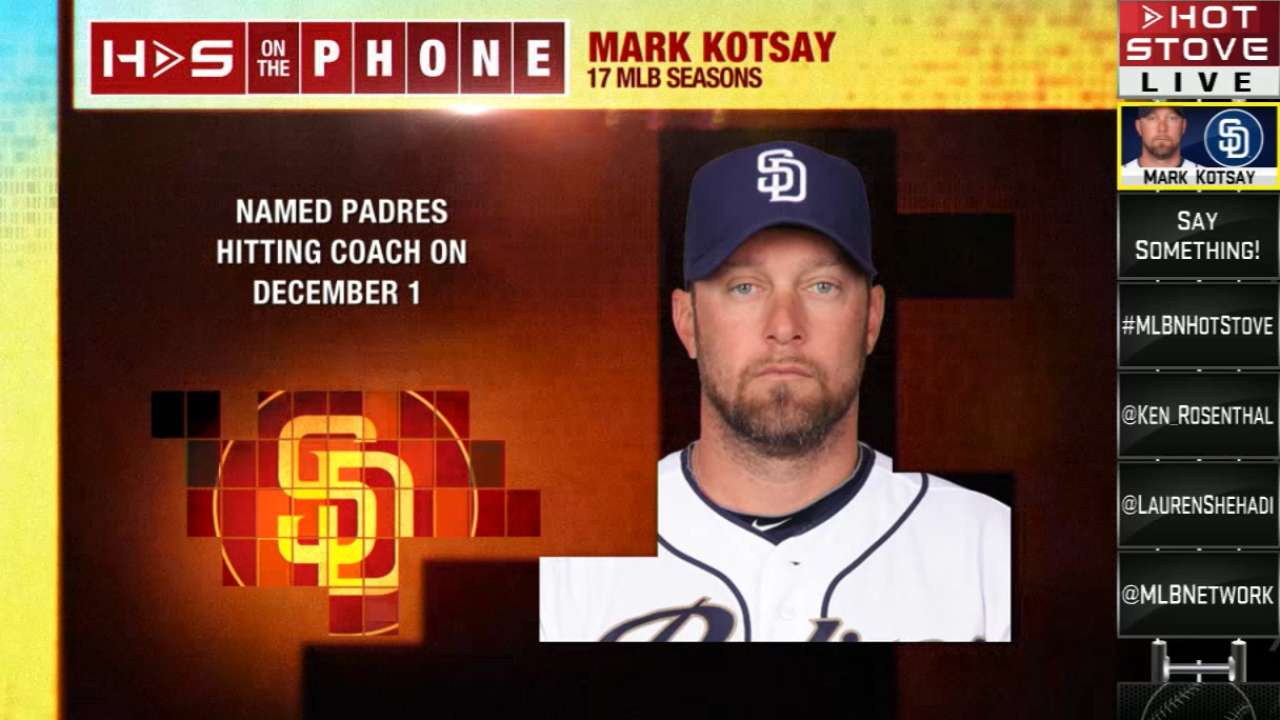 SAN DIEGO -- Mark Kotsay gave his special assistant to the general manager job with the Padres a year, soaking in various aspects of the baseball operations and player development department, sitting in on Draft meetings, scouting players and watching the team's Minor League affiliates.
And at the end of it all, Kotsay determined that his first full season out of uniform -- he retired after the 2013 season -- would be his last.
"The past year was a great learning experience for me. ... I got my feet wet on the scouting side, player development. But at the end of the year, my calling and my passion lay in the uniform," he said.
On Monday, the Padres tabbed Kotsay as the new hitting coach. Kotsay replaces Phil Plantier, who was dismissed last month following a season where the team ranked last in nearly every offensive category in baseball.
Kotsay is the seventh person to hold the job since Petco Park opened in 2004, though he doesn't view the position as tenuous even though many have come -- and gone -- before him, unable to stick around for long periods of time, helping hitters in a ballpark that has generally catered to pitchers.
"I'm not really concerned about job security," Kotsay said. "I look at this as an opportunity to get back into the game that I love and to help lead this group of hitters."
No one has to explain to Kotsay, who turns 39 on Tuesday, the nuances or the importance of the job. A career .276 hitter with seven big league teams, Kotsay has run across his fair share of hitting coaches, their philosophies and words of wisdom.
He said one of the things he can draw on and offer players on the Padres roster -- many he played with during his final two years with the Padres in 2012-13 -- is the connection of being a recent player and having similar and relatable experiences.
"In the 17 years I played, I had 12 different hitting coaches," Kotsay said. "I'm aware it's a difficult task. It's a role that in some regards is not necessarily rewarding.
"Being recently retired, my connection to the game and the players that I'm going to be leading is very close, very new and very fresh. I think that I will have an understanding of what they're going through based on my career ... the successes, the failures. I'll be able to reflect on what they're going through and things like that."
Kotsay wasn't on the Padres' original list of candidates for the job -- in fact, he actually sat in on a handful of interviews, sitting alongside general manager A.J. Preller and manager Bud Black, asking questions of candidates.
"It became clear to A.J. and me that we should talk about Kots," Black said. "So we brought that to his attention and it piqued his attention quite a bit."
What was it that resonated with Black so deeply to make him think Kotsay would be a good fit?
"Watching him from the other side [in the opposing dugout], then when he became a Padre, knowing his knowledge of the game, his competitiveness, his personality, watching him take his at-bats, listening to him talking hitting, watching his leadership skills," he said, "I just think it all added up. I think it will make an impact at the big league level immediately."
The Padres understand Kotsay's lack of experience at the position but like pairing him with assistant hitting coach Alonzo Powell, who will return.
"We think that's a solid tandem," Black said.
But can he succeed where others haven't? That will, of course, depend on the hitters. The Padres are talking to a number of teams about myriad trade possibilities.
The other Padres hitting coaches since the team moved to spacious Petco Park were Dave Magadan, Merv Rettenmund, Wally Joyner, Jim Lefebvre, Randy Ready and Plantier.
All of those coaches, with the exception of Magadan, worked under Black since 2007.
Kotsay said he'll tell his hitters to embrace their home ballpark and not be afraid of it.
"Use the field for the way it is. There's a lot of open space out there in the outfield and you will reward yourself when you take a positive at-bat," he said. "In the long run it's about scoring runs. When we score three or four runs in Petco Park with the pitching staff we have, it will present opportunities to win games."
Corey Brock is a reporter for MLB.com. Keep track of @FollowThePadres on Twitter. This story was not subject to the approval of Major League Baseball or its clubs.