Mets tender Tejada a contract, but not Young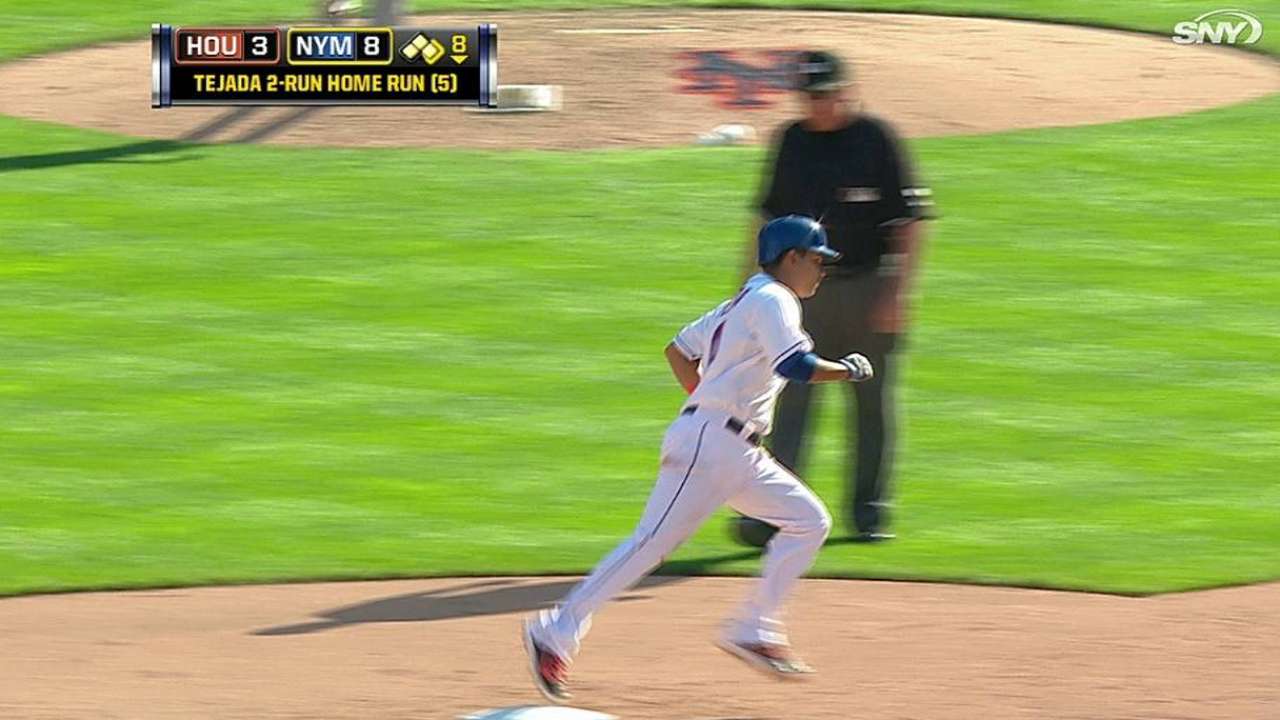 NEW YORK -- Outfielder Eric Young Jr.'s relatively brief tenure with the Mets came to an end, while shortstop Ruben Tejada's is set to continue.
The Mets on Tuesday chose not to tender a contract to Young, who would have made around $2 million through arbitration as a backup outfielder. They did, however, tender one to Tejada, who will make roughly half that as a reserve middle infielder.
Young, 29, hit .229 with a .610 OPS in 316 plate appearances for the Mets this past season, initially earning significant playing time over Juan Lagares. But as Lagares grew healthy and developed into a core player for the Mets, Young saw his playing time wane. By August, he was essentially a pinch-hit and pinch-run option for the Mets.
Coming to Flushing on a 2013 waiver deal that sent starting pitcher Collin McHugh to Colorado, Young led the National League with 46 stolen bases that season, and he was one of three finalists for the Gold Glove Award in left field. But his performance waned in 2014, with his adjusted OPS (which accounts for league and park factors) dropping to 15th worst among all NL hitters with at least 300 plate appearances.
The son of 15-year big leaguer Eric Young Sr., Young is a career .252 hitter with 138 stolen bases in 171 attempts.
Tejada's poor performance and relative lack of playing time over the past two seasons may have actually saved his roster spot, as the shortstop cannot expect much of a raise over the $1.1 million he made last season -- roughly in line with the going rate for backup middle infielders. As such, the Mets tendered him a contract.
Unlike a year ago, when he entered Spring Training as the Mets' starting shortstop, Tejada is clearly a bench player heading into 2015. He hit .237 with a .652 OPS in 419 plate appearances this season, and he will play behind Wilmer Flores or whatever other shortstop the Mets acquire this winter.
The deadline for teams to tender contracts to players without guaranteed deals for next season was Tuesday at 11:59 ET. Clubs typically only non-tender arbitration-eligible players who are due for large raises, though the Mets have previously used the deadline to part ways with others for various reasons. The non-tender deadline also creates opportunities for teams to discuss trades.
Backup catcher Anthony Recker would have been a non-tender candidate had he not fallen just shy of the service time needed to become a Super 2 arbitration-eligible player. As such, he will make close to the league minimum next season and should return to his familiar role backing up Travis d'Arnaud.
The Mets' other arbitration-eligible players -- first baseman Lucas Duda, second baseman Daniel Murphy and right-handed pitchers Dillon Gee, Jenrry Mejia and Bobby Parnell -- were all locks to be tendered contracts. Those players, along with Tejada, will exchange salary figures with the team next month.
Anthony DiComo is a reporter for MLB.com. Follow him on Twitter @AnthonyDicomo. This story was not subject to the approval of Major League Baseball or its clubs.